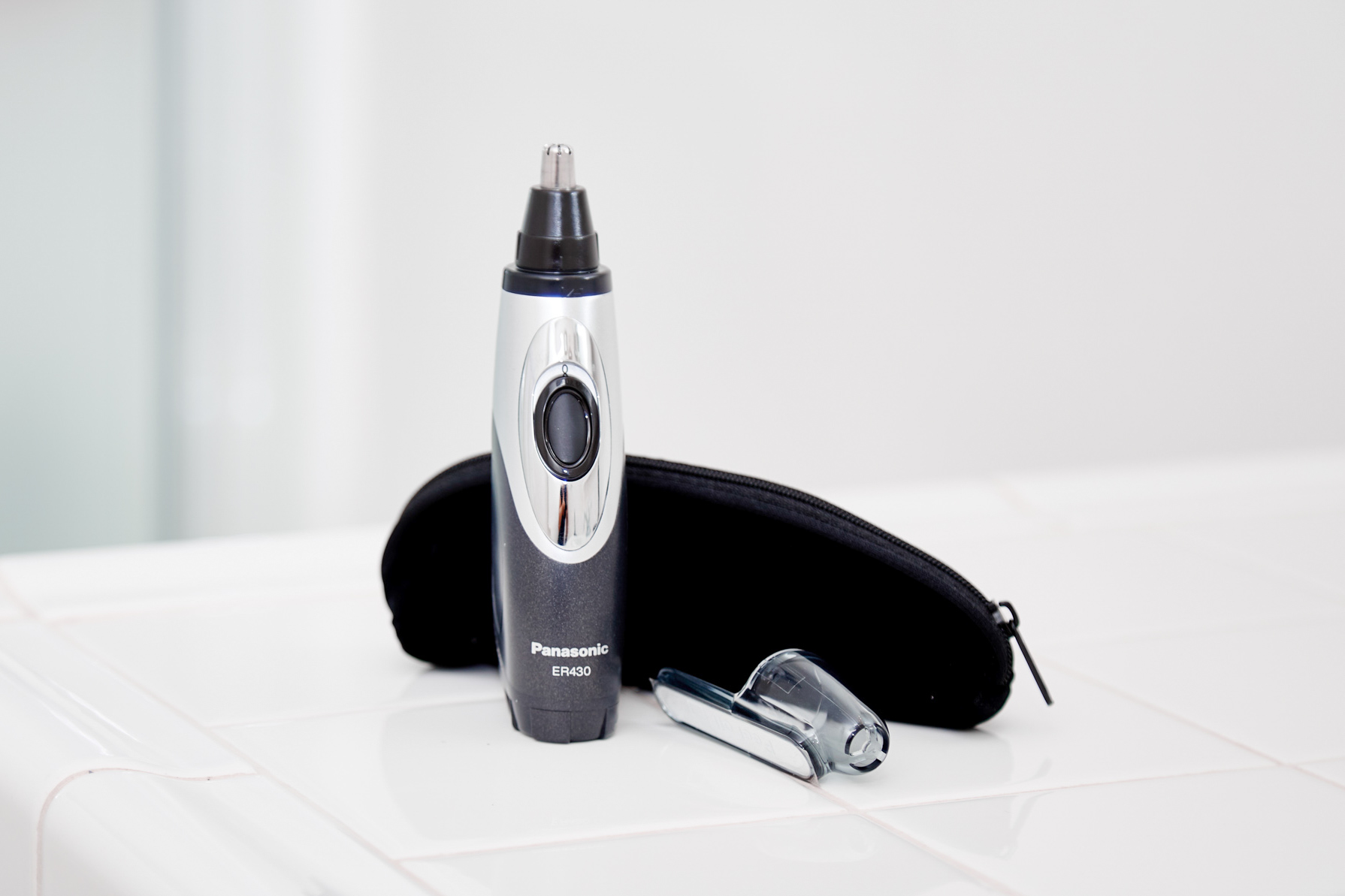 The Best Nose Hair Trimmers
After two months of testing eight different designs, we've picked the Panasonic – ER430K as the best nose hair trimmer. This is a refined improvement of the classic trimmer design, with a better blade and a vacuum to keep crusty clippings off your shirt. The ER430K is fully waterproof, so it's easy to clean and keeps batteries dry. Also great is the Philips – NT1500, which proved it's a better detail trimmer than it is a nose hair trimmer.
After two months of testing eight different designs, we've picked the Panasonic – ER430K as the best nose hair trimmer. This is a refined improvement of the classic trimmer design, with a better blade and a vacuum to keep crusty clippings off your shirt. The ER430K is fully waterproof, so it's easy to clean and keeps batteries dry. Also great is the Philips – NT1500, which proved it's a better detail trimmer than it is a nose hair trimmer.
Table of contents
The 8 nose hair trimmers we tested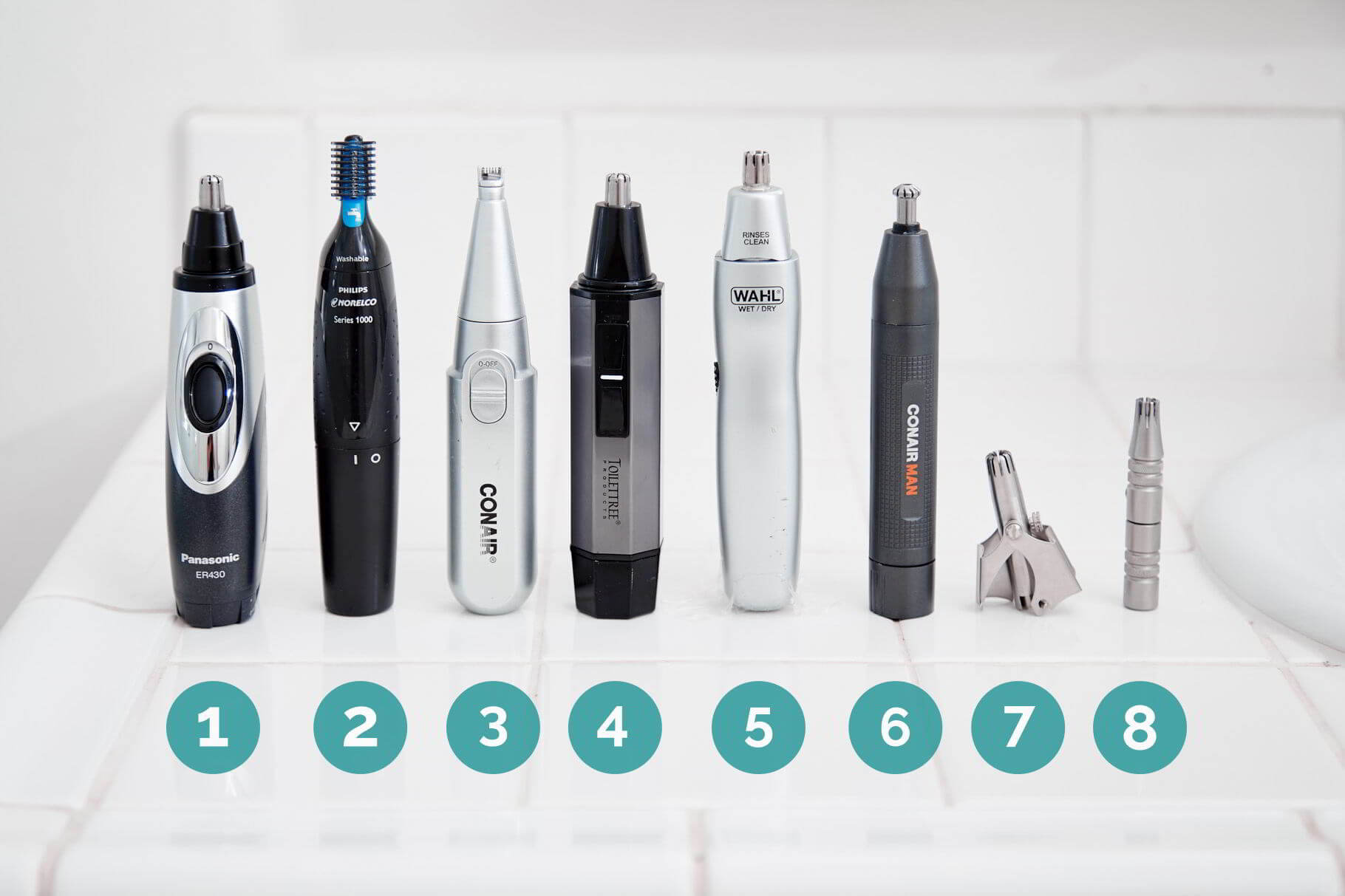 Best overall: Panasonic – ER430K

The Panasonic – ER430K is a more complicated nose hair trimmer than most. Not satisfied to simply trim your nose hair, it also uses a tiny vacuum to collect the hairs in a little trap for later disposal.
If this trimmer weren't great at doing what it says on the box, we wouldn't recommend it specifically because of the vacuum. Fortunately, this is one of the best trimmers we tried, and the price is right in the middle of the range. The vacuum, then, is a nice bonus.
When you're cleaning this trimmer, it takes less work to clean out gunk because of the flow-through design that allows the vacuum to grab hairs. The manual says to clean the trimmer with the motor off, but if you do run it while submerged it'll scrub the blades really well with a fast-flowing stream of water drawn through by the vacuum system. The instruction left us uncertain about whether this is intended, but the vacuum-free ERGN30K model lists this as a feature called "vortex cleaning."
If you don't care about the vacuum feature and want to save $5, the ERGN30K uses the same great blade and should be just as easy to clean. Panasonic lists the same 90-minute runtime for the cheaper model that we got with the vacuum-powered ER430K, but they might just be giving a conservative estimate. The vacuum feature is handy enough that we think the ER430K is worth an extra $5, and it also comes with a cap and zippered case to keep it clean.
As mentioned in our testing section, you should see much better run-times with this powerful little motor if you switch to high-capacity nickel metal hydride batteries like these Amazon Basics, Eneloop Pro or Ansmann cells. You'd see an increase with other trimmers, too, but the 90-minute runtime on an alkaline indicates that the Panasonic is pulling just less than 1 ampere of power. This is compared to around 0.3 amps for the others, which means Panasonic will gain more runtime from better battery chemistry.
The competition

The real competition for Panasonic's trimmer is the ToiletTree trimmer. Some of these are more expensive, some are a bit cheaper, but unless you're buying from eBay or Aliexpress you're not saving any money by going for lesser-known brands.
As you can see from the image above, the ToiletTree trimmer (with the white post) uses a very similar cutter to Panasonic's, so it has similar advantages. It's hard to say if the Panasonic was working better for us because of a stronger motor or just because of the vacuum drawing hair into the blades, but it did seem to snip hairs a little bit more readily. The biggest difference between the two is definitely the noise of the vacuum, though we think it's a worthwhile trade-off. (And, as we've said, if you don't want that feature the no-vacuum ERGN30K model is one of the least expensive trimmers we found.)
Key takeaways:
A refined blade design helps the Panasonic – ER430K cut better and at nearly any angle.
The vacuum actually works and helps keep those bits of crusty hair off your shirt.
The strong motor and vacuum feature come at a cost: runtime is only 96 minutes on alkaline AA cells.
Panasonic put a lot of work into making this waterproof and easy to clean.
Also great: Philips – NT1500

If the traditional nose-cone design doesn't appeal to you, the Philips – NT1500 is definitely worth checking out. This trimmer uses a blade that's something like a cross between an electric shaver and a clipper, and it works very well.
On many metrics this trimmer is superior to the Panasonic: it's cheaper, it runs four times longer on a battery and it's almost just as easy to clean. But for easy trimming of nose hair, the usefulness lags behind Panasonic's evolved form of the old standby.
You'll spend more time fishing around in your nostril with Philips's design trying to connect the cutter and that one pesky hair. If you want to keep a decent amount of hair inside your nostril to help you avoid breathing in dust, this design isn't very helpful.
For trimming other stray hairs on your face, though, this is a great design. Eyebrow trimming with the included comb attachment works well, and it's easy to run over the back of your ear to grab hairs you didn't even know about.
The Philips trimmer even does an OK job with sideburns and mustache edges, though it's not a replacement for a beard trimmer. It won't get especially close, either, so if you were relying on this to form sideburns you'd definitely want to do so before you shave. On the plus side, this design won't pull or pinch or even tickle the way some other trimmer blades can.
Key takeaways:
The Philips – NT1500 is a less-conventional trimmer shape that still works very well for cutting nose hair.
For ear and eyebrow hair, this trimmer is just a bit easier to use.
This trimmer runs longer than any of the other waterproof designs, 373 minutes on an alkaline AA.
The price is right: this is also the least expensive waterproof trimmer we found.
Other products we tested
Conair – NE150R
The Conair – NE150R uses a blade design that might be most familiar. Basically a tiny five-segment hair clipper, it's dialed in to cut efficiently. If you were always certain exactly where your stray hairs are, this design would be ideal. Most people are going to want something they can quickly run around the inside of their nostril, though, and the NE150R doesn't do this quite as well as the traditional nose-cone design.
In most other respects, though, this is an excellent trimmer. The blade design is simple and very easy to clean, though sadly the motor and battery compartment aren't waterproof. This was the most affordable trimmer we tested, from a name that's as old as any in grooming products. The alkaline battery runtime for this trimmer was even a little bit longer than the Philips.
If you're at all ticklish, the way these blades move back and forth next to your skin might be slightly unnerving. We don't think it's a problem, necessarily, but since the competition can cut without tickling your nose as much, Conair loses a few places in the ranking.
If you don't care about waterproofing and you can always see exactly what hairs you need to cut, this would be a great pick. For the rest of us, it's just not quite as good as the Panasonic.
ToiletTree
ToiletTree may or may not be the company that designed this trimmer, but it's one of the best-selling models out there. The ToiletTree brand came up frequently in consumer mentions in our research, and they're now stocked at CVS stores. There are other trimmers that appear to be identical, but this one is easy to find.
On the plus side, this trimmer is quieter than the vacuum on the Panasonic and uses a similar blade design that trims on the end of the cone as well as the sides. It works almost just as well as the Panasonic, and it will run for almost three times longer on a AA battery.
That said, the ToiletTree costs a few dollars more than the Panasonic, and it's not quite as powerful or easy to clean. If battery life were a more important consideration this might rank higher. Someday we may see USB-rechargeable designs that make sense, but at this point, you're still going to need to keep batteries around. Even a two-fold increase in battery life isn't going to change the way you feel about a trimmer.
The LED light is also a bit silly  — even a poorly-lit bathroom doesn't really benefit from the amount of light that this puts out. In comparison, the vacuum on the Panasonic trimmer might actually save you from some embarrassment or help keep your bathroom clean.
Wahl – 5545
Everyone who has seen or owned a nose hair trimmer probably knows what they need to know about the Wahl – 5545. This is a bare-bones rotary trimmer: the rotating blades chop off anything that comes into the nose-cone as they run along the inside.
Compared to our top pick, this design is lacking in a few ways. The blades are only cutting on the sides, compared to the Panasonic design that snips off at the top as well. The motor seems noticeably stronger on the Panasonic, which does have a tradeoff in battery life.
The Wahl doesn't have waterproofing, either, which doesn't stop you from rinsing the blade under your tap, but after using designs that you can drop in the sink it's a definite regression.
We were also surprised that this trimmer isn't more affordable. Panasonic has a number of bare-bones designs that are cheaper, and even the waterproof Philips model we picked as our runner up was a few dollars less.
Wahl uses basically this same blade design as an attachment on their cordless 9818 Beard trimmer, and as a free accessory in that package, it's good to go. As a stand-alone design, though, it's just not compelling.
Conair – PG 1000
The Conair – PG 1000 looks like a compelling alternative to the old Wahl design and the new Panasonic design for nose hair cutter shapes. The rotary trimmer is shaped in a cone, with blades that seem designed to trim an even length at the opening of your nostril.
In practice, though, this trimmer has two problems. First, hair that enters the trimmer from the middle of the blade cone rather than the side is actually prevented from moving out to the cutting path. Second, you can't remove the cutting blade from this trimmer for cleaning.
We had hoped that this would be competitive with the Panasonic, but it was actually one of the least-effective trimmers we used. It works, but basically any other blade design will trim hair more quickly and easily.
Not recommended: Kedsum and Groom Mate

Kedsum is one of many brands selling this scissor-action rotary trimmer, while the Groom Mate – Platinum XL is a similar rotary cutter that requires two hands to use. These blades cut in a very similar way to the standby rotary electric blade in the Wahl, but with some interesting differences that make them less useful.
On both trimmers, hairs need to slip down into the side of the cutter to be snipped off; on really long hair it works, but if you're just doing a precautionary clean-up pass you could easily miss hairs that aren't lying in the right direction.
When cutting nose hair, this was mostly a pain-free experience. At times, though, hair was pinched and pulled by the cutting motion. Ouch. It's hard to say exactly what the problem is, and it's worse when we try it on eyebrow or arm hair than inside the nostril, but since these aren't very efficient trimmers to begin with it's just not worth the potential pain.
If we had to pick a battery-free way to trim nose hair, we'd go with these high-end scissors from Rubis or this more affordable option instead.
How we selected
The Wahl 5545 included in this review has been owned and used by our tester for about 10 years and represents a baseline for standard designs. There's nothing specifically wrong with it, but we looked at the range of other models on the market to see if we could find improvements in design and function.
Finding credible information to narrow down our selections was tricky. Magazine-style features like this one from AskMen didn't describe anything specific about the performance or cutting ability of the different trimmers they recommend and seemed mostly to focus on claims rather than results.
The relevant subreddits yielded more credible answers about what works and some recommendations. Manual trimmers seemed popular among /r/buyit4life Redditors, so we included the two most popular designs.
We looked for niche blogs that might give more insight into what makes or breaks a trimmer, but again we found no evidence of side-by-side testing in popular reviews.
Amazon and other retailers ratings/user reviews were probably the most useful source of info, with some solid (if anecdotal) evidence of models that were great. As always, we filtered for an average score of 4.0 or better and looked for leading designs that had consistently good reviews.
Nose hair trimmers use cheap components and very basic designs, so we're not surprised to see that even the most highly-regarded designs seem to have some units leave the factory with parts that don't work or break quickly. A 10-percent failure rate seems to be about average for the most popular models. There was no apparent alternative in compact trimmers with better longevity, at any price.
The vast majority of trimmers use a "nose cone" cutter guard, so we tried hard to find representative models that used other shapes or designs. We picked three trimmers with other cutter designs to see if any differences showed up in testing.
How we tested
Battery life
We put fresh Ikea – Alkalisk AA alkaline batteries in each of these and let them run until they stopped cutting hair.
We want to point out that this isn't an absolute virtue: a longer battery life may also indicate a weaker motor. In the case of the Panasonic, it seems clear that vacuuming up hair clippings has a cost in battery life.
The overall winner for battery life was the Conair – NE150R, with a reciprocating blade that trims very efficiently despite its tiny motor. Even when the battery voltage drops too low to spin up the Panasonic, this trimmer will keep on cutting. That said, the Philips – NT1500 was only 10 minutes short of the Conair's time, so the waterproof design earned a runner-up pick.
These (and most other) alkaline cells we used give about 1186 mAH with a draw comparable to the Panasonic's bigger motor, so you could improve runtime by switching to better battery chemistry like the Amazon Basics NiMH AA.
Easy cutting and comfort test
Our tester used these trimmers on every nose, eyebrow and ear hair he could find for two months, and supplemented with chest, leg and armpit hair for additional testing. (Leg hair actually hurt the most!)
The electric trimmers all did a good job cutting hair we pushed into the blades, but when it came to actual cutting inside the nostril some designs worked better than others.
The biggest difference we saw among rotary-type blades was inside vs. top cutting blades. Panasonic has developed a blade for their trimmers that cuts on the end as well as the sides, and the ToiletTree trimmer is a very similar design. This allowed for quicker and easier cutting in every task, without giving up the safety and simplicity of the "nose-cone" guard blade.
The manual trimmers from Kedsum and Groom Mate were the only designs that caused "pulling" in use. The blades sometimes failed to cut hairs cleanly, pulling on the hair instead of removing the trimmed end. We tested with a variety of hair types and tried to ensure we were holding the trimmer still while spinning the blade, but the careful practice didn't change the frequency of painful results. You can get OK results with these manual trimmers, but even scissors would be better.
Thick hair test
Using thick hair and peanut butter, we tried to bog down these trimmers to the point where they wouldn't cut anymore. While some trimmers had more difficulty connecting their cutting elements with the thick and sticky hair, all the powered trimmers were still able to cut.
Cleaning test
After running each of the trimmers through hair and peanut butter to get them good and gummy, we tried cleaning each with soap and water, then disassembling to see how clean they really were.
While cleaning, we also put dry tissue paper in the battery compartment and immersed the trimmers in the sink to see how waterproof they actually are. All the units advertised as waterproof actually were, using an O-ring seal around the battery compartment cap to keep water away from the battery terminals.
Should you trim or pluck?
Some popular misconceptions come up frequently when people discuss managing nose hair. For example, many will rightly point out that plucked hairs take longer to grow back than hairs trimmed to a length just inside the nose. Plucking is pretty easy with a pair of the best tweezers, and that means it's better all around, right?
Maybe not. There are a lot of legends and scary stories that you'll hear about nose-hair-plucking. Our tester grew up hearing stories from his grandpa about someone who died after plucking a hair that went all the way up into his brain, a story that's almost certainly not accurate. We spent some time sorting fact from fiction and getting the details about why you might not want to do it.
Cavernous sinus thrombosis is a real thing, and it's really bad, but that doesn't mean plucking a nose hair will kill you. Basically, plucking a nose hair leaves the inside of your nose with an unprotected wound that could get infected. An infection so close to your brain is definitely something you want to avoid.
A trimmer that reaches all the way to the base of a nose hair may sound like a great idea, but remember that your nose hairs do serve a useful purpose guarding against stuff that could cause those serious infections. Aggressive trimming won't leave a hole, but it still means you're not getting the protection the hairs are supposed to provide. Careful trimming of just the ends of the hairs means you've still got hair where you need it, but not peeking out at your date.
Also, remember that trimming your hair cannot cause its rate of growth to change: Using a nose hair trimmer will not make your hairs come back quicker or thicker. The rate of growth varies, but on average it should take about six months to grow an inch. Plucked hair takes far longer to grow back (since you've removed the follicle and it'll take time to grow a new one), but just because trimmed hair grows back in a few weeks doesn't mean it's growing more quickly or in a different shape.
These trimmers are for more than just noses, though. Trimmers are sometimes said to be better for eyebrows than tweezers, though if you've got especially bushy brows then you might appreciate the opportunity to thin them out. We have a bunch of recommendations for hair removal tweezers, and it's probably worth owning both types of tool.
Important features to consider

Trimmer type: There is no detailed taxonomy of names for trimmer types that we could find, but you'll probably recognize most of the cutting elements:
Rotary nose-cone trimmers use a spinning blade inside an outer guard blade. It can't trim especially close, but it keeps your nose safe from cuts. This is by far the most popular design.
Reciprocating clippers are like tiny hair clippers with a combed blade moving back and forth against a guard blade. Unlike some hair clippers, these are specifically designed so they can't cut you, though they can still tickle.
The Philips Nosetrimmer uses the only really unique cutter design, with a tiny blade moving back and forth inside a hollow foil like a micro-shaver. Despite the unfortunate name, we're happy to report that these blades do not trim the flesh of your nose.
Multipurpose systems: We tested a few models that came with attachments, but the tiny motors in these trimmers aren't good for much more than cutting a few hairs at a time.
If you're looking for a device that does more than just trim nose hairs, you're definitely better off making the more demanding task a priority. We reviewed beard trimmers and body hair trimmers with attachments suitable for nose hair, and they all work just as well as (if not better than) AA-battery-powered trimmers.
Waterproof design: No, this isn't to protect the trimmer from your nose, it's to help with cleaning. All the nose hair trimmers we found were designed to be washed out, but some were completely sealed, so water won't even get into the battery compartment. This isn't a big functional difference for trimming, but keeping water out of the electrical connections will help ensure a long life.
The bottom line
If you're looking for your first nose hair trimmer, enjoy your youth while it lasts. If you're like those of us who are looking for a trimmer to replace something you've had for a few years that has already died, we have some picks that will hopefully impress.
The Panasonic – ER430K is a nearly perfect nose hair trimmer with a powerful motor and blades that cut any hairs at every angle. If you're trimming on the way out the door, the vacuum feature also keeps crusty hairs off your shirt. This is a waterproof trimmer that's easy to wash and maintain, and the price is right.
If you'd like something that's a little more versatile and doesn't eat through batteries as quickly as Panasonic's rotary trimmer, the Philips – NT1500 is cost-effective and quite good at trimming hairs. The Philips is better on ears and eyebrows than inside the nostril, but it'll run four times longer than the Panasonic on a AA battery and it's still waterproof.