The 8 Best Hair Straightening Brushes
After hours of research, discussions with professional hair stylists and test driving products by straightening five heads of curly and wavy hair, we confidently recommend the MiroPure – 2-in-1 as the best hair straightening brush. The brush glides through all hair types easily, while the included textured, heat-resistant glove helps provide tension. Our budget pick, the USpicy – FS005, makes hair shiny and smooth at a more affordable price point, but its controls are harder to operate.
After hours of research, discussions with professional hair stylists and test driving products by straightening five heads of curly and wavy hair, we confidently recommend the MiroPure – 2-in-1 as the best hair straightening brush. The brush glides through all hair types easily, while the included textured, heat-resistant glove helps provide tension. Our budget pick, the USpicy – FS005, makes hair shiny and smooth at a more affordable price point, but its controls are harder to operate.
Table of contents
The 8 hair straightening brushes we tested



*At time that digital display indicated readiness.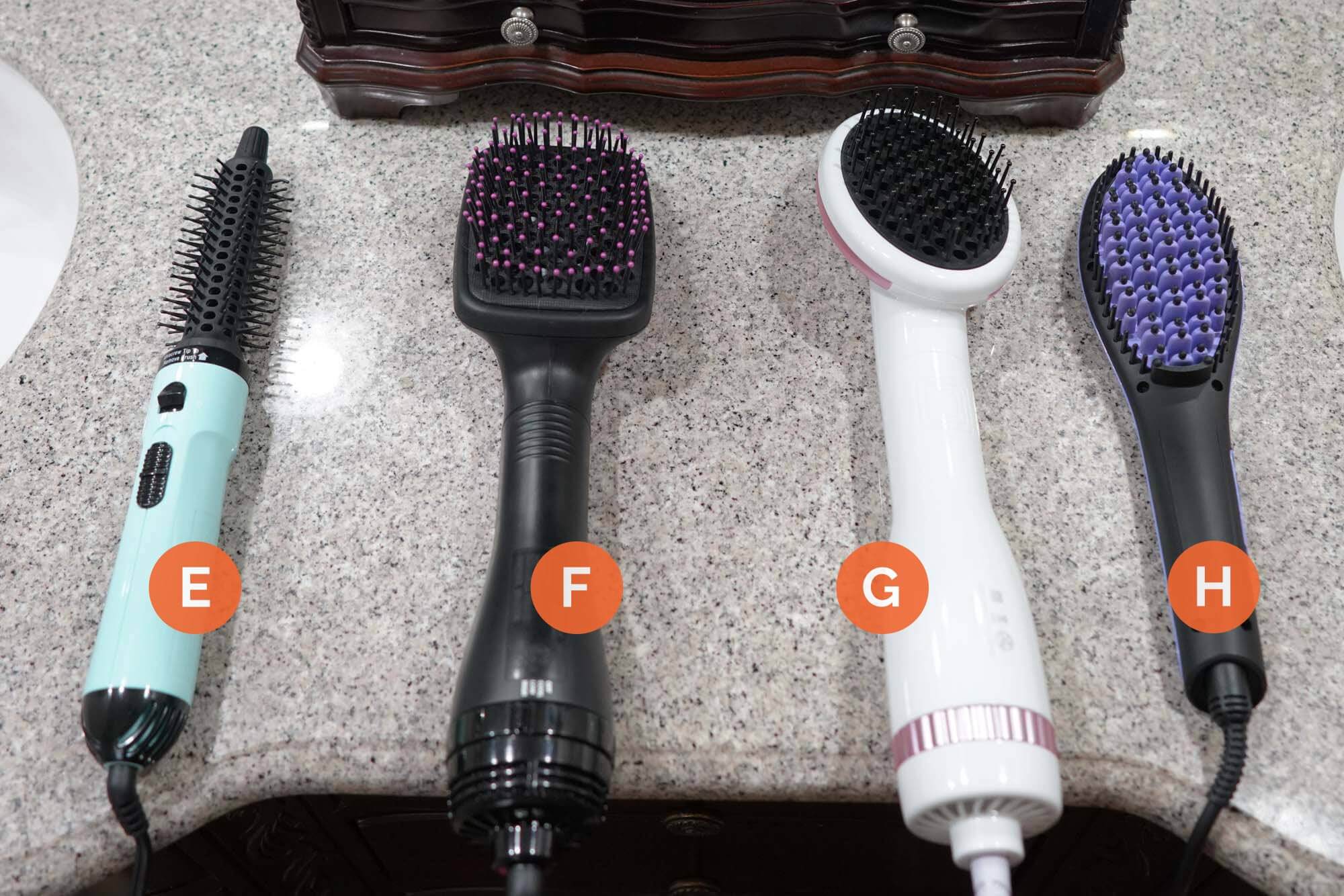 Best overall: MiroPure 2-in-1

After testing the MiroPure – 2-in-1 on several heads of curly and wavy hair, we could see it gave the most consistent results across the board. It worked as well on fine, spiralled curls as it did on thick, kinky curls. Notably, it also left the hair the shiniest (perhaps due to the double ionic generator which seals the cuticles). Our tester with coarse, wavy hair found it didn't straighten the ends as well as some of its competitors, so it may be best for users with fine to normal hair.
Users with fine to normal hair who are looking for shine as much as the straight factor will prize the MiroPure over our other top picks.
Not only did the MiroPure provide excellent results, but we loved it for its usability. It has a smooth, comfortable handle, and recessed buttons so you don't accidentally change settings. For extra safety, it has a temperature lock and auto shutoff feature after 60 minutes. The swivel cord kept us from getting in an awkward tangle with the cord, making it more like a professional tool.
Finally, it comes with textured glove that makes it easy to grip hair, and a felt drawstring storage bag to keep everything together. According to our tester who is a former stylist, the glove was key to providing tension without burning your fingers. Our other testers found this bonus tool helpful as well, and the MiroPure is one of only two straightener brushes we tested that came with a glove. The bag was also a nice feature, since it helps keeps the bristles free of dust or debris.
While brush size is largely a matter of personal taste, we found that the 2.5 x 4 inch brush was the perfect size to work in small sections for tight curls, but also to straighten a whole head of hair efficiently. The brush has an anti-scald design so you don't burn your scalp, and features cutting edge nanotechnology. We found we were able to get closer to the scalp with brushes with an anti-scald feature.
One of the things we really dug about the MiroPure was the number of heat settings. It has 16 different temperature settings, so it can be adjusted to a wide variety of hair types. The lowest setting is 300 ℉, so it is better for those with normal to thick hair. If you have very fine or damaged hair, the lowest heat setting on the MiroPure may still be too high for you.
Despite claims of reaching 450 ℉, the MiroPure only reached 395 ℉. However, the heat is evenly distributed so it straightens the whole section of hair being brushed, meaning fewer passes on the same strands. One thing we didn't like is that at its highest setting (450 ℉), the brush smells like a hot glue gun. The good news is that most people will never need to set it that high.
Key takeaways:
The MiroPure – 2-in-1 has a double ionic generator, and it resulted in the shiniest strands during our hands-on comparison with other straightening brushes.
It has the most variable heat settings, with 16 different options from 300 ℉ to 450 ℉. This makes it best for people with fine to medium thickness hair, who want the wow factor in terms of shine.
The comb itself features nanotechnology, which manipulates atoms and molecules, helping to remove odors and microbes on the scalp.
The included heat resistant glove provides grip and tension for getting hair straighter, while protecting your hands and fingers from burns.
Budget pick: USpicy – FS005

Despite its mid-range price, the USpicy – FS005 has the look and feel of a more luxury straightening brush. Since you don't necessarily want a cheap straightening brush just because it's inexpensive, we opted to name the brush with the most value as our budget pick. That would be the USpicy, with features like an anti-scald design, 360° swivel cord and automatic shutoff timer. If you have fine to normal thickness hair, you can expect nearly the same results as our top pick, albeit less shine. The lower price mainly means a sacrifice in ease of use with the controls.
It's easy to use, and has an attractive matte black finish that makes it look like a quality tool. It comes with a glove to protect against heat and provide more tension, plus a cleaning tool and a storage bag. As we mentioned previously, the glove is extremely helpful to ensure the most tension.
It has cool tip ionic bristles, which helped us get closer to the roots. Our testers felt that the USpicy provides consistent heat, allows you to get the whole strand straight, and leaves less frizz. The controls aren't as easy to use as our top pick, and we had to press each button multiple times before it would respond.
The handle is slim and the oval brush shape is 2.5 inches x 5 inches. It has fewer temperature settings than we might prefer, but it has the lowest heat setting (250 ℉), making it the best choice for those with fine or damaged hair.
One of the drawbacks to the USpicy is how easy it is to lock the temperature. It's a useful feature, but we found ourselves accidentally locking the temperature even before we reached the setting we wanted. It's a minor annoyance in an otherwise great design.
Key takeaways:
The USpicy – FS005 has a low heat setting, and at its highest setting, doesn't get overly hot. This makes it a good option if you have finer hair.
It has a swivel cord for easy use and anti-scald design to prevent accidental burns.
With a matte black finish that isn't easily smudged with fingerprints, the USpicy looks nice sitting on your counter and the provided drawstring bag keeps the brush and bonus tools in one place.
The USpicy, despite lower temperatures, left our testers hair straight, smooth and shiny.
Best for thick hair: InStyler – Straight Up

Perhaps because it has the truest temperature, reaching the highest recorded temp (418 ℉) of the finalists we tested, the InStyler – Straight Up was the favorite of our testers with thick tresses. It was also the only brush we tested that had an accurate "ready" indicator. It's the most expensive model we tested, but our testers with thicker hair said they found it was worth the price.
The InStyler has a wider brush, measuring 3 inches x 6 inches, which is another reason it was preferred by those with thick hair; you can straighten a lot of hair quickly. It has cool tip ionic bristles, so the heat doesn't touch your scalp, and each bristle is surrounded by ceramic plates: 65 in total. The heat is consistent and powerful, so you can tame even the thickest mane and finish long hair quickly.
One downside is that at its highest setting, it has the hot glue gun smell we mentioned previously. But again, at 450 ℉, it's not a setting that most people will need to use. Also, and this is to be expected given its high heat levels, it took longer to cool down than our other finalists. We didn't feel this was an issue, just something to keep in mind if you intend to store it immediately after use.
The InStyler does snag hair, so it's best for those with thick or medium thick hair. People with thin hair may want to steer away from this brush.
Key takeaways:
The InStyler – Straight Up has a wider brush, so working through thick, coarse, or long hair is a breeze. However, it may not be best for those with fine hair since it can snag.
It has the highest recorded temp of the models we tried, which provided enough power to straighten the strands of our testers with thick hair in one pass.
Cool tip ionic bristles mean that you can get to the root without worrying about burning your scalp, and it leaves hair shinier and smoother.
With 65 ceramic plates, the temperature is even across the surface of the brush.
Other finalists we recommend
CNXUX – Hair Straightener Brush

We loved the design of the CNXUX – Hair Straightener Brush, with a slim profile, swivel cord, and square comb with ceramic bristles. The CNXUX heats up the fastest, and reaches close to its advertised temperature, with a high recorded temp of 410 ℉. It also has a faster automatic shutoff than the other finalists, turning off after only 30 minutes. Depending on how long it takes to finish your hair, this could be a plus or a minus, but we appreciate it for safety reasons.
We didn't make the CNXUX our top pick because our testers reported that it leaves waves and isn't smoothing enough. Despite a true temperature, it takes multiple passes to straighten hair because there is very little to no tension. The positive side to this is it doesn't snag or pull hair, either. It's a good option for those with fine hair and a loose wave that just needs a little help.
Vidal Sassoon – VS433C

The majority of our hair straightening brushes have a paddle brush, but the Vidal Sassoon – VS433C stands out for having a one-inch barrel-round brush that is ideal for creating volume. All of our testers agreed that it is better for styling than simply straightening. It can be used on damp hair, so it's great if you need to save on time. The Vidal Sassoon is also very lightweight, making it ideal for travel.
It worked best on short hair and on medium length hair with a bob hairstyle, as it was able get closer to the root than our other straightener brushes. It doesn't have heat settings, only a high/low switch, so it doesn't offer much in the way of customization. For this reason, and the fact that it doesn't work well on longer or thicker hair, it didn't make our top cut.
Finalists we don't recommend
Revlon – OneStep Dryer & Styler
The Revlon – OneStep Dryer & Styler has a square-shaped paddle that our testers found ideal for blow drying, and ionic technology that left their hair smoother. It has flexible bristles that prevent tangling, so if you have found that most straightening brushes snag your hair, this model could be an ideal choice. On the other hand, our testers with thick hair found that it doesn't provide enough tension to be effective.
With a paddle size of 4 inches x 5 inches, it appears bulkier than the dry straightening brushes, but it was still lightweight and easy to use.
We didn't make this a top pick due to low ratings by our testers, but if your main goal is to cut blow drying time in half and smooth hair cuticles, the Revlon is still a helpful tool.
Lescolton – One Step Dryer & Styler
You can use the Lescolton – One Step Dryer & Styler wet or dry, making it a versatile option for someone who wants an all-one-tool for styling. In terms of features, the Lescolton has a lot to offer: nanotechnology (to inhibit bacterial growth), tourmaline technology and negative ion technology for faster drying with less damage. The bristles of the brush are even designed to work as a scalp massager, and the brush is very good at working through tangles.
On the other hand, our testers felt this would actually work better on straight hair, which just needs hot air to pass through and doesn't require any tension. The same aspect that makes it good at detangling makes it hard to get enough tension for straightening. It tended to make curly hair fluffy, which could be great if you are looking for a volumizer, but was enough to keep it from being a top pick.
InstaMagic – Straightening Brush
The InstaMagic – Straightening Brush is different than the other brushes we tested because the bristles have a staggered formation rather than straight rows. This gives it the ability to grip coarse hair easily and provide tension. However, in the end our testers felt like it should have accomplished more with its grip. Additionally, the staggered bristles meant it snagged hair.
It is also one of our heavier finalists, and as one tester commented, "for the weight, it's not doing much work."
We had to read the manual to change it from Celsius to Fahrenheit (hold down the plus and minus buttons at the same time), so we didn't find it as easy to use as the other models. What we did like about it: the swivel cord and wide plates for getting through hair fast.
Features to consider
There are a few key things to look for when purchasing a hair straightening brush, and we'll walk you through some of the most important features.
MCH technology: MCH stands for metal ceramic heater, a new technology that uses 20 percent to 30 percent less energy than a PTC (positive temperature coefficient) heater. A tool with MCH heating technology reaches higher temperatures overall, at a faster speed (as quickly as 30 seconds). A hot tool with a PCB circuit board takes 45 seconds to reach the same heat.
Ceramic technology: Ceramic is a composite material usually made of clay, which emits a non-damaging, far infrared heat. Far infrared heat is unique because it penetrates the hair shaft, making it the most efficient, gentlest way to heat hair. Ceramic also has unique heat conducting properties, so it heats up more quickly and evenly than dryers with metal or plastic heating elements.
Ionic generator: Ionic iron produces negative charges, which create a smooth, shiny texture.
Anti-scald: This feature ensures the heating element won't come into contact with your scalp.
Temperature range: Be sure to check for lowest minimum temperature. If you have fine or overprocessed hair, you'll want to look for at least a minimum temperature of 300 ℉. Ranges above 400 ℉ are likely to be overkill.
Usability: Are the controls easy to maneuver, and is it easy to set the temperature? Do the bristles hold hair in place without pulling or snagging?
Auto shutoff: This is a great safety feature, so you aren't second guessing yourself after you've already left for the office.
Brush width and length: A smaller brush is recommended for curly or textured hair (allowing you straighten in small sections), while wider brushes can be a time-saver. Plate length also determines how long it will take to straighten your hair: the longer the plate, the more hair you can straighten at one time. In the end, it comes down to personal preference.
Wet to dry: Our stylist consultant preferred wet to dry brushes because they pull less and don't snag the hair. They're also an excellent time saver and can significantly shorten your grooming routine.
Bristle type: Silicone or rubber bristles help you work through tangles, while nylon may be better for those with a sensitive scalp.
Aesthetics: If you're going to use a tool on a regular basis, it should be something you enjoy looking at too.
How we selected
To begin with, we gathered consumer opinions from subreddits like /r/curlyhair and /r/naturalhair to learn which features in a hair straightening brush are most important to people with curls and waves. We read articles from well-known beauty magazines such as Allure to see which brands are making waves, and then we watched YouTube videos to learn how to use a straightening brush (and to see which brush the YouTubers recommend).
After that, we spoke with professional hair stylist and San Diego salon owner, Cindy Close of Hair Galleria, to discuss how to use a hair straightener brush and which features are key. We also recruited a former stylist with coarse, wavy hair to be one of our testers. In this way, we learned about the mechanics of using a hair straightener brush, like how important tension is when straightening hair.
Armed with knowledge, we finally headed over to big box retailers such as Ulta, Target and Amazon to read consumer reviews and narrow down our choices. We only selected hair straightener brushes with at least a four star rating. Some of the hair straightening brushes use heated bristles, while some use hot air. We tested a variety of each style. Once we had our eight finalists, we spent several weeks testing on multiple people and conducting hands-on tests.
How we tested
Heating speed
Since the highest heat setting we needed to use on our testers was 410 ℉, we used this temperature to determine how long it takes each brush to heat up for use. Once we set the temperature on the digital display of the straightening brush, we used a timer to count how long until each brush indicated readiness on its digital display.
While all of the models indicate when they are ready to use, we used an infrared thermometer to double check that they had reached their peak temperature when the brush indicated ready. We tested every 10 seconds until we reached 410 ℉ or its highest recorded temperature. We held it 6 inches away from the center of the brush, aiming it straight down onto the brush paddle.
In most cases, the digital display indicated the brush was ready to use long before it hit its peak temperature. The only brush that reached our desired temperature by the time the digital display indicated readiness was the CNXUX – Hair Straightener Brush. The CNXUX also reached its peak temperature the fastest.
We measured the temperature each of the brushes again after a full five minutes, to see if they ever reached their peak advertised temperature. While none of the brushes reached their true advertised temperature, the InStyler – Straight Up came the closest at 418 ℉.
Since the hot air brushes only have on/off settings, we didn't measure heating speed, but we did gauge their heat output. We measured it the same the way we tested hair dryers. After setting the brush to high and giving it a few minutes to warm up, we held the thermometer 6 inches from the center of the paddle to take our reading.
The Revlon – OneStep Dryer & Styler and Lescolton – One Step Dryer & Styler measured comparably (230 ℉ and 235 ℉, respectively), with a lower temperature than the majority of the hair dryers we tested for another article. Lower heat may make it more difficult to straighten thick or coarse hair, but it also means less damage.
User experience
One of the first things we considered in terms of user experience is weight. For example, we considered questions such as: does it hurt your wrist? Is it comfortable to hold for long periods of time? Our testers found the MiroPure – 2-in-1 and InstaMagic – Straightening Brush to be heavier than comfortable. These brushes may cause arm fatigue if you have long or thick hair that takes more time to work through.
We also considered the location of buttons, noting whether it was likely you would accidentally change settings during use. We also took note of whether the brush handle was long enough to avoid contorting your arm at awkward angles. Due to its recessed buttons and slim handle size, the MiroPure – 2-in-1 won our votes as the most serviceable model. Perhaps the most bulky and cumbersome to use was the Lescolton – One Step Dryer & Styler, which was so large as to be unwieldy.
Finally, we measured the cord length with a ruler and noted which brushes have a swivel cord. A swivel cord (the joint of the cord where it reaches the brush) makes the brush more comfortable and convenient to use, since it is less likely to get tangled as you are working. The InStyler – Straight Up had the shortest cord length at five feet. Generally we found that having a swivel cord made more of a difference in usability than cord length.
Hands-on testing
We asked five testers with a wide range of hair types (from thick to thin/damaged), lengths (short, medium and long) and curl patterns (from kinky to loose waves) to help us determine the best hair straightening brush.
For heat protection and to reduce frizz, we had each tester apply Eva NYC Mane Magic with argan oil before using any of the straightening brushes.
We had our testers rate each hair straightening brush on a scale of one to five (with five being best) for sleekness, smoothness and straightness. We also asked them to consider factors like how easy the brushes were to use, if they were heavy, and how well they were designed. Then we averaged the ratings for a final score. In the end, the preferences of the testers came down to hair type and less to do with tightness of curl.
The results
The InStyler – Straight Up was rated the highest by our three thick hair testers. We already established that due to its higher heat levels, a flat iron is probably best for thick and very curly hair (see our hair straighteners tested on thick hair specifically). However, if you have gray strands or color treated hair (making it drier, more porous and more susceptible to damage), these special considerations may make straightening brush your best choice.
Our testers with fine hair gave high ratings to the MiroPure – 2-in-1 and CNXUX – Hair Straightener Brush. These models were less likely to catch and pull fine hair, but for the same reason, had less grip on thick or coarse hair.
The USpicy – FS005 worked well on all types of hair, as it didn't catch, but you could still get enough tension on thicker hair. The InstaMagic – Straightening Brush was the least favorite model, as it snagged on fine or long hair, yet didn't straighten coarse hair despite a decent amount of tension.
Overall, our testers preferred the models using heated plates and bristles to the models using hot air. On the other hand, these hot air brushes had lower temperatures than the other straightening brushes, making them safer for those with fine or damaged hair.
How to use a hair straightening brush
Heat is used to relax the hydrogen bonds in your hair, which changes your hair's texture and allows you to straighten your hair by holding it in a certain position until the bonds reform.
Any kind of hot hair tool set above 120 ℉ can cause damage, and the impact on curly hair can be especially devastating. Using tools with a temperature that is set too high can cause irreversible damage to your hair at a molecular level, changing natural curl patterns and leading to severe breakage. It is important to find the correct temperature for your hair type, starting with the lowest possible temperature.
There is no one single setting that works for all heads of hair. Our professional stylist recommends that you consider the condition and strength of your hair. For example, if you have fine, overprocessed or chemically treated hair, you should start with a setting below 300 °F.
For normal hair that has not been overly processed, she recommended staying under a temperature of 380 °F, while thick hair with no damage would be fine at 400 °F. Since determining the right setting can be tricky, it's best to use a lower setting and work your way up if necessary.
Applying heat protectant before you begin can help minimize direct damage caused by heat. In our tests, we used a heat protectant with argan oil. Argan oil not only protects hair from the direct damage caused by heat, but it has the added bonus of protecting hair from environmental factors that damage hair. These factors include ultraviolet rays, wind, salt water, hard water build up and extreme temperatures (either too hot or cold).
The bottom line
While the MiroPure – 2-in-1 and InStyler – Straight Up are priced slightly higher than their counterparts, we found they provided the most value of the finalists we tested. The MiroPure is the most versatile hair straightening brush we tested, due to a higher range of heat settings than a typical hot brush. It performs well on multiple hair types and curl patterns, providing consistently shiny and sleek results. However, it is probably best for those with fine to normal thickness hair.
The InStyler – Straight Up was a top choice among our testers with thick manes, since its powerful, evenly distributed heat meant fewer passes on even coarse or coiled hair. It is easy to use, and left our testers' hair straight and smooth.
For the best value, we recommend the USpicy – FS005. It has all the features of a more expensive pick and works well on fine to medium thickness hair. It is slightly more basic than our top pick, with fewer settings and not as sleek of a design. That said, the USpicy delivers consistently smooth results, has a low heat setting for those with damaged hair, and is a great pick at a middle of the road price. For more hair care, check out our hair dryer review.