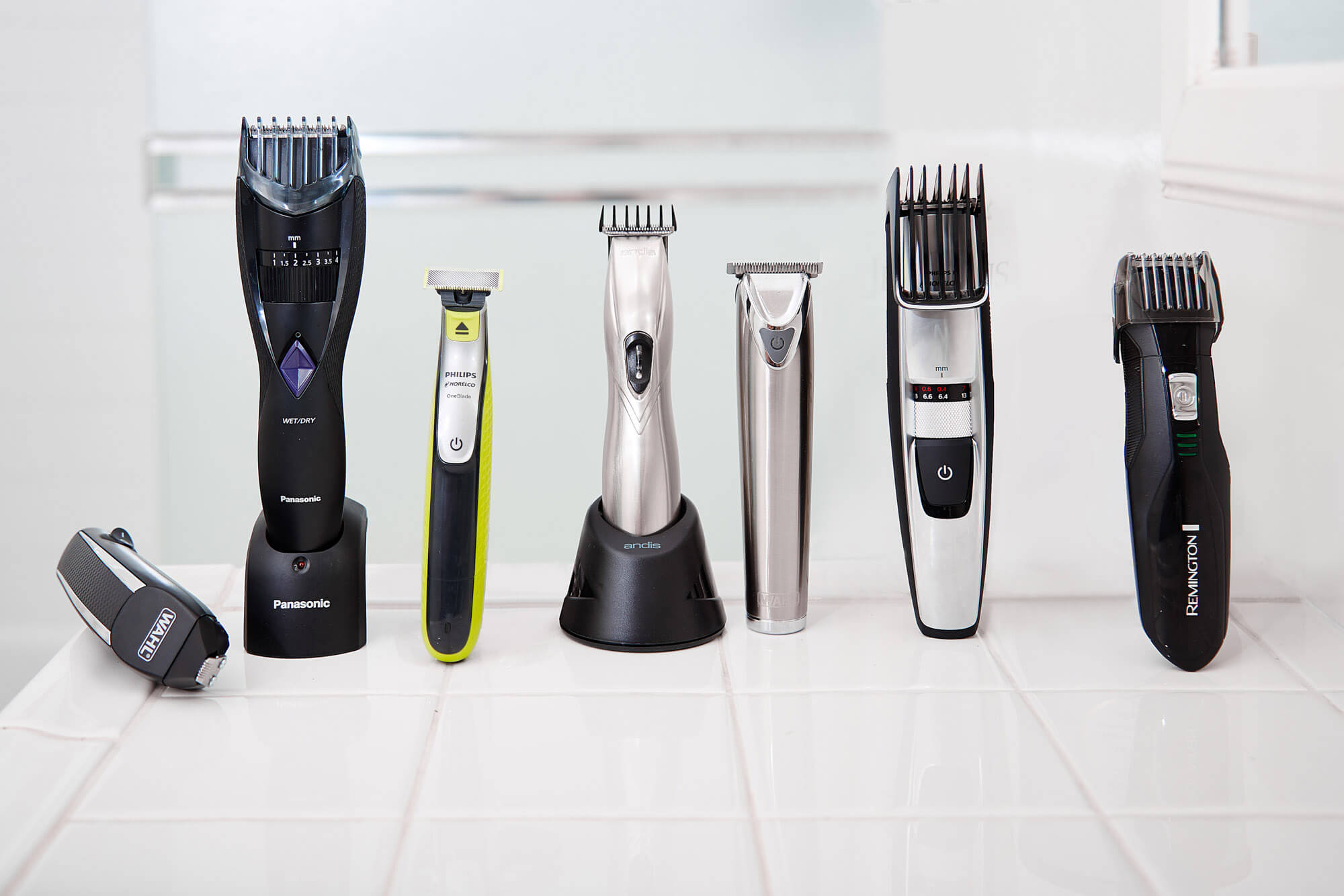 For nine weeks, we tested seven beard trimmers on beards of all lengths. We washed the trimmers, tested battery life and compared their attachments. Ultimately, the Wahl – PowerPro 9686 earned our pick for best beard trimmer. It's a corded trimmer with great blades and uses clip-on attachments just like your barber's. If you don't mind recharging, our top cordless pick, the Panasonic – ER-GB370K, has an adjustable comb guide that replaces a mountain of clip-on attachments.
For nine weeks, we tested seven beard trimmers on beards of all lengths. We washed the trimmers, tested battery life and compared their attachments. Ultimately, the Wahl – PowerPro 9686 earned our pick for best beard trimmer. It's a corded trimmer with great blades and uses clip-on attachments just like your barber's. If you don't mind recharging, our top cordless pick, the Panasonic – ER-GB370K, has an adjustable comb guide that replaces a mountain of clip-on attachments.
Table of contents
Beard trimmer features comparison
Best for long beards: Wahl – PowerPro 9686
The corded Wahl – PowerPro 9686 stands out in this crowd because you'll never have to worry about the battery running flat, and with two trimmer blades and the biggest set of attachments it's a bargain.
We paid about $25 for this setup, and it has everything you could ask for. The detail trimmer blade even works quite well for nose hair.
Guide combs are most useful in beards shorter than a half-inch. Once you get past that length, things get tricky: a uniform 1 inch of chin hair usually looks kind of bulbous, so most beardsmen are going to start tapering. The longer guards in this kit might just stay in the box.
That said, it's good to have options. Even if you're just starting your journey toward a monster beard, the guides will help you learn about the grain and texture of your beard while you psych up for freehand trimming and shaping with a comb.
If you're a fan of this array of attachments but were hoping for something cordless, the Wahl – 9818 is just that. Beyond cutting the cord (and doubling the price) the differences between the two trimmers come down to attachments. The cordless model has a more nostril-friendly ear/nose trimmer and a (poorly-performing) tiny shaver, while this corded model has a barely-functional six-position guide that you could leave attached to its second trimmer blade.
Wahl also includes some "stubble guides" that protect your skin from the points of the blade while cutting closer than the 1/16″ guide comb. These work well to reduce scratching, though they don't trim nearly as close as the short settings on other models. The bare blade trims closer than the Panasonic, about the same as the Andis out of the box, but you can't zero-gap these Wahl blades.
The only real drawback to this set is that there are so many pieces to keep track of, and most are only good, not great. The adjustable guide is actually pretty bad compared to other trimmers. If you need the longer clip-on attachments for blending out to a longer beard, it works. If you don't need anything longer than a half-inch, the Panasonic is a better design that you'll probably be happier using.
Wahl includes a zip-up pouch to keep all the attachments together, but let's face it, fishing through a pocket that has eight of these combs in it isn't actually convenient. (Note: You can put white paint on the size markers to help you read them.)
If you want a corded trimmer with more oomph, the Wahl – 5 Star Detailer or Andis – T-Outliner are barbershop-grade trimmers with adjustable blades. They don't come with many attachments, though, and most beards won't require the extra power. The Wahl – Peanut is another popular offering, again with few attachments, we also like the rocker power switch better than the slide switch on the Peanut.
Key takeaways:
The Wahl – PowerPro is a great trimmer with a full set of attachments and a five-year warranty.
It isn't cordless, and it isn't waterproof, but you'll never have to worry about an aging battery.
Includes 12 guide combs, everything from long stubble up to a full inch.
This wide T-blade makes detailing edges a little easier.
The accessory detail trimmer is a nice touch, though many won't ever use it.
Best cordless: Panasonic – GB370K
This was a tough pick. Each trimmer we tested has a strength (and a weakness) for particular applications, but the Panasonic – ER-GB370K rose to the top of the cordless ranks. Panasonic's great features make this easier to use than most other trimmers, and both the motor and blade are top-class.
The Panasonic is versatile enough to do nearly everything, from stubble to shaping full beards, with just its one built-in attachment. This adjustable comb doesn't go at long as some of the fixed-length clip-on attachments for other trimmers, but for beards less than 1/2″ (where a length guide is most useful) we love that this wide, sturdy guide won't pop off in use or get lost in a drawer.
The teeth on this guide attachment are a little longer in the front than on the other adjustables, so it's tricky to go straight up under your nose for a close-trimmed mustache. But they help maintain a consistent length better on the rest of your face, and that's what the guide is for anyway.
The Panasonic's battery isn't as long-lasting as some other trimmers, but the wall-mount charger is convenient and avoids the tangle of cords you usually face with a charger. The two pieces are a lot easier to keep in a drawer between trims than most other models.
Panasonic has one big advantage over the Wahl – 9818, and that's a waterproof design. You can wash the trimmer without taking it apart, and also use it in the shower. The Philips – 5210 is also waterproof, but we like the wider blade and the closer-cut stubble on the Panasonic.
Key takeaways:
Panasonic's GB370K is cordless, waterproof and doesn't burden you with accessories to keep track of.
A strong, but quiet motor makes this easier to live with.
This versatile guide comb adjusts from stubble to bushy in precise steps.
If you remove the comb, this wide blade cuts closer than most other trimmers.
The battery life is short, but the price is also low.
Best trimmer for stubble: OneBlade
The Philips – OneBlade Face + Body has a unique blade design, one of the only successful new designs since motorized hair clippers were invented. It's also nearly perfect for keeping a short beard or stubble looking neat.
Rather than just making a row of v-shaped shears sliding against each other, Philips took the one-dimensional concept and made a trimmer that cuts on both edges.
These are also much thinner blades than most clippers, so you can cut very close to the skin without risking scratches from the tips of the blade. This means that you get real contrast between areas you want to look clean and areas where you want to leave some scruff.
The following guide comb attachments are included, along with three blades:
3/64″ (1mm)
5/64″ (2mm)
1/8″ (3mm, #1 hair clipper guide equivalent)
3/16″ (5mm, shorter than a #2 equivalent)
A separate 1/8″ comb for body hair use
An "edge guard" for shaving delicate skin
This is halfway between the other trimmers and the real electric shavers we tested. That's going to seem a bit silly for some people, since it's not doing either job all the way: You won't get smooth shaves, and the short guide combs won't help in longer beards. But, if you've got a shorter beard or if you just want to keep your stubble looking neat, it's a pretty perfect tool.
This wouldn't be our first pick for freehand shaping longer beards, but the blades are quite capable even in that role. Most guys who aspire to full-length beards aren't going to be using the bare blade for lining up edges anymore, but if you do it's a versatile tool.
Also a great body hair trimmer
If you're looking for one device that can manage all of your grooming, this has you covered below the neck, too. If your back hair is out of control, our other body hair trimmer picks are still better at helping you reach, but for everything else the Philips – OneBlade is a pretty compelling pick.
Is it gross to say that you can use a beard trimmer as a body hair trimmer? Yes, but in this case Philips has kind of cheated. The package comes with three completely separate blade assemblies that you can dedicate to whatever funky fate you choose.
You even get a specific comb attachment for body hair that will help you keep your blades from getting mixed up. This is also by far the easiest trimmer to wash thoroughly, so you won't need to worry about contaminating your Dopp kit.
The "edge guard" works pretty well for keeping delicate skin out of the blades, but the foil shaver on the Philips – Bodygroom is still the safest pick for getting right to the skin in sensitive places.
What about upgrade options?
We tested the mid-tier "Face + Body" kit; it has a slightly bigger battery and more attachments than the base kit. For $15 more, we think that's a great deal, but spending around $40 more on the OneBlade – Pro isn't quite as compelling.
The Pro features an adjustable guide attachment with a 10mm length, which brings it up to par with the rest of the trimmers we tested for mid-length beards, but the attachment isn't as wide or sturdy as the guides bigger trimmers like the Panasonic have.
The Pro doesn't come with the spare guides or blades that you can dedicate to body-hair use, which dampens our enthusiasm for it. You can buy those separately for about $30; you can't buy a longer guide comb for the base OneBlade.
How well does it shave, though?
Our tester used these beard trimmers at the same time as early testing for our electric shaver guide, using the shavers on neck and cheeks with the beard trimmers to maintain a goatee. We tried the OneBlade in this role, and it's not the same class of shave as any of our top picks. If you've got anyone inspecting how close you shave, (be that a domestic partner or a Sergeant), this won't do the job.
If you just need to be technically clean-shaven, but you're not worried about the prickly feeling of stubble, the OneBlade is cheaper and just as easy to use as an electric shaver. If your hair is light enough, you might even fool people; it's a good deal closer than any of the other trimmers.
Key takeaways:
The OneBlade Face + Body works very well for shaving down to a clean-but-prickly shadow.
This kit includes comb attachments up to three sixteenths of an inch to maintain a shorter beard or mustache.
Philips included the longest-lived battery among the waterproof trimmers.
Also a great body hair trimmer, this model comes with a spare blade and comb just for that purpose.
The other finalists we tested
Wahl – 9818
The Wahl – 9818 is basically a cordless version of the PowerPro trimmer we picked for long beards. The cost is double, but it has the longest battery life on any cordless trimmer we tested.
Battery life isn't the only factor to consider when you're buying a cordless tool, but it's nice to see these kinds of specs. We were happy that we could even get inside to see what kind of battery it is (an off-the-shelf 1000mAh 14650-size cell soldered to the control board).
The battery and heavy steel body are the only parts that got a real upgrade, though. More critical features, like the guide attachment design, are identical to every other cheap Wahl trimmer. OK, not amazing.
That said, if you want to maintain a 3/4″ longer beard at a set length, Wahl's clip-on attachments are basically your only option.
For this more expensive cordless trimmer, our standards are a bit higher, and we're disappointed that Wahl still uses these flimsy attachments. They'll pop off if you put a lot of pressure on them, and you have to squint to read the size markings.
Waterproofing is also a missing feature that would make this a much better cordless trimmer. No, it's not a must-have feature, but most of us don't have a giant can of clipper spray always at the ready. A waterproof design would make use and cleaning much easier.
If you're going to put up with the fussy cleaning requirements of a pro-style clipper, we'd like to see some pro-grade design considerations, too. Wahl uses a cheap, spring-tensioned blade assembly here, not an adjustable blade like the Andis – Slimline Pro.
Wahl sets these to trim pretty close, so most people aren't going to miss out on gap adjustment, but it's another win for the Andis trimmer if you're looking for a line-up trimmer.
Wahl still has a more versatile kit than any other trimmer, but most users would trade half of the attachments for some missing features. The build feels solid, but that's entirely because of the stainless body tube; the internal components are just as cheap as any of the other trimmers. (A point borne out by the spotty reliability record in the Amazon reviews.)
Andis – Slimline Pro Li
The Andis – Slimline Pro Li is a small, light, versatile tool that finds its way onto many barbershop and stylist workstations. It's missing some features that would make it an easy top pick, but for some people it might still be the right tool.
The Slimline is at its best without a guide comb. That's how most barbers use it, and the few guides that are included makes it clear that Andis knows this. Barbers also complain about these attachments, just like the Wahl attachments.
If you don't need the #4-#8 attachments that the Wahl has, there are a few things this trimmer has going for it. It's slimmer and lighter, so it'll be easier to pack for travel even if you don't have to hold it up all day. The blade is also adjustable to "hit" a zero-gap line, so you can get right down to the skin if you want to. (Be careful, and check out the templates that can help you line up the edge.)
If it weren't for the OneBlade, then, this might be our pick for trimming close-cropped and precisely-lined beards. With that option on the table, though, the only reason to go for the non-waterproof and more-expensive Slimline is if you find that the OneBlade blades won't cut your hair well.
Philips – 5210
The Philips Norelco – 5210 is another very close contender for our top cordless pick. The battery runs just a hair longer than the Panasonic's, and the adjustable guide combs it comes with will cover beard growth that's just a bit longer, too, out to a #4 equivalent with the two longer attachments.
We like the design of these guides for close-cropped beards, and in those conditions we think this is going to be a better choice than the Panasonic, since the long "teeth" on Panasonic's guide aren't really needed.
That said, the 5210 has a stubble-length adjustable guide that's deceptive: adjustment marking indicate that you can go from 0.4 mm to 0.8 before you get to the 1mm height setting, but in real-world conditions these settings are no different from taking the attachment off. You won't get any contrast from different stubble lengths using these shortest settings.
The OneBlade is a more versatile system for short beards, and it has a much longer battery life and better design overall if that's the kind of job you need to do. For beards longer than a #3 guide comb, the Panasonic takes over as a more capable trimmer, with a wide blade and one do-it-all attachment for Philips's 3.
Remington – PG6025
The Remington – PG6025 is the multi-use pick from our body hair trimmer review, and it's still a good trimmer for $20. The nose hair trimmer attachment is as good as Wahl's, though for $5 more Wahl has a much more complete beard trimming package.
Remington's budget-priced trimmer had the weakest battery of our lineup, and it's not waterproof. The included shaving foil isn't really worth using, maybe it'd be OK on your legs or for other areas that are less sensitive than your face.
The adjustable guide Remington uses is decent enough to work. Remington calls their three snap-on guides "beard and stubble combs" and the 8-step adjustable a "hair" comb. You'll be fine whichever attachment you pick for beard trimming, but none of them are especially good.
How we selected finalists to test
To track down a lineup of worthy candidates, we checked out reviews from solid publications like Wirecutter. We were disappointed with most of the info we found, most of the content from magazines and style websites seemed more like promotional info.
Youtube reviews of clippers wound up being some of the most solid info we found, though most of the great in-depth reviews are from a barbershop perspective, so not many gave in-depth info about attachments useful for self-trimming.
We filtered retailers ratings and user reviews extensively, ruling out models with poor review scores on Amazon. We looked for the most popular models from established manufacturers, and selected models that were new or recent updates if a popular brand had multiple offerings.
Consulting with barbers at The Statesman in Anaheim and Floyd's in Tustin gave us some assurance that we were looking at solid brands and useful features.
We only selected one corded trimmer for review. Compact corded trimmers (which are mostly tools for barbers and stylists doing detail work) tend not to include the attachments you'd want to have for beard-keeping. You could buy a hair clipper set, like the Wahl – Super Taper with eight attachments, but those clippers are just too big to be convenient.
If you do need a corded trimmer with more oomph to cut through your super-hard alpha-hairs, the Wahl – 5 Star Detailer or Andis – T-Outliner are barbershop-grade trimmers with adjustable blades. They don't come with many attachments, though, and most beards won't require the extra power.
Our top cordless pick from Panasonic also has a pro-grade bigger brother: the ER-GP80 is a top-class cordless hair trimmer with a fancy linear motor. But it'll set you back about $180, and that's just too much for most of us to spend on a beard trimmer. Likewise for the new Bevel Trimmer, which looks great for edging and stubble but doesn't have any attachments for maintaining beard length.
We also dismissed gimmicky features like vacuums and digital speed controllers. If we got those features for free in a proven product we wouldn't turn them down, but the core features need to be the priority.
How we tested
After leading a team of testers in our nine-week beard oil review, our "bearditor" took his six-month beard progressively down to nothing with each of these trimmers.
Trimming long beards
Using a comb, freehand trimming and the longest of the included guide attachments, we tested which trimmer works best for maintenance of a beard longer than one-half inch.
The difficulty of freehand trimming made this the trickiest category to judge. Using a guide like the No. 8 clip-on attachments for the Wahl trimmers means you won't have to worry as much about taking a random chunk out of your beard. But, in the era of "yeards" an inch barely counts as "long." If you want to join that club and keep your beard looking neat, you'll need to learn how to shape a beard with a comb and the bare trimmer blade.
We gave this test to the Wahl trimmers simply because of the versatility of these kits for shaping and blending, especially as you're figuring out how long your mustache can get before it starts stealing your beverages.
The Wahl T-shaped blades were great for freehand shaping, though the wide Panasonic blade is stiff competition if you don't need the longer attachments anyway.
Trimming with a shorter attachment
For short beards, a guard or comb attachment make it much easier to maintain a consistent length. All of the trimmers except the OneBlade included at least a ⅜" comb, and even this is longer than what was once considered "groomed."
Every attachment we tested is very capable of helping you keep your beard at a consistent length, but we noticed that most adjustable guides were only adjusting the height of the blade, with no protection from the tips.
Except for the Panasonic with its longer teeth, the adjustable combs won't keep you from "dipping" the teeth into your beard as you run it over tricky areas. We also preferred the Panasonic's wider blade for quicker twice-weekly trimming; it's tricky to use around the nose at first, but we think it's worth the learning curve.
For most beards, we also think a built-in adjustable guide makes more sense than the various clip-on guides than barbers use on their trimmers. The Andis and Wahl trimmers perform very well and are great to use, but if the attachment pops off and falls behind something when you're travelling, your trimmer basically becomes worthless until you can replace it.
Stubble maintenance
Using the shortest guide combs and the bare trimmer edge, we tried to maintain perfect groomed stubble with each model.nThe ideal trimmer will allow a perfect fade from bare neck to slightly-longer stubble along the jawline, then back to a shaven finish on the upper cheeks.
The Philips – OneBlade was the only trimmer that got anywhere close to an all-in-one solution for this look. If you want to keep permanent five o'clock shadow, the bare trimmer shaves close enough that you can actually create some contrast with the shortest attachment. This way you can leave a little more fuzz on your face but clean up the edges with the bare trimmer blade, which helps you look "groomed but rugged" rather than lazy.
Other trimmers will get close enough to leave an even scruff, but you'd definitely need to clean up with a razor if you want to keep your neck and cheeks looking clean.
A notable performer in this test is the Andis – Slimline. The trimmer blade is designed for lining up perfect edges on barbershop fades, and you can even "zero-gap" the blade halves to get it cutting closer than the other conventional trimmers. Instruction videos and plastic templates make it pretty simple, but note that a zero-gapped blade can scratch you if you're not careful. So the OneBlade's design still has an edge for casual users.
Battery life
We topped off the battery on each trimmer, then ran it until the blades stalled. Every model (except the bargain-priced Remington – PG6025) could run for longer than 90 minutes, which is plenty of battery for weekly trimmings. They were all running strong enough to cut hair reliably until the end.
If you're using these in a barbershop, the extra runtime from the gigantic battery in the Wahl – 9818 is a great bonus, though we should note that it's also the heaviest trimmer by far.
The Andis – Slimline Pro Li runs less than half as long as the Wahl, but that doesn't take it out of the running: if you use a trimmer for extended periods, the handy charging stand means the overall battery life isn't as important, and the light weight and adjustable blade will probably be worth that tradeoff.
Important features to consider
Battery or plug-in power: Cordless trimmers are significantly more popular than their corded predecessors, and it's easy to make a case for the convenience. How much motor speed you give up going cordless depends on the model, but all batteries will die eventually.
Size of blade: Wider blades make for quick work and straight edges, while narrower trimmers can be easier to work with around the chin and nose.
Waterproof operation: If you have a shower mirror, waterproof cordless trimmers are great way to avoid leaving tiny hairs all over your bathroom. They're also easy to clean, just soap and rinse the head under running water! You might also want to apply some clipper lube when you're done, just to keep rust at bay.
Stands and travel cases: The most sophisticated kits in this lineup included a pouch to store accessories or a stand for convenient countertop charging, but we didn't find any models with both. Good travel cases are pretty easy to find, charging stands not so much.
Attachment guides: The comb-toothed attachments on a trimmer will keep it at a consistent distance from your face, which makes it easy to keep your beard at a consistent length. Which attachment works best depends on what kinds of trimming you do most, and how you like to shape your beard.
Accessories: A few of these kits include accessories like nose hair trimmers, narrow-blade detail trimmers or even foil shavers. We think the nose hair trimmer attachments are a nice bonus, but the shavers were basically junk.
The bottom line
Picking the best beard trimmer is a bit like picking the best beard: Every man is going to have different preferences. We narrowed down three picks that will excel in three different beard lengths, and we think that's the best way to approach this decision.
For average-length beards on average guys, the Panasonic – ER-GB370K has everything you need and nothing you don't. It trims close enough for clean edges, but it also has a versatile guide comb that works very well in mid-length beards. The plug-in charging stand is also a nifty way to cut down on bathroom clutter.
For those pursuing the trendy stubble-beard, the Philips – OneBlade will give you closer shaving and more versatile stubble options, as well as body-hair grooming options if that's your thing. It's even more compact than the Panasonic, though it does have more pieces to keep track of.
If you're growing out a bushy or wizard-length beard and you need a full set of guide attachments to get you there, the Wahl – PowerPro 9686 goes all the way to 1″ and includes a nose hair trimmer to boot. We like this corded version better than the heavy and expensive cordless Wahl – 9818, but the two kits are similar.