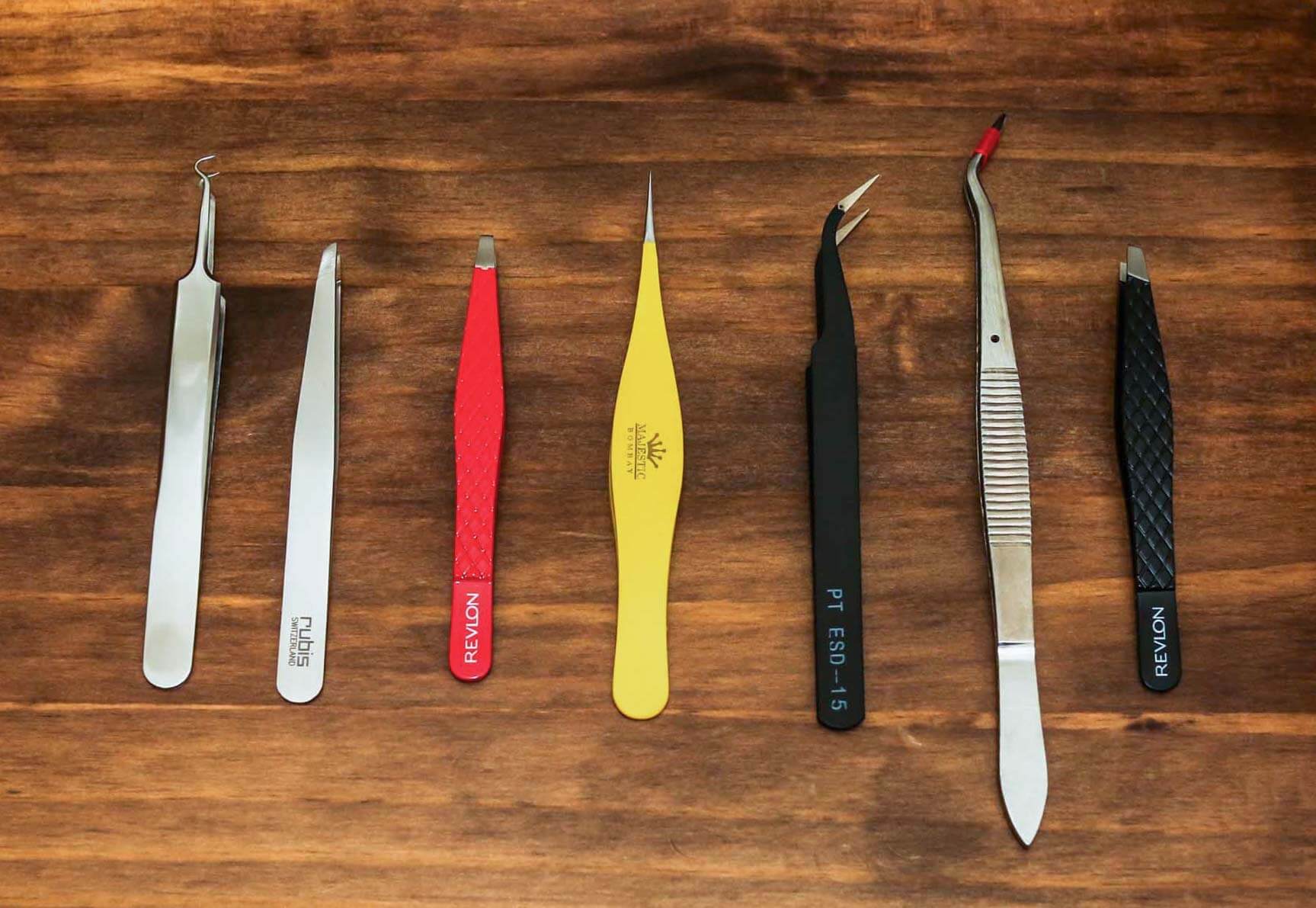 We spent a month rigorously testing 19 of the best tweezers on the market and determined that the Rubis Switzerland – 3- 3/4" Slant Tip is the best tweezer for hair removal on the market. While slant tip tweezers are the best for shaping eyebrows, we also tested the best square tip, splinter-removing, lash-applying and rhinestone-applying tweezers.
We spent a month rigorously testing 19 of the best tweezers on the market and determined that the Rubis Switzerland – 3- 3/4" Slant Tip is the best tweezer for hair removal on the market. While slant tip tweezers are the best for shaping eyebrows, we also tested the best square tip, splinter-removing, lash-applying and rhinestone-applying tweezers.
Table of contents
The 12 tweezers we tested
Best for hair removal: Rubis Switzerland
For both precision and bulk hair removal, one tweezer clearly outshone all the rest. The Rubis Switzerland is a simple, sturdy, stainless steel tweezing machine. Our testers all rated the Rubis Switzerland's ability to pluck single hairs as above average to excellent.
The tweezer's slant 3mm tips had a good grip on hairs and rarely cut them. Our testers also noted that the Rubis Switzerland's simple design made it easy to grip and maneuver. The Rubis Switzerland is better suited for precision hair removal than removing multiple hairs at a time, making it a good tweezer for shaping brows. You will still be able to work quickly with the Rubis Switzerland, as it cleanly plucks hairs in a single tweeze.
The Rubis Switzerland's main drawback is its price tag, which is among the highest for tweezers. The price is reflected in the tweezer's quality, and performance, though. Our esthetician, Julia, referred to the Rubis Switzerland as "one of [her] all time favorites."
Close behind the Rubis Switzerland – 3- 3/4" Slant Tip, is the Anastasia Beverly Hills tweezer, and the Tweezerman earned above-average scores for precise hair removal from all of our testers. Like the Rubis Switzerland, both of these tweezers have 3mm stainless steel slant tips. While these tweezers were reported to cut hair more than the Rubis Switzerland, both are still very good options. Particularly, the Tweezerman, since it comes in slightly cheaper than the Anastasia Beverly Hills.
Budget pick for hair removal: Revlon – Slant Tip
If you are looking for a good budget slant tip tweezer, the Revlon – Slant Tip is the way to go. The Revlon's price is at the low end; however, it earned average to above-average ratings with our testers, who especially appreciated the tweezer's textured grip. The Revlon's stainless steel 4mm tip lacks the precision of our top picks but offers solid tweezing usability at a good price.
Coco's Closet tweezer was unique in that it had an oval grip for finger placement. This grip did not go over well with our testers, who felt that it made changing your finger placement awkward and that it made the tweezer more unwieldy overall.
Zizzili Basics and TweezerGuru both received average scores from our testers for hair removal, the major complaint for both being they cut hairs too often. Both of these tweezers had wider tips, the Zizzili Basics coming in at 4.5 inches and the TweezerGuru at 4 inches. While both of these stainless steel tweezers get the job done, you are better off purchasing the Revlon – Slant Tip at a similar price.
Square and round tip tweezers often pluck multiple hairs at a time. This makes them ill suited for precision brow shaping but good for getting rid of patches of facial hair. The Revlon – Square Tip was our top square tip tweezer, because our testers ranked it above average for removing multiple hairs at a time. Our testers also liked the textured grip and bright coral color of the tweezer.
The Revlon offers 3mm stainless steel square tips for a low price, which makes it a good value tweezer. For those looking for a square tip tweezer, the Revlon is easy to use, has a good grip for plucking hair, and looks appealing.
Best for removing multiple hairs at once: Revlon – Square Tip
We also tested the Rubis Switzerland – Straight Tip, which has square 2mm stainless steel tips. The Rubis Switzerland performed well with our testers, however was not as quick at pulling out patches of hair as the Revlon – Square Tip because of its smaller tips. If you are looking for precision plucking, we recommend the Rubis Switzerland – 3- 3/4" Slant Tip, but the Rubis Switzerland – Straight Tip is a solid option for those who insist on a square tip.
The ApeX – Round Tip was the only safety tweezer we tested. The most notable feature of this tweezer was the wonderful leather travel case it came with, which works well for protecting tweezers. Our testers ranked ApeX's hair removal performance as low because it did not grip hair well. For those looking for a safety tweezer to apply cotton swabs, this tweezer would work well as it is easy to handle and its rounded tips would not pierce soft material.
Best for ingrown hairs: Majestic Bombay
Our top tweezer for removing splinters and ingrown hairs is the Majestic Bombay – Surgical Pointed. The sharp, precise stainless steel tips of the Majestic Bombay tweezer removed ingrown hairs easily. These tweezer's stainless steel tips are sharp enough to free ingrown hairs or splinters that are partially under skin.
One of our testers commented that the Majestic Bombay was exceptionally easy to grip and handle, which is an important consideration when you are bringing sharp-pointed tips close to your skin. It is important to handle these tweezers with care, as their exceptionally sharp tips will puncture skin.
The TweezerGuru – Pointed Tweezer was also able to free ingrown hairs from skin; however, our tester was not able to handle and squeeze the tweezer tips together as comfortably as with the Majestic Bombay. Both of these tweezers had a similar price point, so we recommend going with Majestic Bombay if you are looking for tweezers to remove splinters or ingrown hairs.
Our other pointed tip tweezers were not suited for removing ingrown hairs or splinters, because their tips were thicker. The Classic Necessity – Pointed Eyebrow tweezer's stainless steel tips were able to grip single hairs and remove them — making it a very precise tweezer for hair removal. However, most of our testers preferred using a slant tip tweezer for precision grooming.
Silver Gripper – Pointed Keychain Tweezer Silver Gripper was the smallest tweezer we tested, only 2.5-inches long, and the only tweezer that came with an attached keychain holder. While Silver Gripper was very handy to travel with, the tweezer itself was hard to use. It performed very poorly at plucking hairs and was only mediocre at picking up small items.
Best for lash extensions: ReNext
After consulting our lash professional, who tested all of our curved tweezers, we found that the best tweezer for applying false lashes was the ReNext – Curved. While the ReNext is marketed for nail art, this tweezer was also good for picking up and separating lash extensions. Our lash professional Billie Jeanne states that a great lash tweezer should be, "light, easy to pinch, and have small precise tips." The ReNext ticked all of these boxes.
Light and easy handling are important for lash tweezers because you don't want your hands to get tired while doing the repetitive task of applying lashes. The ReNext's lightweight and simple grip make it easy to use for application.
Precise pointed tips can individually separate and handle tiny lash extensions. However, with precision comes extra caution. Because the ReNext's points are very fine and sharp, it should be used with the utmost care around the eyes.
Best for blackheads: FIXBODY
Blackhead tweezers are a relatively recent trend that prevent users from using hands (which naturally are very oily) to do at-home extractions. Dermatologists recommend having blackhead extractions done professionally for the best hygienic conditions and to minimize skin irritation. However, if you are still going to do at-home extractions, we tested blackhead tweezers to see which work best.
We found that the FIXBODY – Blackhead & Splinter Remover was good at extracting blackheads because its stainless steel rounded tip was small and sturdy enough to precisely apply pressure around the blackhead. The FIXBODY is stainless steel, so it will not irritate sensitive skin. This tweezer was also light and easy to grip, which is important when trying to precisely handle these tweezers around small blackheads.
The FIXBODY also came with other comedone extractor tools that we did not test. We did not test these tools because they were not tweezers, and were not necessary to the function of the FIXBODY tweezer. However, these included tools are a plus when considering the value of the tweezer set. The tweezer and two other comedone extraction tools were sold for under $10 for the whole set.
Best for rhinestones and crafts: Tweezier
When it comes to applying small rhinestones, a tweezer needs to have precise tips that have enough grip to securely hold the rhinestone. The Tweezier – Heavy Duty 6″ Curved was our top choice for the job because its stainless steel tip was able to hold the rhinestones securely.
The Tweezier is a large and sturdy six-inch tweezer. Its extra length gave testers more maneuverability while precisely placing rhinestones. Plus, its solid tips increased versatility for objects it could handle. However, the length and stainless steel material make it heavier than the EK Tools – Craft.
EK Tools also performed well for picking up and placing rhinestones; however, its grip had a learning curve that frustrated some testers. This tweezer has a reverse grip, meaning that when you squeeze the tweezer the tips move away from one another. If you are comfortable with a reverse grip, and are looking for a very lightweight tweezer, the EK Tools would be a good choice. However, we recommend the Tweezier as a better choice for most consumers who want a versatile tweezer that offers a great grip on small objects.
How we selected
We've reviewed many beauty and grooming products for women, such as the best deodorant, the best safety razor and the best toiletry bag to hold everything when you're on the go. We turned our editorial eyes to search the best tweezers by checking out online reviews from Amazon.com, Sephora, and Ulta. We read through relevant subreddits such as r/BuyItForLife and r/MakeupAddiction. We also consulted a review by Wirecutter, which influenced our decision to include the Tweezerman.
We thought it was important to include a variety of tip types so that we could determine which tweezers were the best for a variety of tasks. Therefore while some types, such as square tip or round tip tweezers are less popular, we still included them in our testing to be thorough.
How we tested
Hair removal
We put our slant tip, square tip, round tip, and pointed tip tweezers to the test by having four testers use them to remove brow and facial hair. One of our testers was a certified esthetician and sugaring specialist, Julia Perez, owner of the Jae and Leona Beauty Collective in San Diego, California. Our other three testers were average consumer testers, each with a different hair type (fine, normal, and thick).
All of our testers preferred using the slant tip tweezers to remove hair, as they were easy to use for both precision work and removing multiple hairs at a time. The Rubis Switzerland had the highest average score from our testers. They were impressed with their sturdy design and ability to precisely grab hairs. Tied in second place were the Tweezerman and Anastasia Beverly Hills tweezer. Both of which scored above average in precision hair removal.
For our square tip and round tip tweezers, the Revlon – Square Tip came out ahead because of its ability to quickly remove large patches of thin hairs. The Revlon's large 3mm tips outperformed the Rubis Switzerland and ApeX Tweezer in getting rid of multiple baby hairs quickly.
When it came to pointed tip tweezers, only the Classic Necessity and Silver Gripper tweezers were able to effectively remove hairs. The Majestic Bombay and TweezerGuru's tips were so thin and sharp that they were only useful for removing splinters or ingrown hairs.
One of our testers was able to test both tweezers on ingrown facial hairs. The Classic Necessity clearly outshone Silver Gripper in precise hair removal, while the Majestic Bombay was best for ingrown hairs. All of our testers cited frustration in trying to handle Silver Gripper, as the tweezer was only 2.5-inches long.
Lash application
To help us determine which of our curved tweezers were best for applying lash extensions, we consulted Billie Jeanne Vergara, certified esthetician, lash specialist, and owner of B Lash Studio in La Jolla, California. Billie used each of our curved tweezers to apply lash extensions and gave us her feedback.
The ReNext – Curved tweezer was by far the best at applying false eyelashes. Its fine tips were good for picking up and separating lashes. Billie did not recommend using the other curved tweezers by EK Tools and Tweezier –  Curved for applying lashes; the EK Tool's reverse grip was not suited for applying lashes, and the Tweezier was much too big and heavy to use around eyes.
Rhinestone application
Our curved tweezers were all marketed to be useful for crafting activities, such as applying rhinestones to bedazzle nails or glue-gunning objects. To test these claims, we had our three average consumer testers use these to pick up and glue rhinestones.
Our testers found that the Tweezier – Heavy Duty 6″ Curved was very good at picking up and handling rhinestones because of the grip of the thicker tips. The EK Tools tweezer was also very good at precisely handling rhinestones. Its reverse grip had a bit of a learning curve, but some of our testers grew to appreciate it once they got the feel for it.
Blackhead extraction
We had three testers use our blackhead tweezers to remove multiple blackheads. All of our testers agreed that the FIXBODY was easy to use, and applied enough pressure to remove blackheads. Our testers also noted minimal skin irritation when using the pure stainless steel FIXBODY.
Alignment
We tested the alignment of all of our tweezers by squeezing their tips together and visually noting any discrepancies in their position relative to one another. All of the tweezers we tested were aligned correctly.
Which tweezer is right for you?
Different angles and styles of tweezer tips are better suited for different tasks. Whether you are plucking brows, applying lashes or looking for a versatile tweezer, our breakdown below will point you in the right direction.
Slant tip: These tweezers can precisely grab single hairs or multiple hairs at a time because of the slanted angle of their tip. Slant tip tweezers are a go-to tool for shaping eyebrows and great for hair removal overall.
Square tip: Sometimes referred to as straight tip or flat tip, the tips of these tweezers have a simple, flat edge. While these tweezers are not as popular as slant tip tweezers for hair removal, they are faster at removing more facial hair when you don't need precision (i.e., chin hairs).
Round tip: Also known as safety tweezers, the rounded tip of these tweezers prevents accidental poking. These tweezers will pluck multiple hairs at a time and are not meant for precision. While these tweezers have waned in popularity, they are suited for any task in which sharp edges would be a concern. For example, these tweezers would not poke through the soft material of a cotton swab or fabric.
Pointed tip: This refers to needle-nose style tweezers. Pointed tip tweezers shine when it comes to precision work. Some pointed tweezers have thick enough tips to do precision hair removal, while others are so fine that they are better suited for ingrown hair and splinter removal.
Curved: Curved tweezers are primarily used for application purposes — applying eyelash extensions, nail decals, rhinestones and so on. These tweezers' tips are pointed and curved (usually about 45° from the handle). They are also referred to as bent-head tweezers.
Blackhead tweezers: You will often find these tweezers labeled as comedone blackhead extractors or curved blackhead tweezers. Blackhead tweezers are similar to curved tweezers in that their tips are pointed and curved. However, blackhead-tweezer tips are curved more dramatically in a half-circle shape, so that the tweezer tip is almost 90° from its handle.
Dermatologist Dr. Neal Shcultz explains that these tweezers apply pressure at the base of the blackhead, so the "contents of the blackhead can easily be squeezed out." While dermatologists recommend having blackhead extractions done professionally, some say these tweezers are preferable to pinching skin with your hands.
Important features to consider
Material: Stainless steel is widely accepted as the best material for tweezers because it is durable and does not irritate skin (unlike other metals such as nickel). All except three we tested are stainless steel.
Tip type: The way tweezer tips are angled or curved makes them better suited for certain tasks. If you are unsure about what type of tip you need, check out which tweezer is right for you?.
Width of tip: Narrower tweezer tips allow for greater precision. However, as you decrease the width of the tips you also decrease grip on what is being tweezed. A good tweezer for the task balances both attributes.
Tweezer length: The closer your fingers are to the tip of the tweezer, the more likely they are to block your view of what you would like to tweeze. Generally, tweezers over 3.5" are the easiest to handle.
Convenience: A good set of tweezers should be small enough to store easily and including a carrying case is a big plus. Storing tweezers in a carrying case prevents dulling of tips and misalignment.
Aesthetics: Make-up Artist Julia Dalton-Brush recommends storing tweezers on your bathroom countertop, so we want tweezers that look nice enough to leave out.
The bottom line
For grooming brows, the Rubis Switzerland was our top choice. Its simple stainless-steel design and solid slant tip removes hair without cutting. The Rubis' performance could not be matched. Its only downside is the expensive price tag of around $40. If you are looking for a cheaper tweezer, we would recommend the Revlon. This tweezer received average reviews for performance and above-average reviews for its textured grip from our testers. It does the job for under $10.
Our best square tip tweezer was the Revlon – Square Tip, which can remove patches of hair quickly. This tweezer is not recommended for precision brow shaping. However, for those who prefer a square tip tweezer, the Revlon performs the best – and for under $10.
If you need to remove ingrown hairs we recommend the Majestic Bombay tweezer, whose sharp tip is precise enough to free small objects from the skin. Its stainless-steel tips will not irritate skin.
For applying false lashes we recommend the ReNext – Curved and for removing blackheads, the FIXBODY. The ReNext's tips were fine enough to separate lashes and apply lash extensions. It was also lightweight enough to handle easily. The FIXBODY's pure stainless-steel curved tip extracted blackheads easily. Remember, dermatologists recommend going to a professional for blackhead extractions; however, some say that blackhead tweezers are better than using your hands if you insist on doing at-home extractions.
Finally, if you are looking for a tweezer for arts and crafts we recommend the the Tweezier heavy-duty six-inch tweezer. This is a large tweezer that has a great grip on tweezed objects. Its size also makes it very versatile in what it can pick up.
If you're looking to style your hair rather than remove it, check out our reviews of the best flat iron and best hair dryer.