After six weeks of washing cars, watering plants, hosing off toys and performing other backyard chores with five contenders, we think the Suncast – Hose Hideaway is the best hose reel. This "hose hideaway" not only keeps your hose out of sight, it also makes coiling and using your hose much easier than any other affordable reel we could find. For a more heavy-duty reel that will survive longer but doesn't have as many features, the Liberty – 703-1 is hard to beat.
After six weeks of washing cars, watering plants, hosing off toys and performing other backyard chores with five contenders, we think the Suncast – Hose Hideaway is the best hose reel. This "hose hideaway" not only keeps your hose out of sight, it also makes coiling and using your hose much easier than any other affordable reel we could find. For a more heavy-duty reel that will survive longer but doesn't have as many features, the Liberty – 703-1 is hard to beat.
Table of contents
The 5 hose reels we tested
1. Top pick: Suncast – Hose Hideaway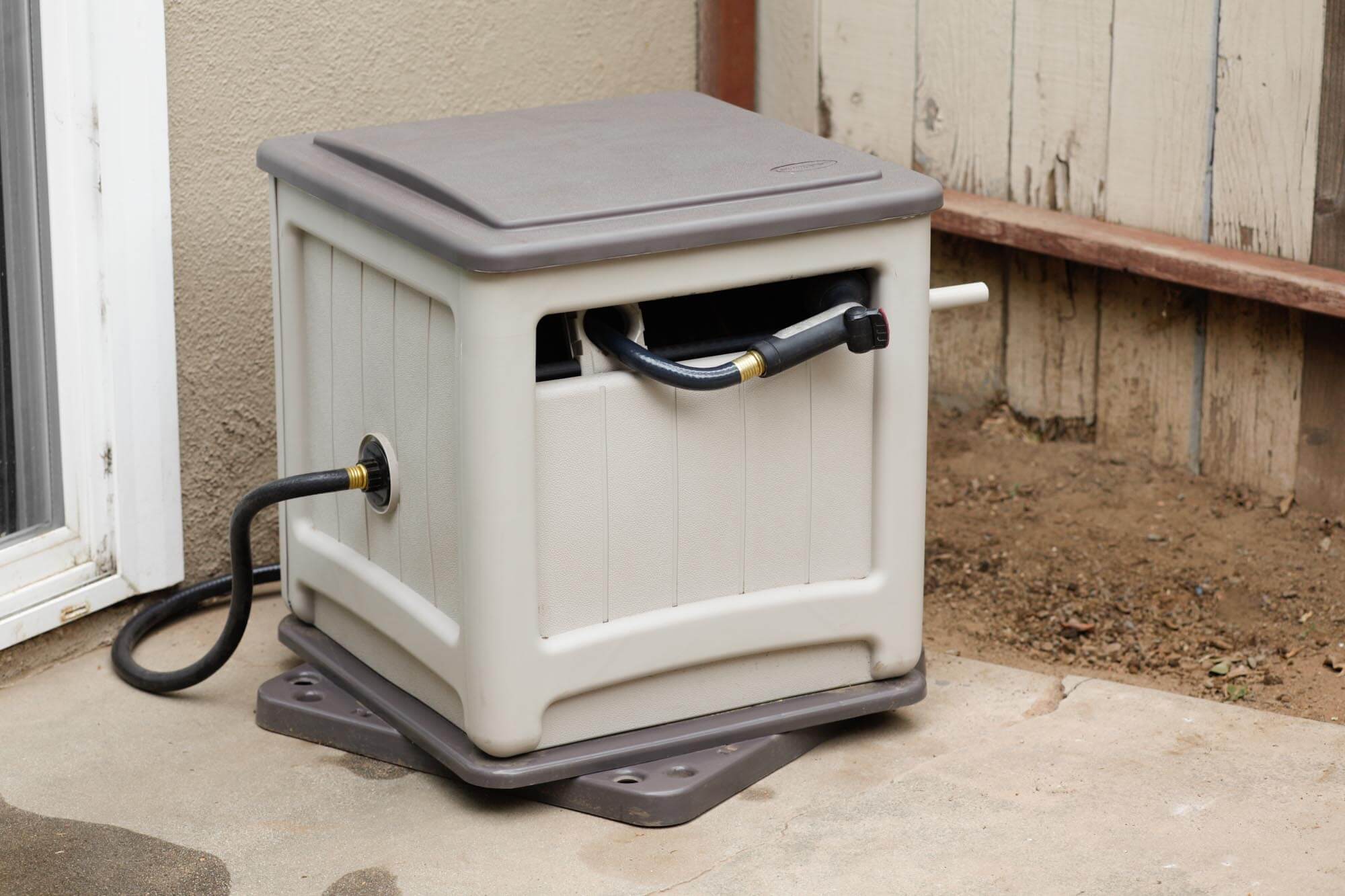 The Suncast – Hose Hideway is, all things considered, just a plastic garden hose reel. This model has a limited lifespan and reviews indicate the plastic hose fitting on the side won't survive abuse. It's not going to spontaneously fall apart but manage your expectations.
Keeping that in mind, this is an amazing reel for long hoses. We picked this model because it has a built-in winding guide (called a "level-winder unit" in industrial spooling applications for rope or cable) that keeps the hose evenly distributed so it doesn't bunch or overlap on the reel.
We used two of the cheapest, stiffest 100-foot-long hoses we could find, and this reel wrapped up 240 feet without any need to rewrap or correct any overlaps on the spool that could cause binding.
When we originally tested, we found a Suncast model with a handy swiveling base — a great feature when you've got a super-long hose that you're dragging all over the yard. The updated replacement features a set of wheels and a dolly-handle instead.
Note that no stakes came with ours, though the parts list says they should be included. We really do recommend staking down a reel with an extra-long hose. If you don't, this box is light enough to drag across the grass or concrete when you're struggling with a long hose.
Suncaster has a version of this reel with upgraded brass fittings that we considered, but on the whole, the parts upgraded (internal tubes and threads) don't seem to be the first to wear out. It's the retaining clips that keep the inlet assembly together that give up first if you put a strain on the inlet hose, so we wish they would reinforce that part instead.
The biggest beef we have with this design is that the inlet hose fitting doesn't have a spinning coupler: attach the hose to the reel side before you attach to your supply, or you'll find yourself trying to figure out how to spin the entire box around to get the hose screwed in.
Key takeaways:
The Suncast – Hose Hideaway easily wraps even 200-foot-long hoses in a neat, even spool.
This model effectively turns a giant pile of hose into an innocuous piece of yard furniture.
The dolly handle and wheels make using and coiling a long hose that much easier.
You can usually find this for less than $70, so it's a bargain for its size and features.
Long-term durability concerns are our only real pause.
2. Best heavy-duty reel: Liberty – 703-1

The  703-1 is an entry-level steel reel from Liberty and it represents a great value for someone who's tired of plastic garden tools.
Compared to the plastic reels, this is a bit heavier and inspires a lot more confidence. It isn't that attractive — the beige powder-coating is fine, but the mixed zinc-plated and cast-brass fittings on the side are kind of hideous. You could mount this on your wall, but if that's your plan you should know that Liberty makes more decorative options that aren't available in a freestanding style.
Compared to the Eley (which will set you back $100 more) this isn't as nice, but the parallel side flanges on this reel caused fewer problems when winding. It's also balanced lower to the ground, so it's less likely to tip over if you yank hard on the hose.
The fittings all appear to be off-the-shelf plumbing parts, which means long-term maintenance should be simple. Everything about this reel is a noticeable step down in look and feel from the Eley, but functionally it's a better reel.
If you want metal construction and a level-winder guide like our top pick, Liberty sells one, model 707, but it's wall-mount-only and a lot more expensive.
This 703-1 reel is wide and sturdy and only minimal assembly was required. (A couple of wrenches are required for the lock-nuts on the handle.) It leaked around the inlet when we first assembled it, but after we tightened the fitting a bit more it never so much as dripped.
The most frustrating thing about this reel is pushing the rubber feet through the holes in the base; you'll almost certainly need pliers to get them through. There are four cheap lawn stakes included if you want to keep this on grass instead of concrete.
Key takeaways:
The Liberty – 703-1 is well-built but still affordable.
Steel components with a powder-coat finish should survive decades of gardening.
Can be wall-mounted or free-standing.
Capacity for almost 200 feet of hose.
Doesn't help you wind neatly, but doesn't get in the way.
3. Best budget reel: Suncast – Hosemobile

Also from Suncast, the Hosemobile is a clever little hose cart that fits in any budget but doesn't disappoint when you use it.
Compared with the Ames – Fold & Store, it's actually pretty shocking how much better this is. The fixes are little things, like the angle of the outlet fitting where your hose connects: it's made from the same cheap plastic, but the angle Suncast chose means it doesn't force your hose sideways and cause leaks the way the Ames does.
This wheeled design doesn't fold up and won't take much abuse, but since the reel is only big enough for a smaller hose capacity, you're not likely to overload the plastic construction. You could probably load 175 feet of hose if you carefully guide it into an even wrap, but 100-150 feet is a more realistic length if you're just spooling quickly.
There's no guide here to help your hose wrap evenly, but the slot in the handle does have two notches that effectively lock a 5/8″ hose in place. That and other little design touches, like the foot-pedal that sticks out to help you stabilize the reel, help make up for the materials.
Key takeaways:
The Suncast – Hosemobile was the cheapest hose reel we tested, but it's far from the worst.
This isn't going to hold a really long and heavy hose, but 150 feet is more than enough for most of us.
The wheels and light weight make it easy to move your coil of hose from the backyard to the front.
Other products we tested
4. Eley – Rapid Reel

We bought the Eley – Rapid Reel to see just how much better a hose reel can get if you throw money at the problem. The answer kind of surprised us: this is the nicest hose reel, but it actually doesn't do its job as well as the less expensive models we tested.
As expected, the components included are all impressive. Even the purpose-built two-size allen wrench included for assembly is impressive: heavy-duty and with a nice finish. The cast-brass fittings on the leader hose are gorgeous and easy to grip without tools, a nice upgrade over other cheap pack-in hoses.
The fact that there's an adjustable reel brake is a testament to the thought that goes into these reels. Likewise, the loop of webbing that secures the hose to the reel is a nice touch. Neither of those features is really necessary, though.
This reel will undoubtedly survive more weather (and abuse) than a cheap plastic reel, but an extra hundred dollars doesn't solve all the problems in the world of garden hose reels. The sloping flanges on either side push the hose toward the center as it winds; if you aren't careful when quickly winding a long hose it might start to overlap itself.
We squeezed on 215 feet of hose and the reel still turned freely, but even at 150 feet, the overlapping problem is frustrating. Eley rates this model for 175 feet of standard ⅝" hose, but we wouldn't recommend it as-sold for much more than 125 feet.
Eley sells an extra-capacity kit to make the reel wider for long hoses and that would make the overlapping and bunching less problematic, but that brings the total cost for your stationary hose reel north of $200. On the bright side, installing the kit gives you an excuse to use that really nice Allen wrench again!
5. Ames – Fold & Store

The Ames – Fold & Store hose cart checks a lot of boxes on the feature list: it folds for storage, it has wheels to make dragging it around easier, it has a storage bin in the bottom and the slot in the handle even works as a built-in winding guide.
It's not that great in person, though. We're not going to fault a plastic hose reel for being made from plastic, but the way the outlet fitting sits on the reel means there's a lot of strain on it if you use a stiff hose. One of our cheap hoses has a kink-preventing strain relief sleeve that makes the end five inches very stiff; the sideways force against the fitting on this reel make it leak pretty severely.
Cutting off the strain-relief sleeve made our hose fit better, though it still leaked. Some thread-sealing tape or an extra gasket could probably take care of all the leaking, but you shouldn't have to use extra tools to get a fit that doesn't leak.
The way this reel sits in the frame, the side flanges don't have any extra room to bend or expand out before they'll start to rub as the reel turns. The flanges are bar-shaped rather than full circles (which does mean it takes up less space when folded), so when you get more than 100 feet of hose loaded they make a repeated "thwack, thwack, thwack" as you're turning the handle.
The slot in the handle doesn't actually do much to keep your hose tidy on the reel, either; mostly it just keeps your garden hose nozzle in place for storage.
How we selected
Research for this category was tricky, since there are so many different models and styles available, and since the flaws that kill a hose reel depend mostly on how much abuse you're putting it through.
As always, we scanned the retailer pages for ratings and user reviews and found that most people were fairly forgiving of garden hose reel design; so long as a reel works and doesn't break right away, most people are happy with what they get.
In the end, we tried three reels made of plastic and two made from steel. We splurged a bit on the Eley – Rapid Reel, if only to see how much better a really expensive model is.
The Powerwind and Aquawind features on other Suncaster models looked like features that would make the reel too much of a pain to set up and use for the little benefit offered, so we skipped them.
We also checked into designs that are basically air hose reels. They're retractable and durable, but you'll see a dramatic reduction in flow with the tiny-diameter hoses they come with. We decided to only look at reels that will work with the hose you already have.
A big, heavy-duty garden hose cart with wheels sounds like a great idea, but the affordable products we found have terrible reviews. Reviews of the four-wheel carts we looked at had reports of nightmarishly difficult assembly and raised big questions about long-term durability. We bought two plastic two-wheeled carts because they're cheap and popular; the metal two-wheel designs all seem to have stability issues and even those cost a lot more money than we expected.
How we tested
For a month of spring yard work, we used these hose reels with 50 feet of our favorite Craftsman rubber hose and two 100-foot lengths of the cheapest, stiffest hose we could find.
Setting up each hose reel required slightly different steps, but only the most expensive hose reel actually required any setup work: The Eley came as a box of parts and fasteners. (They were very nice fasteners, though, and the custom-made giant Allen wrench is well made.)
We then moved through a series of specific tests to pinpoint any strengths or flaws in the designs of these reels.
Build quality

We ranked the reels based on how we felt about the materials and design after testing. All the plastic reels scored a three here; we didn't note anything that made a particular reel feel sub-standard. The Eley, naturally, scored a perfect five — it's practically a showpiece for careful manufacturing with good materials.
Coiling and uncoiling at capacity
The way a reel coils and pays out hose is really the most important thing about it and we were surprised at the way our most expensive reel, the Eley, bunched up and overlapped the hose as we used it.
In contrast, the Smart Trak system on the Suncaster – Swivel Hose Hideaway won us over immediately with fast, even, tight coiling. It's not perfect; if you feed a tight kink into the guide it'll probably mess up your winding job. That said, if you lay out your hose so it has room to untwist, even a stiff vinyl hose will wind very easily.
We tested the capacity of the reels with the same hose to see how they compare to each other: the manufacturers rate their reel capacity based on some unknown ⅝" hose and they don't specify how picky they were about neat winding.
Leak tests
We don't expect a threaded hose fitting to be leak-free without enough torque to make things snug, but a reel often needs to be connected without tools and we wanted to see how they compared. The cheap hoses we tested with only had basic gaskets and we tightened by hand.
The Liberty and Ames reels were the only ones that dripped. The Liberty stopped dripping after we gave the inlet fittings (where the included leader hose connects) some more torque by hand.
The Ames – Fold & Store was leaking at the elbow-shaped outlet fitting where your garden hose attaches to the reel and because of the side-pressure our stiff hose put on it, the Ames never stopped leaking while the hose was coiled.
The bottom line
If you want a reel that will survive decades of sun, rain and abuse, the Liberty 703-1 is well-built and affordable. It held almost 200 feet of bulky, stiff hose and it should be easy to repair or replace the metal fittings.
For those looking for something more portable, we liked the cheap and easy-to-find Suncast – Hosemobile. It's not going to survive the apocalypse, but if you've got a smaller roll of hose that you want to move from yard to yard this reel will do the job.
If we had to choose one best reel for all our hose needs, though, we'd take the Suncast – CPLSSM200B Hose Hideaway. The Smart Trak guide system does a great job of feeding the spool evenly and the wheels help you move large hoses around just as well as the other carts.