We spent weeks researching and working with coffee expert and Coffee Cycle Coffee proprietor, Chris O'Brien. We also brought in a hydrodynamicist and used a Kruve Sifter to ensure grind testing consistency. Together, we performed blind taste testing to determine that the Bodum – Bistro Grinder is the best coffee grinder for home use. The Bodum grinder has user-friendly features, a minimal countertop footprint, a quiet motor and durable housing. At a higher price point, the Breville – Smart Grinder Pro is made with coffee-shop-level quality and has 60 different digital settings.
We spent weeks researching and working with coffee expert and Coffee Cycle Coffee proprietor, Chris O'Brien. We also brought in a hydrodynamicist and used a Kruve Sifter to ensure grind testing consistency. Together, we performed blind taste testing to determine that the Bodum – Bistro Grinder is the best coffee grinder for home use. The Bodum grinder has user-friendly features, a minimal countertop footprint, a quiet motor and durable housing. At a higher price point, the Breville – Smart Grinder Pro is made with coffee-shop-level quality and has 60 different digital settings.
Table of contents
Compare the best coffee grinders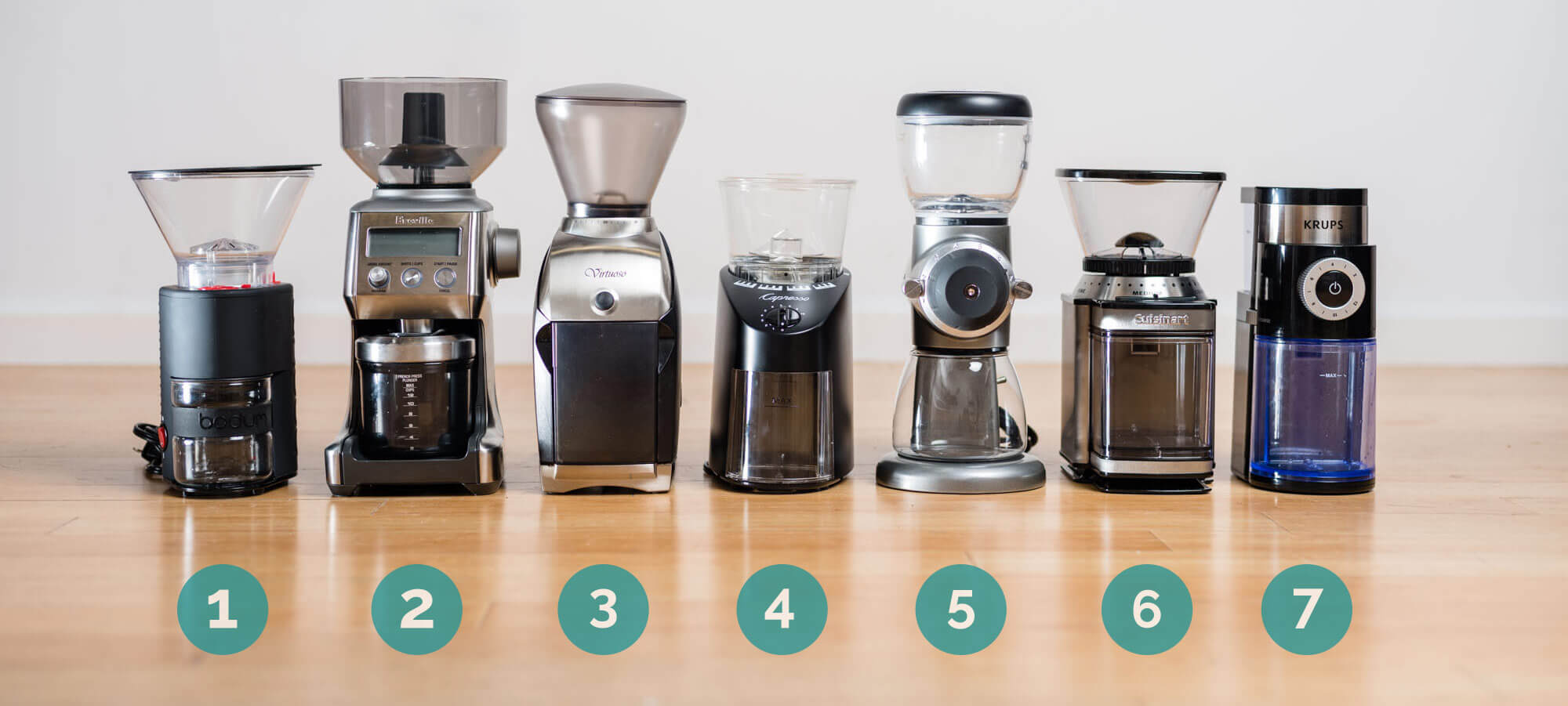 How we selected products to test
In order to determine which grinders to test, we had to learn what great grinders are supposed to do. So, we went to experts in the coffee industry like cafe owner and barista Chris O'Brien, enthusiasts like roaster Nathan Long and got some assistance in our testing from hydrodynamacist Doug Dommeruth. We read industry reports on best practices that make for high quality grind results according to the Specialty Coffee Association of America.
We specifically learned about the differences between burr and blade grinders, found examples of conical and flat or disk burrs and compared steel vs ceramic burrs. We also researched the type of grind consistency and brewing guidelines that are ideal for the most common at-home coffee styles of pour over and French Press.
We also used user reviews to find out what brewing methods the general consumer is using at home. We learned that how well a grinder performs depends partially on what brew method you are planning to use with the grounds. According to our research, most users are making a French press, drip, pour over or Aeropress style of coffee at home, and are looking for grind particles that are consistent with uniform, medium to coarse size.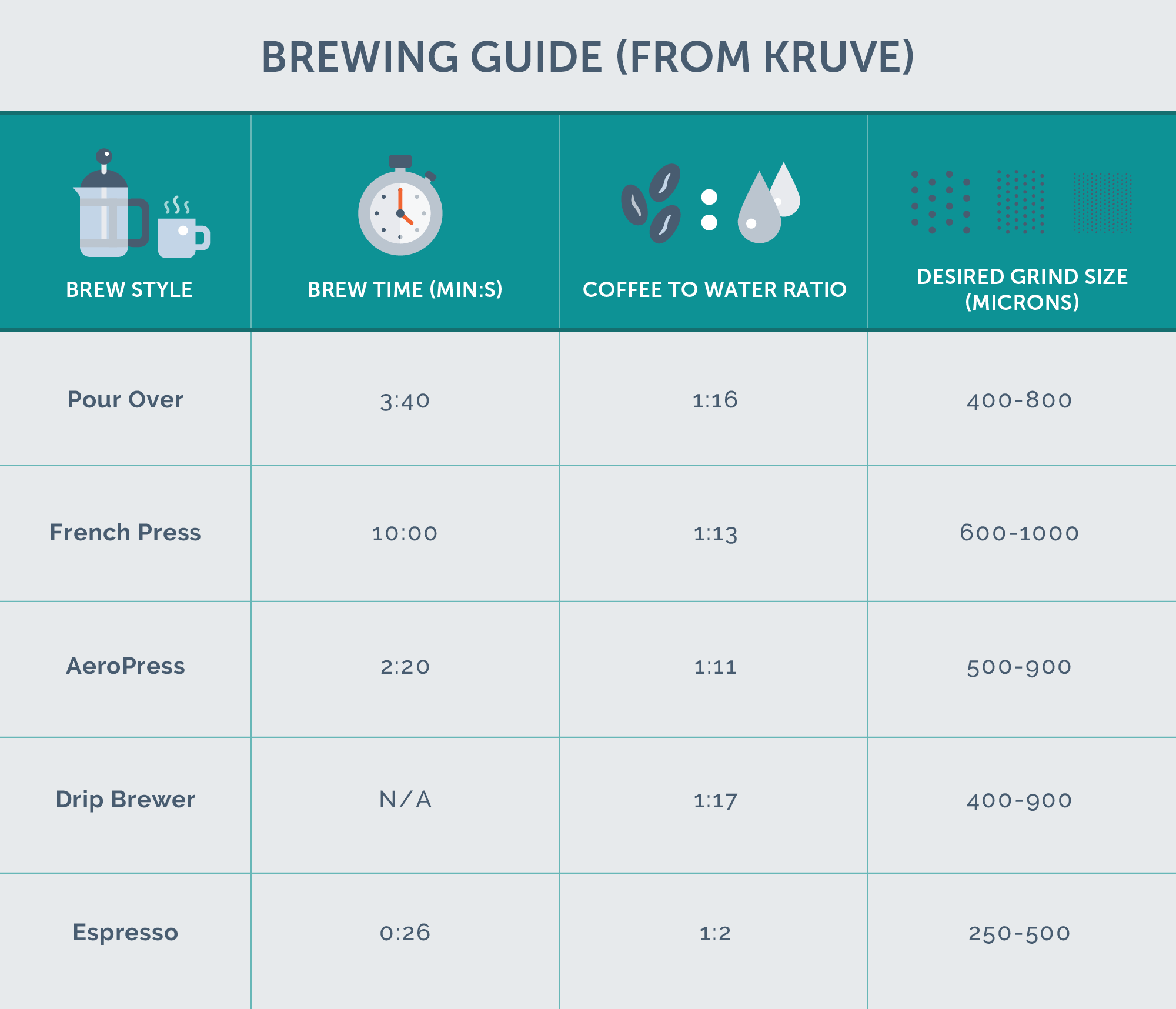 Then, we read a wide array of user reviews from Amazon, Reddit and Prima Coffee and cross-referenced them with "top grinders" lists, looking for commonalities. We narrowed our list to 10 and then cut it to seven by looking for overlapping brands or features that would negatively impact that grinder's ability to be the "best coffee grinder" to use at home. For example, one brand makes multiple grinders with the same designs, but upgraded features at higher price points.
In the French press and pour over style of coffee brewing, a consistent grind releases flavors and exposes aromatics to the coffee drinker in a controlled way. On the other hand, an inconsistent grind can lead to off-flavors and bitterness because different ground sizes cause inconsistent release of flavors and aromatics. We used a Kruve Sifter to measure the grind particle size distribution and determine which grinders were consistently generating the desired grind particles.
For the espresso drinker, a consistent, fine grind has traditionally been preferred. However, recent studies have shown that a controlled mix of particle sizes was important for generating the subtle flavors an espresso can generate. For the purposes of our grinder testing, we are excluding espresso and focusing on the other most common methods of coffee making and the grinders that work best for at-home use.
Important features to consider
Features we considered on each grinder were the number of grind options, the consistency of the grind's particle sizes, motor noise, ease of use, cleanliness, size and aesthetics. In addition to talking directly to local coffee roasters and experts, we researched the difference between burr and blade grinders.
Burr versus blade grinder: Blade grinders are just what they sound like, two blades connected in the middle to a spinning axle. They look similar to an airplane propeller. The blades spin on a flat platform, chopping the coffee beans. Blade grinders are generally very affordable, but they also lack the ability to maintain a consistent grind due to inconsistencies in cutting speed and the location at which the blade impacts the beans. Blade grinders also dull more quickly than burr grinders.
The clear winner between burr and blade when choosing a grinder is burr grinders: they provide a more consistent grind profile that is particularly suited to French press and pour over styles. Burrs are also more durable and dull at a slower pace than a blade grinder, and with more control you are able to create the grinds that are best suited to your personal taste.
Types of burr grinders: "Burrs" are two rough-edge surfaces, often steel or ceramic, that beans are crushed and ground between. Once you've chosen a burr grinder, you must choose a steel or ceramic burr, and determine if you'd prefer a conical or flat burr set for your grinder.
Flat burr grinders: Flat burr grinders have the option to adjust the width between burrs making for a more specific calibration when trying to get desired grind result. However, they are known to cause more waste and static which may make your grinds stick to the sides of the container. Beware of false burrs or hybrid burrs that use teeth to break up beans as opposed to grinding them.
Conical burr grinders: Conical burr grinders consist of a cone-shaped burr that sits inside of a hollowed out burr that fits over it. Grinds are pulled vertically through the burrs. Conical grinders generally rotate at a slower rate than flat burr grinders, making them quieter. The slower speed generates less friction and heat. This is considered a positive because of the potential for the heat to impact the flavors of the grind before it comes into contact with properly heated water. Grinders with conical burrs are often more expensive at the consumer level than flat burr grinders.
Steel versus ceramic burrs: For both steel and ceramic burrs, the sharper the burr, the more consistent the grind will be over the long term. Ceramic burrs are most often found in commercial grinders or high-end consumer models. They are harder and stay sharp longer than steel burrs, but are also more brittle which can cause them to chip if there is a stone mixed in with your beans.
Usable settings: In addition to burr style, we considered each grinders' usable grind settings. A usable setting is a grind setting which delivers the most grind particles between 600 and 800 microns. We used the Kruve Sifter to determine the grind size distribution. The Kruve is a series of fine to coarse sieves and catching hopper that measure the size of ground coffee particles. Grind particles in that size range create the optimal amount of exposed bean-surface to extract even flavor profiles when exposed to hot water for drip, pour over, Aeropress and French press brewing.
Stepped versus stepless grinders: Our chosen grinders were either stepped or stepless. On a stepped grinder, you can only jump from one step to the next, either more fine or more coarse in a predetermined increment. Stepless grinders enable more minute adjustments between pre-set markings, allowing for a more specific calibration of our grinder and more opportunities for creating the perfect cup of coffee.
Out of the box, the Bodum's usable preset options did not create the preferred grind output. However, because it is stepless we were able to make tiny micro-adjustments between those settings to create excellent grinds for both pour over and French press style coffee. The Bodum's stepless capabilities made all the difference for dialing in the perfect grind. The Kitchenaid has four usable settings, but because we were limited to only those four options with no adjustments in between, we were unable to consistently generate our desired grind.
Size, style, materials and durability: We also considered the overall size and style of each grinder. At-home users will likely be keeping their grinder in view on a kitchen countertop. An overly large grinder could be a detriment if counter space is at a premium or in smaller living spaces. If the grinder is always in view, you want it to look good, so, style was an added consideration when determining which grinder to recommend.
The materials used and quality of the grinder's build are important considerations for choosing a grinder. We examined each grinder, looking for weak spots and noting quality of materials used. For example, if plastic was substituted for glass in the grind catcher the static would cause more of a mess. Grinder motor cases, and burr material were important factors too.
The Krups was one of the smallest grinders we tested and its blue tinted grind collector sure looked cool, but it felt cheap. The plastic housing and buttons seemed on the verge of breaking. The cool blue grind collector was not as functional either. Without an anti-static coating, the plastic held onto the grinds making it necessary to clean after every use to avoid grind build up affecting your coffee flavor.
The Baratza – Virtuoso felt heavy duty and looked professional. It had a small, but tall footprint and seemed to blend in wherever it was stationed. Numerous reviews attested to its long term durability as well, and is a favorite of coffee geeks and coffee shops alike.
How we tested
After selecting our shortlist of contenders, we went to the experts next. We spoke with Chris O'Brien, proprietor of Coffee Cycle in Pacific Beach, San Diego, who learned the trade at the award-winning Bird Rock Coffee Roaster. While the grinders we tested are for at-home consumer use, we did most of our testing at the Coffee Cycle shop in an effort to keep our methods consistent with a high level of expertise.
Chris provided us with high quality Bird Rock Roasters coffee beans from the same batch to keep our testing consistent and acted as the on-site expert for taste testing and quality control. We tested each grinder for grind quality and again in a blind taste tests with both French press and pour over brewing. For heating up water, check out our electric kettle review, but if you need a more controlled pour for pourover brewing we recommend a goose neck kettle.
Scientist Doug Dommermuth helped us develop our method of testing, and aided us in understanding our accumulated data. Doug's background is as hydrodynamacist studying fluid in motion or developing code to understand waves. Doug is also passionate about coffee and was able to talk us through some of the deeper science of coffee including flavor profiles based on refraction rates and pointing out initial flaws in our testing based on his experience as a scientist.
It should be noted that while we were only able to test these grinders as-new, the overall quality of a burr is more accurately measured over time. A quality burr will stay sharp and require less maintenance, while a lower quality burr may dull quickly  and require sharpening or replacement. Commenting on our testing methods, professional barista Chris O'Brien said "this is the most accurate testing a consumer could do on an unseasoned burr."
French press grinds should be between 600 and 1000 microns in size. For pour over coffees our ideal grind should be between 400 and 800 microns. To achieve the ideal flavor extraction the majority of grinds should be consistently sized. A smaller, but equal number of finer and larger grind particles would complement the larger middle grind size. We set up the Kruve Sifter's three-tiered receptacle system to catch most grinds in the center of our preferred range. This process also made it easy to identify grinders that created lots of boulders (large particles) or extra fines (really small particles).
"Usable Settings" are not something you can typically determine before buying a product. Manufacturers would imply that all the settings are usable, but our testing proved otherwise. For each grinder, we started in the very middle grind setting and worked our way up or down as needed. Usable settings are more important than total settings because any options outside the desired range added no value to the grinders, and are not beneficial to the at-home user. We found that if a machine could consistently grind 600-800 microns for French press, we would also be able to achieve the finer grind needed for a pour over coffee setting.
Consistency: We ran 27.5 grams of coffee beans through each grinder multiple times to do a basic level calibration of the machine. All the bean ground were from the same bag. Then, we ran a control grind to measure for each grinder. Finally, we measured our grinds with our Kruve Sifter to determine if each grinder would consistently achieve the desired results over multiple uses.
We also checked the grinds against the suggested settings for each grinder. In almost all cases, the manufacturer's suggested settings for French press and pour over failed to produce properly ground coffee. However, because of the stepless nature of some grinders, we were able to find usable settings close to those suggested presets.
Ease of use: We pulled the grinders from the box and attempted to setup and use each without reading the directions to see if the settings were intuitive. The Baratza – Virtuoso was the minimalist of our lineup with only a single button and single timer switch, while the Breville – Smart Grinder Pro had a digital screen that offered a multitude of settings and options.
All of the grinders were fairly easy to setup and use, but often the suggested settings were incorrect, requiring some calibration or adjustment. The Capresso – Infinity grinder was the only one that accurately indicated which settings would be right for a particular brew style, but only half of those settings were usable. The Cuisinart had a safety shut off where it wouldn't grind if the bean hopper wasn't accurately closed, but with no indicator we thought we may have broken it before we even got started. During testing, it continually impacted the user experience, and in one case, vibrated the lid loose enough to shut off on its own.
Size and design aesthetic: How much counter space does it take up? If your grinder takes up the entire kitchen counter, it isn't functional for at-home use. There is a good chance you'll need that space at some point, so we considered the size and footprint of each of the grinders.
Then we looked to see if they were aesthetically appealing. Personal taste will vary, but there were notable design differences between the grinders. Some seemed to have been built solely with function in mind, and some seemed to have design as a part of the build process. That included color scheme of materials, length of the electrical cord and design of the user interface including setting icons, digital screens and timer.
Noise and cleanliness: How loud is it going to be early in the morning? For at-home use this an important question, so we made sure to note when a grinder was observably louder than others or had a motor that revved loudly. The cleanliness of the grind from hopper to burrs to collection point and the spread of grinds when attempting to use them affect the experience of using a grinder, too.
The last thing you want to do after pouring an excellent cup of joe is spend a lot of time cleaning up after yourself. So the ease of cleaning was also considered.
The taste test
According to Chris, our testers and observers, "What matters in the end is, does it make a good cup?" After all of our product testing, we performed a blind taste test with coffee made both as a French press and pour over brew from each grinder. We used beans from the same batch of Bird Rock Roasters Colombia Tolima. Bird Rock Coffee Roasters won National Micro-Roaster of the year (2012) and multiple awards for a variety of world and national coffee competitions.
For our blind taste test, we gathered tasters with varying coffee experience to taste cups of coffee made from our Bird Rock coffee beans. Each cup in the taste test used beans ground at the optimal settings based on our prior testing, brewed with 20 grams of coffee for 300 milliliters of water. We all performed our taste test using a traditional cupping method, looking for body, acidity and flavor.
How to test coffee: A traditional cupping involves filling a cupping spoon ¾ full with coffee. To taste, you tip and slurp the coffee aggressively in order to aerate the coffee flavors and spreading them across your palate. This process also cools the liquid, minimizing temperature differences that may impact the flavor profile of the coffee.
Then we scored each cup based on a one to five scale for both French press and pour over, One being the worst and five being the best. We totaled the scores for each taster to create a combined score for each grinder for each coffee-making style. The highest score won the blind taste test.
Despite taste being fairly subjective, our blind taste testers came to a unanimous decision! All selected both the French press and pour over cups made from beans ground by the Bodum – Bistro Grinder. Continuing the element of surprise, our taste testers were shocked to discover that their top three favorites also included the Krups – GX5000 and the Cuisinart grinders, which were the two least expensive grinders we tested. The Breville – Smart Grinder Pro scored very high marks for pour over style coffee, coming in fourth overall.
Best overall: Bodum – Bistro
With so many grinders to test, each with a multitude of options, it was a surprise that there was even a clear winner. Factoring in all the variables and the taste test, the Bodum – Bistro was the overall best electric grinder for everyday at home use. The Bodum allowed for stepless micro-adjustments between presets, offering lots of opportunity to dial in your grind for both pour over and French press.
For French press, we found the preset for pour over (as indicated by the icon on the dial) consistently created grinds between 800 and 1000 microns.  For pour over, we adjusted two steps toward the espresso preset. Halfway between espresso and pour over was the sweet spot. Grinds at this setting were between 400 and 800 microns with an appropriate distribution of larger and smaller grinds. The finest preset, indicated as espresso, was actually an excellent setting for pour over coffee. These grinds were consistently between 400 and 600 microns.
The Bodum has one of the smallest footprints on the counter. It measures a modest 10.75" tall by 6.25" deep by 4.75" wide, and weighs just over four pounds. The cord is hidden underneath and is long enough to reach elusive wall outlets or remain hidden if you are able to keep it close. It has a sleek, modern design which we tested in black, but comes in a slew of other colors including blue, green, red, chrome, copper and white on white.
The materials pass the durability test, with an aluminum body housing a stainless steel conical burr on the inside. The hopper on top is BPA-free plastic, keeping it lightweight, and the grind catcher is made of anti-static borosilicate glass with a silicone wrap around the middle to prevent slipping.
The anti-static hopper prevents grinds from sticking to the sides, reducing the need to clean after each use, and stale grinds from getting into future coffees. The lid fits tight and has a fitted opening that covers the dispensing chute preventing mess, containing the grind when removing it from the grinder.
Our biggest durability concern is with some plastic pieces in the gears that operate the burrs. At a price point below $100 this isn't a surprise, but user reviews skew positive for long term use.
The hopper holds 220 grams of coffee beans, which means less need to refill if you choose to store beans there. For optimal freshness, you might want to store your beans in an airtight container. A 12 ounce cup of French press or pour over demands 27.5 grams of roasted beans. This means that you'll be able to grind about eight cups before needing to refill.
It was an impressive sweep. The Bodum – Bistro took the top spot for pour over and French press style coffees in our blind taste test. There was shock and surprise that our testers all chose the same coffees, and even more surprise when one of our lower priced entries took the top spot.
Key takeaways:
In a blind taste test, the Bodum – Bistro made the best tasting coffee for both French press and pour over styles.
Its stepless design allows for micro-adjustments between presets, enabling you to calibrate your grind perfectly.
Despite a lower price point, the Bodum – Bistro is well made with high quality materials.
It was designed for function and form with a small footprint, multiple color options and a sleek aesthetic.
Professional pick: Breville – Smart Grinder Pro
The Breville – Smart Grinder Pro was our second choice for an at home grinder. The middle preset consistently created grinds in the 400 to 800 micron range, which overlaps the ideal grind size for both pour over and French press. It offered 60 preset grind options out of the box, and at least half of them are usable settings. That is the second most of all the grinders we tested, behind the Bodum – Bistro.
The Breville is a higher price point, but feels like a professional grinder. Its stainless steel conical burrs ground consistent particle sizes. It was also the only grinder with a high quality grounded plug which coiled conveniently underneath the grinder.
The Breville has a sealable grind receptacle making for minimal mess. It was the largest grinder, but it also held the most beans, up to a full pound.
The digital LCD screen was easy to read, and lights up in the dark. Its digital timer program, Dose IQ, made it easy to create repeatable results or grind the proper amount for multiple cups. If you're looking for more professional options and versatile grind profiles, the Breville could be the right grinder for you.
As a bonus, it was also the only grinder able to create fine grinds for a quality espresso. It also offered attachment cradles to use an espresso portafilter during the grind process. The consistency of the grinds made this the best electric home grinder we tested for espresso drinkers.
Key takeaways:
The Breville – Smart Grinder Pro has high quality stainless steel conical burrs that produced consistent grind particles all the way down to an espresso setting.
The Dose IQ timer system aids in creating repeatable grind results.
A sealable grind receptacle prevents mess.
The large countertop footprint might be too much for smaller kitchens.
Other products we tested
Baratza – Virtuoso
The Baratza – Virtuoso looks professional with a smaller footprint than other almost pro-level grinders. It is simple and easy to use with a minimalist design and options. At least half of the grind settings were functional-to-good for our desired grind profile, but it was not as consistent as the Breville or Bodum in our testing. With fewer user options for customizing the grind, landing in the middle of our taste test and at the highest price point, it was hard to recommend. The Baratza was a high quality product, but didn't fit the parameters we set for being the best at-home grinder.
Baratza is a popular brand with coffee professionals for longevity and great customer service. But even the coffee professionals consulted for this review agreed the dramatic difference in price-point made it hard to choose this established brand over the Bodum.
This item seems to have been out of stock on Amazon for a while now, and on Baratza's official site, when you try to buy the Virtuoso, it redirects you to the Virtuoso+ item. This seems to be the same grinder, with a grind timer added. At the still high price point, it's not likely we'll test the Virtuoso+.
Capresso – Infinity
The Capresso – Infinity had a quiet, smooth grind with an accurate settings guide, but the grinds had to traverse a long chute between the hopper and the grind receptacle, forcing the user to flush the chute between each grind or risk stale grinds being mixed in with fresh ones. It performed well in the fine to medium-fine range, making it good for pour over coffees, but quality and consistency was lacking for other styles. The Capresso did everything okay, but nothing great.
To be fair though, we have four different family members using this grinder for mostly pourover coffee and they all love it. At this price point, the Capresso is very enticing as it gets the job done for many households, while looking pretty good on the counter too.
KitchenAid – KCG0702CU
The KitchenAid – KCG0702CU grinder looked great and felt heavy duty. It was also big with a deep footprint. Its size would make it tough to keep on the kitchen counter if space was any sort of concern. There were no steps between grind settings, leaving only four usable settings out of 15. The grind hopper and catcher were both made of glass, but beans would get caught in the grind hopper. You as the user would need to open up the hopper to force the beans down into the spinning burrs.
Cuisinart – DBM-8 and Krups – GX5000
The Cuisinart – DBM-8 and the Krups – GX5000 received high marks in our taste test, but both failed the durability, materials and grind consistency tests. Only the very finest settings created grinds fit for a French press, and the burrs seemed smaller and cheaper, making it hard for the grinds to be properly crushed. The buttons on the Cuisinart actually stopped working for a time during our initial testing. We unplugged it, wiggled the cord and plugged it in again. It worked, but we aren't sure why.
The redeeming quality of both grinders was the price, and placement in our taste test. Both were among our lowest priced entries, but scored high in our taste tests. That made us question our testing procedure, but also pointed to the subjective nature of taste testing. It is possible to get a decent cup of coffee out of an inconsistent grind using a professional barista, but considering the issues with quality and durability both fell out of contention for top placement.
The bottom line
The goal of a high-quality grind is to create a great tasting cup of coffee. The Bodum – Bistro combined consistent grind profiles and durable materials with a user friendly design to make a great cup of coffee that was top in our taste test. Those qualities and a consumer-friendly value make it the the best electric coffee grinder for home brewing of French press, pour over, drip and Aeropress coffee. The Breville – Smart Grinder Pro was also a great runner-up grinder with lots of professional options and design, but it's twice the price of our top pick