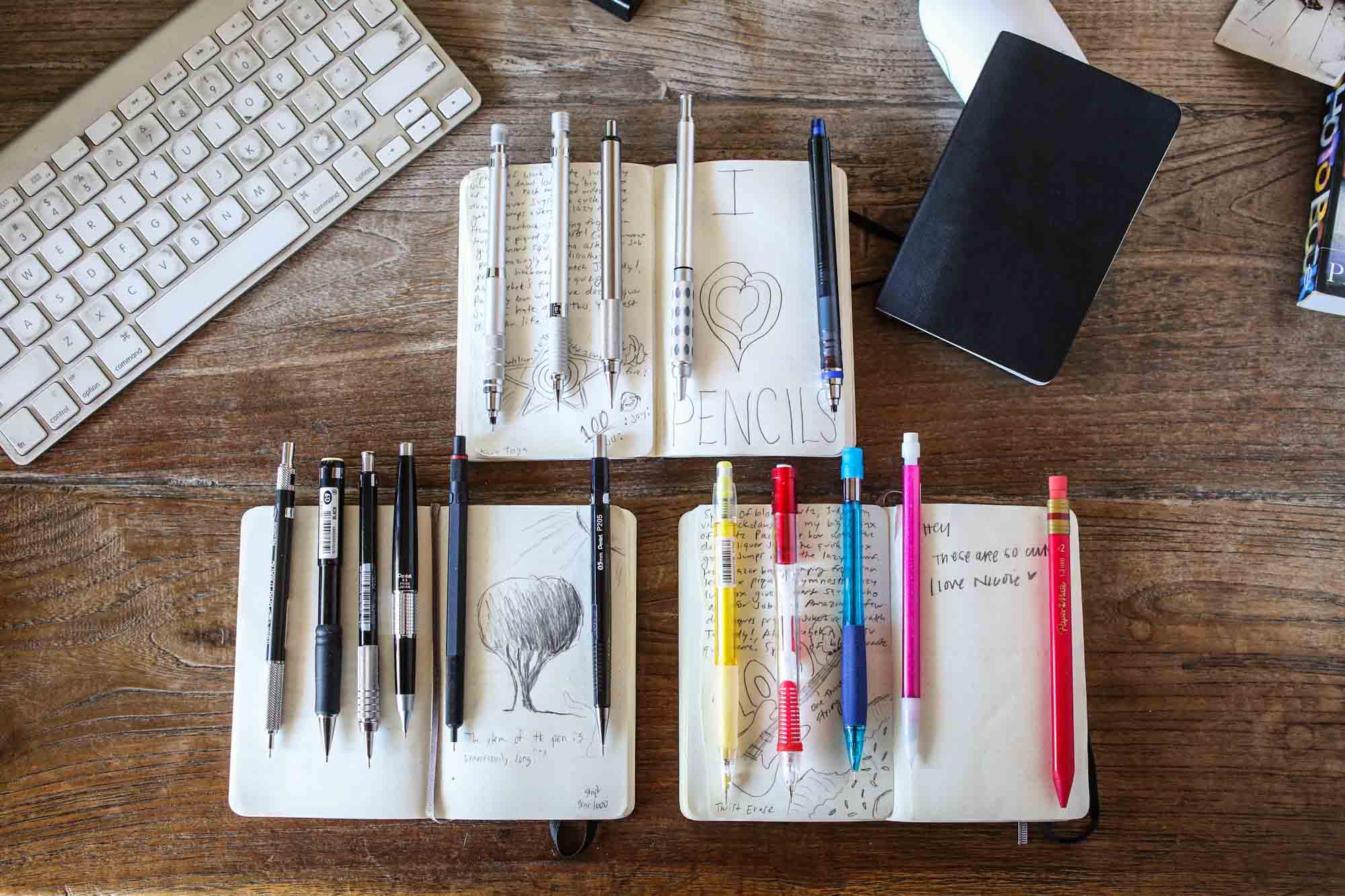 The Best Mechanical Pencils
We spent weeks testing 16 of the top mechanical pencils and found that the Pentel – Quicker Clicker is the overall best mechanical pencil. This attractive higher-end mechanical pencil, which costs just a few dollars, is easy to refill and a pleasure to use. We especially liked its side-click lead advance feature. The Uni-ball – Kuru Toga was an extremely close runner-up that features a unique rotating mechanism to keep lead consistently sharp.
We spent weeks testing 16 of the top mechanical pencils and found that the Pentel – Quicker Clicker is the overall best mechanical pencil. This attractive higher-end mechanical pencil, which costs just a few dollars, is easy to refill and a pleasure to use. We especially liked its side-click lead advance feature. The Uni-ball – Kuru Toga was an extremely close runner-up that features a unique rotating mechanism to keep lead consistently sharp.
Table of contents
How we selected finalists to test
To find the best mechanical pencil, we scoured forums like r/mechanicalpencil and blogs like The Pen Addict (Brad and his friends also love pencils) and Bleistift to get an idea of the pencils the obsessives like best. We also consulted Wirecutter's and Wired's reviews of mechanical pencils. Then, we took to Amazon to find the most popular and highly-rated pencils loved by consumers.
We mostly chose pencils sized 0.5 mm to 0.7 mm, but we also tested some larger sizes for those who like range. We know that different people are looking for different levels of quality (and "keepability") in a mechanical pencil, so we also tested a range of price points, from around 15 cents to 25 dollars per pencil. We tested brands known for their mechanical pencils (like Pentel) and the big two technical drawing brands, as well as some traditionally cheaper brands like Paper Mate.
Compare the best mechanical pencils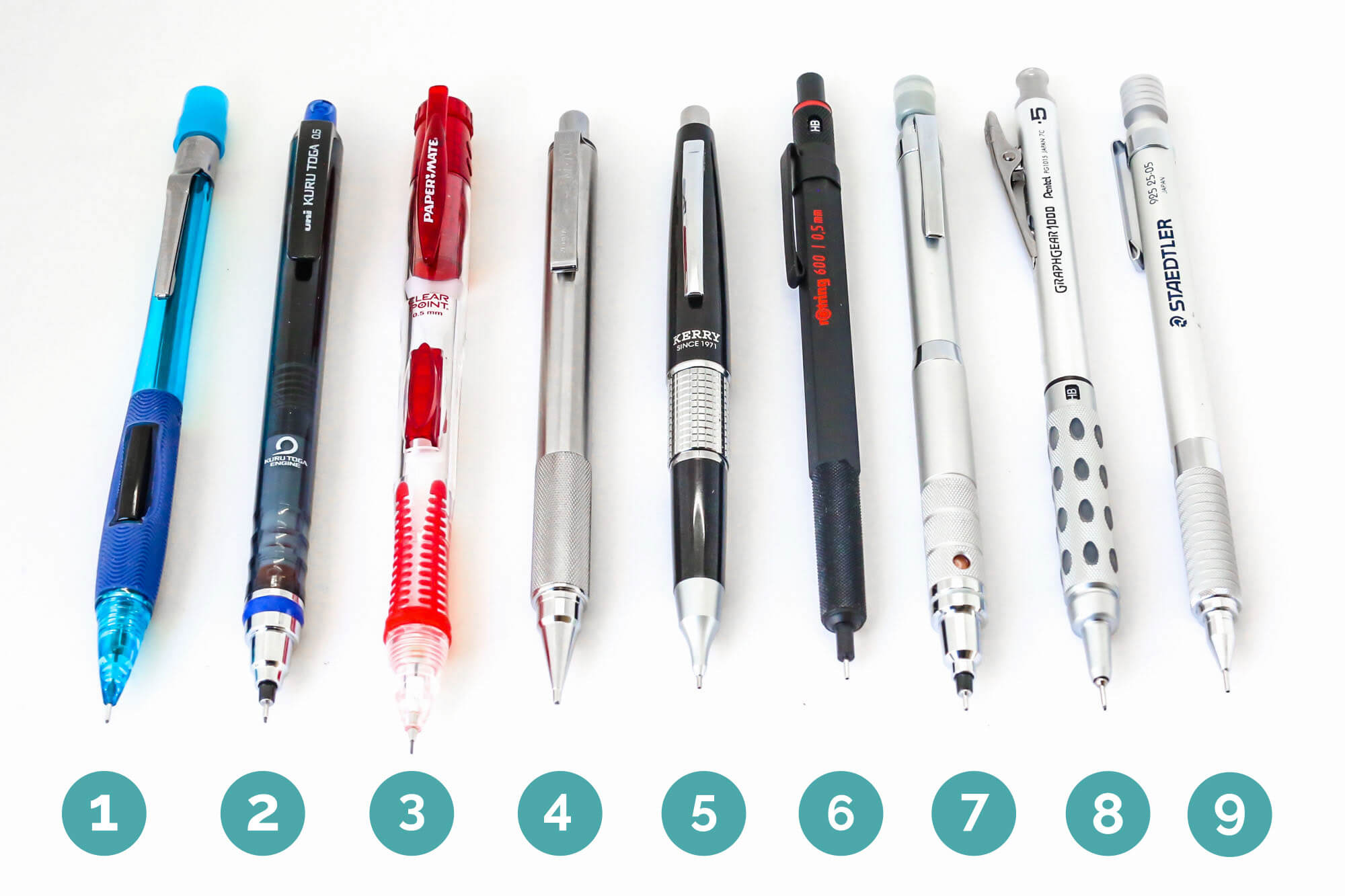 | Product + Size | Cost | Available Sizes (mm) | Features |
| --- | --- | --- | --- |
| 1. Pentel – Quicker Clicker (0.5mm) | $ | 0.5, 0.7, 0.9 | Side-click lead advance |
| 2. Uni-ball – Kuru Toga (0.5mm) | $ | 0.5 | Rotating lead mechanism |
| 3. Paper Mate – 34666PP Clearpoint (0.5mm) | $ | 0.5 | Side-click lead advance |
| 4. Zebra – M701 (0.7mm) | $$ | 0.7 | Professional grade stainless steel |
| 5. Pentel – Sharp Kerry (0.5mm) | $$ | 0.5, 0.7 | Pen-like cap |
| 6. rOtring – 600 (0.7mm) | $$$ | 0.5, 0.7 | Hexagon-shape prevents rolling |
| 7. Uni – Kuru Toga Roulette (0.5mm) | $$$ | 0.5 | Rotating lead mechanism |
| 8. Pentel – GraphGear 1000 (0.5mm) | $$ | 0.3, 0.5, 0.7, 0.9 | Chiseled metallic grip |
| 9. Staetdler – Silver Series (0.5mm) | $$$ | 03, 0.5, 0.7, 0.9, 1.3, 2.0 | Push button lead advance |
Why use them?
A good mechanical pencil can create smooth, consistent lines (without the need for sharpening). It's convenient for travel, and is guaranteed not to stain your pocket with ink. There are plenty of studies that show that handwriting engages your brain better than typing, and some would argue that the more tactile experience of graphite on paper connects you even more to your writing.
A mechanical pencil is refillable and looks more professional than a traditional pencil. Best (and most obvious) of all, its lead is erasable. So you can leave the correction fluid in the drawer. Tradition dictates that pencils should be used for rough sketches, arithmetic, and any other time that you might need to erase or change the marks you've made.
A high-quality mechanical pencil will almost always cost you less than a high-quality pen. And lest style be a concern, rest assured that there are plenty of attractive (and even pen-like) mechanical pencils on the market these days.
Important features to consider
Lead size and grade: Most people will like a 0.5mm or 0.7mm width pencil (the width refers to the size of the lead and the line it creates), but there are smaller and larger widths available if you prefer. Lead can also vary in hardness, which changes the shade and the strength of the tip. If you're a heavy-handed writer or don't want smudging, you may want to go with a lighter and harder lead; mechanical pencils often use different grades than regular pencils so they can make the leads stronger so interpreting the grades is tricky.
Cost: Mechanical pencil costs can vary dramatically. But just like we learned testing pens, the most expensive isn't always the best. You should be able to find a mechanical pencil you love for just a few dollars or less.
Grip: A pencil grip won't necessarily make your pencil more comfortable to use, and some people actually find them cumbersome. But if you want a pencil with a big, squishy grip, we know the perfect one for you. Surprisingly, our testers found the grips on some of the higher-end mechanical pencils more uncomfortable — perhaps because they're designed to keep your grasp firmly in place, but not cushion your hand.
Lead advancement: The classic mechanical pencil model requires you to click the top to advance the lead. Some newer models have a side-click mechanism instead. Others still have a twist advance. What's best for you comes down to preference, though the idea behind a side advance pencil is that it's quicker and disrupts your writing flow less.
Retractable vs. capped: Standard mechanical pencils are retractable, but if you want to look more polished in the boardroom, Pentel makes a capped version.
Lead cushioning: Some mechanical pencils use a lead cushion or guard that reinforces the lead against rougher writing styles. If you're aggressive with your writing utensils, you may want to consider it.
Materials and aesthetics: Just like other writing utensils, there are an array of colors and styles of mechanical pencils available. You can get ones that resemble a pen or a conventional woodcase pencil, or you can get something bright and colorful. As a general rule, don't assume that the quality of the pencil's "look" is equal to how well it writes.
How we tested
We recruited the same group of illustrators, hand lettering artists, bullet journalers and designers that we used for our best pen testing to test mechanical pencils. We gave them several weeks to use the pencils throughout their everyday lives, jotting down work notes, writing grocery lists and sketching designs. For quick notes and sketches like this, our testers found that almost all of the mechanical pencils were acceptable. The one exception? The Pilot – Eno pencils, which came with lead that broke immediately upon use.
Then, we conducted a focus group in which our testers used each pencil to write assigned sentences (that used every letter of the alphabet) and doodle their own whimsical creations. After that, each tester gave detailed feedback on the experience of using each pencil. From there, we did a qualitative analysis to determine which mechanical pencil was the best.
Unsurprisingly, our testers had much stronger opinions about each pencil after being forced to write for minutes on end with each one. Also unsurprising, most feedback had to do with comfort rather than how the pencil actually wrote.
The best overall: Pentel – Quicker Clicker
By a narrow margin, the Pentel – Quicker Clicker (0.5mm) took first place in our tests for best mechanical pencil for writing. We liked its slick design and its smooth feel, and at just a few dollars, it's high quality for a low price. Refilling it was easy, and so was advancing the lead.
Pentel is a Japanese-held company that has been innovating in the stationery industry since the mid-forties. They've come up with a lot of "firsts," including the Quicker Clicker mechanism — Pentel says it's the "original side-advance mechanical pencil." It comes standard with Pentel lead and eraser, a strong metal clip and a transparent barrel so you can see the status of your lead. You can purchase it in a myriad of colors, and we especially like the classy look of the sky blue.
There are many a loyal Quicker Clicker devotee out there. Unfortunately, many who have been using it for years don't like the new and "improved" model with the rubber grip. Our testers weren't bothered by the grip, but some didn't like the side advance as much as a "traditional" mechanical pencil that requires you to click the top.
Though the Quicker Clicker has fine lead, it didn't break when we were writing — even when used by a heavy-handed writer. It also required very little pressure to write with, which will save you from hand cramps if you'll be writing for a while. The Quicker Clicker, which our testers described as "smooth and reliable," comes in three line widths: 0.5mm, 0.7mm and 0.9mm. You can get its lead in the traditional graphite (No. 2 grade), or in shades of violet and blue.
The eraser on the Quicker Clicker is high quality, as far as attached mechanical pencil erasers go. In our testing and regular use, we didn't notice a lot of residue or "smearing" left from erasing mistakes. One thing to be aware of: Some Amazon users complain that the eraser refills for the Quicker Clicker are hard to find in brick-and-mortar stores. That being said, they're readily available online.
The runner-up: Uni-ball – Kuru Toga
Perhaps unsurprisingly, the Uni-ball Kuru Toga (0.5mm) was a standout in our tests. Uni-ball is one of the most highly regarded brands in the stationery world, and the Kuru Toga is one of the most frequently discussed (and recommended) mechanical pencils by the aficionados. We can see why. The lead is high-quality and doesn't break when you write with it. It's got a hardy plastic body and clear grip, and feels balanced in your hand.
Uni-ball was founded in Tokyo, so it's no wonder that its name is Japanese. The Kuru Toga was named with a Japanese portmanteau of "rotating" and "to become sharp." This aptly describes the pencil's rotating lead mechanism which keeps lead, you guessed it, consistently sharp. For this reason, we think it's one of the best mechanical pencils for writing longform.
Like with a traditional mechanical pencil, you click the top of the Kuru Toga to advance the lead, and from there it flows nice and smoothly. So why isn't the Kuru Toga our first-choice pick? Changing the lead is a little more difficult than usual, due to the very small opening the pencil provides to insert the lead.
Even so, the Kuru Toga beats every other pick in terms of quality and smoothness of writing. And in those respects, it's also right on par with the Quicker Clicker.
The budget pick: Paper Mate – Clearpoint
If you're looking for something that feels good to write with, but doesn't cause a panic if you lose it, we recommend the Paper Mate – 34666PP Clearpoint. At less than $1.50 per pencil, it delivers quality and value all wrapped up in an erasable package.
Our testers found this pencil comfortable and easy to use. One tester even went so far as to say that it was his favorite to write with — even more so than the expensive pencils. The only concern with the Paper Mate? The eraser doesn't erase very well. But with the ubiquitous and cheap auxiliary erasers available on Amazon, we don't consider this too big a problem. In fact, you could purchase one of these mechanical pencils and a separate eraser for less than the cost of some of the other pencils on our list.
Like our top pick, the Paper Mate requires you to click the side of the pencil to advance it. It's got a clear barrel so you can see the status of your lead, and it has a textured grip that some users will like. It's worth noting that this one also comes in a colored pencil version with an array of rainbow leads available.
Others finalists we tested
Pencils we recommend
Zebra – M701: Zebra is a big name in writing utensils, and we're generally impressed with their products. The M701 is not an exception. It's got the weighted, smooth feel of a high-quality pencil and it encourages neat handwriting. Plus, while the grip isn't smooth, it also doesn't dig into your hand. The Zebra lost points because it felt especially heavy, which can tire your hand out over time. Still, some writers may prefer a weightier pencil. At over five dollars, it's more expensive than most of our pencil picks, but we also think it's one of the best quality mechanical pencils out there.
Pentel – Sharp Kerry: There's no doubt that the Quicker Clicker is the best Pentel mechanical pencil, but the Sharp Kerry is probably the classiest. It looks exactly like a capped pen until you remove the cap and see its point. Some testers found it a bit slippery and hard to hold on to. Nonetheless, it can't be beat for its sophisticated look, and when all is said and done, it writes well.
rOtring – 600 Series: This is a classic design that has an avid following among designers; we'll call the rOtring a luxury mechanical pencil. At more than 25 dollars, it's certainly an investment. As we would hope, it performed well on almost all accounts: smooth, break-free lead and controlled writing included. If you want a pencil that doesn't get in the way when you're using a stencil or ruler, this is a great pick. The only thing we didn't like was the tiny hole you're forced to fit the lead through when you refill it. It's a minor complaint, but for a pencil this expensive, we expect near perfection. The rOtring comes pretty close.
Uni – Kuru Toga Roulette: Similar to our runner up, but with an upgraded metal body and knurled grip. Our testers found the Uni – Kuru Toga Roulette to be "light and efficient" and an overall joy to use. There's not much to pick on with this pencil — we love its performance. This is a good thing, since one will cost you about ten dollars. If we had to pick something to dislike, we'd say the eraser on this pencil is a little small.
Pentel – GraphGear 1000 Automatic Drafting: Our testers found the GraphGear 1000 to be delightfully "futuristic," and they also liked that the top clicks into place like a pen when you advance the lead. It's nicely weighted (not too heavy or too light) and writes well and smoothly. The only downsides? Some testers found the lead filling process a little cumbersome and the lead itself a little weak.
Staedtler – Silver Series: A pencil with the name "Silver Series" (and a price point of over ten dollars) invites some big expectations, and for the most part the Staetdler didn't disappoint. It's available with an extra-sharp 0.3mm size and writes precisely and smoothly. Like the rOtring, this is a technical pencil well-known among architects, planners, and designers. Our testers' biggest complaint with this pencil was the grip; most found it somewhat uncomfortable. If you're not writing longform content though, this pencil might still be for you.
Paper Mate – 1.3mm Mechanical Pencils Paper Mate markets these as an alternative to the traditional woodcase pencils, and they do look like a fat and colorful version of the original. The 1.3mm are targeted toward young children who are just learning to write — the larger width of these utensils makes them easier for little hands to control. However, there were plenty of user comments from full-grown adults who love these pencils and the thick lines they create. Are they right for you? It comes down to taste. Most of our testers found them very comfortable to write with.
Pencils we don't recommend
BIC – Xtra Sparkle: With a name like "Xtra Sparkle," we didn't expect this BIC to deliver high-octane pencil performance. Still, with nearly 2,000 Amazon reviews, we had to give it a go. Unsurprisingly, it was sub-par in almost every way. When asked to describe it in two words, one tester said "meh" and "whatever." For quality, we give this one a 50 percent. For jazzing up your kid's pencil box? A solid 100.
Pilot – Color Eno: The Color Eno are the only "colored pencils" we tested, again due to their high number of reviews. Their primary tester, a designer, actually loved their hues. However, he found that the lead broke easily and that the pencils were overall "not super reliable."
Pentel – Sharp Automatic: The Sharp Automatic is another pencil that probably lands somewhere in the "meh" and "whatever" zone. It doesn't stand out for much except its uncomfortable grip and the distinctive way it makes you feel not-in-control of your own writing.
Pentel – Twist Erase: The Twist Erase has a cool name, but the lead is too light, thick and dull. Our testers found that you have to press harder than is comfortable to use it. Another complaint: It doesn't allow for very good control of your writing.
Pentel – GraphGear 500: We loved the GraphGear 1000, but its little brother didn't make the same impression. We found the 500 to be dull and fragile, with lead that breaks too easily and a lead changing process that's too time-consuming. This one isn't worth paying over five dollars for.
Alvin – Draft-Matic: The Alvin, another "luxury" pencil at over ten dollars for one, disappointed us. It's sleek and cool looking, but it's uncomfortable to hold, it's too hard to change the lead and it made our writing uneven and scratchy.
The bottom line
We tend to treat mechanical pencils like they're disposable, but really, a good one should last you a long time. For one you'll want to keep around, we recommend the all-around impressive Pentel – Quicker Clicker. If for some reason you can't get your hands on that one, the Uni-ball – Kuru Toga is also a good bet. And if you do want one you can treat like a disposable, then choose the Paper Mate – 34666PP Clearpoint. It's great quality for a very low price.