We tested 15 pens, ranging in price from just under $1 to just over $25, and found that the Pilot – G2 is overall one of the best pens on the market. The G2 is America's top-selling gel pen. Our testers loved this pen for its smooth ink flow, professional look and quick-dry ink. As runners-up, we think the uni-ball – Onyx is the best rollerball and the Paper Mate – InkJoy is the best ballpoint.
We tested 15 pens, ranging in price from just under $1 to just over $25, and found that the Pilot – G2 is overall one of the best pens on the market. The G2 is America's top-selling gel pen. Our testers loved this pen for its smooth ink flow, professional look and quick-dry ink. As runners-up, we think the uni-ball – Onyx is the best rollerball and the Paper Mate – InkJoy is the best ballpoint.
Table of contents
How we selected pens to test
If you've searched online for pens, you know that there are hundreds and hundreds from which to choose. So, we narrowed down our prospects by focusing only on gel, ballpoint and rollerball pens. These are the pens most commonly used in people's everyday lives, rather than fountain or calligraphy pens. If you're only interested in gel pens, we've also exclusively reviewed the best gel pens in another post.
We only tested pens that were rated well among online retailers, and for the most part, we selected pens that cost well under $5. (The one exception is the Cross rollerball pen, which was mentioned frequently enough in forums that we had to give it a test.)
We consulted forums like /r/pens/ to find out what inexpensive pens the aficionados were recommending. We browsed through the Pen Addict's blog for inspiration and consulted The Wirecutter's pen review, too.
Finally, we chose to focus primarily on .7 mm pens, which create medium-sized lines and are a good writing choice for a lot of people. However, we also tested some smaller and larger pens for those who want range.
It should be noted that while some of our testers used the pens to freehand draw or doodle, we did not test pens that were created explicitly for drawing purposes. (That's another review for another time!)
Compare the best pens

| Pen | Cost | Ink Type | Available Line Width (mm) | Features |
| --- | --- | --- | --- | --- |
| 1. Pilot - G2 | $$ | Gel | 0.38, 0.5, 0.7, 1.0 | Rubber grip, refillable |
| 2. Uni-ball - Onyx | $ | Dry rollerball | 0.5, 0.7 | Made from recycled electronics |
| 3. Paper Mate - InkJoy | $ | Gel | 05, 0.7, 1.0 | Quick dry |
| 4. Pilot - Precise V5 | $$ | Rollerball | 0.5 | Visible ink supply |
| 5. Zebra - F701 | $$$ | Ballpoint | 0.7 | Stainless steel tip, barrel and clip |
| 6. Pentel - Energel | $$ | Gel | 0.5, 0.7 | Quick dry, latex-free grip |
| 7. Uni - Jetstream Alpha-Gel Grip | $$$ | Quick-dry gel | 0.7 | Soft cushion grip |
| 8. uni-ball - Jetstream Premier | $$$ | Quick-dry Gel | 1.0 | Quick dry ink, embossed grip |
Pen types and sizes
Ballpoint pens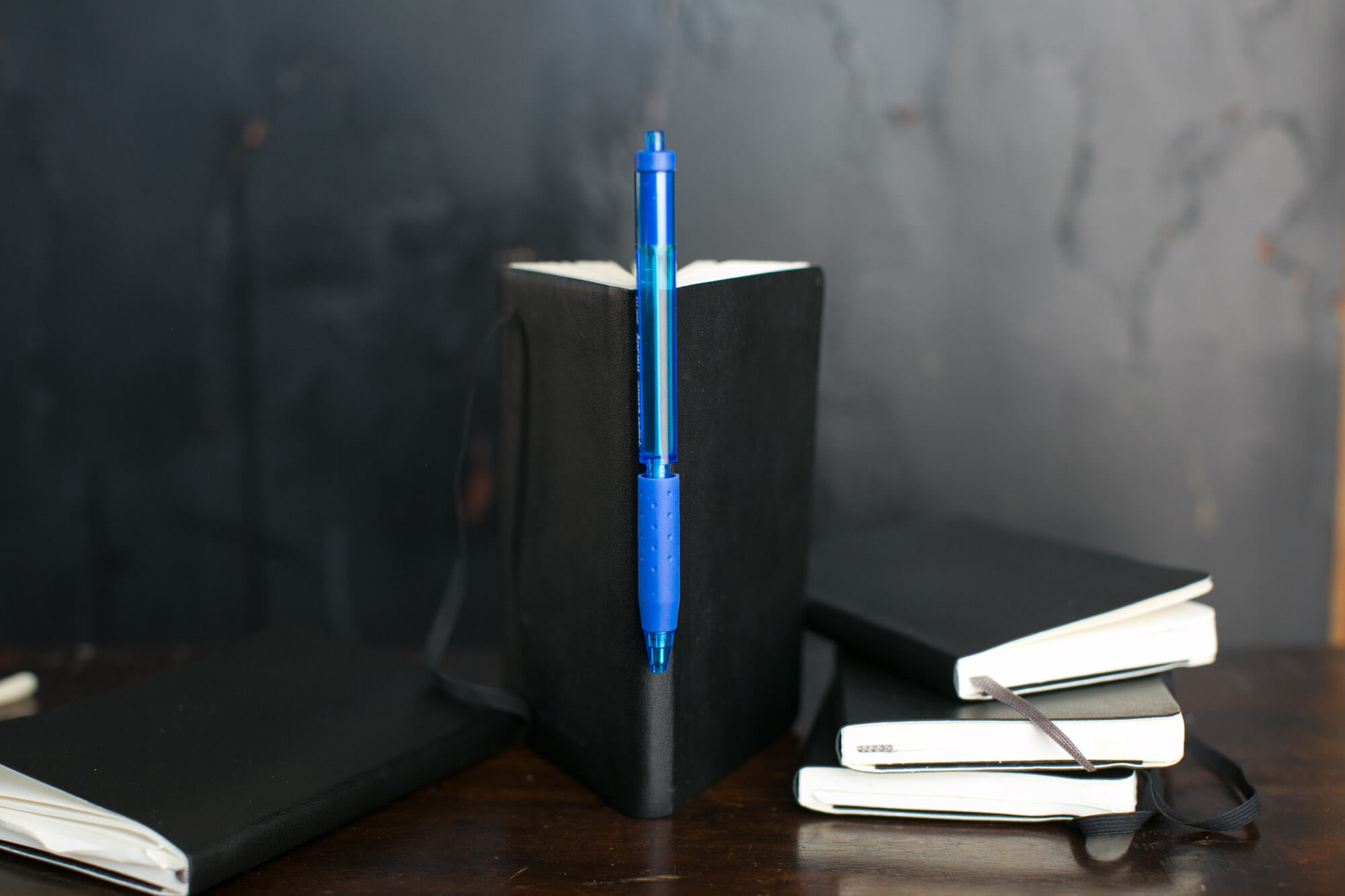 Ballpoint pens are arguably the most popular for everyday use, and for good reason. Their ink writes smoothly and dries quickly. Their refills also last longer than other types of ink. However, the oil-based ballpoint ink can occasionally get messy and blobby at the tip, making it less-than-ideal for longform writing and journaling. Conventional ballpoint pens come in three sizes: fine (making lines .8 mm wide and thinner), medium (1.0 mm to 1.2 mm) and bold (1.4 mm and wider).
Gel pens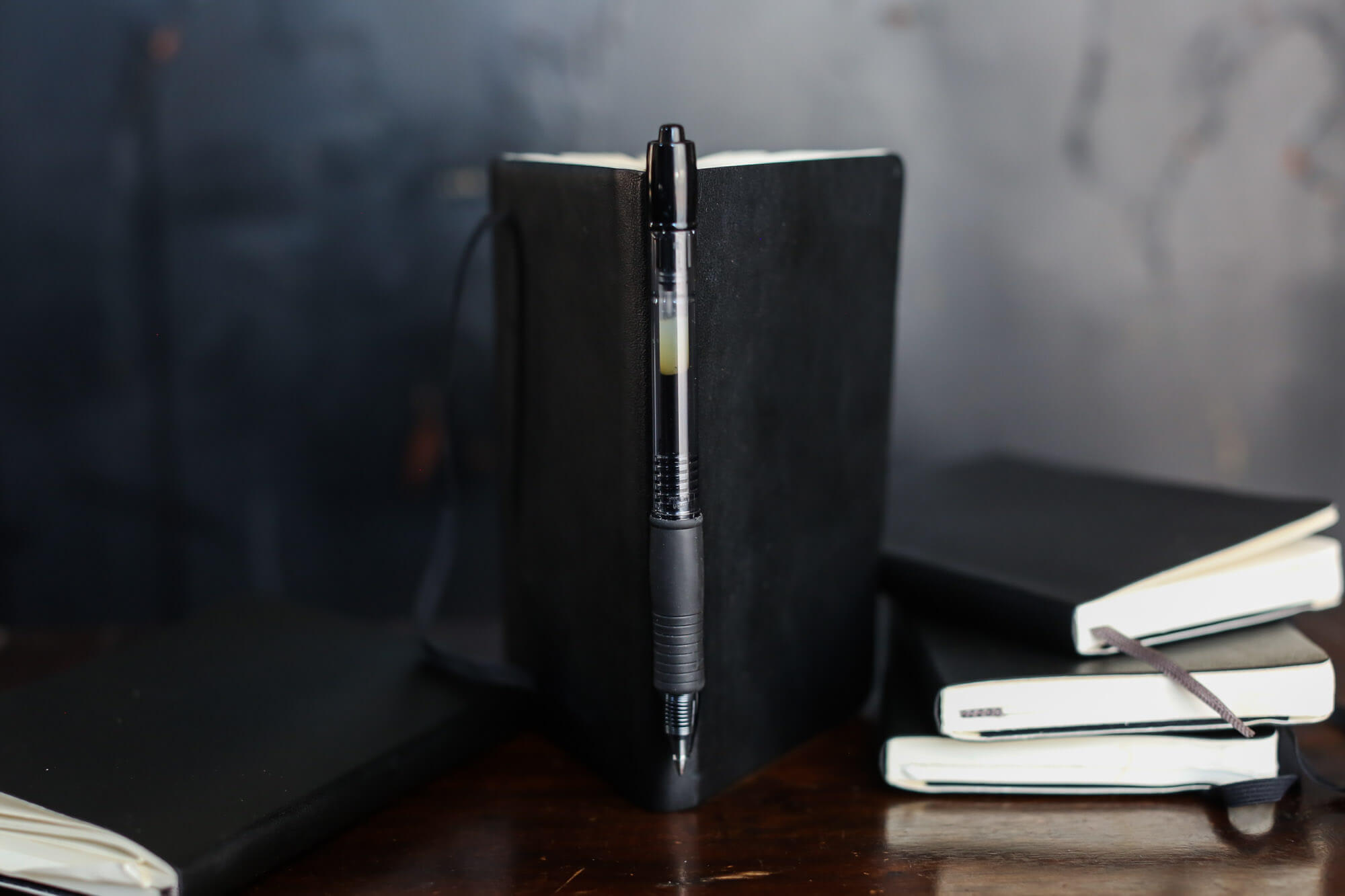 Many of us remember the thick-lined, metallic and opaque pens of our childhood, often with whimsical product names like "moonlight" and "stardust." These type of pens get a bad rap from adults, who can see them as impractical. One of our designer-testers even specified that they'll test "anything but gel pens, please!"
But while there are a number of youthful-looking gel pens on the market (like the Gelly Roll we tested), there are also plenty of quality, businesslike pens that you may not know use gel ink. Gel ink is simply pigment in water-based gel. If you're looking for strong colors and sharp, featherless lines, then a gel pen is probably a great choice for you.
That being said, if you're left-handed, you should stay away from gel. It doesn't dry as quickly as its ballpoint and rollerball counterparts. If you want to learn the best types of gel pens for any job, see our review.
Conventional gel pens come in three sizes: micro (making lines .5 mm wide and thinner), medium (.7 mm) and bold (1.0 mm).
Rollerball pens
Rollerball pens use a dark, saturated, fast-flowing liquid ink. They create finer lines than a conventional ballpoint pen, and unlike gel pens, the ink dries quickly enough for left-handers. Because of the free-flowing ink, rollerball pens require less pressure, making them more comfortable to write with.
However, a rollerball's intense ink can sometimes bleed through paper if you're not careful, and the pen can leak if it's left uncapped or taken to high altitudes. Conventional rollerball pens come in three sizes: micro (.5 mm), fine (.7 mm) and bold (.8 mm and wider).
Important features to consider
A pen can seem like a deceptively simple product, but there's a lot that goes into making one great. Ask any pen aficionado and they can wax poetic about nibs and ink flow for hours. However, for the purposes of the everyday pen user, there are only a few things you need to keep in mind:
Ink flow: You want a pen that creates a clean, consistent line. It shouldn't skip, bleed through the paper, or feather out into more tiny lines. Similarly, the ink should come out easily, requiring you to put very little pressure on the pen.
Comfort and aesthetics: The pen should look nice sitting out on your desk, but more importantly it should be designed to hold comfortably. Look for lighter pens. They will be easier on your hand than heavy ones. And don't be fooled by pens with soft grips included on them; they're not necessarily any more comfortable.
You can make your pen even more comfortable to hold by using it correctly. This may seem like an elementary skill, but many of us are doing it wrong (or have forgotten proper form in the age of the keyboard). Remember to:
Press down only as much as you need to get a smooth line
Use good posture to prevent writing fatigue
Write from your arms and shoulders, rather than your fingertips
Use quality paper; we tested our pens on classic Moleskine notebooks
Line width: Most pens are marketed with a millimeter measurement somewhere on the package. This measurement refers to the width of the line your pen will create. Many people enjoy writing with a .7 mm pen, which is a medium width. If you like to write with smaller letters, you can get pens in .5 mm, and some brands make them even finer than that.
If you like to make big, bold strokes, you can pick something with a 1.0 mm width or greater. Some consumers find that they like a certain brand and model of pen, but only in a certain size. So if you think a pen is a good fit for you, but you don't quite love how it writes, try sizing up or down.
How we tested
We started by rounding up a group of designers at our content marketing agency in San Diego, and gave them each a few pens and a Moleskine notebook to call their own. In the weeks leading up to our formal focus group testing, they were encouraged to use the pens daily, whether it be for journaling, making grocery lists, signing cards or sketching out plans for the next photoshoot.
Then, we asked them to join us in a focus group, where they wrote assigned sentences (using every letter of the alphabet). Then, they had "free time" to use the pen however they pleased. After this process was complete, they filled out a survey about the experience using each pen.
The survey asked questions including (but not limited to):
How much pressure did you have to exert on the pen to write?
Was it comfortable to use this pen? Why or why not?
Does the pen ink smear if you touch it soon after writing?
What has been your overall experience using this pen?
After the focus group, we tested our worst offender and best pens on cheaper notebook and scratch paper, to see how they'd act. We found the results to be just about what we expected; lesser-quality pens wrote even more poorly on cheap paper, and good quality pens wrote about the same, save for a slightly less-smooth flow.
The best overall: Pilot – G2
Like a popular celebrity, the Pilot- G2 inspires polarized opinions. People seem to either love or hate the G2 — and we have our suspicions that some hate it just because it's so well-loved!
When we started our testing, we didn't know which side of the fence we stood on for the great G2 debate. (Though we always lean toward skepticism.) After testing, though, it was clear that the G2 was the best pen overall, and by default the best gel pen. Our testers loved the writing experience with this one: a smooth flow of ink with no skipping, no feathering and no bleeding. The ink dried quickly as they wrote, meaning it's a good pen for left handers. They also noted that the G2 had a pleasing haptic feedback when you clicked it, and that it looks professional enough to use in a meeting.
The G2 is retractable, meaning you can carry it around in your pocket without being jabbed. It's also refillable, but according to Pilot, you won't have to refill it often. They say that their pen is "proven to last longer than the average of competitive gel ink brands."
It's available in four sizes (.38 mm, .5 mm, .7 mm and 1.0 mm) and comes with a comfort grip. (Though, many pen enthusiasts will tell you that these included rubber grips don't necessarily add to the comfort.)
One thing to beware of with the G2 in finer sizes: its thin point allows you to create beautifully thin and close-together characters, but won't mask any shakiness in your hands. So if you don't have a steady grip (or tend to go hard on the caffeine), you may want to choose a different pen — or opt for a bolder point. If you do choose the G2 in a fine point, it should set you back less than a $1.50 per pen.
The best rollerball: uni-ball – Onyx
If you're looking for a pen of the rollerball variety, we recommend the uni-ball – Onyx. Sleek, black and professional looking, our testers gave the Onyx high marks for its lightweight and fine tip. It doesn't bleed or feather or skip when you're writing with it, and it creates a nice uniform line.
The Onyx does require slightly more pressure to write with (and has a lighter-pigmented ink) than our top pick, but for the more heavy-handed writers, this may be a welcome feature.
What prevented the Onyx from being our No. 1 pick? It can smudge if you touch it too quickly after writing, which makes it non-ideal for left-handed writers. One tester also remarked that "this pen was [their] favorite … but [they] could tell it was an overall cheaper model." We don't consider this a fatal flaw though; at less than 50 cents a pen, it is a cheaper model.
Those who aim to be more eco-friendly will like that the Onyx is made from 80 percent post-consumer recycled electronics — a fact uni-ball is proud of, as evidenced by the "eco" logo on each pen. uni-ball says that their Onyx ink also protects against "water, fading and fraud." However, we didn't test for this.
The best ballpoint: Paper Mate – InkJoy
Ballpoint is the most popular type of pen, so it's surprising that our top pick is a somewhat less popular brand. Sure, Paper Mate products are ubiquitous in the office supply world, but their pens have notably fewer reviews on Amazon — and are hardly discussed by pen enthusiasts. In the interest of diversity, we tested a few Paper Mate's anyway, and we're glad we did. Our testers loved the InkJoy Ballpoint.
They found that the pen didn't bleed or feather, and it didn't smudge either. They thought the pen's grip was solid and comfortable, which led to nice, uniform lines. The one minor discrepancy with the Paper Mate was that each new pen requires a bit of "warming up" the first time around before it stops skipping and starts writing smoothly. At most retailers, the InkJoy will cost you well under a dollar per pen.
Other finalists we tested
Pens we recommend
Pentel – Energel-X (gel): The Pentel – Energel is another pen that most people either love or hate. We fell somewhere on the like end of that spectrum. On the plus side, it has a nice grip, requires little pressure to write with and doesn't bleed. It creates a uniform lines and the ink flows smoothly. However, the Pentel does have a tendency to feather, and it can smear if you touch it right after writing. For these reasons, one tester claimed that it made them "write messier than [they] already do." So, buy this one at your own risk — if you have nice handwriting and prefer a dark, saturated ink, it may still be a great pen for you. The Energel-X will likely cost you over $2, making it a little bit more of an investment than your typical office supply pen.
Zebra – F-701 (ballpoint): Zebra is an esteemed name in the world of writing utensils, and after testing their F-701, we can see why. Aesthetically, it stands out from the other pens with its sleek, all-metal body. Our testers said it felt sturdy, and they liked the textured grip. It met all the basic requirements of a good pen: no skipping, bleeding or feathering and a smooth and uniform ink flow. It also doesn't smudge when you touch it. Our testers' primary complaint is that the ink is relatively light in color — something you may not expect from a pen that costs over $5.
uni-ball – Jetstream Premier (ballpoint): A crowd favorite, uni-ball makes a slew of good quality pens, and the Jetstream Premier (about $7) is one of them. Testers especially appreciated some design features of this pen, namely the softened click action and large grip. The only flaws we found were that its ink doesn't dry very quickly, and it requires a moderate amount of pressure to write.
Uni – Jetstream (ballpoint): We also liked the Uni – Jetstream: a pen with a bit of cult following. Different in design from the Premier with its thick gel grip, testers were a fan of its smudge free ink and comfortable hold. One tester noted that though it writes well, they wish the "grip was a little less squishy." They felt like they "lost a little control with how thick it is." One of the most expensive pens on our list, the Uni will cost you over $10 at most retailers.
Pilot – Precise V5 (ballpoint): Pilot, the makers of our best pen overall, also did a good job with the V5. Our testers loved the way this pen writes, and appreciated its uniform and even ink flow. It didn't bleed or feather, and it required only a small amount of pressure to write. Our only gripe with the V5? It doesn't have much of a grip, which can make it hard to hold.
Pens we don't recommend
Sakura – Gelly Roll Classic (gel): Sakura makes many of the fun, glittery gel pens that added color to our childhood, so we were hoping we'd like their office-appropriate black gel pen. However, we found it very uncomfortable to write with. It also skipped more than the other pens we tested.
Cross – Beverly (gel): Cross is known for making higher-end pens that can cost as much as $10,000 (like their discontinued AT0086-107G). We tested one that costs significantly less than that; their Beverley pen rings in at about $30. Even though the Beverley is on the (very) low end of the cost spectrum for Cross, it's still significantly more expensive than the other pens we tested. So, we expected excellent results. To our dismay, the Beverly was uncomfortable to write with, tended to feather, bleed and smudge and had a confusing design that made the cap seem like it was on backwards.
uni-ball – 207 Retractable (gel): uni-ball may be popular among writers everywhere, but they missed the mark on their 207 gel pen. Our testers found that uni-ball's gel formula feathered and didn't create very uniform lines.
Paper Mate – InkJoy (gel): Though Paper Mate's ballpoint version of the InkJoy was the best in our tests, we weren't as impressed by the gel version. We found that it feathered, bled and tended to smudge.
Bic – Round Stic Xtra Life (ballpoint): The Bic felt like a standard, uninspired office pen. It was uncomfortable to hold, required a decent amount of pressure to write with, and the ink often felt dry and uneven.
uni-ball – Vision & Vision Elite (rollerball): Both uni-ball's Vision and Vision Elite feathered, bled and smudged. The Vision also failed to deliver a smooth flow or a uniform line.
The bottom line
A good pen can make the everyday tasks, from taking notes in a meeting to making a grocery list, a little bit more pleasant. And the good news is, they don't have to cost you a fortune. All of our top pens cost under $5, and some of them cost under $1. If you're looking for the perfect all around pen, we recommend the Pilot – G2 gel pen. If you need a rollerball pen, choose the uni-ball Onyx for clean-writing lines, and if you prefer the more utilitarian ballpoint style, opt for the Paper Mate InkJoy. And if you're looking for something a little less permanent, check out our review of the best mechanical pencils.