We spent 35 hours testing (and eating) more than 60 bowls of popcorn to determine that the Lékué – Microwave Popcorn Popper is the best popcorn maker on the market. The Lékué offers the convenience of microwaved popcorn, without all of the unsettling chemicals that are used in microwave popcorn bags. Its versatility, durability, and low price make the Lékué a solid winner.
We spent 35 hours testing (and eating) more than 60 bowls of popcorn to determine that the Lékué – Microwave Popcorn Popper is the best popcorn maker on the market. The Lékué offers the convenience of microwaved popcorn, without all of the unsettling chemicals that are used in microwave popcorn bags. Its versatility, durability, and low price make the Lékué a solid winner.
Table of Contents
The 6 popcorn makers we tested
1. Best microwaveable: Lékué
The Lékué – Microwave Popcorn Popper stood out to us because of its simple and innovative design, high build quality, and versatility in the types of popcorn it can make — all of which comes at an affordable price point.
Made from high-quality silicone and completely BPA-free, the Lékué can make up to about a quart of popped corn at a time (about ⅓ of a cup unpopped), and can be cooked with or without oil.
The Lékué Popper is also dishwasher safe, making it far easier to clean, and the high-quality silicone should last for many years and thousands of bowls of popcorn.
One aspect of the Lékué Popcorn Popper that really stood out to us during testing was the attention to detail the manufacturers used. The collapsible design of the Lékué is ideal for those with limited space, such as students or those living in an apartment.
However, even if you have a house with a large kitchen, the two-inch collapsed height of this popcorn popper makes it easy to stick in a drawer when it's not in use.
The Lékué also has measurements built into the popper itself, so you don't even need a measuring cup when putting oil or unpopped kernels into the popper.
While the design of the Lékué is certainly important, what really matters is the quality of the popcorn it produces. Here again, the Lékué outshines the competition. In addition to completely popping the kernels in just over 2 and a half minutes, the Lékué consistently averaged only 10 unpopped kernels, while leaving little to no burnt kernels in the bowl.
Setup and cleanup are notably simple as well. Setup is as easy as putting the popcorn kernels (and optional oil) into the bowl, adding salt or spices if desired, and placing it in the microwave.
Cleanup can be done using hot water and soap, or the Lékué can simply be placed into the dishwasher. If you are only making one batch of popcorn, the Lékué also functions as a bowl — saving you from one extra dish to clean!
Finally, the manufacturers clearly stand by their product, which is why Lékué offers an industry-leading 10-year warranty on their popcorn popper.
The only real downside to the Lékué is the limited amount of popcorn that can be made at one time. The popcorn popper is among the smaller products we tested and is limited to about one-third of a cup of unpopped kernels — which translates to about a quart of popped corn. Fortunately, the quick popping time means you can make multiple batches in just a few minutes.
Ultimately, the fantastic build quality, innovative design, and quality of popcorn produced make the Lékué our best pick for popcorn makers.
2. Also Great: West Bend – Stir Crazy
2020 update: It seems this product may be discontinued for another model by the same brand, so we've updated all links to match. If you prefer the design of the unit we tested, two seemingly identical replicas have emerged, from Time for Treats, and Aicook.
The West Bend – Stir Crazy Popcorn Maker is the most fun of the popcorn makers we tested. It is lightweight (about four pounds), made from high-quality materials and is easy to use. The manual is very easy to follow, and even includes recipes, hints and tips for making the best bowl of popcorn possible.
The West Bend Popcorn Maker is made up of three primary components: The base, the cover and the cap.
The base is where the action happens. Popcorn is placed onto the surface in between the two metal stirrers which keep the kernels moving around and heating evenly.
The cover is made from transparent plastic, which allowed us to watch the popcorn as it was being popped. The top of the cover has an indented section with small holes in it, which can be used as a "butter well" for those who wish to melt butter onto their popcorn.
The cover can also be used as a popcorn bowl. Its large size makes it ideal for sharing popcorn with four to six people. However, if you're planning on making more than one bowl, this isn't an option. On the other hand, if you are just making one bowl, you won't have an extra dish to clean when you're finished.
Finally, there is a cap, which turns the top of the cover (which has butter well-holes in it) into an actual bowl that won't leak all over your lap.
One of the most noteworthy features of the West Bend Stir Crazy popper is the fact that there is a considerable amount of time between the popcorn being mostly (or entirely) popped and the popcorn starting to burn.
This is beneficial for a few reasons:
You don't have to rush to turn the popper off.
You can get most if not all of the kernels to pop before turning the popper off.
It is much less likely that you'll have burned popcorn in your bowl.
The metal stirrers in the West Bend popper keep the kernels — both popped and unpopped — moving around, which helps evenly distribute the heat and contributes significantly to the leeway between the popcorn popping and starting to burn.
We also found that popcorn, oil, and anything else left on the base didn't stick too badly. Even when we left the West Bend uncleaned overnight, a quick brush with a damp paper towel was all it took to clean the base off.
Finally, it's worth noting that the West Bend – Stir Crazy can pop one cup of unpopped kernels at a time, or about six quarts popped — this is ideal anytime you are sharing your popcorn with three or four other people. On top of that, we averaged only four unpopped kernels!
Things we didn't like about the West Bend
Although there were a lot of things we liked about the West Bend Stir Crazy popcorn popper, there were some issues with it as well.
First off, flipping the popper upside-down (turning the cover into a bowl) is a dicey proposition. After popping, everything except the small handles are hot. We strongly recommend using oven mitts during this process so you don't burn your hands like we did!
We also found that the West Bend would sometimes make sounds when popping corn. At first, we thought that these scratching/screeching sounds meant that the popper was breaking. However after using it several times, it seems that the metal stirrers just make that noise sometimes.
In addition, unlike our top pick, the Lékué, you must use oil when popping corn in the West Bend popper. Without oil, the popcorn simply will not pop — but it will burn!
While this isn't a problem for those who only plan to pop their corn with oil, it does take the West Bend out of contention for those who sometimes (or always) want to cook their popcorn without oil.
It's also worth noting that the West Bend took longer than the Lékué to pop. On average, it took five minutes and 25 seconds for the West Bend to finish popping — nearly three minutes longer than the Lékué!
Finally, the bowl is somewhat challenging to clean up. While removing oil and leftovers from the base is fairly easy, the plastic bowl requires some hot water, soap, and a bit of effort.
The bottom line is that the West Bend – Stir Crazy is an excellent option for those who are only looking to pop their corn with oil and are willing to overlook the ergonomic challenges posed by this particular popcorn maker.
3. Wabash Valley Farms – Whirley-Pop Stovetop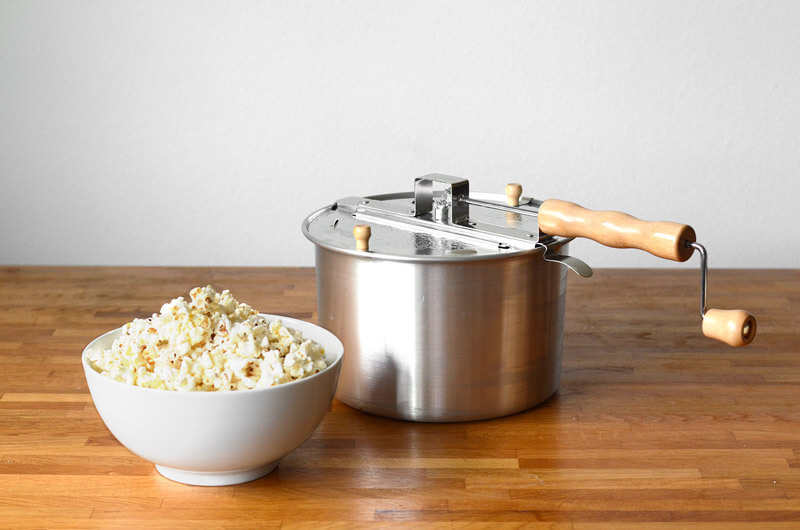 The Wabash Valley Farms – Whirley-Pop Stovetop Popcorn Popper is a classic product, which is why we wanted to test it ourselves. While this popper does make tasty popcorn, it is much more laborious.
The biggest downside of the Whirley-Pop is also its charm. Namely, the fact that you have to manually stir the handle for several minutes while the popcorn pops. While this might be fun to do the first few times, ultimately it is simply a less effective and less flexible way to make your popcorn unless you truly enjoy putting in the elbow grease.
4. Presto – PopLite Air Popper
The Presto – PopLite was the only finalist we tested that was an air popper. While there are benefits associated with using an air popper (not needing oil, ability to quickly make multiple batches of popcorn in succession), there were issues with the Presto PopLite Air Popper that we felt outweighed thought benefits.
The biggest issue we had with the Presto popper was the fact that it came with a California Proposition 65 warning, due to the BPA that that Presto popper is made with.
Less critical, but still noteworthy was the fact that the Presto PopLite shoots the popped kernels in a pretty wide spread, which meant that we needed a large bowl to capture the popped kernels — and even then a couple managed to escape the bowl.
In addition, this popper became very hot while in use. Not only did the components heat up, but the air about a foot in front of the popper was distinctly hot as well.
Ultimately, if you want popcorn without oil, the Lékué microwave popper works better and is safer as well.
5. Great Northern Popcorn – Table Top Retro-Style
We had high hopes for the Great Northern Popcorn – Table Top Retro-Style. In addition to being the most expensive popcorn maker we tested, the Great Northern Popcorn Popper is designed like the classic kettle-style popcorn makers you've seen in movie theaters since you were a kid.
Unfortunately, this product simply didn't hold up to our expectations.
The first negative sign came when we opened the box and a strange, borderline foul odor came from the materials inside. Next, it took three of us nearly 20 minutes to figure out how to actually set up the popper. The instructions aren't very informative, and putting the actual kettle into the popcorn maker was more complicated than we expected.
Cleanup was challenging as well, as there are many different components (a few of which are very hot for several minutes after making popcorn) that need to be removed and cleaned individually — and aren't dishwasher safe.
The design itself is also lacking. The most notable example of this is in the design of the lid, which was knocked down by the rotor six times during our first three minutes of "preheat" time. You could just let it stay closed, but the user manual specifically instructs against that.
The popcorn from the Great Northern popper was tasty, but both of our best picks can do the same, with much less hassle and much less expense.
6. Presto – PowerPop
The Presto – PowerPop was an interesting product to test. The PowerPop uses special "power concentrator" disks which are placed on the bottom of the popper. Presumably, they help distribute the heat so that there are fewer unpopped kernels.
The obvious downside to this is that these power concentrators need to be replaced after several uses, and while they are inexpensive, it is a hassle (and an additional expense) that other popcorn makers simply do not have.
The power concentrators would be an acceptable compromise, however, if the Presto PowerPop did in fact leave little to no kernels unpopped. Unfortunately, the PowerPop did worse than all of our other finalists.
To ensure that this was accurate, we conducted 10 different tests with the PowerPop, using three different power concentrators, and the results stayed the same.
Ultimately our best pick, the Lékué, is simply a better microwave popper.
How we selected
Before conducting the research for this article, our experience with popcorn was mostly limited to movie theaters and microwave bags. In order to become experts on the subject, we read through dozens of consumer reports, articles, forums, and Reddit threads on r/popcorn to determine what people are looking for in their popcorn makers:
We found that, overall, popcorn lovers want:
Popcorn that is fluffy and crunchy
As few burned and unpopped kernels as possible
A popcorn maker that is easy to set up and easy to clean
Flexibility in the additional ingredients (salt, oil, other toppings) that can be used
Making quality popcorn as fast as possible
Flexibility on the minimum and maximum amount of popcorn that can be made at one time
We used those metrics to narrow our list of prospects. From there, we dug deeper into each of the prospects until we had a list of six finalists, which we ordered on Amazon so we could test them in-house.
Each of our six finalists were put through extensive testing in order to determine which popcorn maker was built best, and provided the best popcorn quality.
How we tested
Popcorn makers are one of the more difficult product categories to test, because the most important metric — how the popcorn tastes — is largely subjective, and based on whether someone wants a healthy snack or a buttery, savory treat.
That being said, we were able to combine some quantifiable metrics, along with subjective taste-testing to come up with what we believe is the best popcorn popper available.
The metrics we tested include:
Build quality
BPA free
Length of time until popping is finished
Percentage of kernels unpopped
Percentage of burned kernels
We also used qualitative measurements, including:
Taste
Consistency
Ease of use
We combined all of this information to come up with our best picks.
Important features to consider
For a product like a popcorn maker, determining what to look for is fairly straightforward.
Crisp popcorn that pops and doesn't burn
The most important consideration is whether or not the popcorn maker can consistently make high-quality popcorn that is crisp, does not burn, and leaves few to no kernels unpopped.
Taste
Taste is of course another consideration, however, this metric is highly subjective. In addition, there are countless ways to prepare popcorn, from basic air popping (healthy but not the most flavorful), to oil and butter-drenched popcorn drizzled with chocolate and caramel.
Build materials
It's also important to make sure that a popcorn maker is built from high-quality materials that will last for many years. Getting a "good deal" on a popcorn maker that breaks after 6 months isn't a good deal at all — and you'll end up spending far more than you would have had you purchased a high-quality popcorn maker instead.
BPA free
A high-quality popcorn maker should also be free of Bisphenol A, which is more commonly known as BPA. BPA is a synthetic compound that has been used in the creation of plastics since the 1960s. However, in recent years BPA has been found to cause significant health problems, and many (but not all) companies are quickly moving away from using it in their products.
Finding a popcorn maker without BPA is even more important when you consider the fact that your popcorn maker will be exposed to considerable heat every single time that it is used.
Easy setup and cleanup
A good popcorn maker should also be easy to set up and clean and should include clear instructions that assist in that process. A nice (but certainly not essential) bonus is an instruction manual that includes recipe suggestions and/or tips for making the best popcorn possible.
Capacity
Finally, make sure to look at the maximum capacity of each popcorn maker. If you only plan on making popcorn for you and one other person, this might not be much of a factor. However, if you are planning to use your popcorn maker with your friends and family, choosing a high-capacity popcorn maker could be a worthwhile investment.
Are microwavable popcorn bags health risks?
Several years ago, there was a lot of controversy surrounding the fact that the chemical diacetyl was used in microwavable bags of popcorn. This chemical, which artificially creates a buttery flavor, was linked to health problems — including the sometimes fatal disease obstructive bronchiolitis, also known as "popcorn lung".
We were shocked to find out that something so seemingly innocuous and innocent — namely, enjoying a bag of microwaved popcorn — could have such a potentially devastating impact on our health. We wanted to get to the bottom of the situation, so we searched for the most trusted experts in the field.
We were fortunate to get the opportunity to conduct an interview with Dr. Daniel Morgan, who has been an Inhalation Toxicologist at the National Institute of Health for more than 30 years and is now the head of the Respiratory Toxicology Group within the U.S. Department of Health and Human Services.
Dr. Morgan has researched and written extensively about this subject and is widely regarded to be one of the leading experts.
Dr. Morgan explained to us that the vast majority of diacetyl-related incidents occurred to workers in the factories where microwave popcorn is produced. There were also a few incidents for consumers as well, however, those were largely limited to individuals with substantially greater exposure than the typical consumer.
One example was a man who ate two bags of microwave popcorn every day, and who took deep inhalations of the steam (so he could enjoy the buttery artificial smell). He ultimately developed "popcorn lung", and was awarded a multi-million dollar judgment following a lawsuit.
Ultimately, diacetyl was removed by most brands of microwavable popcorn bags by 2007. However, according to Dr. Morgan, there are still other concerns surrounding the chemicals and materials used within the bags.
One example is the fact that diacetyl "trimers" are still used by some brands. These trimers, which are chemical compounds that aren't technically diacetyl, actually become diacetyl when the popcorn is heated and comes in contact with steam.
Another disconcerting element in microwave bags is the use of Perfloroocatanoic acid, otherwise known as "p-foa", which is used to line the bag and prevent water and oil from seeping into it. Unfortunately, those chemicals can break down into the contents of the bag during microwaving.
Ultimately, Dr. Morgan says that consumers don't really have much to worry about (unless they're eating two bags of microwave popcorn a day and are deeply inhaling the steam). Nevertheless, you can avoid all of these unsettling chemicals simply by using a popcorn maker!
Cost savings of popcorn makers
While the potential health concerns are reason enough to avoid microwave bags of popcorn, there's another reason to choose popcorn poppers instead of microwave bags: saving money.
We did the math, and it turns out that using a popcorn maker saves between 22.25 percent and 48.48 percent over microwave bags of popcorn — depending on how you prepare your popcorn (with or without oil).
Popcorn math
For those of you who don't love math, you might want to just take our word for it that making your own popcorn is much cheaper than buying microwavable bags and skip to the next section. For those who want us to show our work, read on!
A 28-pack of Pop-Secret popcorn is typically $24.99 on Amazon. There are an estimated 79 servings of two tablespoons in the box, which comes out to 158 tablespoons for $24.99, or $0.158 per tablespoon.
A five pound, 12 oz jug of popcorn kernels from Orville Redenbacher costs $15.89 on Amazon and contains 195 tablespoons of unpopped popcorn kernels. This comes out to $0.0815 per tablespoon.
This comes out to a savings of 7.67 cents per tablespoon, or 48.48%.
What about oil?
For those who want to add oil to their popcorn, don't worry! You'll still save money over a microwave bag of popcorn.
You can purchase about 252 tablespoons (about four quarts) of Wesson oil for $18.47 on Amazon. According to several recipes online, we determined that the ratio of unpopped popcorn kernels to oil should be 5.33 tablespoons to three tablespoons or 0.56253 tablespoons of oil per tablespoon of kernels.
This adds a cost of $0.04151 to each tablespoon of popcorn kernels, bringing the total to $0.123 per tablespoon of popcorn with oil added. This also means there is a savings of 3.52 cents or 22.25% over the cost of an equal amount of microwave bag popcorn.
One other way of looking at this is by comparing the cost of a bag of Pop Secret popcorn with the equivalent amount of popcorn from a popcorn maker:
A Pop Secret bag, with an average of 5.643 tablespoons of unpopped kernels, costs $0.90. The same amount of popcorn from a popcorn maker would cost $0.46 without oil, and $0.69 with oil.
What about the cost of the popcorn maker?
Of course, there is also the one-time cost associated with purchasing a popcorn maker. Our best pick, the Lékué Popcorn Popper, costs $18.90 at the time this post is published.
At six tablespoons of unpopped popcorn per bowl, we calculated that the Lékué would pay for itself after 44 bowls of oil-free popcorn, or after 103 bowls of popcorn with oil.
While this might seem like a lot, keep in mind that the Lékué has a 10-year manufacturer's warranty, which means after those initial 44 or 103 bowls of popcorn, the Lékué will preserve both your money and your health for years to come.
Types of popcorn makers
There are lots of different ways to make popcorn that don't involve an unhealthy bag of microwave popcorn. In our testing, our finalists consisted of three types of popcorn makers:
Microwave popcorn poppers
Hot air popcorn poppers
Electric popcorn poppers
All of them will do the job, and each has its own sets of strengths and weaknesses.
Microwave popcorn popper
Microwave popcorn poppers offer much of the convenience of microwave popcorn bags, but without the health risks. Since each unpopped kernel of popcorn has moisture locked inside, the microwave — which heats food by energizing water molecules — is well-suited to the task of making popcorn.
Microwave poppers like the Lékué are able to make popcorn either with or without oil, and salt or other flavorings can be added before or after popping the corn.
There aren't many downsides to a microwave popper, as long as there is a microwave nearby. Microwave poppers also have a tendency to dry out popcorn — particularly if the microwave is set for too long — so microwave popcorn poppers require a little more attention and precision than a hot-air popcorn popper or an electric popcorn popper.
Hot-air popcorn popper
Hot-air popcorn poppers make popcorn without the use of any oil and are great for producing fluffy, crisp popcorn kernels quickly and without any mess.
On the other hand, hot-air popcorn makers are limited in the types of popcorn they can produce. Oil is not an option, and it is difficult to get salt or other flavors to stick to the popcorn after it is popped.
Electric/stovetop popcorn poppers
Electric and stovetop popcorn poppers use oil and metal stirrers to heat popcorn kernels evenly, and they offer the greatest versatility in terms of adding butter and other flavorings.
However, electric popcorn poppers require the use of oil, so if you want to make popcorn that is oil-free (or even if you just want to go light on the oil) then an electric popcorn popper is not for you.
That said, if you are interested in making a flavor-packed snack and aren't that concerned with counting calories, electric and stovetop popcorn poppers are an option worth looking into.
Why trust us?
Everyone loves popcorn, and we wanted to figure out which popcorn maker would allow us to make the most delicious popcorn possible. We also wanted to know whether we needed a popcorn maker, or whether microwavable bags of popcorn would suffice.
We spent three weeks of research and testing in our office to determine which popcorn makers were the best on the market. We also found that making popcorn yourself is preferred compared to using microwavable bags of popcorn for a number of reasons, including several health-related concerns.
After speaking with Dr. Morgan of the Respiratory Toxicology Group at the National Health Institute, we determined that microwave popcorn bags pose too many questions regarding health risks for us to confidently recommend them to others.
That left us with popcorn makers.
When testing popcorn makers, we took several considerations into account. These included: build quality and materials used, cost, ease of setup and cleanup, taste and quality of popcorn, and how many kernels went unpopped or were burned during cooking.
We also conducted taste-testing in our office to make sure the popcorn would be enjoyed by the typical popcorn lover.
Long-term testing notes
We've continued to use both the Lékué to pop our popcorn, and the material still looks as good as new. In fact, unlike some other silicone products we've tested, the Lékué has managed to avoid becoming sticky and grimy. Part of that certainly has to do with the fact that we always make sure to clean it after use.
However, even after a couple of weekends where we forgot to clean it before going out of town, a run through the dishwasher left the Lékué looking as good as new again.
We've also continued to use the West Bend popcorn popper, albeit much less frequently. While it is fun to bring out the West Bend for guests, the large size of the popper, along with noisy operation and challenging cleanup make it a noticeably less-convenient popcorn popper for everyday use.
We've continued to avoid microwavable bags of popcorn as well, especially since both the Lékué and the West Bend produce better tasting, and likely healthier, popcorn.
The bottom line
Popcorn doesn't need to be a complicated affair. Fortunately, our top pick, the Lékué – Microwave Popcorn Popper, keeps the process simple.
While microwaving a bag of popcorn for your next movie night might seem like the simplest way to enjoy this classic snack, the fact of the matter is that the health risks associated with microwavable bags of popcorn simply aren't worth the risk.
On top of that, you can in fact save money (that you can spend on important things like wine for your movie night) by using a popcorn popper instead of microwave popcorn bags.
If you want a popcorn popper with more capacity (and more fun to watch), the West Bend – Stir Crazy is a strong option as well. However our best pick — due to its simplicity, versatility, and overall value — is the Lékué.