Whether you're a novice or experienced whiskey drinker, chances are you've at least heard of whiskey stones. With more than 45 hours of research and testing under our belts, we concluded that the best whiskey stones currently available are Balls of Steel by OriginalBOS. Not only did these stones produce the most consistent chilling during our tests, they also led the field in ergonomics and overall design. The Kollea stones are a strong runner-up.
Whether you're a novice or experienced whiskey drinker, chances are you've at least heard of whiskey stones. With more than 45 hours of research and testing under our belts, we concluded that the best whiskey stones currently available are Balls of Steel by OriginalBOS. Not only did these stones produce the most consistent chilling during our tests, they also led the field in ergonomics and overall design. The Kollea stones are a strong runner-up.
Table of contents
Compare the best whiskey stones
Best stones overall: Balls of Steel
During our testing, the one brand of whiskey stones that stood out above all the others was Balls of Steel by OriginalBOS. No other product came close to having the full package the way OriginalBOS offers it, and they are hands-down the whiskey stones to get for anyone considering giving whiskey stones a try.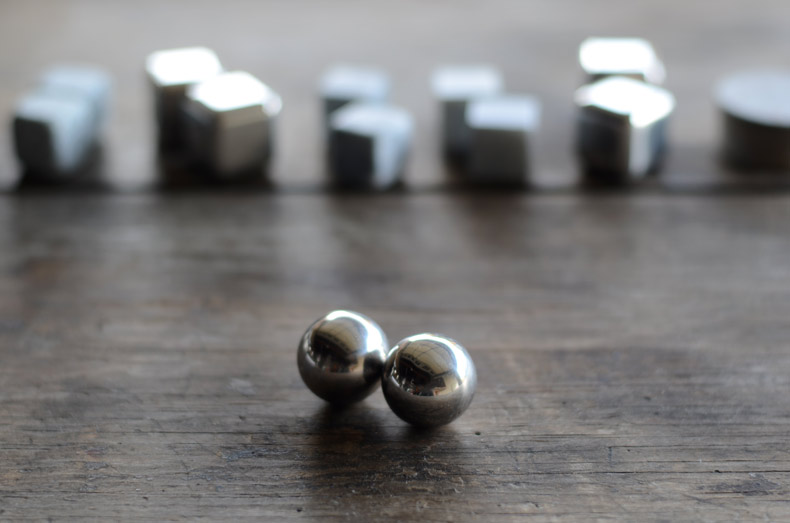 The Balls of Steel come in a small package and includes two balls, a small set of tongs and a bag to put the balls in while they sit in the freezer. One minor point that stood out is the slightly rounded shape of the tongs, which actually made it much easier to both put the BOS into and take them out of the glass.
The rounded tongs, while seemingly minor, are indicative of the overall experience I had when using BOS — namely, that the company had a great passion for their product and a strong attention to detail.
The BOS also has a notably shorter freezing time when compared to the rest of the whiskey stones we looked at, particularly those made out of soapstone. While the soapstone whiskey stones typically suggest "at least 4 hours" in the freezer before use, BOS is ready after just 90 minutes.
Attention to Detail
It is clear that the folks over at OriginalBOS paid close attention to detail when designing their product. The spherical shape just makes more sense from an ergonomic perspective, especially when compared to the square shape of most whiskey stones. Instead of tumbling around the glass, the BOS has a smooth, ball bearing-like effect in the glass.
In addition to looking classy and modern, the shape and smooth movement of the BOS had the added benefit of moving in a way that minimized the risk of the stone suddenly tumbling onto my teeth — which is less than I can say for some of the other whiskey stones we tested!
As a long-time whiskey drinker, I prefer drinking my whiskey in a Glencairn whiskey glass whenever possible. For those who might not know, the Glencairn glass is the first and only whisky glass to be endorsed by the Scotch Whisky Association and its "tulip" shape allows the dram to aerate, while the inward-curving shape of the glass helps to concentrate the smell of the drink, thereby optimizing the "nosing" experience.
The downside with the Glencairn glass is that, because it is significantly smaller than a traditional tumbler — with an even smaller opening at the top — most whiskey stones are simply awkward inside the Glencairn glass. Even worse, some of them don't fit at all!
Not so with the Balls of Steel.
When I put the BOS into the Glencairn glass, it felt like these were whiskey stones that were created by genuine whiskey lovers. Unlike every other whiskey stone we tested, the BOS fit perfectly into the glass and rolled around in the glass in a distinctly satisfying way.
It was immediately apparent that the makers of BOS were familiar with Glencairn glasses, and I would be surprised if their product testing process did not include the use of those glasses. Perhaps most importantly, the BOS did not tumble towards my teeth — more than I can say for the other whiskey stones that were tested!
We also tested the BOS in a regular tumbler. While the ergonomics were not quite as impressive as they were in the Glencairn glass, the BOS still moved around the glass smoothly, which made it much more difficult for someone using BOS in their whiskey to inadvertently drop one of the stones onto their teeth.
One other aspect of the BOS whiskey stones is the fact that the company that produces them, OriginalBOS, donates 15 percent of net proceeds to testicular cancer research at The MD Anderson Cancer Center.
OriginalBOS partnered with the MD Anderson Center to create a special fund that specifically goes towards testicular cancer research. While this is not necessarily reason alone to buy a product, the fact that our top pick also happens to incorporate an important cause only solidifies the choice further.
OriginalBOS also utilizes great website design. The company clearly has put effort into — and takes pride in — their Internet presence and wants their customers to have the best online buying process possible.
One final note on the Balls of Steel. While we conducted our testing of all the whiskey stones using Glenfiddich 12, I enjoyed and was so intrigued by the experience of using the Balls of Steel that I followed up the following evening by opening the bottle of Glenfiddich 21 I'd been saving and sipping on a glass over the course of an hour and a half.
In the past, when taking a dram of Glenfiddich 21, I'd pour a few drops of water into the glass to open up the flavor. This time, however, I was able to add the drops of water while also chilling my drink with the Balls of Steel.
I found that this offered me the best of both worlds: In addition to adding just the right amount of dilution to open up the flavor profile of the whisky (something that simply cannot be done with a piece of ice), I was also able to chill my drink, which mellowed out the flavors without dulling them at all.
This experience, more than any other, convinced me of the value and ideal application of high-quality whiskey stones like the Balls of Steel.
Metrics from our testing of the Balls of Steel:
Lowest recorded temperature: 45.5° (a decrease of 18.5°)
Time under 55°: 40 minutes (from minute 5 to minute 45)
Best cube-shaped stones: Kollea
Based on temperature data alone, Kollea should have been our top pick. In addition to chilling the whiskey more than any other product we tried (including Balls of Steel), Kollea maintained temperatures cooler than every other product tested over the entire two hour testing period. If you're looking to chill your glass of whiskey as cold as possible without dilution, Kollea is unquestionably a viable option.
From a visual standpoint, the Kollea steel whiskey chillers are fairly appealing. However, in our opinion, the Kollea whiskey chillers are simply too large to be practical. In smaller glasses like the Glencairn, they take up so much space and tumble around so much on the sides of the glass that there is likely a risk of the glass itself shattering with their use.
With traditional tumbler glasses, the problem isn't quite so pronounced, but the Koella chillers are large enough that trying to drink from the glass with them still inside is not recommended — if only for reasons of dental health.
That being said, the Kollea chillers are so effective at chilling whiskey that they could reasonably be used to chill a glass for 5 to 10 minutes (or as long as desired) then pulled out of the glass using the included tongs.
Using them in this way isn't as convenient or effective as simply leaving them in like you can with the Balls of Steel, but it is effective. For those who don't actually want to leave the whiskey stones or chillers in their glass while they drink, it could actually be a preferable option over the Balls of Steel, since the Koella chillers did chill the whiskey faster and to a lower temperature than the Balls of Steel.
We found that the Koella chillers reached a minimum temperature about 10 minutes after being placed in the glass. If you're looking to get the maximum chilling effect but also want to pull the chillers out before drinking, this looks to be the optimal time to do so.
Metrics from our testing of Koella Whiskey Chillers:
Lowest recorded temperature: 41.5° (a decrease of 22.5°)
Time under 55°: Approximately 65 minutes (almost immediately to minute 65)
Best soapstones: Teroforma
Being the first product to market is always commendable, since you are creating a category that didn't exist prior to your innovation and are opening up endless possibilities for your company (or others) to iterate and improve on your original idea.
Teroforma has the distinction of creating the first known commercial whiskey stones back in 2007. The stones were created out of milled soapstone and set the stage for dozens of imitators over the years. There's little doubt that Anna and Andrew Hellman (founders of Teroforma) are both flattered (and perhaps somewhat irritated) that their idea was copied by so many others so quickly.
Teroforma whiskey stones held their own against the other non-steel whiskey stones we tested. While the Maker's Mark disk did get slightly colder for a brief period, within about 15 minutes the Maker's Mark disk was quickly losing its ability to chill, whereas the Teroforma stones were able to provide a consistent few degrees of chilling for about 40 minutes.
This, in conjunction with the fact that the Maker's Mark disk doesn't even fit into a Glencairn glass, makes the Teroforma Whiskey Stones the best soapstone whiskey stone we tested and worthy of an Honorable Mention.
From the moment we opened the packaging of the Teroforma whiskey stones, it was readily apparent that the Hellmans take great pride in their product. Unlike the other soapstones we tested, the Teroforma stones had a very consistent, clean appearance, with no residue or anything else that might negatively impact the taste of a whiskey they were placed into.
This is likely due to the Teroforma whiskey stones being milled in the Teroforma workshop, thus allowing the company to produce a product of consistent quality.
Even though the Teroforma were the best-performing soapstone whiskey stones, they still failed to come close to matching any of the steel whiskey stones we tested, both in the amount of chilling, length of chilling and (for our top BOS pick) overall ergonomics.
Metrics from our testing of the Teroforma Whiskey Stones:
Lowest temperature: 59.5° (a decrease of 4.5°)
Time under 55°: Zero minutes
Time under 60°: 10 minutes
Other finalists we tested
While all of the finalists we tested were able to chill whiskey to some extent, most had at least one or two problems that could understandably lead consumers to have a negative opinion of them. In general, soapstones tend not to chill whiskey very much or for very long, while stainless steel stones/chillers can be heavy and clunky.
The Maker's Mark disk was both clunky and ineffective at keeping its drink chilled. This was disappointing, as we had high hopes that the bourbon distillery would have produced a better product — they should probably stick to spirits.
The Great White stones performed almost as well as the Kollea stones. However, since they look and feel almost identical, anyone considering Great White would be better off with Kollea instead.
Both the Spirit Stones and the Sipping Stones had the least amount of chilling, and their drinks started gaining temperature after about 15 minutes. An argument for both of these products is that you could remove them from the drink entirely if you only want to chill it four or five degrees.
For anyone considering whiskey stones, we strongly recommend using one of our top three recommendations: Balls of Steel, Kollea chillers, or (for those who strongly prefer soapstone) the Teroforma Whiskey Stones.
Long-term testing notes
We first published this post back in February 2016. Ten months later, the Balls of Steel are still holding up well and are just as effective as the first day we plunked them into our glass of Glenfiddich. The Kollea stones still get occasional use when sharing whiskey with a friend, but Balls of Steel are always the first choice. The Teroforma stones have actually improved with time, becoming smoother and easier to manage
We've also done some more comparisons of whiskey with a cube of ice versus whiskey stones. It come down to personal preference, but it does seem like ice cubes simply melt too much water into a glass. We've found that what works best is to splash a few drops of water into the glass, then use the Balls of Steel to chill the glass a few degrees.
Why trust us?
I've been a whiskey drinker since the day I turned 21 and was ordered a Jack and Coke at the bar by one of my friends. In the years since then, I have expanded my palate quite a bit and have already tried more than 50 different whiskeys — some expensive, some not-so-expensive. While certainly not an old-and-gray whiskey veteran, I have tried more than enough whiskey to appreciate and understand the nuances of this amazing spirit.
In preparing for this article, I spent more than 40 hours reading through more than one hundred articles, blog posts, whiskey forums and Reddit threads. I wanted to learn everything I could about whiskey stones: what people thought of them, how often they were used, why some people seemed so adamantly opposed to them and whether or not the stones actually provided a benefit to whiskey imbibers.
We also reached out to several whiskey stone manufacturers and distilleries in order to hear from those who would presumably know best. We received several responses and had useful and informative conversations with company representatives and a few assistant master distillers.
Surprisingly, I found that many of the distillers had little to no opinion on whiskey stones in general and some of them had never even used or heard of them.
Most of their advice was limited to "enjoy your whiskey in whatever way you prefer," and one of the master distillers I spoke to said that he had never even seen whiskey stones!
However, I was able to glean some useful pieces of information from my conversations with experts, which we were able to use in determining the best whiskey stones on the market.
How we selected finalists to test
The 40+ hours spent researching and speaking with experts in the industry helped us narrow our focus and build a "short list" of whiskey stones to test in-house.
Ultimately, we were able to narrow the field by using the information gathered during our research to find the brands that had the most consistently positive coverage, which included favorable reviews on sites like Amazon and Google, as well as positive mentions and review articles on both whiskey and non-whiskey websites and blogs.
We also looked for products that had what we considered to be prerequisite criteria: everything from being made from food grade material to simple things like the inclusion of a freezer-safe container or bag.
From there, we were able to further narrow the field so that we would have a representative sample of the major material types that whiskey stones are made of. More specifically, we chose whiskey stones made from soapstone and steel.
Finally, we made of point of including at least one "brand name" in each material category, so that we could determine if there was a notable difference between brand-name whiskey stones and some of the lesser-known brands.
We were a little surprised to find that, yes, the big brands in this product category actually did earn their reputation in the whiskey stone market. More specifically, Balls of Steel and the Teroforma soapstone whiskey stones performed better than the lesser-known brands in their category.
A brief overview
According to the Distilled Spirits Council of the United States, more than $2.7 billion worth of Bourbon and Tennessee Whiskey was sold in the United States in 2014, representing an increase of more than 21% over the past decade. Along with the growth in whiskey sales, there is a robust market for accessories, which of course includes whiskey stones.
The history of whiskey stones is actually a lot shorter than some might expect. Based on our research, we found that whiskey stones were first created in 2007 by Anna and Andrew Hellman, founders of Teroforma.
According to their website, they were the inventors of whiskey stones and the first to create a commercial product out of them. Despite that, we found that whiskey stones made out of stainless steel performed significantly better in our trials than any of the soapstone whiskey stones — including the Teroforma stones.
We also found that there are very strong opinions both in favor of and opposing the use of whiskey stones. While it's true that whiskey stones are not for everyone, we concluded that the right whiskey stone, used properly, can actually have a significantly positive impact on the whiskey drinking experience.
Who should buy whiskey stones?
Before getting into the situations best suited for whiskey stones, we should start by stating that whiskey stones are not for everyone, nor for every situation. A significant portion of the negative reviews can be traced back to the fact that the stones were not used for their intended purpose.
More specifically, whiskey stones are not designed to be a replacement for ice in a mixed drink (such as Jack and Coke), nor are they effective at making your drink ice cold. Instead, stones are best used by those who want to chill their drink into the 40° to 60° range, which is considered by the master distillers we spoke to as the ideal temperature range for drinking whiskey.
You should consider buying whiskey stones if you enjoy the nuanced flavors in whiskey and prefer the temperature to be cooler than room temperature — particularly if you live in an area where "room temperature" can mean 80° or higher. Instead of over-diluting your drink with ice, whiskey stones make it possible to chill whiskey without any dilution or, as is often preferable, with just a few drops of water to release the flavors of the whiskey.
The controversy behind whiskey stones
If you look online, you'll find no shortage of people opposed to whiskey stones. Their oppositions vary widely: Some simply believe that whiskey stones are ineffective at chilling their drink, while others claim that having stones in your glass of whiskey can be a hazard if the stones fall on your teeth or into your mouth.
Essentially, the argument is that whiskey should either be taken neat (whiskeys with complex flavor profiles that shouldn't be diluted) or that ice is a viable and more effective, method of chilling (for whiskeys in mixed drinks).
There is no disputing the fact that whiskey stones can get in the way of an otherwise "neat" drink. There's also a risk that the whiskey stones might tumble out of the glass and into the mouth of an unsuspecting imbiber.
One solution would be to pull the whiskey stones out of the glass once the drink's been chilled. This is a reasonable and viable option, since most whiskey stones (including our recommendations) come with tongs designed to easily place and remove whiskey stones.
Another solution is to simply use whiskey stones that won't tumble into your mouth, or onto your teeth, while being used. This was a major consideration when ranking the whiskey stones in our study.
Whiskey stones require advance planning
Whiskey stones also require maintenance and forethought, since they need to be placed in the freezer for hours prior to use and cannot be reused until they have been refrozen — for a social gathering in which many will be drinking, this can be a prohibitive requirement and explains why bartenders typically dislike whiskey stones.
Bartenders certainly have many reasons to dislike whiskey stones. In addition to needing hundreds of stones on a busy night, the logistics of storing and washing the stones, along with the risk that they could be stolen by patrons, explains why  bartenders and many bars have such disdain for whiskey stones.
Finally, and perhaps most convincingly, is the fact that chilling whiskey can mask some of the flavor — particularly at temperatures below 45 to 50 degrees. This is one of the reasons it is considered poor form to put ice into a glass of expensive whiskey.
There is without a doubt validity to many of the arguments against whiskey stones. In fact, in my initial research I came upon so many of these arguments that I began to doubt whether whiskey stones were worth using at all.
However, upon further research and actually testing the whiskey stones myself, I was able to determine that there is certainly a place for whiskey stones, both for amateur and experienced whiskey drinkers alike.
The argument in favor of whiskey stones
The biggest argument in favor of whiskey stones — and the argument that whiskey stone manufacturers highlight most frequently — is that they make it possible to chill a drink without any dilution. While the importance of that point could be disputed, there is no disputing that an effective whiskey stone would achieve this goal.
One of the arguments against whiskey stones is that they don't chill a glass of whiskey as much as a glass of ice. Although true, it's important to remember that a glass of whiskey starts losing its complexity around 45° to 50°, so the fact that whiskey stones don't chill as much as ice is intentional and by design.
When speaking to one of the master distillers from the WhistlePig distillery, their recommendation was also to keep the temperature in the 45° to 60° range. We kept this in mind when testing whiskey stones.
The 45° to 60° range makes even more sense when put into the context offered by Scotch Whisky distilleries: Scotch Whisky is produced and was originally consumed almost exclusively in Scotland, where the ambient temperature is lower than in many other parts of the world.
By using whiskey stones to lower the temperature of your whiskey (and Scotch Whisky in particular), what you're really doing is bringing the drink to a temperature that expert distillers have optimized it for over centuries of trial and error.
None of the whiskey stones we tested went below the 45° range; however, the whiskey stones made out of soapstone did have a difficult time keeping the temperature below 60°, even with a starting temperature of 64° — which is one of the major reasons why our top two picks were not made from soapstone.
The risk of whiskey stones tumbling out of the glass and causing potential damage to one's teeth can be essentially neutralized by choosing a whiskey stone that is designed to avoid this exact problem. The design of the Balls of Steel best fits this category and is one of the primary reasons that product is our top pick.
Ultimately, those who argue against whiskey stones — like bartenders — typically have legitimate yet biased reasons. Others might be using the wrong stones, such as soapstone,  that ultimately fail to sufficiently chill the whiskey.
All that being said, when used in the proper setting — for example, in a home among one to four drinkers — and when the right product is used, whiskey stones can indeed chill a glass of whiskey to the perfect temperature and also allow a few ideal drops of water to be added for an optimal whiskey-drinking experience.
How we tested
Once we had narrowed our list of whiskey stones to seven finalists, we needed a way to further differentiate between them to determine which would be our top recommendation.
We used a combination of qualitative and quantitative methods to rank each of the products, which included:
Appearance of the whiskey stones
Packaging quality, including materials used and whether there was any residue that needed to be washed off before the stones could be used
The inclusion of accessories such as a freezer bag, tongs and instructions or guidelines
Amount of time needed to freeze each stone before it was ready to chill whiskey
Amount and duration of chilling the stones can produce in 3 ounces of whiskey
Overall impression of each whiskey stone, from the perspective of someone who enjoys whiskey, with a focus on whether the overall experience is enhanced or hindered by the whiskey stones
To test the impact on the temperature that each of the whiskey stones had, we measured three ounces (about two shots, or a healthy pour) into regular tumbler glasses, and measured the temperature in each using a digital food thermometer.
We then recorded temperature measurements every 5 minutes until 45 minutes had passed, then continued to measure every 15 minutes until a total of two hours after our starting point. You can check out the results of our temperature testing directly below.
The bottom line
Although the "original" whiskey stone was made out of soapstone by Teraforma, we found that the steel iteration performed substantially better, both in the amount and speed of chilling they were able to achieve, as well as overall duration.
While soapstone does offer a more "natural" look, the fact is that most simply do not have the ability to chill 2 to 3 ounces of whiskey very much or for very long. Even the best-performing soapstone, Teroforma, only chilled the whiskey 4.5° before beginning to gain temperature 20 minutes after being placed in the glass.
Maximizing your whiskey stone experience
Whiskey stones require forethought and afterthought, since they need to be frozen before use and should be cleaned fairly soon after use as well — although this is more crucial for soapstone than steel.
You should also make use of the linen bags included with your whiskey stones. They help prevent flavors in the freezer from being picked up by the stones, while also making it easier to find and keep track of them in your freezer.
If you are looking for the best chilling available from a whiskey stone, then a steel product, like Balls of Steel or Kollea, are the only way to go. The duration and amount of chilling is more than double any of the soapstone options.