We spent weeks researching and comparing dozens of artificial Christmas trees to determine that the 7.5 – foot Best Choice Products – Premium Spruce is the best artificial Christmas tree. It's quick and easy to set up, looks full and festive, and is easy on your holiday budget at less than one hundred dollars.
You may be surprised (or vaguely repulsed) to learn that the first artificial Christmas tree was created by a toilet brush company. Since then, these trees have made leaps and bounds in realism. Companies, like Balsam Hill, even pedal artificial pine scents to make your tree smell more realistic.
And while there will always be an undeniable appeal to selecting a real Christmas tree and hauling it home, there's also an undeniable backache involved for whoever's doing all that hoisting. Plus, there's the required maintenance in the weeks that follow: watering, vacuuming needles and preventing your pets from marking the tree as their own.
If you're one of the millions of individuals opting for faux this year, you may be astounded at the number of artificial trees available on the market. When searching for your perfect tree, we know that delving into species, heights and needle types can be confusing, so we're here to make it simpler. After all, you've got decking the halls to do!
Table of contents
Real Christmas trees vs. fake Christmas trees
Real vs. fake. Which is better? It's a highly-contested topic each holiday season, and it's one that the American Christmas Tree Association (the organization representing the artificial tree industry) and the National Christmas Tree Association (the organization representing the real tree industry) take seriously. Both groups make their cases for selecting either a real or faux tree, and we used them to inform our comparison.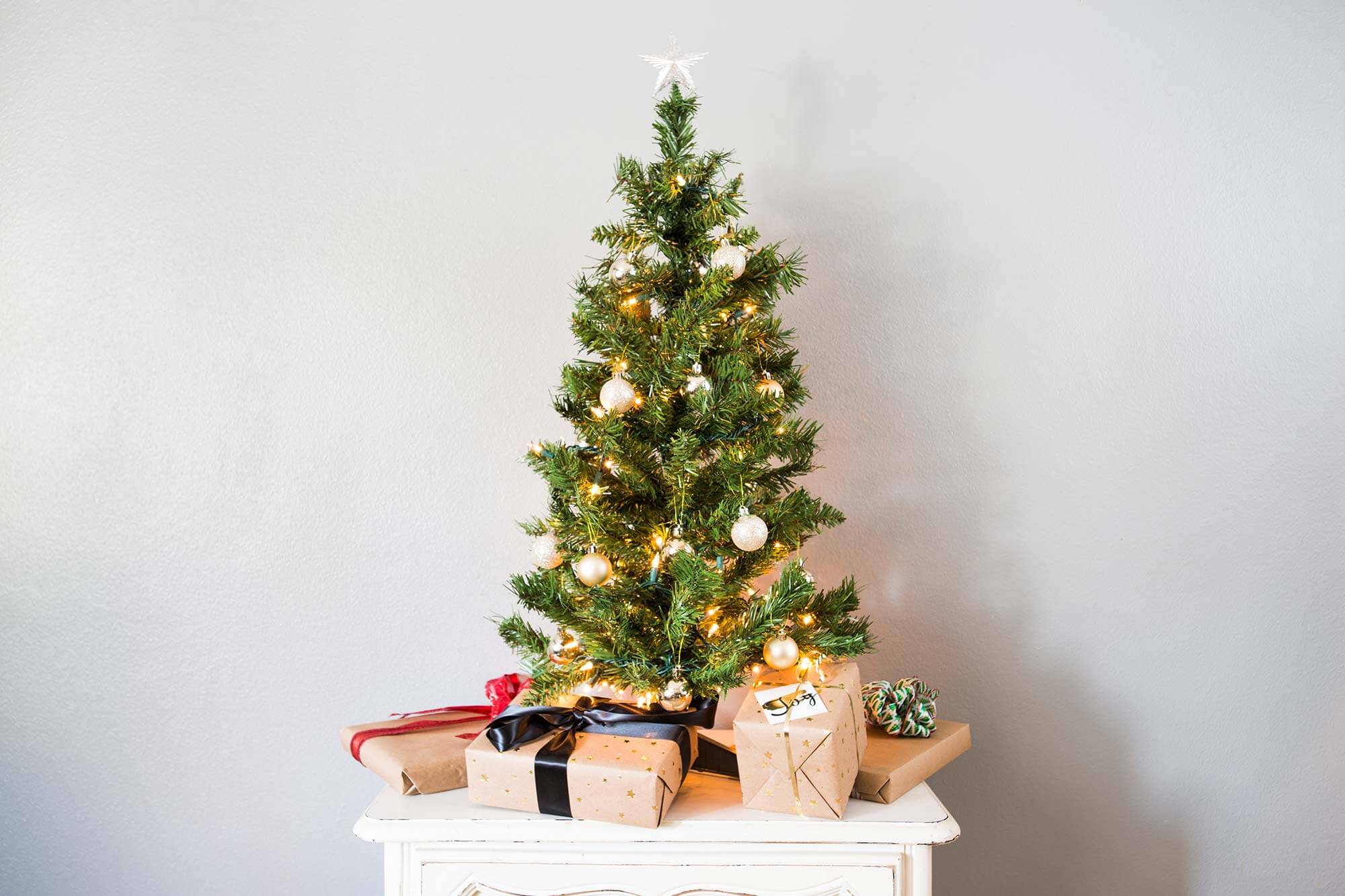 Fake Christmas tree pros
While some faux Christmas trees may seem costly up front, they typically last between ten and fifteen years, making them a more sound financial investment than real trees.
Artificial Christmas trees are convenient, typically requiring only simple assembly and fluffing once a season.
You don't have to worry about watering or maintaining your artificial tree throughout the season.
You are not cutting down a live tree and disturbing animals that may inhabit it.
Real Christmas trees pros
You get the quintessential holiday experience of going to the farm (or tree lot) to select a tree with your family.
Though modern candles and air fresheners come close, nothing can exactly replicate the invigorating scent of natural pine.
Most sources indicate that real christmas trees have a slight advantage when it comes to environmental friendliness.
Buying a real Christmas tree eliminates lead concerns. Many artificial trees trees are made with PVC, which can contain lead. There is no federal regulation for lead in artificial Christmas trees. And you probably won't find a faux Christmas tree without PVC in it.
If you decide that a real christmas tree is a better fit for you, you're in luck! Amazon will now ship one
to your home. You may not get the quintessential tree farm experience, but you won't get the quintessential back pain either.
Important features to consider
If you decide to go artificial, there are a few buying factors to keep in mind. An artificial tree can last a decade or more, so it's worth investing the time to find the perfect one for you. Here are some key features to consider:
Number of branch tips and shedding: If you've already started perusing through faux trees online, you've noticed that many companies specify the number of branch tips on their trees. This is because there's a direct connection between number of tips and realism. More tips yield a more realistic tree. And just like real Christmas trees, these branch tips are also bound to shed some needles. This is especially true the first time you take the tree out of the box and set it up. The best fake Christmas trees will shed less with each year of use.
Type of branches: The type of branches on the tree also has an impact on its assembly. You may want a tree with hinged branches, rather than the type you screw in, because it makes assembly easier.
Material and flocking: Consider whether you want a tree flocked with fake snow (or glitter) or if you want something more realistic. You may also want to choose a tree that's made with more Polyethylene (PE) than PVC, since PE is thought to pose less health risk. If you read the fine print, many tree companies will tell you what percentage of PE their tree is made with (if any).
Ease of assembly, disassembly and storage: Most of the artificial trees on the market (including the ones on our list) come in three parts that are easy to click together. However, the process of "fluffing" the tree (spreading the tips apart and arranging the branches) can be time consuming. The more time you spend fluffing your tree, the better it will look. More on that later.
If you can't fit the tree back into its original box when it's time to put it away (who can?), just ensure that it's covered and stored in a cool, dry location (or put it in a Christmas tree bag).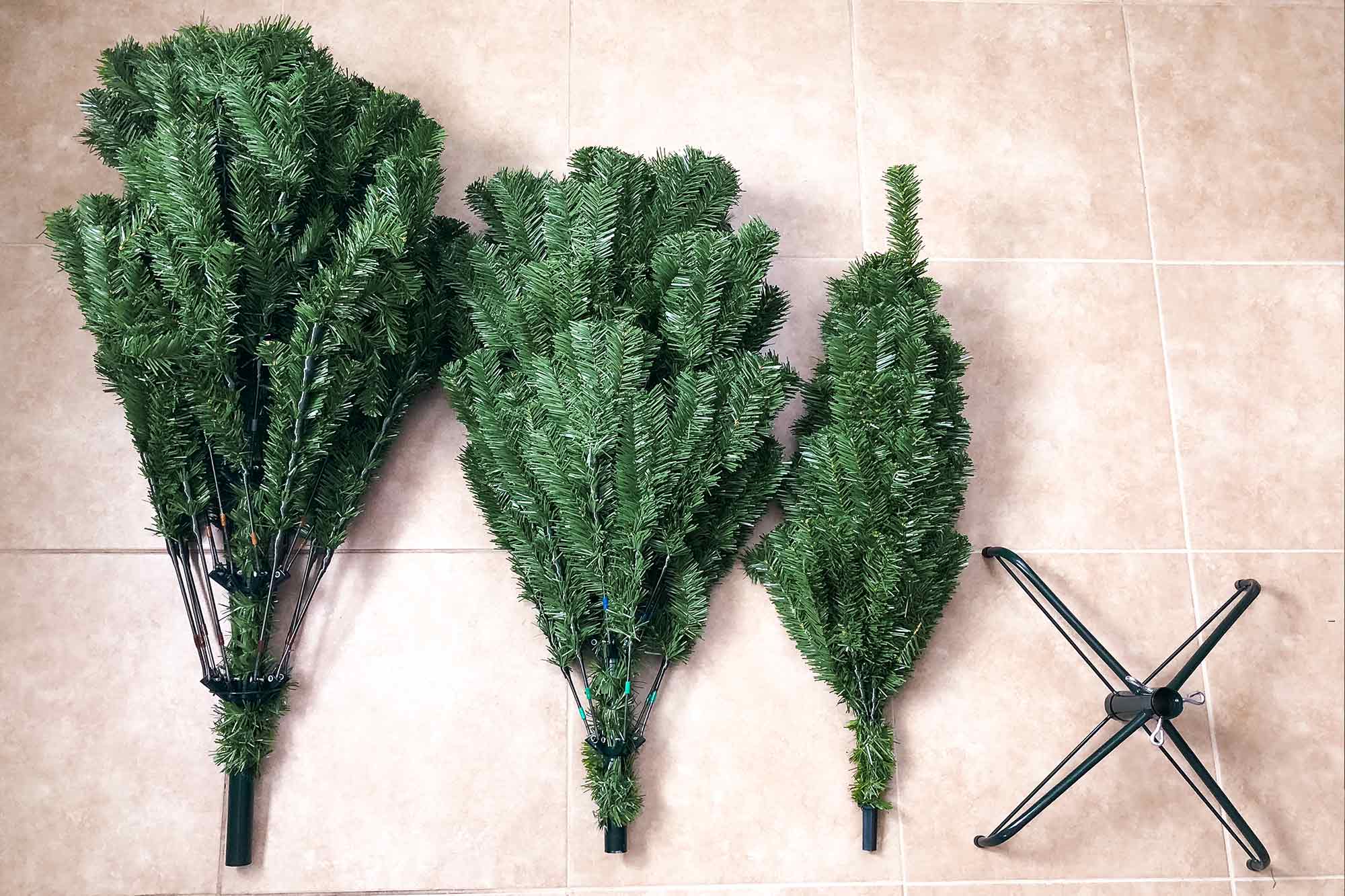 Height and dimensions: Consider the height of the tree you'd like to purchase, bearing in mind that you'll need to access the top of the tree for decorating. If the ceilings in your home are within the standard (American) eight to nine foot range, a 7.5 foot tree is probably ideal for you. The dimensions of the tree you purchase should be dependent on where you're displaying it. If you're placing it in a small corner, a narrow tree is best, whereas a tree with a wide girth is best for a front and center display.
Pre-lit trees and type of lights: While deciding whether to buy a pre-lit tree is a personal decision, we suggest that you don't. Though the quality of string lights has improved in the past several years, you still risk the lights on your tree burning out before you've gotten full use of the tree. Furthermore, you usually cannot remove the lights from the tree.
If you do purchase a pre-lit tree, you should look for one that has about 100 lights per foot and a half of tree. You can find both incandescent-lit and LED-lit trees on the market. However, LED lights are the by far the favored choice for their energy saving and long-lasting qualities.
Cost: The cost of artificial Christmas trees varies dramatically. And, while it's true that higher cost is usually synonymous with a higher branch tip count and better looking tree, there are some bargains out there that look pretty realistic for an affordable price. The trees on our list run the gambit in cost, starting at about $20 (for a tiny apartment-sized tree) to over $100 for one of our top contenders. Though all of our picks fall under $200, it's not unheard of to drop nearly half a grand for a tree.
Want to get the best deal on your tree? Some experts suggest you buy during the first two weeks of December.
How we selected finalists and winners
We started our quest for the best artificial christmas tree to buy by researching the artificial Christmas tree market. While there are quite a few brands out there, many of the trees that are sold are almost (if not completely) identical in material and composition. Many of them are just renamed for different brands. We also found that some stores, like Walmart, sold multiple brands online but only had their in-house brand in our local brick and mortar stores.
We also searched the web, scouring Amazon, Home Depot, Lowes and Target for the most-reviewed and highest-rated trees. We stuck with trees under 8 feet tall, since that's the height of the average American ceiling.
Next, we consulted review sites like Wirecutter and cultivation sites like New York Magazine to get a more well-rounded view of the trees on the market. And finally, we browsed home decorating sites like Good Housekeeping to see which artificial trees they liked best. From there, we charted all of the trees and their specs (like height and material) to compare and contrast which ones were best.
Kind of like your preference for toothpaste or what you eat for breakfast in the morning, the Christmas tree you choose will come down largely to personal taste. So, we didn't get overly technical with our tree comparisons. Instead, we simply considered objective factors like the number of branch tips on each of our top contenders. We took an in-depth look at the material composition of each tree. Then we looked at what it took to assemble and disassemble each one, and considered each tree's cost.
Finally, we piled on our sweaters and headed to the stores to see our picks in person (or in tree). We took pictures and notes and examined their textures up close. Then, we took the top contenders home and assembled, decorated (and photographed) them ourselves, to make sure they lived up to the hype.
Our finalists were trees that had a good needle count for the price, looked good both decorated and undecorated and were a breeze to set up.
The best fake Christmas tree: Best Choice Products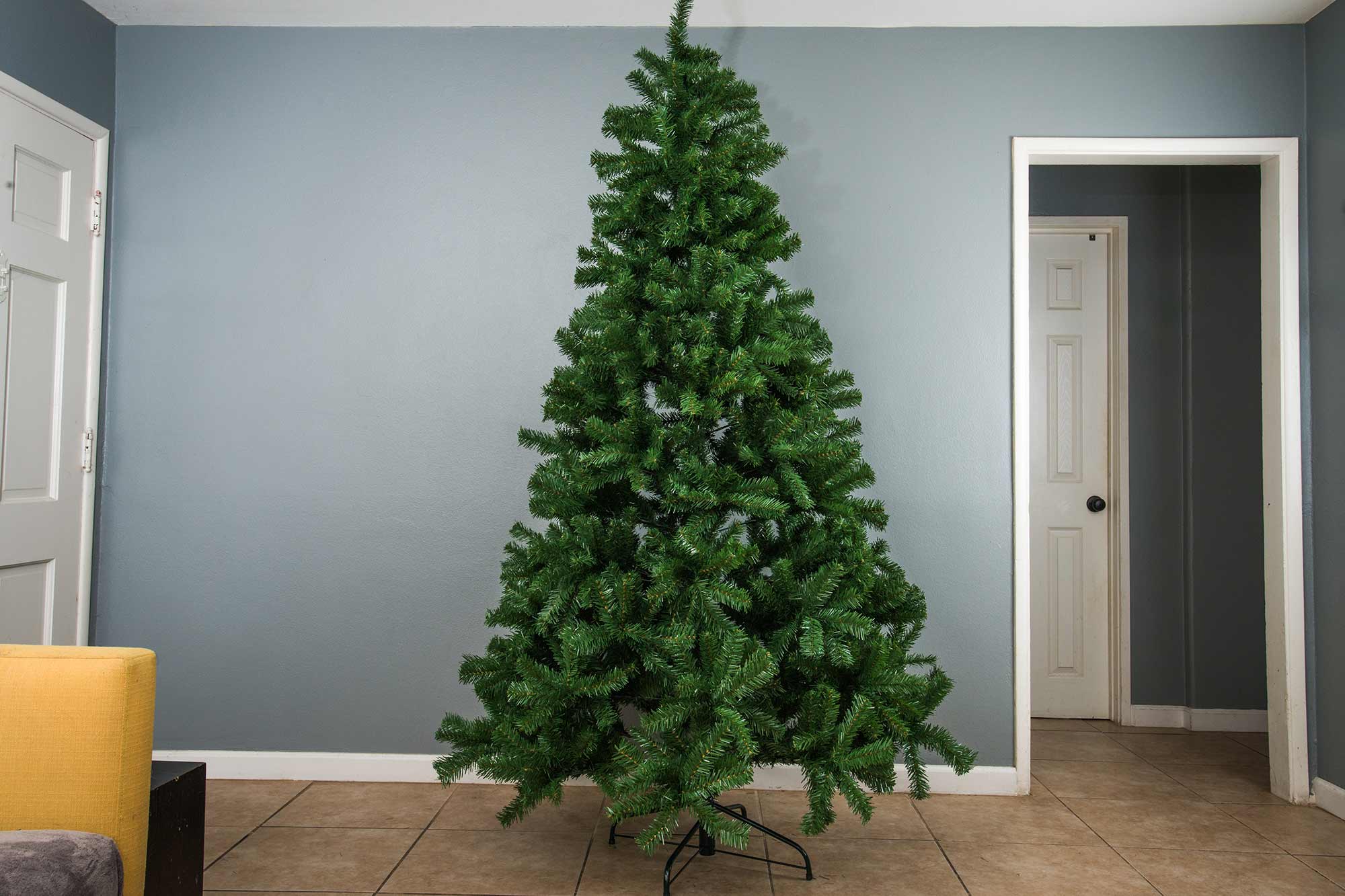 When it comes down to it, a lot of artificial Christmas trees in the $80 – $200 are very similar, if not identical, in design. For this reason, we had a tough time choosing between our top two contenders, the Best Choice Products – Premium Spruce and the National Tree Company – North Valley Spruce.
Ultimately though, we think that the 7.5 foot Best Choice Products is the best artificial Christmas tree. (And we promise we weren't just swayed by the name). It's got 1346 long branch tips that give it a full and fluffy look, even with its 52 inch width. It also seems to be a slightly lighter green color than the NTC tree, which looks nice with the warm glow of string lights.
We did sustain some minor branch scratches while fluffing this tree, but the NTC tree injured us, too. (For that reason, we highly recommend that you purchase some gloves before fluffing your tree at home).
We also found the Best Choice tree really easy to set up. Simply click the three tree sections into place, fluff and you're done. The only challenging part was the top third of the tree. Some of its branches were compressed so tightly against the center pole that we didn't realize they needed to be pulled down at first. There were some complaints on Amazon about the top of this tree being too small, and we think that this could be why.
However, once the branches are in place, they stay formed exactly how you set them. The Best Choice tree branches also sit higher off the ground than the NTC tree, meaning that you can easily slide gifts underneath. It had minimal shedding when we set it up, requiring just one quick sweep of a broom to undo the damage. And at less than $90, this tree is also one of the best deals of the holiday season.
Once you're finished with this tree, it breaks down into three sections, and the branches can be compressed up against it. Even so, it may be hard to fit in the original box again, so we recommend a storage bag.
If you're looking for a high quality tree in a different size, Best Choice Products makes similar trees in a variety of sizes.
Key Takeaways:
The 7.5 foot Best Choice Products tree is simple to set up with three three pieces that click together.
The Best Choice Products tree is a great bargain at less than $100, resembling trees that cost $50 – $100 more in composition and material.
The Best Choice Products' branches start high off the ground, meaning there's plenty of room for presents under the tree.
The runner up: National Tree Company
The 7.5 foot, 52-inch-wide National Tree Company – North Valley Spruce (or NTC tree, for short) was a close second in our tests. It looked almost identical to the Best Choice Products tree, though just slightly less full.
That being said, this NTC tree was even easier to set up than the Best Choice Products tree. It was so easy, in fact, that two people could set it up in under 45 minutes. The hinged branches literally fell into place as soon as we snapped the the three sections of the tree together. Then we did some fluffing and it was ready to go! As mentioned, this tree also left our arms a little bit scratched up after the fluffing process.
Another thing we loved about the NTC tree is that its branch tips are varied in length. It has the same amount as the Best Choice tree (1346), but some are short and some are long, giving the tree a more organic, and therefore realistic, look. Our anti-artificial tree tester even mentioned that this tree "looked better than [he] expected it to" after fluffing.
A couple things that stopped this tree from being number one? The branch tips on this tree start relatively far from the center pole, meaning that from certain angles, you risk seeing a lot of bare metal hinges. Though, if you plan to decorate the tree with lights and ornaments, this becomes less of a problem. The branches also extend very low to the ground, which means it's hard to slide sizeable presents underneath.
Like the Best Choice tree, this one breaks down into three sections with branches that can be compressed for storage. And, National Tree Company also makes artificial trees in a variety of other sizes.
One disclaimer about both The Best Choice and National Tree Company trees: like many artificial trees in their price range, they are made with PVC rather than PE. As we mentioned earlier, some people are dubious about the potential health risks of being around PVC. While finding a tree with less PVC and more PE (a safer alternative) is possible, it will typically cost you more.
Key Takeaways:
The 7.5 foot National Tree Company tree was the easiest to set up.
This tree's branch tips start further out on the branches, leading to a more sparse look.
The branches on this tree extend very low to the ground, which creates a fuller look, but makes it harder to put presents underneath.
The best small artificial christmas tree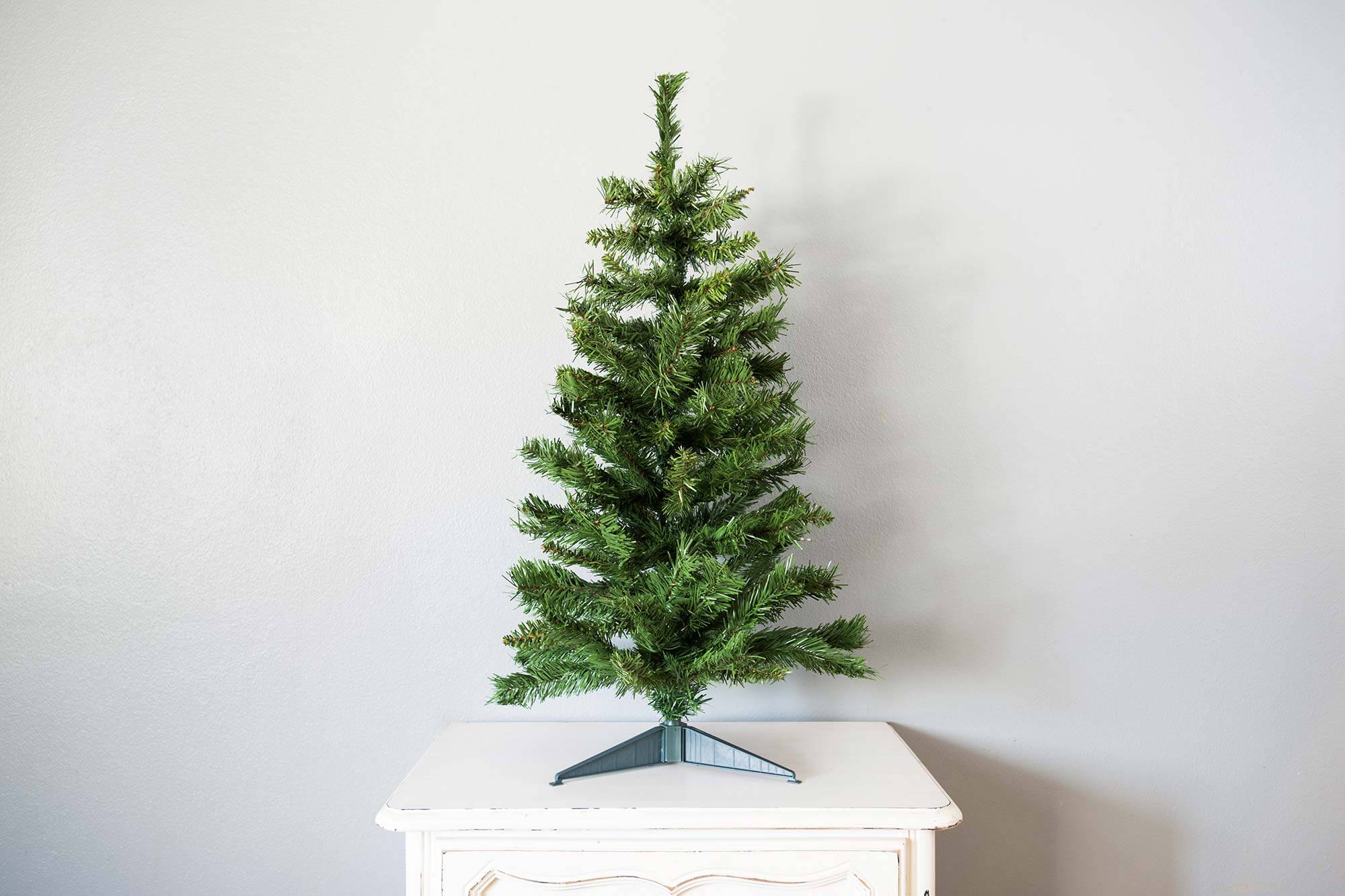 Apartment dwellers, we haven't forgotten about you! If you're searching for something that looks to-scale in your compact living room, we've curated a few 5-foot-and-under options for you as well.
Home Accents Holiday – 3 Foot Unlit Tacoma Pine
We found the Home Accents Holiday – 3 Foot Unlit Tacoma Pine to be the best small artificial Christmas tree. This festive little tree is a holiday steal at under $20. Much like its description says, it can fit just about anywhere. No pre-strung lights on this one mean you don't have to worry about a burnout before you've gotten full use of your tree, either. Reviewers also loved how easy it was to put together. Notably, it felt softer and less-synthetic to the touch than it's 5 foot older brother. Perhaps because it's lacking lights that illuminate its tips, it also looks a bit more lush and realistic.
Vickerman – Carmel Pine Tree with Cones
This Charlie Brown-style Vickerman – Carmel Pine Tree with Cones is sparse in appearance, but still looks cute decked out with miniature lights and ornaments. It has a sturdy burlap-wrapped base and is dotted with small, whimsical pinecones. Available in four sizes ranging from 18 inches to 42 inches, its smallest size costs under $20.
Home Accents Holiday – 5 Foot Pine with Clear Lights
The pint-sized Home Accents Holiday – 5 Foot Pine with Clear Lights comes pre-trimmed with clear lights. It arrives in two pieces that you slide together. Then you fluff it, plug it in and it's ready for ornaments. Most reviewers shared that this entire process took them less than an hour. This little tree is compact and festive, especially for the sub- $50 dollar price point. One big negative? The bulbs are incandescent. However, there are a good amount of them for such a small tree, and we found that they cast a nice warm glow when we examined this tree in person.
The best pre-lit artificial Christmas tree
Because we advised against pre-lit trees (as you typically can't remove the lights from the tree even if they burn out), we chose to focus our research on unlit trees. That being said, we know that the convenience of a pre-lit tree is sometimes irresistible. And we have to admit, they make festive night lights. The Home Accents Holiday – 7 Foot Tree with Clear Lights shines bright in this category, and it costs just under $140.
Perhaps a good "starter tree" for a young family, it has all of the basic functionalities like quick-set technology and an included stand, lights and fuses. However, this tree's comparatively low price point shows through in its branch tip count (just 1000 tips) and only 500 lights. Even less reassuringly, the lights are incandescent, which means you risk burnout before you've gotten the most out of your tree. For that reason, we still really recommend choosing an unlit tree.
How to fluff an artificial Christmas tree
Once you've purchased and assembled your artificial tree, you must fluff it. "Fluffing" is an (admittedly adorable) term for arranging all of the branches on the tree. It may seem like an imposing prospect but, in reality, it just requires a few simple steps repeated over and over again. This is a good time to bribe friends and family members to help you. We think a couple of hours of fluffing in return for some homemade hot chocolate is a good offer.
Step one: Start at the base of your artificial tree. Pull one branch out from the center of the tree.
Step two: Starting at the back of the branch (the part closest to the center of the tree) gently pull the tips of the tree away from the branch. Bend them into opposite directions so that they're not all pointing the same way.
Step three: Continue doing this until you've completed the base of the tree. Take a hot chocolate break, then move on to the middle portion. After that, you can move on to fluffing the top portion. The experts at Balsam Hill recommend that you fluff the top portion before attaching it to your tree.
The bottom line
Artificial Christmas trees aren't for everyone. If they are your cup of tea, though, it makes sense to invest in one that's attractive, functional and good quality for the price. We recommend the Best Choice Products – Premium Spruce to satisfy that trifecta. It looks full and festive, and comes together quickly with under an hour of setup. At less than $100, it's also great quality for a low price. The National Tree Company – North Valley Spruce is another excellent choice. It's the easiest and most convenient tree to set up in under an hour and its varied-length branch tips make it look more realistic. If you need a small tree, the Home Accents Holiday – 3 Foot Unlit Tacoma Pine is a quality investment with its soft branch tips and below $20 price point.