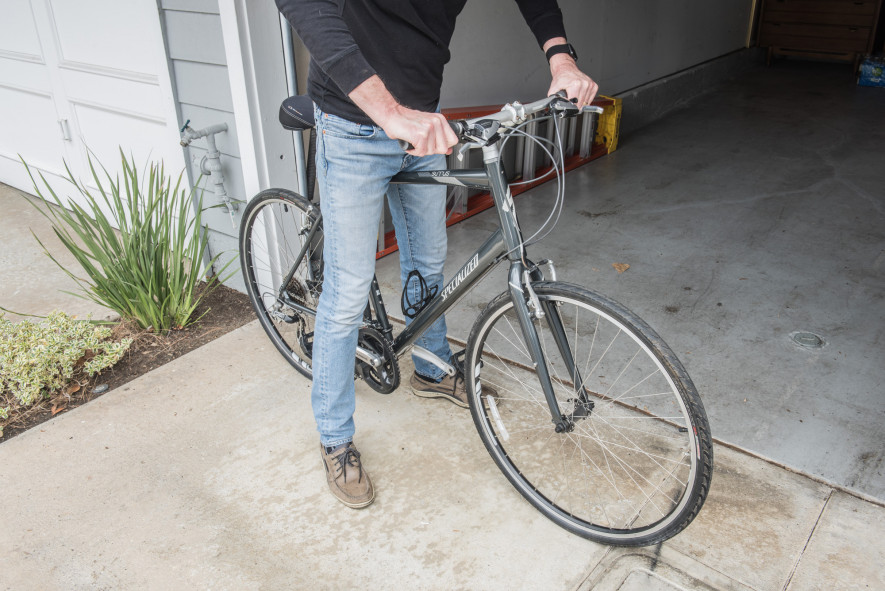 Bike Size Chart: What Size Bike Do I Need?
Before researching which bike to buy, you need to know what's the right size bike for you. It's always better to try out a bike in person at a bike shop, where you can also have it fit precisely to your body type and how you like to ride.
If you don't have access to a bike shop, though, you'll need several measurements — your height, inseam, torso length and arm length — to buy a bike online. Also keep in mind that road and mountain bikes have different size frames and units of measurement. Whatever size bike you decide to buy, one of our top picks for the best bike rack will support it securely in your garage or home.
Take your measurements
Bike-sizing charts add a couple of inches for standover height, which is the distance from the top tube of the bike frame to the ground, measured from just in front of the seat. This is where you would be straddling the frame, ideally with your feet flat on the ground. Generally, 1-2 inches are added to the height of a road-bike's frame, and 2-4 inches are added to the height of mountain- and commuter-bike frames.
Figuring out the right size bike for you is actually easier than properly fitting a bike helmet. Using a tape measure, take the following measurements:
Inseam: from your crotch to your foot
Torso: from your crotch to your sternum (V-shaped indentation at the base of your throat)
Arm: from the tip of your collarbone to the middle of your closed fist (where you would grip the handlebars)
Your torso and arm measurements will determine the ideal length for your bike's top tube, since a longer or shorter top tube will make a difference in comfort. To figure out top-tube length, use this simple formula:
Torso length + arm length ➗2 – 6 = top tube length
Road bike sizing chart
Note: Sizes for road bikes are usually in the metric system.
| Rider Height (feet/inches) | Rider Inseam (inches | Bike Frame Size (centimeters) |
| --- | --- | --- |
| 4'10"-5'1" | 25.5"-27" | 46-48 cm |
| 5'0"-5'3" | 26.5"-28" | 48-50 cm |
| 5'2"-5'5" | 27.5"-29" | 50-52 cm |
| 5'4"-5'7" | 28.5"-30" | 52-54 cm |
| 5'6"-5'9" | 29.5"-31" | 54-56 cm |
| 5'8"-5'11" | 30.5"-32" | 56-58 cm |
| 5'10"-6'1" | 31.5"-33" | 58-60 cm |
| 6'0"-6'3" | 32.5"-34" | 60-62 cm |
| 6'2"-6'5" | 34.5"-36" | 62-64 cm |
Mountain bike sizing chart
| Rider Height (feet/inches) | Rider Inseam (inches) | Bike Frame Height (inches) | Bike Frame Description |
| --- | --- | --- | --- |
| 4'11"-5'2" | 25"-27" | 13"-15" | X-Small |
| 5'2"-5'6" | 27"-29" | 15"-17" | Small |
| 5'6"-5'10" | 29"-31" | 17"-19" | Medium |
| 5'10"-6'1" | 31"-33" | 19"-21" | Large |
| 6'1"-6'4" | 33"-35" | 21"-23" | X-Large |
| 6'4"-6'6" | 35"-37" | 23"-25" | XX-Large |