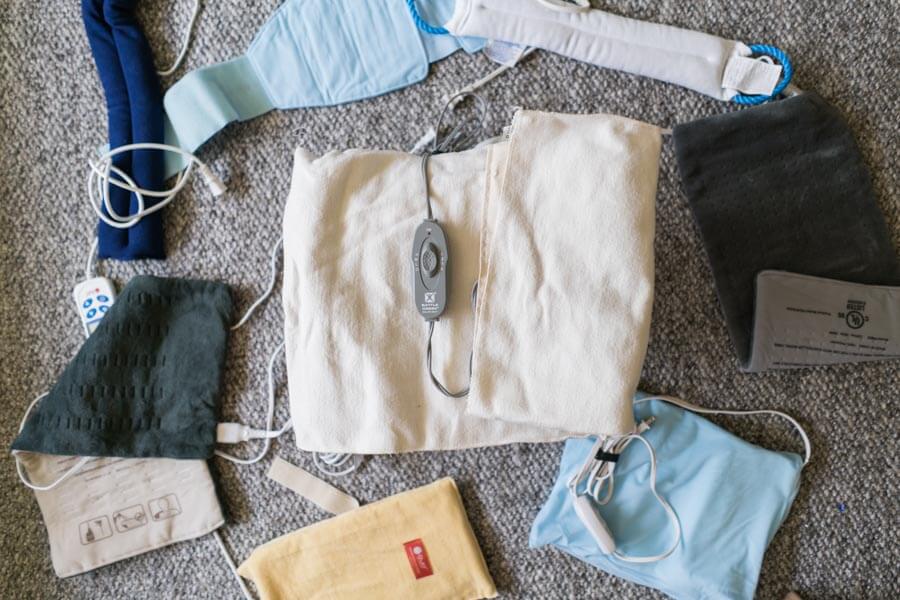 After many hours of research and two months of testing, our recommendation for the best heating pad is the Thermophore – MaxHEAT. It pulls moisture from the atmosphere for a deeper penetrating heat without your needing to wet the pad before use. Combined with a large coverage area, evenly weighted pad and the ability to reach high heat levels, the Thermophore was the clear winner. Our runner-up is the Chattanooga – Theratherm.
After many hours of research and two months of testing, our recommendation for the best heating pad is the Thermophore – MaxHEAT. It pulls moisture from the atmosphere for a deeper penetrating heat without your needing to wet the pad before use. Combined with a large coverage area, evenly weighted pad and the ability to reach high heat levels, the Thermophore was the clear winner. Our runner-up is the Chattanooga – Theratherm.
Table of Contents
The 8 heating pads we tested
1. Top pick: Thermophore – MaxHEAT
The Thermophore – MaxHEAT was our top choice in heating pads. This heating pad reaches intense heat levels and automatically turns off after 25 minutes of continuous use, so it's a better option for palliative therapy rather than for a simple comfort measure. It reaches its peak temperature in under three minutes and reaches intense heat levels without getting uncomfortably warm.
It has a two-piece construction, with a removable and machine washable cover. The cover features their patented Moist-Sure technology for enhanced heat penetration. With a six-foot cord, it comfortably reached several different spots in our test living room. The slide control is easy to operate and would be especially convenient if you have arthritis. It has three settings for flexibility.
This heating pad was also the best heating pad for back pain. The large size covers the entire back or abdomen, so you can treat your whole back without needing to adjust the position of the heating pad. It also extends from the hip to the knee if you wish to relieve IT band pain. The rugged construction combined with flexibility and weight really make this heating pad stand out from the competition.
The Thermophire is designed with weights that are evenly distributed throughout the heating pad for the right amount of heft to contour to your body shape and maximize heat transfer. At the same time, the weights were small enough that you can't feel them when the heating pad is draped over your body and the fleece cover is comfortably soft.
Key takeaways:
The Thermophore – MaxHEAT is the best option for treating painful areas with timed sessions, high temperatures, and moist heat.
Moist-Sure technology means enhanced heat penetration without adding water (or soaking your clothing).
Evenly distributed weights give you the most amount of heat while providing uniform contact with the area you wish to treat.
2. Also great: Chattanooga – Theratherm
If you are looking for precise control over your heat therapy, the Chattanooga – Theratherm is the heating pad for you. You can set the temperature to the exact degree that works best and the exact amount of time that you want heat within given ranges. The heat settings range from 113 degrees Fahrenheit at the lowest setting to 166 °F at the highest.
You can also toggle between Fahrenheit and Celsius settings. Plus, you can set the amount of heating time from one to 60 minutes. Some users found the minimum setting to still be too hot for their needs. We disagreed, finding instead that the lower end of the temperature range was relaxing and comforting, but the higher end of the range was uncomfortably hot.
Once you've achieved your desired settings, you can enter lock-out mode so you don't accidentally change anything while using the pad. Although the number of options isn't infinite, it certainly gave us more flexibility and precise control than any other heating pad we tested. On the other hand, the controller was less intuitive than the others, and we found we had to consult the manual for step-by-step instructions.
The Chattanooga automatically gathers moisture from the air, which feels similar to fabric that is damp from the dryer. It didn't transfer to our clothes or upholstery, but we're glad the cover is also removable and washable. This model is also weighted, although the weights are focused mainly through the center of the pad. While it does provide effective heat transfer, it isn't contoured to your body. We tested the medium size, but it's also available in small and large sizes.
Key takeaways:
The Chattanooga – Theratherm extracts moisture from the air and retains it in a soft flannel cover for simple and convenient moist heating therapy.
Incredibly precise digital controls allow you to set the heating pad anywhere from 113 °F to 166 °F and the time for anywhere from one to 60 minutes.
The lock-out feature of the control pad prevents you from accidentally changing your preferred settings during a session.
Other products we tested
3. Carex – Bed Buddy
If you're looking for a heating pad that doesn't require electricity, we recommend the Carex – Bed Buddy for its design, drape and moist heat. Weighing two pounds, the Carex was just the right weight: heavy enough to transfer heat, but not so heavy that it became uncomfortable after several minutes of use. Priced at around eight dollars (at the time of publishing), it is by far the least expensive of our finalists.
Over 1,000 Amazon reviewers rate this model 4.4 stars on average, and we agree that it offers a lot of bang for your buck. It is filled with 100% organic materials: natural grains, herbs, and flowers. The Carex provides moist heating without adding additional water or getting too wet. If you're alternating hot and cold treatments, this is a great option, because it's both microwavable and freezable.
We weren't really sure how the rope handles added to the design; we would have preferred the extra length over the seemingly unnecessary handles. Another downside (to both our non-electric finalists) is that it has a cooked, popcorn-like odor when heated. We didn't feel it detracted too much from the benefits, but if you have sensitivity to smell, these models may not be for you.
4. Sunbeam – XpressHeat
When you need relief fast, the Sunbeam – XpressHeat provides heat you can feel in 30 seconds. In our testing, we found that while it takes nearly five minutes to reach its peak temperature, it is warm to the touch almost immediately. The king-size is convenient for covering large areas like the spine or shoulders.
With six heat settings and a digital display, you can get a precise temperature that best fits your needs and comfort zone. At the same time, it's simple enough to figure out without consulting the user's guide. It has a heat meter that lights up the controller as the pad heats up, so you know when it's ready. You can toggle between the automatic shut-off at two hours or the stay on option, which is a neat feature.
In general, heating pads tend to be utilitarian-looking, but the reversible olive green and camel colors of this heating pad are actually pleasing to the eye. The microplush fabric of the integrated cover is both comforting and gentle on sensitive areas. It's flexible but very light, so it's a better option for comfort than heat therapy. Overall, it looks and feels more like a miniature throw blanket than a heating pad.
5. Pure Enrichment – PureRelief XL
A comparable heating pad is the Pure Enrichment – PureRelief XL, with soft microplush fabric for comfort and a large size for maximum coverage. It is fast-heating, reaching its peak temperature in just over two minutes (although at 112ºF, its high temperature is on the low end compared to our other finalists). You can use a spray bottle to dampen the pad for moist heating therapy.
The digital LCD controller has six settings and the option to choose whether you want it to stay on or to shut off automatically after two hours. With a nine-foot power cord, you don't have to worry about awkwardly reaching around furniture. It also comes with a storage pad to keep it clean and safe in between uses.
6. SoftHeat – MaxHeat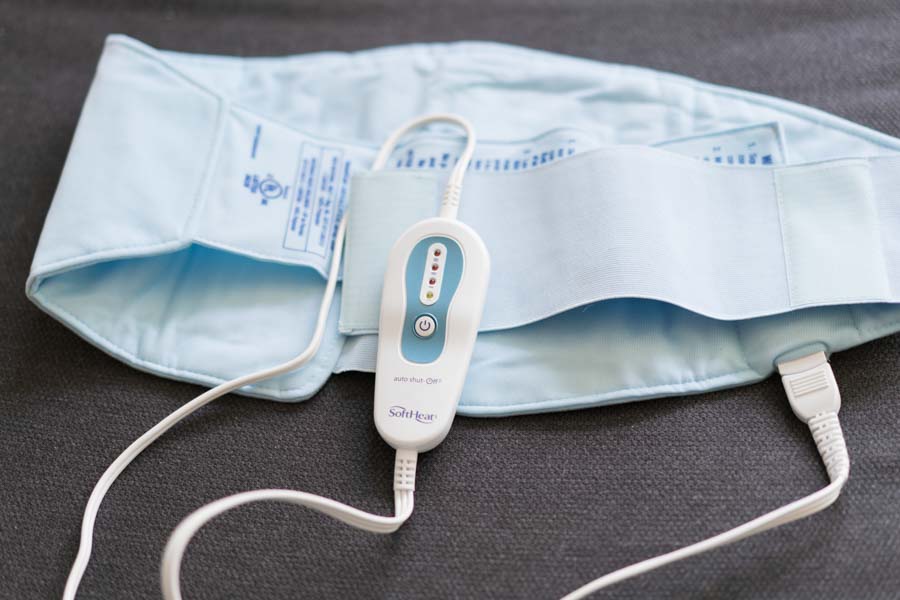 As the maker of our top choice for an electric blanket, we were excited to try another one of their products. Unfortunately, the SoftHeat – MaxHeat isn't designed with the features that make their electric blanket a winner: DC power, invisible wires, and plush fabric.
What we do like about this model is the SmartHeat technology, which provides consistent heat (rather than the typical spikes and valleys) for maximum therapeutic heat. We verified this when testing wattage with an electricity usage monitor. With the other models, the wattage would rise and fall, but it was the same wattage across the board with the SoftHeat.
The SoftHeat is specifically designed to wrap around the lower back. A nice feature to this model is that it secures with velcro, so it's the only electric heating pad finalist we tested that can be worn rather than draped. It's simple to unplug and plug back in while fastened around you, although the heat doesn't last more than a few minutes.
7. Sunny Bay – Neck Heating Wrap
Ergonomically designed for the neck and shoulders, the Sunny Bay – Neck Heating Wrap can also be used on the arms, legs, or other areas. It's a soft, comfortable and portable option for applying heat without electricity. The Sunny Bay is made of non-pill fleece and rice, so you don't have to worry about cords or controllers. The thick fleece retains the heat, but it can also prevent you from feeling how hot it gets, so you'll want to exercise caution. We microwaved it at the lowest option and found it comforting but not too hot.
The Sunny Bay is slightly heavy and not broad enough in terms of usage. Acknowledging that this model can be heavy for some, the manufacturer also makes a wider and lighter version filled with flax seeds and weighing only two pounds (as opposed to two and a half).
8. Sunbeam – Moist/Dry Heat
If you're looking for a simple, budget-friendly heating pad, the Sunbeam – Moist/Dry Heat gets the job done without a lot of extra bells and whistles. It provides moist heat when you wet the removable sponge insert and it features Sunbeam's patented UltraHeat technology for even, consistent heat.
The heating pad comes with a simple-to-use slide controller that's great for arthritis sufferers and has a convenient extra-long power cord . The 12 x 15-inch size is on the small side for treating the whole back, and the plastic heating construction is not as flexible as all of our other finalists.
How we selected
We found a surprising lack of heating pad reviews conducted on review sites, so we first delved into articles on heat therapy at Consumer Reports and Doctor Oz. Once we felt confident in the science behind heat therapy and how to use it best, we headed over to Reddit forums like /r/fitness/ and /r/chronicpain/ to see which heating pad features are most important to consumers.
Finally, we read through customer reviews on Amazon to get the perspective of actual users. Each of our finalists has more than 500 reviews and some run into the thousands, so we had an abundance of input from consumers.
How we tested
Comfort/Heat transfer
One of the first things we learned during our research phase is that you should never sit on or against the heating pad (all these years, we've been doing it wrong). It's dangerous because you could crush the pad and damage the wires. Thus, a heating pad's design is extremely important.
The heating pad should have enough weight and flexibility to drape over your body in order to provide the most pain relief. The weight allows for more direct contact with the heating pad and therefore more effective heat transfer.
The Thermophore has evenly distributed weights for effective heat transfer without your sitting against the pad. The Chattanooga is also weighted, although the weights are distributed in a thick coil that did not contour to body shape as well as the Thermophore.
The other electric heating pads we tested only had the weight of a throw blanket; they were comfortable but did not have the impact of the weighted Thermophore and Chattanooga. The Sunbeam – Moist/Dry Heat was stiff and inflexible, so the heat transfer was lower than the other models. The Carex – Bed Buddy and Sunny Bay – Neck Heating Wrap were naturally heavy since they're filled with flax seeds and/or rice, so they both draped nicely and effectively transferred heat.
A soft, plush fabric makes for the most comforting heating pad. We found the Sunbeam – XpressHeat and Pure Enrichment – PureRelief XL were the nicest to curl up with, thanks to their super soft microplush fabric.
During the course of writing this article, we reached out to someone with a recent back injury. We had him try out the eight finalists and asked his opinion on which heating pad provided the most relief. His answer was the Thermophore, because of its moist heat, contoured drape, and just the right amount of weight.
Usability
Factors that determine the usability of a heating pad are size, cord length, and controller style. You also want a controller that's simple to use and easy to set, especially if you have pain in your hands. Cord length is an important factor because a longer cord means you can reach electric sockets more easily.
Since the most usable products are easy to clean, we looked at the care, construction, and washability of the other heating pads. All of the electric heating pads were easy to clean. The Thermophore, Chattanooga, and Sunbeam – Moist/Dry Heat all have a removable, machine-washable cover and heating unit that can be wiped clean if necessary. The one-piece models like the Sunbeam – XpressHeat, Pure Enrichment, and SoftHeat are also machine washable. You just throw the entire heating unit in the washer. The Carex – Bed Buddy and Sunny Bay – Neck Heating Wrap are wipe-clean only.
At first, we thought that the large size of the Thermophore would mean that you could share it with a partner. Consumers do mention sharing (often with pets, surprisingly) a heating pad in their reviews, although it's hard to tell whether they are talking about taking turns or using it together. We quickly found that even 14 by 24 inches isn't large enough to share. For sharing, we recommend an electric throw blanket like the Sunbeam – Heated Throw which we tested while searching for the best electric blanket.
Heating capabilities & safety features
In order to test the heating capabilities of the pads, we first used an infrared thermometer to measure the temperature of each heating pad at its highest setting. We let the heating pad warm up for 10 minutes and then took several readings, recording the highest one. Then we let the pad cool off before the timed test, where we recorded how many seconds it took to reach its highest temperature.
For the microwavable heating pads, we warmed them per the manufacturer's instructions and then measured the temperature immediately after removing it from the microwave.
The Thermophore and Chattanooga both reached the highest temperatures, but it took significantly longer (nearly four minutes) for the Chattanooga to heat up. The Pure Enrichment was the fastest to heat up, but it also had one of the lowest maximum-temperature thresholds.
We also checked to see how much surface area heats up by seeing if all four corners and the middle of the pad were warm to the touch after reaching its high temperature. Then we used each finalist as directed to see whether they felt warm enough to be comforting and to make sure they weren't uncomfortably warm. At its highest setting of 166 °F, the Chattanooga was too hot to handle, but you could lower it incrementally by degrees until it reached a more reasonable level.
According to Dr. Nathan Wei, head of the Arthritis Treatment Center, "moist heat penetrates better than dry heat." The majority of our heating pad finalists featured moist heat therapy, but we weren't fans until we tried the moist heat feature on the Thermophore and Chattanooga heating pads. Both of these models pull moisture from the air and direct it toward your skin without an additional step. While we could feel the deeper heat, we were at first leery of this claim.
However, we found the most humid spot in the house (the bathroom) and placed the Thermophore and Chattanooga on a porcelain surface to see if any moisture was visible on the pad or the counter. In this test, the surface under the pad was visibly wet after a few minutes with a hot shower running, so we knew that the pads had in fact pulled moisture from the air.
Consumers have reported that the Thermophore can draw in moisture even in an arid climate with humidity at five percent or less. The same is true of the Carex, which delivers moist heat without adding water. (All of the other finalists required us to add water for moist heat therapy.)
The Sunbeam – Moist/Dry Heat has a foam pad that you moisten and place inside the cover. The Sunbeam – XpressHeat, Pure Enrichment, Sunny Bay and SoftHeat can be sprayed with water until damp. With these types of products, we came away with damp clothing and furniture which was less than desirable, mitigating the benefits of moist heat.
Last but not least, we tested the safety features to see if each pad automatically shuts off as advertised. We found that the Sunbeam – Moist/Dry Heat did not turn off after two hours, although it supposedly has an automatic shut-off feature. All the others' safety features worked as advertised and shut off at the specified time.
According to Burn Centre Care, temperatures as low as 43º C (109.4ºF) can cause burns if exposure lasts for five or six hours. Nearly all of our models tested above 109.4ºF, so the automatic shut-off feature is extremely important. As always, you should follow all the instructions in the manual to be safe.
Why use a heating pad?
A heating pad provides palliative therapy without the need for messy creams or uncomfortable patches. Palliative care is a holistic approach to managing chronic pain, often caused by serious illness. Heat therapy is one way to manage pain, chronic or otherwise.
Heating pads are recommended for aches and pains and can help relieve pain in those suffering from arthritis, a sore back, or menstrual cramps. Heat can also help an injury heal faster. It dilates blood vessels so that tissues receive increased blood flow, oxygen, and nutrients. Heating pads can also be used purely for comfort.
Important features to consider
Fast heating: The faster the heating pad reaches your desired temperature, the sooner you'll experience relief.
Machine washable: The last thing you want (especially if you're injured) is a complicated wash routine to care for your heating pad.
Number of settings: When choosing a heating pad, consider whether your purpose calls for a simple or more complicated setting. For example, if you are treating an injury, you may wish to set the exact amount of time and level of heat. Some people only need high and low settings, while others require more precise settings.
Controller style: Those suffering from arthritis may prefer a slide controller. If you are looking to control the exact level of heat, a digital type can do just that.
Moist heat: Moist heat allows for deeper heat penetration to aid healing.
Comfort/soft material: When cozying up with a heating pad for comfort, you want a soft material that feels nice against your skin.
Auto-off/timer function/options: Heat treatments can range from 15 minutes to two hours. Heating pads with a timer function are best for those using intense heat levels. For comfort measures that include sitting with a pad for a longer period of time, automatic shut-off features become important.
Ease of use: Regardless of why you're using it, a heating pad should be easy to use.
The bottom line
After using moist heat, it was hard to go back to dry heat only. Our recommended heating pads both feature moist heat therapy without adding water. The Thermophore – MaxHEAT and Chattanooga – Theratherm pull moisture from the air and direct it to where you need it most. While we feel confident recommending either product, the Thermophore pulled ahead with its evenly distributed weights and ability to reach its peak temperature quickly.