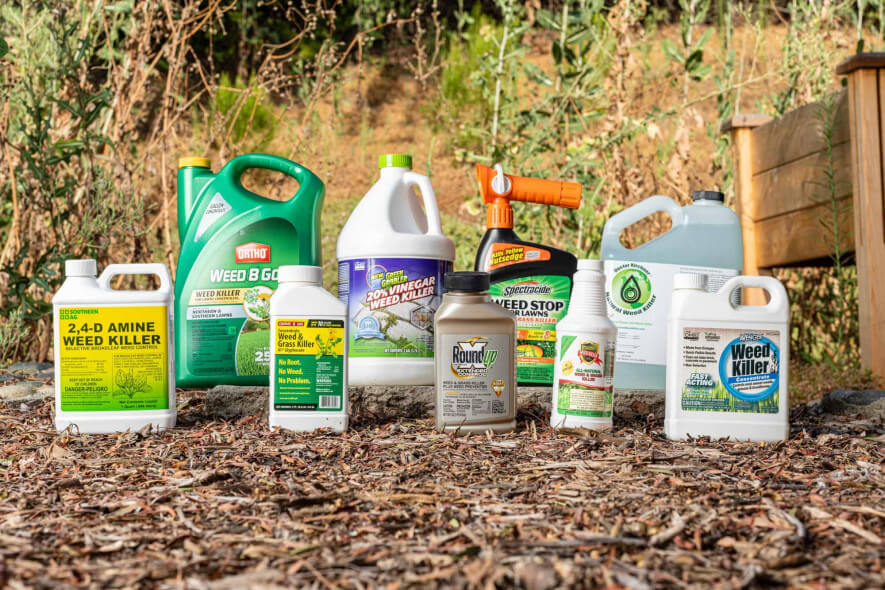 After 200 hours of research and side-by-side testing of weed killers in our team's backyards, we determined that the best overall weed killer is Compare-N-Save – Concentrate Weed & Grass Killer. It's the fastest-acting and most thorough weed-destroyer we tested, and it has a great price point and works on the widest variety of weeds. If you're looking for a proven organic weed killer, we recommend Natural Armor – All-Natural Weed & Grass Killer, which killed weeds almost as well as Compare-N-Save.
After 200 hours of research and side-by-side testing of weed killers in our team's backyards, we determined that the best overall weed killer is Compare-N-Save – Concentrate Weed & Grass Killer. It's the fastest-acting and most thorough weed-destroyer we tested, and it has a great price point and works on the widest variety of weeds. If you're looking for a proven organic weed killer, we recommend Natural Armor – All-Natural Weed & Grass Killer, which killed weeds almost as well as Compare-N-Save.
Table of contents
How we selected products to test
A quick Google search for weed killers yields hundreds of results — top brands produce item after item that (even for a seasoned gardener) can seem too similar to distinguish. Some promise to kill weeds in the first two days after application, while others promise to prevent them from growing for an entire season. For our test, we wanted weed killers that produced rapid results.
Products that promised to eradicate stubborn, wild growth in a wooded area weren't relevant for backyard testing, Instead, we looked for weed killers that promised successful lawn management. If the product description or name didn't reference lawns, we decided not to test it. Because we wanted weed killers that yielded quick results, we also avoided any that needed to be mixed into the soil directly, which lawn owners are meant to prepare a year in advance.
We turned to Amazon, Home Depot, Lowes and Ace Hardware to see which products were showing up most often in their top-sellers lists. We narrowed our search by choosing weed killers that had at least a 70% approval rating. We supplemented our comparison by watching YouTube reviews of the weed killers we were most interested in testing.
Compare the best weed killers
Conventional weed killers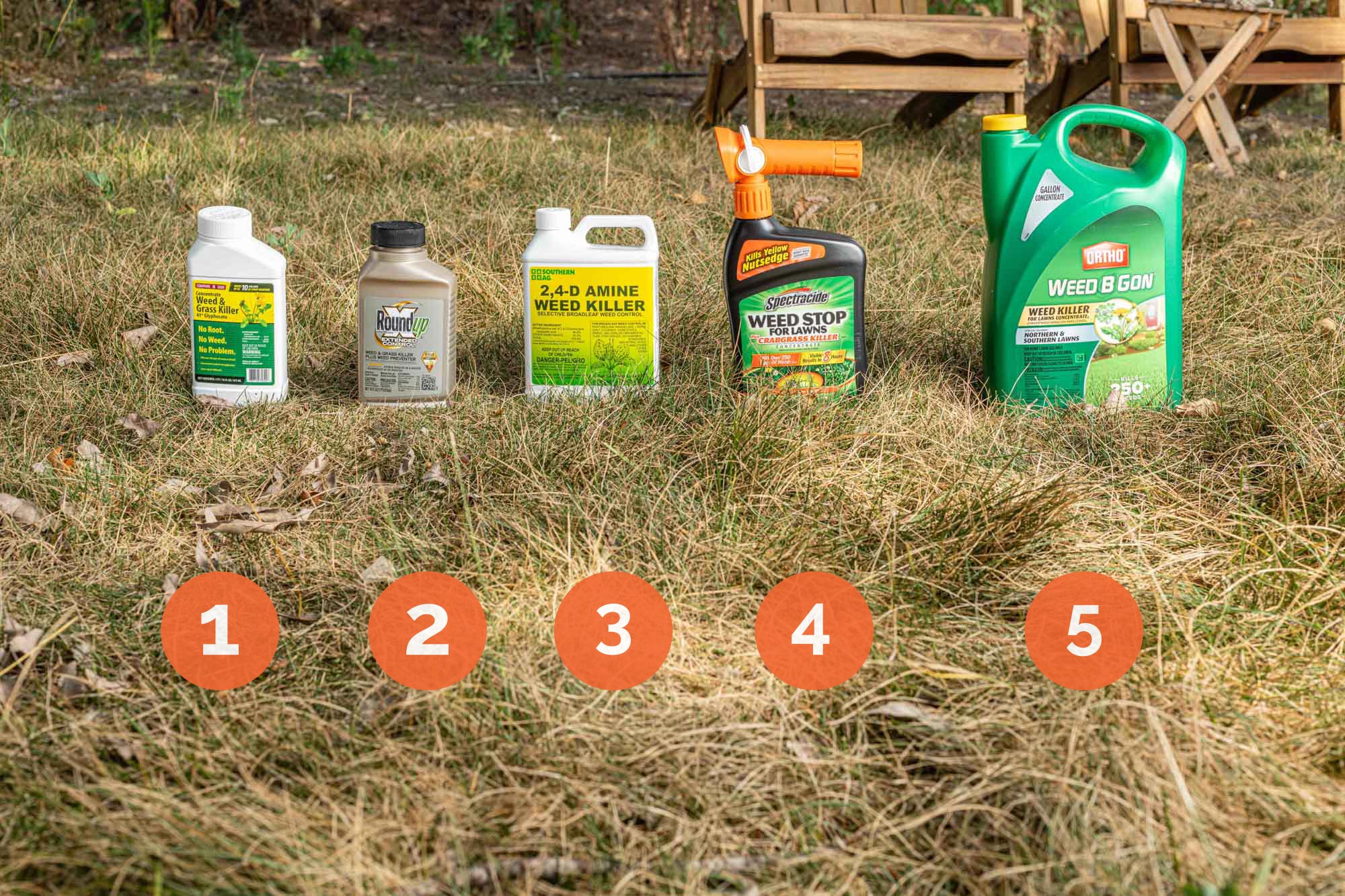 Natural weed killers
Who should buy weed killer?
It's safe to say that you shouldn't wait for a full weed infestation of your yard to justify picking up weed killer. But what about homemade varieties?
Many home gardeners have their own weed-killing recipes consisting mostly of vinegar and other kitchen ingredients. These homemade methods can be effective, especially when compared to other natural or organic store-bought varieties. Clearing dead weeds by hand is usually needed because vinegar-based solutions are less effective at penetrating the roots of weeds with complex root systems, most of which are the weeds in your backyard.
A natural, homemade weed killer is cost effective, but for tackling tough weeds or covering a large area, it's better to look at bottled options that pack more punch.
Store-bought weed killers might be right for you if:
You want to remove weeds but are either unable or prefer not to do the manual work that weeding requires
Your yard has an area where stubborn bunches of weeds that grow back soon after you've removed them
You have a large area to cover and could use a high-coverage sprayer
You're looking to start totally fresh growth and want to clear away grass and weeds all at once
Important features to consider
Herbicide percentage and composition
Herbicides are technically the name for the chemicals that comprise a weed killer, but they have become synonymous with the weed-killer mixture that treats them. There are a number of different herbicides, and the general rule is that the higher the herbicide percentage, the stronger the weed killer.
The most common herbicide is glyphosate, which accounts for the power of nearly all commercially produced weed-killing products. Glyphosate has been getting some heat lately for its potentially harmful effects on the environment and the people who use them. As a result, natural weed killers have risen in popularity and effectiveness.
Glyphosate works by limiting the proteins that plants need to generate growth; the National Pesticide Information Center maintains that pure glyphosate is not dangerous, but most commercial weed killers add ingredients like surfactants to help the glyphosate penetrate plants, and those may make it riskier; if a surfactant allows herbicides to penetrate plant skin better, it will also penetrate the skin of humans and pets easier as well.
Many of the weed killers we tested contained glyphosate, so we took precaution by wearing protective gloves, masks and shoes.
Active ingredients: conventional
Active ingredients: natural
Post-emergent vs. pre-emergent treatment
Weed killers or herbicides can be categorized as post-emergent, pre-emergent or a combination of both. Post-emergent treatment kills weeds that are already growing in your yard; pre-emergent treatment prevents new weeds from growing.
Post-emergent treatment should be spread during peak growing season, because it kills ground cover and, with the right product, penetrates the roots to prevent future germination of weeds. Pre-emergent treatment should be spread in advance of peak growing season, usually in the fall when plants begin going dormant. Most reviewers of weed killers cite both treatments as part of their habitual lawn-care routine.
For the purposes of our test, it was important that we visually saw results, so we only tested post-emergent treatments. If we were to test pre-emergent treatments, we'd only be able to estimate how many weeds might be prevented from growing, or we would have to test for several years.
Selective vs. non-selective
A "selective" weed killer is supposed to get rid of only "select" plants, and a "non-selective" weed killer dries out everything it touches. Selective weed killers target certain plans, so you should know what types of weeds are growing in your yard. The most common types of weeds vary by region, but they can be divided into two general categories:
Broadleaf lawn weeds (annual and perennial)
Grassy lawn weeds
The differences between the two are germination periods, survival time and plant structure. Dandelions and clover, for example, are broadleaf weeds, and crabgrass and sedge are grassy lawn weeds. A weed killer that may kill broadleaf ground-cover might be ineffective on crabgrass. For the average lawn gardener, it's helpful to determine which category of weeds are growing in your lawn so you'll know the complexity of their root structures and how best to kill them.
Selectivity has the potential of weakening a weed killer (though it will save your grass), and as we were trying to determine which weed killer was the best overall, we tested both selective and non-selective weed killers.
Concentrate vs. ready-to-use
We tested concentrates that need to be diluted alongside ready-to-use products. Concentrates should be mixed in a separate application bottle, and, if instructions call for it, a surfactant like dish soap can be added. Many people with large yards use concentrates for making bulk quantities of solution, which is more cost effective than buying many bottles of pre-mixed weed killer. Ready-to-use products are equipped with their own nozzles and sprayer mechanisms, which we found helpful for small yards.
Whether you use concentrate or ready-to-use is entirely your preference (we didn't notice any effectiveness trends), but carefully note the safety equipment and storage needs for handling concentrated products. The cost savings may not be worth the hassle and risk.
Application nozzle (if applicable)
For ready-to-use weed killers with an applicator, consider the type of spray you'll be getting from the nozzle. Some have a concentrated spray for targeting specific plants and their roots. Other nozzles cover a wider area, oftentimes like a mist.
Coverage (land area)
Whether the weed killer is in concentrate or ready-to-use form, the amount of its land coverage per container could vastly differ. As a general rule, concentrates are higher-priced but are best for large plots of land. Ready-to-use varieties, which have already been diluted, are better for small yards.
How we tested
Over the course of a week, we tested nine different post-emergent weed killers, five conventional and four natural or organic, in a backyard on broadleaf and grassy weeds. We applied the weed killers on a sunny day when there was no rain in the forecast for at least 48 hours. During preparation, application and observation of the weed killers, these are the main factors we considered:
Preparation
To prepare, we read each booklet of weed killer instructions thoroughly, and noted how clear they were. If we were left with any questions or had to do supplemental research, we counted this against the products.
We also factored in prep time from opening the package to lawn application, as well as whether we needed special equipment to prep the weed killer. Our ready-to-use weed killers needed no preparation before use, while preparing concentrates required funnels, careful measurement and thorough mixing. Handling concentrates also required extra protective equipment like gloves in some cases..
Application
During application of each weed killer, we took notes on how difficult it was to apply the recommended amount of weed killer to plants, and how difficult it was to control or change the field of coverage.
Safety
Use of herbicides on an industrial scale requires training, so it's equally important to take proper precautions when using them in your backyard.
During testing, we noted which chemicals would be harmful to ingest or touch, especially in households with pets and small children who play in the yard, and checked how long we needed to wait before our yards became safe again. Each weed killer we tested had labels for application, storage and mixing, which we heeded and considered as part of our decision-making process.
Performance
We tested 18 equal sections (four square feet each) of lawn area, two for each weed killer. The majority of weeds in each section were dandelions, broadleaf dock, crabgrass and bluegrass. We sprayed each type of weed killer over one section and left all nine sections alone for four hours. If using a concentrate, we mixed it according to directions and applied it with a direct-spray nozzle to spread the mixture.
After four hours, we returned and recorded our initial visual results. Our primary indicators of effectiveness were: browning, wilting, and yellowing. After 24 hours, we again recorded visual results, and using lawn gloves, brushed away any plants that had been visibly affected by the spray. Here we looked for whether weeds were breaking upon contact, and whether the roots had loosened at all.
We visited twice a day thereafter for a week, which was the maximum time period for the weed killers we selected; if they hadn't worked by then, we marked it a failure.
Consumer reviews reported that sometimes a product worked well for one user and not for another, or the product had inconsistent results. We decided to test two squares at a time for each product, and with one exception, our results were the same across both testing patches.
As we tested, it became clear that if there were no visible results after two days, the weed killer was unlikely to work at all. There were three main tiers of performance: the weed killer worked completely by killing 100% of the weeds, worked a very small amount or didn't work at all. When it came to eliminating weeds with herbicides, the process was frequently all or nothing.
Price
A key factor in our selection of best weed killer was price. We bought different quantities of each product for testing, and because some were concentrated and some ready-to-use, we wanted to know how much land, theoretically, each bottle of weed killer could cover for its cost.
We calculated cost per ready-to-use gallon, which equates to just under 1000-square-feet of yard coverage. Our most economical option was the Roundup concentrate, at roughly 80 cents per gallon of mixed weed killer, closely followed by Compare-N-Save at $1.01 per gallon.
Best weed killer overall: Compare-N-Save
Of the weed killers we tested, Compare-N-Save – Conventrate Weed & Grass Killer was the fastest-acting and most effective at loosening roots and wilting plants, and it was also the most cost effective.
Compare-N-Save's clear drawback is that it contains a high level of glyphosate — 41% — that could be hazardous to small children and pets. It's one of the most reviewed weed-killing products on Amazon, and during our testing, we understood why: it worked, and the small 16-ounce container yields an impressive 10 gallons of spray. At just over $1 per gallon, Compare-N-Save is also a cost-effective option.
We saw results after four hours: All the plants in the squares had begun to brown and wilt. By the end of the first 24 hours, every plant appeared completely dead, and many were removed without needing to loosen the soil first. By the end of the second day, we easily pulled out any remaining weeds and even managed to remove a few by simply brushing them away. As we expected from a non-selective weed killer, the grass underneath the weeds was also dead.
Other weed killers we tested that claimed to eradicate all weeds killed crabgrass but not dandelions, or vice versa. Compare-N-Save lived up to its claim of killing all weeds entirely, and no other product was as pervasive as the Compare-N-Save.
Other weed killers we tested left behind stubborn leaves or roots, but Compare-N-Save was truly nonselective and killed both weed and grass. If you have a large lawn with lots of different weeds to cover all at once, this is a great choice.
Key takeaways:
Compare-N-Save – Weed & Grass Killer is effective at drying up both top leaves and roots.
High glyphosate concentrate necessitates careful use.
This product will kill lawn grass as well as weeds.
Out of all the products we tested, this was the fastest and most consistent.
Best natural weed killer: Natural Armor
We had doubts about natural weed killers, since our research indicated they weren't as effective as popular glyphosate-based products. However, Natural Armor – All-Natural Weed & Grass Killer surprised us by performing comparably with our top pick.
Vinegar is Natural Armor's active ingredient, and it did the job. Four hours after application, weeds were browned and wilted, and by the next day, their leaves were coming up easily in our hands. By week's end, we could fully remove the plants and roots, albeit with a bit of effort.
Natural Armor was also easy to use. It's packaged in a ready-to-use bottle and direct spray nozzle, so we were able to apply it with minimal preparation. The nozzle's position allowed us to spray directly on top of the weeds and the base of their roots every time.
Perhaps the only downside of Natural Armor is its price point. We purchased a 16-ounce bottle for $12.95. For one gallon of ready-to-use spray we'd pay $29.95, a significant amount more per gallon than our leading conventional weed killers.
If you're environmentally conscious and don't mind spending a little extra money, Natural Armor is the best natural weed killer that performs just as well as the leading conventional weed killer.
Key takeaways:
While Natural Armor took a week to fully kill every weed, we were able to retain our green grass underneath the weeds.
If you have a larger lawn, you'll find this product a bit pricier than a conventional weed killer.
Other finalists we tested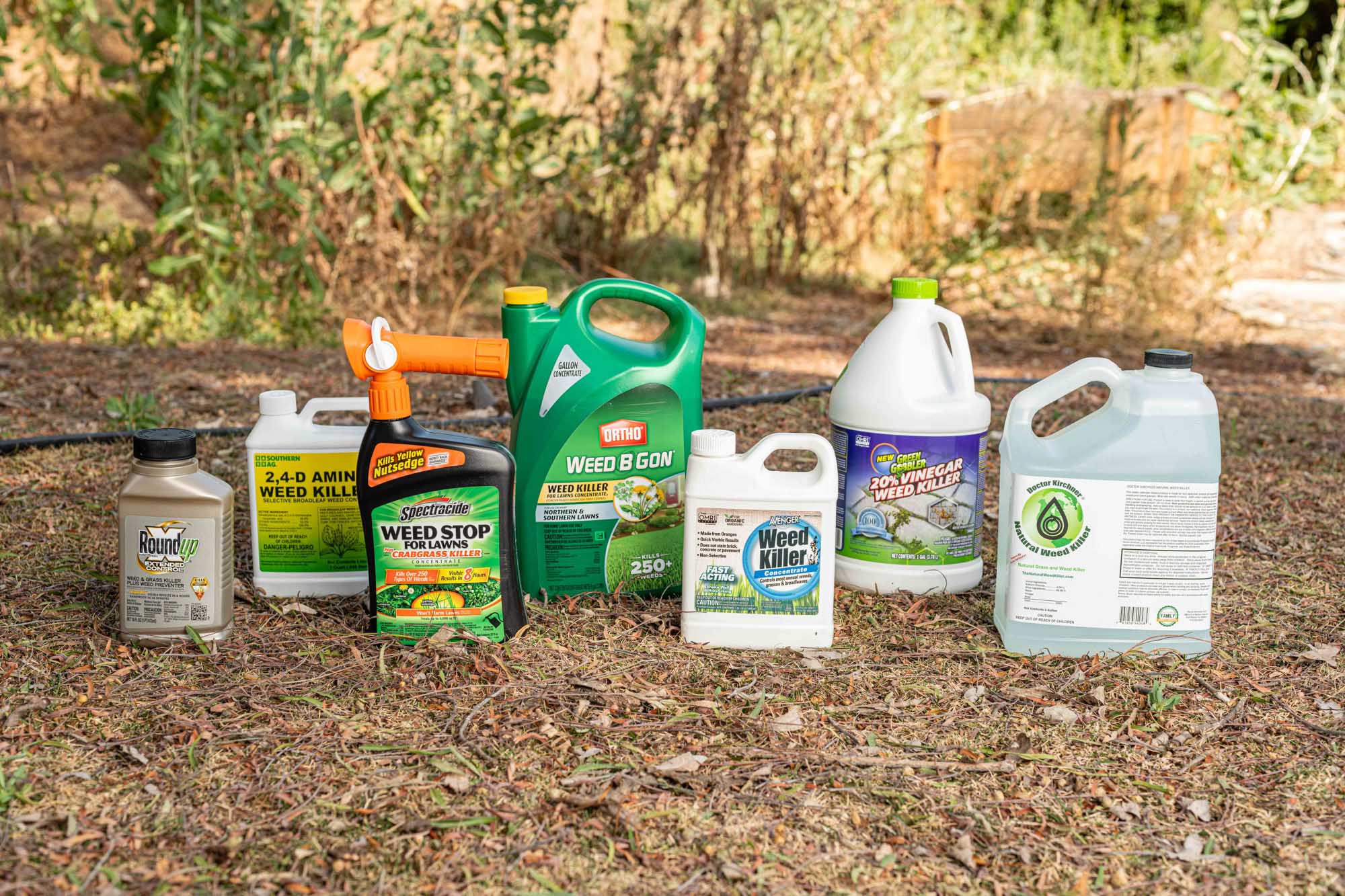 Roundup – Extended Control Weed and Grass Killer
Despite RoundUp's recent bad press, its name is synonymous with weed killer, so we decided to test RoundUp – Extended Control Weed and Grass Killer, a concentrate option that does away with a sprayer that many users find ineffective.
In terms of prep, it wasn't easy working with this concentrate. The bottle isn't well-designed for pouring, and it got messy — as did the other concentrates. We were glad to be wearing safety gear.
On the plus side, RoundUp's initial performance was great. It killed all the weeds in the area where it was sprayed and left most of the grass dead as well. If you want to preserve your lawn, RoundUp isn't for you, but overall it's excellent for clearing large areas quickly. The dead weeds required minimal effort to manually pull them in just two days after the application.
The results didn't last the whole week, however; we noticed new weed sprouts toward the sixth day. That failing, and RoundUp's increasing notoriety, set this weed killer back in our rankings.
Southern Ag – 2,4-D Amine Weed Killer
Consumer reviews for the Southern Ag – 2,4-D Amine Weed Killer are adamant about its superiority. The 2,4-D acid amine is a strong selective herbicide that is more heavily regulated than glyphosate; it may also have more dangerous byproducts than glyphosate weed killers.
Southern Ag isn't available in every region of the country, so if you attempt to purchase it on Amazon, you'll be notified whether or not it can be shipped to your area, as distribution regulations for Southern Ag vary state to state. We were able to purchase Southern Ag, and although it's more expensive than our top pick, Compare-N-Save, its performance was comparable.
We followed instructions and mixed this concentrate with water and three tablespoons of dish soap as a surfactant. None of the instructions for the other concentrates explicitly recommended adding dish soap, so we decided to use the solution on only one of the two areas dedicated to testing Southern Ag.
Twenty-four hours later, it was clear just by sight that the dish-soap additive worked. By the end of the week, the square with surfactant was 100% clear of weeds and grass, while the square without surfactant was 75% clear.
Considering its strength, potential danger and potential unavailability, Southern Ag isn't for everyone. But if you have a large variety of stubborn, mixed weeds, you might consider Southern Ag as a viable option.
Spectracide – Weed Stop for Lawns Plus Crabgrass
Spectracide – Weed Stop for Lawns Plus Crabgrass was the only herbicidal weed killer we tested that came pre-mixed and ready-to-use with its own spray attachment.
Performance-wise, Spectracide worked well on both dandelions and crabgrass, but it was less effective with other grassy and broadleaf weeds. Forty-eight hours after application we saw dramatic wilting and browning of the dandelions and crabgrass.
After a full week, other grassy and broadleaf weeds had begun to brown and wilt. Although we applied the recommended amount, we surmised that to kill them completely, we would need to spray another application. On the plus side, Spectracide did not affect our grass.
If you have a large yard you want to spray, at about $40 per gallon, Spectracide could get expensive. But if you have a small yard with primarily dandelions and crabgrass, we think Spectracide is worth it.
Ortho – Weed B Gon
As some Amazon reviewers noted, Ortho – Weed B Gon gave us varying results, despite having followed the same procedure on two sections of lawn.
Twenty-four hours after application, weeds were flourishing and the grass was still green. After 48 hours, weeds in one section wilted, and after 72 hours, weeds in the second section had wilted. By the end of the week, some broadleaf weeds in both sections had shriveled and died, grass in one section was discolored, dandelions were beginning to bounce back to life.
Some people claim they've had success with Ortho Weed B Gon when they've used it in conjunction with other treatments, fertilization and in-soil weed control. Overall, though, we weren't impressed by Ortho – Weed B Gon's performance to recommend it.
Avenger – Organic Weed Killer Concentrate
Since there are so few natural weed killers on the market, we gave Avenger – Organic Weed Killer Concentrate a shot. Although Avenger has some devoted users, its performance was poor. After application we saw little change in the weeds for the entire week of testing; one or two had wilted and browned, but the rest were still green and thriving.
If we were weeding a flower bed or other delicate plants that would be harmed by stronger weed killers, we'd consider using Avenger again. However, we'd recommend mixing the concentrate slightly stronger than recommended and dousing each weed one-by-one. As part of regular lawn care, other products in this category win out.
Green Gobbler – 20% Vinegar Weed Killer
Although Green Gobbler – 20% Vinegar Weed Killer is as pungent as the chemical weed killers, it's safe to children and pets 24 hours after application.
Green Gobbler is ready to use and comes with a hose and spray applicator. Application was smooth and mess-free, and after only four hours, all the weeds in had turned brown and, in some cases, white. After five days, we could pry the dead weeds from the soil with minimal effort.
Dandelions were a challenge for Green Gobbler, and although it's a good product, it wasn't as effective as Natural Armor.
Doctor Kirchner – Natural Weed Killer
Doctor Kirchner – Natural Weed Killer is securely packaged with recyclable materials, and a note is included that thanks the user for committing to environmental friendliness. It's a nice, personal touch, but unfortunately, Doctor Kirchner was only moderately effective. Half the surface area we sprayed showed no visible signs of application. Though it killed both broadleaf and grassy weeds, results were spotty and inconsistent.
Doctor Kirchner could be used sparingly in flower beds and around other delicate plants, where you have the patience and need for multiple, careful applications.
The bottom line
During our testing, we looked for a weed killer that effectively killed a variety of broadleaf and grassy weeds and was easy to use.
Our top pick, Compare N Save – Concentrate Weed & Grass Killer, was undoubtedly the most powerful weed killer we tested, relatively easy to use, readily available and affordable.
Natural Armor – All-Natural Weed & Grass Killer is our choice for the best natural weed killer. Natural Armor performed almost as well as Compare N Save for a price that completely justifies the extra security of environmental friendliness and safety.