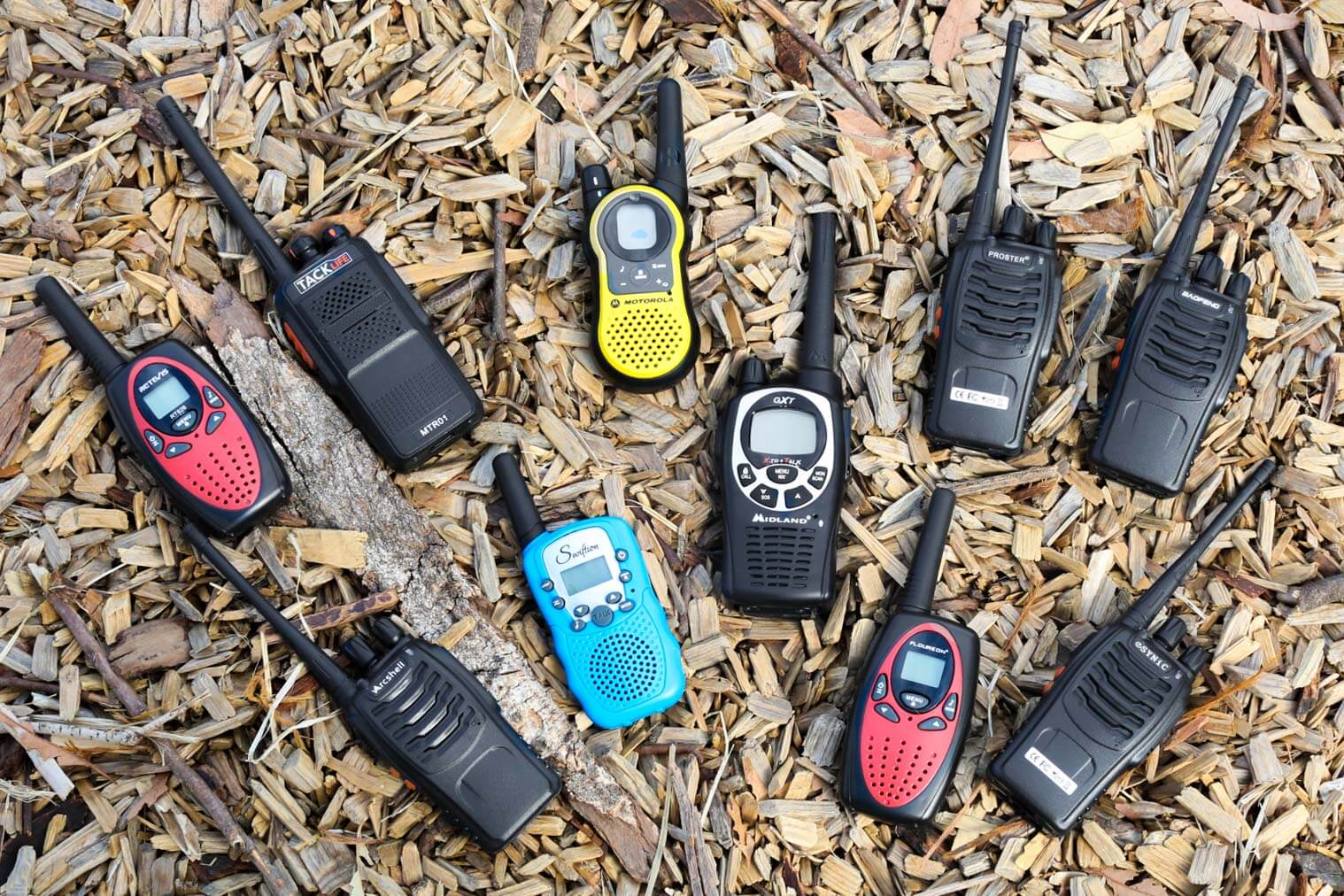 After weeks of in-depth research and testing in multiple environments with varying levels of signal blockage, we determined the Midland – GXT1000VP4 is the best walkie talkie. Among the 10 models we tested and reviewed, the Midland's unparalleled versatility, effective range and seemingly endless list of features — including water resistance, group calling and weather reports — earned this model our top pick. Our budget pick is the the Tacklife – MTR01.
After weeks of in-depth research and testing in multiple environments with varying levels of signal blockage, we determined the Midland – GXT1000VP4 is the best walkie talkie. Among the 10 models we tested and reviewed, the Midland's unparalleled versatility, effective range and seemingly endless list of features — including water resistance, group calling and weather reports — earned this model our top pick. Our budget pick is the the Tacklife – MTR01.
Table of contents
The 10 walkie talkies we tested
Best overall: Midland – GXT1000VP4
While it was neck and neck with the Tacklife – MTR01 throughout most of our tests, the additional features on the Midland – GXT1000VP4 earned it the top spot, even with its (well-deserved) higher price tag. In addition to its strong performance, this model has useful features that can come in handy.
The battery options alone are enough to set this model apart from the rest. For long trips or overnight camping, the ability to swap your rechargeable battery pack for AA batteries is extremely valuable. For different levels of signal amplification and battery length, you can also choose between low, medium, and high power options.
This model also holds communication features such as whisper, group call, and eVOX hands-free operation. The whisper setting increases volume output for communication at whispered volumes. This can be useful when operating your device late at night or in a quiet area or workplace, so as not to disturb others around you.
Group calling allows you to make direct calls to other people within your group without alerting your entire group, and eVOX operation gives you the capability to do so without needing to hold down the push-to-talk button. The model's 142 privacy codes also help to keep contact with your communicants without other users stumbling upon your frequencies.
In addition to both GMRS and FRS channel capabilities, the Midland also houses a weather report channel. With weather reporting, an SOS siren and hazard alerts, this device is a smart pick to have by your side when wandering the wilderness or open ocean. Its resistance to splashing and light rain is also handy in these situations, as long as you're careful not to get it too wet.
The list of features goes on and is ultimately what led us to choose this model as our overall best pick. While it is one of the more expensive models we tested, we feel that by choosing the Midland – GXT1000VP4, you've picked yourself a reliable model for any and all activities and adventures. This walkie talkie can do it all.
Key takeaways:
The Midland – GXT1000VP4 has a wide variety of features and high versatility for all activities. This model ensures you'd never need anything more from another walkie talkie in the future.
This model is excellent in transmitting across long distances in all terrains with very clear audio quality.
The Midland gives you the choice to use a rechargeable battery pack or AA batteries. This is especially useful for long trips in which charging opportunities are sporadic or unavailable.
Budget pick: Tacklife – MTR01
Throughout our testing, we grew fonder of the Tacklife – MTR01. We started its testing skeptically due to its low cost and lack of an abundance of Amazon reviews. However, after separating ourselves long distances to test the effective ranges of the devices, we were surprised to find that this model became our fallback option as our cell phone batteries died!
The Tacklife excelled in every environment and terrain. It successfully transmitted to its counterpart at a greater range and clarity than all the other walkie-talkies we tested, without relying on the position and direction of its antenna.
For a price so similar to the majority of the popular models and brands on the market, the transmission distance and practical simplicity of this model are unparalleled. The smooth, slick shape and design with detachable antenna and sturdy belt clip felt very natural both in our hands and on our waists. If you're a fan of simplicity over complexity and don't mind the drop-off of available in-depth features, the Tacklife – MTR01 is a no-brainer.
Key takeaways:
The Tacklife – MTR01 houses perfect simplicity and functionality. It cuts to the chase without the need for any bells and whistles.
Superb transmission distance and better audio quality in this device even surpasses the far more expensive models.
Very well built and durable. This model feels good in your hand and clips very securely to your waist.
Best for kids: Floureon – Two-Way Radio
Our number one pick for kids is the Floureon. Its pocket-friendly size, simplicity, and low cost make this model a perfect choice for small children, provided that they don't stray too far from home!
After all testing was said and done, we were perplexed by the considerable difference in Amazon ratings and reviews between the Floureon and the Retevis walkie talkies, since they're basically the same thing but with different names and price tags.
The Floureon's 22 channels are more than enough to ensure you don't share your radio waves with other families. Its display and interface are easy to read and navigate, and its functionality is very intuitive and kid-friendly.
Either model will do just fine, and you can't argue with their size, utility, and price. We chose the Floureon over the Retevis as our top pick simply because its cost is slightly lower. However, if you feel that a larger model is good for your child, and the price difference doesn't bother you, we'd recommend spending the extra money and going with the Tacklife – MTR01.
As a note, there's nothing that prevents this model from being suitable for adults. If you prefer something durable and bare-bones, you might enjoy the Floureon just as much as your favorite kiddo.
Key takeaways:
The Floureon is small and easy to carry around. However, if you don't require a smaller device, consider the upgrade to the Tacklife – MTR01.
This model tested exactly the same as the Retevis but is less expensive.
Floureon's simple design and interface are well catered to children.
Other products we tested
Products we recommend
Motorola – MH230R: The leader of our battery life test was by far the Motorola – MH230R. By the time the rest of the models had fully depleted their batteries, this model stood strong and touted its full 3/3 battery indicator. In all fairness, this model also had the shortest time out timer and therefore was transmitting less frequently than the other models. Even so, a display of "full battery" after 90 minutes of mostly constant operation is impressive.
The size of the Motorola paired with its uniquely designed and handy waist clip attachment make it an excellent choice for use during rigorous physical activity. This model sits comfortably by your side and spins freely on its clip, allowing free movement during activities like biking, running and skiing/snowboarding.
However, we were disappointed with its lack of transmission range. For such a huge price increase from the Midland and Tacklife models, the Motorola became heavily dependent upon its antenna direction at further distances. Transmission was also accompanied by a consistent and annoying static sound.
However, for shorter distances between you and your communicant, the size of this device paired with its unparalleled battery life and waist clip utility still make this model a great buy — provided your budget allows for its price.
Retevis: The Retevis performed on par with its competitor, Floureon, through our testing. In our observation and testing experience, the Floureon seemed to be exactly the same as the Retevis, but with a slightly lower price tag. In our experience, either model will be fine and they should both perform (almost) exactly the same.
Products we don't recommend
Baofeng, Proster, Arcshell and ESYNiC: You may have noticed our lack of enthusiasm for the Baofeng, Proster, Arcshell, and ESYNiC. All four are pretty much the same but have slight variations to charging methods and/or earpieces and, most importantly, their cost. Oddly, these models differ in price, ranging between $18 to $30.
We couldn't help but compare them to the Tacklife due to their similar price and design, leaving us with a collection of models that simply fell short to the Tacklife's functionality, build quality, and overall reliability. Their operation manuals were poorly written and lacked sufficient detail, ultimately leaving us with a device that we felt was nothing more than second best.
Swiftion: We were fairly disappointed with the Swiftion. While the device itself looks like it would be perfect for kids, it tested to have the worst range out of all 10 walkie talkies. It also boasts the highest number of buttons with seemingly unnecessary and confusing functionality for use intended for children.
How we selected
Deciding on the best walkie talkie comes with a catch: The most professional walkie talkies require legal permission in the form of a ham radio license. The license isn't overly difficult to obtain, but it does require classes administered by the FCC.
Operation of a two-way radio while on a General Mobile Radio Service (GMRS) channel requires a license to legally operate. This is due to the possible safety hazards of radio waves at higher wattages. This can be overkill for the casual walkie talkie user, so we selected models that are sure to perform best without requiring a ham radio license.
This type of walkie talkie operates on frequencies in the Family Radio Service or FRS. Two of the models we tested, Midland and Motorola, contain channels in both GMRS and FRS. This is potentially very useful in case you ever decided to get yourself a ham radio license for additional range and privacy.
In deciding which models to test, we dove into Reddit forums like r/CampingGear and r/BuyItForLife to learn what regular walkie talkie users have to say about their devices. Then, we took to Amazon for detailed information, specs, and user reviews.
e found that even some of the best-selling walkie talkies had large numbers of negative reviews and complaints of complete malfunction. Through our research, we aimed to buy and test models that were well-known and had a higher percentage of positive user reviews and feedback.
Various features of different brands make some models more fit than others for certain activities. For example, features such as weather reports, SOS sirens, and water resistance could be useful if you're the adventuring type.
We decided to split our top picks into three categories: best overall, best on a budget, and best for kids. This is because the intended uses of walkie talkies can vary greatly from one person to another, and we wanted to cover all bases to help you find the best fit for your needs.
How we tested
Effective distance
To accurately rank our top contestants, we devised detailed tests for transmission distance, battery life, sound quality, and maximum output volume. We equipped ourselves with our 10 walkie talkies and measured their effective ranges in a variety of terrains. We also tested for sound quality and max volume using a decimeter.
Let's start with what we feel is most important: the effective transmission distance — or how far apart you can be while successfully communicating with your device. To best simulate various user experiences, we split this test into three different terrains:
Low blockage: Beach, coastline and surrounding wide-open areas
Medium blockage: Suburban neighborhoods
Dense blockage: Downtown San Diego
We structured our experiment in this way to accurately simulate the various environments that walkie talkie users would likely find themselves in. At each environment, we stationed one person with one of every device, as another person drove further and further away from that location. The driver stopped at three different checkpoints per environment, which varied in distance dependent upon the walkie talkies' transmission strength in each terrain. Distance "as the crow flies" was measured using the Waze app on an iPhone. Records were taken for each model at each distance to gauge their effectiveness.
While none of the models successfully transmitted at the distances advertised by their manufacturers, we found that most models reached up to similar distances — with the exception of the kids' models Swiftion, Floureon, and Retevis. We were surprised at the functionality of the cheaper models, particularly Tacklife, as they stood their ground and even surpassed the far more expensive models in the wide-open terrain.
Low blockage test
Our five-mile distance at the beach was across wide-open ocean and coastline from Torrey Pines State Beach to La Jolla Shores in San Diego. There were cliffs nearby, but we still had a clear line of sight to each other. We feel it was a fair test of the true maximum range of each model.
At longer distances, many of the devices began to transmit only when we pointed the antennae in certain directions. Though we could understand each other while transmitting, we felt that without our cell phones allowing us to hear everything it would have been very difficult to maintain regular communication while relying so heavily on the direction of the antennae. We noted this in our test results as "a.d." or antenna dependent.
Medium blockage test
In the common setting of suburban neighborhoods, we were surprised at the difficulty all of the models had in successfully transmitting at longer distances. It is, however, important to note the frequent changes in elevation between each device. This may not come as much of a surprise, but walkie talkies have a much poorer range when operated in areas where hills are common.
Environments like this are very inconsistent due to vastly differing amounts of houses, buildings, and hills, thereby making successful transmission difficult to rely upon. We conducted our suburban testing in multiple locations from similar distances to account for these inconsistencies in other suburban environments.
High blockage test
In the thick of the city in downtown San Diego, some of our contestants struggled to maintain the connection with each other. At our one-mile mark, with many buildings in between, the only models that were able to reach their counterparts were Tacklife and Midland.
Interface and features
Through our experience with these walkie talkies, we've come to recognize that for all intents and purposes there are two different layout types among these models. Let's call them "high tech" and "bare bones."
Whether you prefer a minimalistic walkie talkie or an in-depth and feature-packed device is up to you. If your only intended use for your walkie talkies is to communicate with your recipient(s), and you don't feel the need for privacy channels, weather reports, GMRS frequency options, SOS sirens, and so forth, then we'd recommend saving yourself some money and sticking with one of the simpler options.
If you are the type of adventurer that intends to buy one walkie talkie for life and wants to ensure all of your bases are covered, then go "high tech" all the way. Even for the Midland, perhaps the most feature-packed model, the interface is very intuitive and the operation manual can get you on your feet quickly.
Battery life
At first we tested battery life by simply leaving the devices powered on and then waiting for them to die. However, we decided that a more accurate method was to leave them transmitting constantly.
To accomplish this, we taped a coin over the transmit button on each device (with quite a bit of pressure) so the walkie talkies were actually in use the whole time. In this test, the devices were being operated in a way that would drain battery life far quicker than the "idle" alternative and thereby would simulate regular usage more realistically.
We also grouped all of them together to ensure they were transmitting audio of a consistent volume. This gave us an accurate gauge of each model's battery life, relative to each other.
One important thing to note is that some of the models actually have a time-out timer (TOT) built-in that caps the maximum transmit time to one to three minutes. Unless you plan to talk consistently for one to three minutes without stopping or allowing yourself to hear your fellow communicant, this shouldn't be anything to worry about. However, it likely did affect our test results to a small extent.
To combat this TOT feature for testing purposes, as soon as we saw that a device had stopped transmitting (via the small red indicator lights on all of the devices), we immediately unwrapped the tape and pressed the coin back onto the button. Although it was only a matter of seconds, that time adds up throughout the entire duration of testing, so the margin of error should be considered to be up to a few minutes.
As you can see below, the battery life of the devices lessened dramatically through our testing method, as compared to what was advertised. You can infer that your battery life with any model will lie somewhere in between our test result and the maximum battery life advertised by the manufacturer, dependent upon your ratio of transmission versus idle time.
While using the Motorola or Midland models, you might as well use the rechargeable battery until its depletion before switching to AA batteries for additional usage. Both of these models should be recognized as having far better battery life than the other models we tested, due to their dual-power battery option.
Audio quality and volume
We also ran a couple of tests to find which models have the loudest max volume and the best quality and clarity of sound. Using a decibel meter, we fed audio of a consistent volume (a note on an electronic piano) into the sending walkie talkie while holding the meter one inch from the recipient walkie talkie. Our test for volume was short-lived, as the volume from each model proved to be almost exactly the same.
For audio quality, we simply conversed through each model from a fixed distance away and rated each walkie talkie's quality of sound on a scale of 1-10.
To our ear, the clear winner of this shoot-out was the Tacklife – MTR01 due to its superb quality of sound and lack of any static interference.
To our surprise, the Motorola had consistent static accompanying any and every transmission. This static persisted throughout our distance testing as well; for such an expensive model, we were unimpressed.
The Baofeng, Proster, Arcshell and ESYNiC models had a good quality of sound, but were definitely a step down in clarity from the Tacklife and Midland. These models tested to be virtually identical, and all had more static during transmission as well.
The kids' models also sounded surprisingly clear, with Floureon and Retevis beating Swiftion only slightly. The Midland's audio quality was second to the Tacklife and was only ranked below it due to our personal preference of the Tacklife sound. The Midland sounded as if the sender was speaking from six inches away from the device, so the voice didn't sound quite as full. However, it surely earned its place behind Tacklife.
Attachments
We also addressed the comfortability and functionality of the various attachments that come included with the purchase of walkie talkies. We spent many hours with the different models clipped to our belts and used the earpieces throughout our testing of transmission distance. Shown below are our overall ratings and notes on the attachments of each model.
Antennae
The models we reviewed also contained either an attached or detachable antenna;  there are subtle pros and cons to each of these options.  Ultimately, it comes down personal preference. The models with detachable antennae were consistently larger than those with attached antennae, but after unscrewing them, the different models were all of similar height and would be easy to pack and store away as needed.
Waist clips
Each of the belt clips that came with the finalists would do their job. However, the Motorola – MH230R excels over the rest in a unique way. Frankly, we never thought we would rave about the waist clip of a walkie talkie, but this mechanism is actually pretty cool. Its clip fits snug and secure and has the capability to spin freely while on your waist. When you want to use the device, you press a small button to release it from the clip. When you want to clip it back to your waist, you simply press it against the clip, and it snaps back into place. It's oddly satisfying.
Since the Motorola is smaller than all of the adult models, it sits more comfortably on your waist than any of the other models. If you are looking to snap your device on and off regularly while engaging in rigorous physical activity like skiing, running, or biking, this would be a great model and feature to consider for this reason alone!
In the Baofeng, Proster, Arcshell, and ESYNiC models, there is the minor annoyance of having to unscrew a backplate and re-screw the plate with the waist clip attached. This may not matter much to users that plan to keep the clip on their device at all times, but if you prefer the ability to remove the clip when it's not in use, you would have to carry a screwdriver as well.
The Midland clip is second best to the Motorola, as it is very easy to clip on and off, due to a spring mechanism in the clip itself. As long as you are moderately cautious, less intense physical activities such as hiking, hunting, and travel by foot shouldn't be enough to knock this model off your waist. The clip is built well with strong plastic and should not break, even through excessive use.
The Tacklife model has an extremely strong clip that holds to your waist with roughly the same force as the clip of the Midland model. For good or bad, the clip can be difficult to detach from the walkie talkie itself, but the low-profile shape and design of the clip makes it unlikely that you'll want to remove it once it's attached.
Earpieces
If you're thinking we didn't end up on the pro-earpiece side, you're correct. Regardless of their size, shape, transmission method, and audio quality, the earpieces proved to be an overall flop.
The main problem we had with the earpieces is that they seemed impractical for the vast majority of situations. If it's necessary to use one hand to operate the push-to-talk (PTT) button on the earpiece cord, you might as well just use that hand to hold the walkie talkie itself.
For some of the models, the earpiece transmission button didn't work at all and we had to press the regular PTT button on the device to use it. The earpieces on all models were moderately uncomfortable and made communication difficult. It's nice that some of the models come with earpieces included, but unless you're buying them for your children to pretend they're secret agents or AT&T Customer Support, we'd recommend against letting them influence your decision at all.
Why buy a walkie talkie?
Aside from feeling strangely professional and speaking in code for no reason, there are many practical reasons to implement walkie talkies into your life. Some of the most common uses of walkie talkies include camping, road trips, skiing/snowboarding, cruises, hunting, traveling abroad and simply communicating around your workplace or neighborhood.
In areas where your cell service is limited or unavailable, walkie talkies are also a great way to maintain easy communication with your fellow adventurers through the magic of radio waves.
Additionally, if you have children, walkie talkies can put your mind at ease when they're running around the neighborhood, the cruise ship, the mountain or the campsite. They'll never be late for dinner again!
Important features to consider
The 10 walkie talkies we reviewed have a variety of different features and strengths. It's important to ask yourself which combination of features is best for your needs.
Effective distance of transmission: How far can this thing actually reach? At further distances, is transmission full of static and/or unintelligible?
Battery life: How long will a full charge last? Can other batteries be used as backup?
Features: What sets each model apart from the rest? Would you prefer a multitude of transmission, privacy and alert settings over functional simplicity?
Choosing the "right" walkie talkie isn't a black-and-white decision. Where some models fall short in certain areas, others may surpass them while lacking other features. For example, the Motorola – MH230R proved to be, by far, the model with the best battery life. However, it also fell short on transmission distance to compared models that cost a fraction of its price.
Regardless of your intended activities with walkie talkies, the units' abilities to transmit at greater distances with a higher sound quality are of the utmost importance. What good is an excellent battery life if all you hear is static? Conversely, a solid battery life or the ability to swap to AA batteries is surely worth prioritizing if you aren't able to charge your device often, perhaps during long road trips or overnight camping.
Some products we considered had a high rate of positive feedback from users, but they also had a concerning subset of poor feedback on Reddit and Amazon. We remained skeptical of these products if we chose to test them.
The bottom line
In choosing which walkie talkie is best for you, it's important to ask yourself what you need from the device. Realistically, the majority of people would likely get by just fine with a simpler and cheaper choice like the Tacklife – MTR01. Its utility and ease of use are more direct than even the models intended for children, and its transmission strength is right up there with models four times its price.
If you're the adventurer type who prefers to study up on the user manual and explore the many features and benefits of a more complex and feature-packed device, then you should look no further than the Midland – GXT1000VP4. From the mountains to the city, and everything in between, this model's versatility and high-level functionality make it a great tool to have for any and all experiences and activities.
Regardless of your choice, it's time to brush up on the lingo and make your way into the world of radio frequencies. "Over and out."