The 7 Best Laser Measuring Tools
We tested seven top-rated distance meters, and the Bosch – GLM 50C won a permanent place in our toolbox as the best laser measuring tool. Beyond the expected features, including solid Bluetooth compatibility, this meter wowed us with extra perks like a tilt sensor and an easy-to-use graphical interface. We also found two other winners: If you specifically need AutoCAD compatibility, Leica steals the prize with the Leica – DISTO D2, and the TackLife – HD60 is a great choice for under $50.
We tested seven top-rated distance meters, and the Bosch – GLM 50C won a permanent place in our toolbox as the best laser measuring tool. Beyond the expected features, including solid Bluetooth compatibility, this meter wowed us with extra perks like a tilt sensor and an easy-to-use graphical interface. We also found two other winners: If you specifically need AutoCAD compatibility, Leica steals the prize with the Leica – DISTO D2, and the TackLife – HD60 is a great choice for under $50.
Compare the 7 laser measuring tools we tested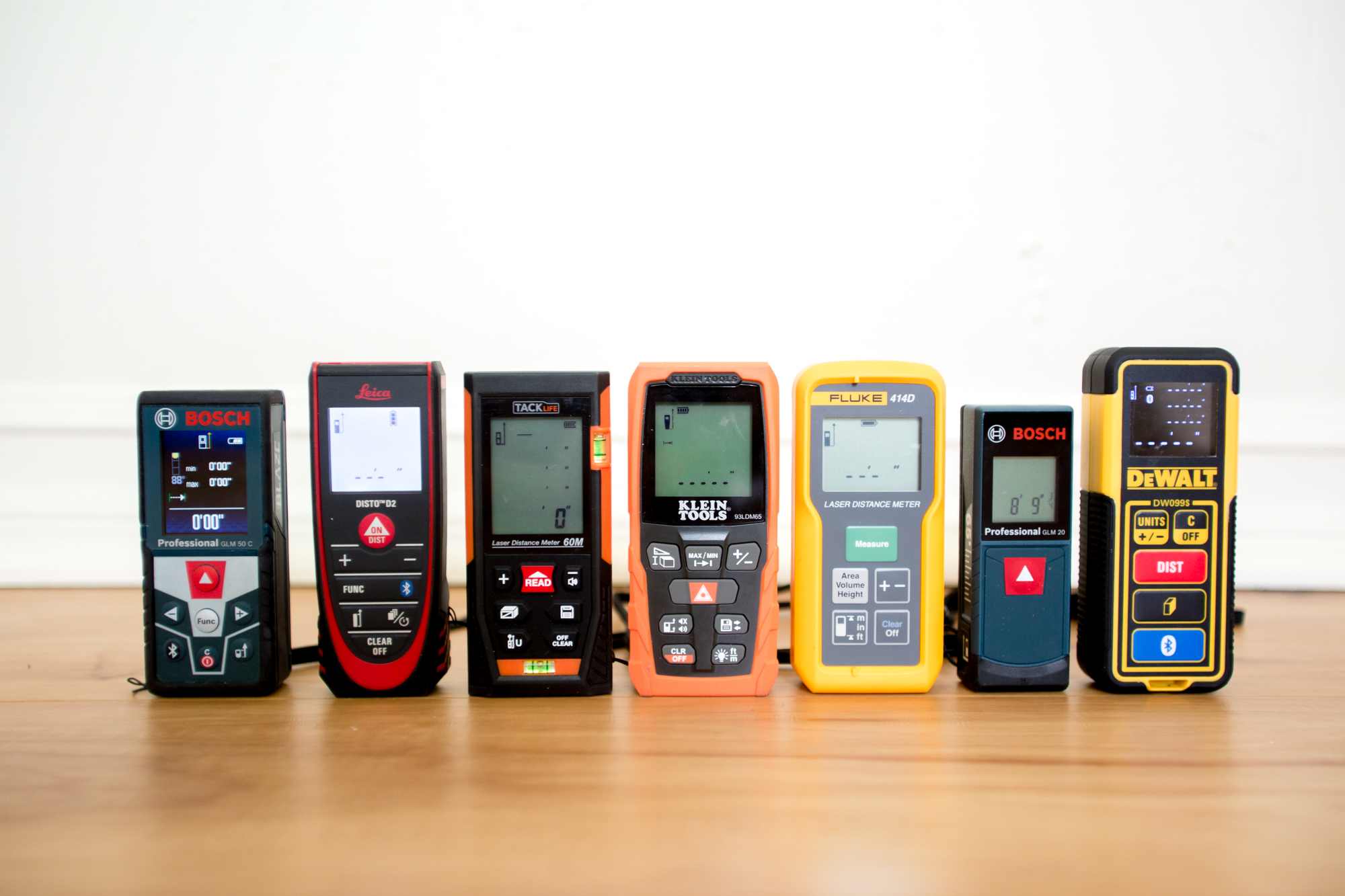 Best laser measure: Bosch – GLM 50C
If you're looking for a top-class distance meter for the jobsite, or even If you're just working on home projects, the Bosch – GLM 50C takes the prize with excellent features in a compact, affordable package.
Bosch added a lot of great perks to this device that's competing with entry-level lasers from the other big names. The color screen is easy to read, and it also allows you to control the device with a graphical menu system — much easier to use than the basic four-line alphanumeric display on all the other meters.
Unique functions
A tilt sensor is the real blockbuster value in this package. With an angle readout in the default measuring mode, you don't have to second-guess how horizontal the line is that you're shooting. You can make sure that vertical measurements are plumb and even use the level mode to get your new TV or projector bracket level to a tenth of a degree. Bosch also gives you a clever indirect-height mode that uses the tilt sensor instead of relying on you making a 90-degree base measurement.
The most unique feature of the Bosch isn't even the tilt sensor, it's the stake-out mode for construction projects. Instead of marking your 16-inch studs or cabinet widths at the back end of the meter as on other devices, you see a visual depiction of the mark on the LCD screen.
A mark on the screen doesn't let you use the back edge of the tool for making your mark, but it's much quicker this way. As you slide the meter along the line you're marking intervals on, you have a few inches of wiggle room around each point where you can see the mark on the screen, instead of needing to get the tool nudged to exactly the right spot before making your mark. Bosch's interface also makes inputting the interval length for this mode much easier than on Leica's two-button system.
Bosch's painter-friendly wall-area mode saves time by only asking you to set room height once, then it lets you add as many wall lengths as you need to get a total area. Sadly, you can't subtract a window or door area in this mode, but it's still a great time-saver for quick estimates. There are regular area- and volume-calculator functions as well, and you can add or subtract in those modes.
Bosch also includes a tripod mount, which most of us won't need, but it makes the Bosch even more versatile. You could even use this as a laser-layout marking system, if you've got a trustworthy tripod head to swivel the laser in a perfectly flat plane. This isn't survey equipment, but it's good for quickly setting the height of cabinets or lining up picture frames.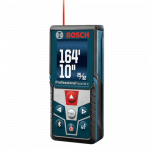 Best Value: Bosch - GLM 50C
For almost every indoor application, this distance meter is top-class. With features typically reserved for much more expensive systems, this laser will help you out in a surprising number of home projects. It's also affordable and rugged enough to keep in your toolbag at a jobsite.
Bluetooth
Bosch's Bluetooth support is good, but not perfect. If you need to send numbers to AutoCAD, Revit, VectorWorks or TOTAL, get the Leica. The one advantage Bosch offers pro users is export from the MeasureOn app to the ProCore building management suite. MeasureOn is a pretty detailed floor-plan app on its own, but most professionals will probably only use it to store measurements and build a floor plan somewhere else.
We ran into one hitch with Bluetooth: It turns out that the laser doesn't send Bluetooth measurement values the same way in the default "real-time measurement" mode, and you have to switch to the other aim-and-press "length" mode with some apps.
Key takeaways:
As a measuring tool you can use every day on the jobsite or for home projects, the Bosch – GLM 50C is an excellent value.
The graphical display makes extra settings and modes much easier to find and use.
This tilt sensor and tripod mount are usually only found on much more expensive tools.
At $200, this would be a competitive tool, but it's often selling for closer to $110.
Bosch's smartphone app is good for basic, accurate room drawings.
Bosch's Bluetooth compatibility is a bit lacking compared to Leica if you're using pro-grade software.
Runner up: Leica – DISTO D2

If you weren't expecting to see a Bosch take the top spot in this review, you were probably expecting to see a Leica. In a world where the Bosch GLM 50C didn't offer the unique features that come along with the graphical display, Leica would have this in the bag with the DISTO D2. "Disto" is practically a generic term for laser distance measurers — and for good reason.
If you're setting up a show in a convention center and need more indoor range than the Bosch offers, or if you are using Bluetooth-connected apps that only support Leica's tools, then the DISTO D2 is definitely worth the $40 difference. It's a less-flexible stand-alone tool, but it integrates into more complex measurement jobs better.
Entry-level excellence
The DISTO D2 is a very basic model compared to the rest of Leica's offerings. For a tilt sensor and tripod mount like the Bosch has, you need to spend more than $300 for a DISTO X3, and $400 gets you the X4 with a zoom viewfinder for outdoor measurements, which compares to Bosch's $300 GLM 400.
Leica's interface is the real disappointment after using the Bosch meter. The four-line LCD means modes like stake-out are especially clunky, since you need to set the interval distance by scrolling with just the plus and minus keys. You can't even change measurement units without relying on the quick-start guide to tell you the key combination you need — plus and minus at the same time in this case.
The flip-out reference leg for lining up perfect outside corner references is the one feature of the Leica that we missed when going back to the Bosch. The lack of a tripod mount and level indicator makes that a wash, depending on your project.
If you are going to be using the Leica at maximum range, don't forget to use the timer feature, which helps you keep the beam on distant targets by eliminating vibration from the button press.
Better Bluetooth compatibility
Buying the DISTO D2 makes perfect sense if you use a Bluetooth-connected app that expects Leica hardware. Compatibility with AutoCAD and the widely-used appraisal suite TOTAL is essential if you're working in those systems every day, and you'll probably never use the digital angle finder or stake-out function for those kinds of projects anyhow.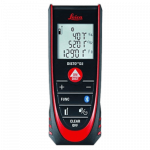 Best Bluetooth: Leica - DISTO D2
The heritage of Swiss engineering is on full display with this DISTO laser, and the maximum range is more than you'd ever be able to get with a hand-held shot. With the very best Bluetooth compatibility, Leica is going to be an essential purchase for some professionals. The D2 doesn't have all of the features of the Bosch, but it's competitive.
The DISTO Transfer Windows software allows you to drop measurements from the tool directly into software like RevIt or VectorWorks on a Bluetooth-capable PC. We tested this in SketchUp, and after some careful setup it entered measurements just as if we'd typed them. If you prefer working in full CAD drawings to smartphone sketches but can't afford more expensive survey gear, this is an excellent option.
Skip the free DISTO Sketch app entirely; it's very limited. Leica's main measuring app, DISTO Plan, works well with the D2 for drawing a room plan including basic door and window features. The fact that you need the more expensive X3 or X4 to use Leica's fast-and-easy Smart Room drawing workflow is annoying. DISTO Plan is easy to work with, but not as easy as Magic Plan or Floor Plan Creator, two of the best room-design apps we tried.
Note that the DISTO D1 will still give you Leica's Bluetooth connectivity for even less than the Bosch, but your interface is down to one button and you lose all the built-in calculation functions.
If you need the extra measuring range or the specific software support, the Leica – DISTO D2 is an excellent measuring tool that fills some gaps between the Bosch and much more expensive tools.
Key takeaways:
The Leica – DISTO D2 is a relatively affordable handheld tool from a top survey instrument maker.
Leica gives you more range than most of us could possibly use with a handheld tool.
If you need compatibility with top CAD apps, this is an easy pick.
You may miss the angle finder or tripod mount of the Bosch, and Leica's interface is not as easy to use.
Best on a budget: Tacklife – HD60

If you just need a tool that tells you the length of a wall so you can write it down, it's hard to argue against the value of the Tacklife – HD60. This is a well-rounded tool that doesn't skimp on options, and it's the easiest dot to see in full sunlight.
The Tacklife is a clone of other tools, to be sure. But it's just as accurate as the other meters — at any distance you'd be able to hand-hold them, anyhow. The bubble level indicators are useful to keep you from shooting a wildly sloped line, but they're not accurate or precise enough to replace even a smartphone-app-based level.
Budget Pick: Tacklife - HD60
If you don't need the Bluetooth connection, TackLife will still give you impressive functionality from a very affordable tool. This is actually the brightest laser we tested, the screen is easy to read, and the calibration was practically identical to the more expensive models.
Tacklife has a good customer satisfaction record, and we can see why. The interface is similar to most standard laser tape measures, with a bright screen and dedicated buttons for all the important features.
The option to see readings in decimal inches as well as fractions, feet and meters is a nice touch if you're going to use the numbers for calculations or numerical input. Other meters in this price bracket only give you decimal readings for metric units.
If sub-inch accuracy of a distance meter is important to you, you should definitely check against a known reference like a tape measure if you buy this device. The calibration on the device we bought, though, was spot-on down to the millimeter. At 10 feet measured between parallel walls indoors, the Tacklife gave an identical reading to the Leica and Bosch, down to a hundredth of an inch.
The features you don't get on the TackLife that you can get with more expensive meters:
Bluetooth connectivity
A fold-out leg for steady corner measurements
Stake-out mode for setting measured intervals
A real tilt sensor
Painter mode for adding up wall area
Neither the Bosch nor the Leica has every one of those features at the under-$200 price point, but if you need any of them you should look closely at our top picks. To add just the painter mode at a similar price point, check out the Klein Tools  – 93LDM65.
Key takeaways:
The Tacklife – HD60 has most of the features you could ask for at the price of a long analog tape measure.
Indirect, area and volume measurements work the same as on other meters, though you can't add or subtract from them.
The laser dot from this meter is the brightest we found, though it's still useless at more than 50 feet in sunlight.
Bubble levels aren't precise or accurate, but they are useful when taking a quick measurement without a plumb surface for reference.
Klein Tools – 93LDM65

If you're looking for a very affordable distance finder with a name you'll recognize, the Klein Tools – 93LDM65 is a good pick with only a few drawbacks.
The screen and interface are excellent, but this meter has the dimmest dot. It's fine if you're shooting wall measurements, but in sunlight it's easy to lose track of, even with contrast-enhancing red glasses.
Most features you're looking for, including minimum-and-maximum mode, a painter-friendly area calculator and an extendible reference stick for tricky surfaces like sharp inside corners. You don't get the premium options like stake-out mode or an actual right-angle corner brace, but for about $40 this is a good value.
The Klein Tools meter gave the least-reliable outdoor measurements in our tests, but it's still within a millimeter of the other tools for indoor readings.
This is a close contender for our budget pick. If you frequently do wall area estimates and you want a tool you can afford to leave in your unlocked toolbox over lunch, this is a good fit.
Fluke – 414D

Fluke is a name that bears no disrespect: Electricians all over the country will sooner fight you than let you say mean things about their yellow-orange multimeters. The Fluke – 414D is well-protected against drops and it's good at what it does, but with a whopping $120 price tag this is too spartan to get a recommendation.
The Fluke meter doesn't have a backlight for the screen, let alone a corner support leg or tilt sensor.  The basic modes, including addition and subtraction of measured area, are all here, but you can't get foot or inch measurements with decimal display.
If Fluke is calibrating these meters to a higher standard than the imitators, it doesn't show up in a way that we could find. There's a feeling of security that comes with a professional-grade measurement tool made by a company that stakes its reputation on reliability, but that's also true for Leica and Bosch. Those brands are giving you much more for your money with their meters, so there's not much reason to buy this model unless you're a devoted loyalist.
Bosch – GLM 20

If you're looking for a literal replacement for a tape measure, with no features other than checking distances, the Bosch – GLM 20 is a reliable choice.
The GLM 20 isn't always easier to use, though, than other more fully-featured options. We liked the simplicity of the one-button interface for basic jobs, but as soon as you need to change the measurement units (by holding down that button when powering up) you'll wish you had a more sophisticated device.
This is the least-expensive tool in our lineup, but it's not actually any easier to use than the TackLife, which only costs about $7 more. Having the ability to take an indirect height measurement or measure from the front edge of the meter is definitely worth it for the projects we worked on in our tests. If you're someone like a camera assistant who only needs estimated focus distance measurements, this bare-bones Bosch meter is a good value.
DEWALT – DW099S

The DEWALT – DW099S is not a bad tool by any means, but it misses some key features that we were expecting to see in a Bluetooth-connected measuring tool.
The DEWALT is compact and has a good button layout for all the basic features. The high-contrast screen is one of its best features, earning a tie with the Bosch for easiest screen to read in a dark room or in full sunlight.
There are a few features missing on this meter, however. For example, you get the usual painter-friendly area calculation with add and subtract functions, but no indirect height function. If you remember the Pythagorean theorem you can calculate that yourself, but it seems like an obvious mode to include.
The reason the DEWALT ranks so low on our list is that the app compatibility is poor, but you pay full price for Bluetooth. You can only connect this measuring tool to the DEWALT Connect app, which just has a photo markup function.
You're not going to be able to export anything close to a CAD file from this app, but you can take a photo of a wall (or even a pencil sketch of a rom layout) and overlay a quick free-hand outline of wall segments with your finger. DEWALT Connect will then let you easily add the distance readings one segment at a time as you walk around the room. It's not the most powerful layout tool, but if you like to sketch a room on paper anyhow, it's actually much more convenient than other workflows.
Important features to consider
| Laser Distance Meter | Stake Out Mode | Painter Mode | Level | Unit Reading Options | Decimal Standard Units |
| --- | --- | --- | --- | --- | --- |
| Bosch - GLM 50C | ☆☆☆☆ | Yes | Digital | 5 | Feet |
| Leica - DISTO D2 | ☆☆☆ | Yes | None | 6 | Inches, feet |
| Tacklife - HD60 | — | No | Analog | 6 | Inches, feet |
| Klein Tools - 93LDM65 | — | Yes | None | 4 | Feet |
| Dewalt - DW099S | — | Yes | None | 4 | None |
| Bosch - GLM 20 | — | No | None | 3 | None |
| Fluke - 414D | — | Yes | None | 3 | Feet |
Stake out: When you need to place a feature like a wall stud, light fixture or shelf support at precise, regular intervals, stake-out mode will help you mark those spots at the distances you set. Bosch gives you some wiggle room with an indicator of where your mark is on the inch-and-a-half-tall screen as you slide the tool past, while Leica just tells you how much farther you have to go to land on the next mark with the back of the tool.
Painter mode: Most of these tools will let you measure the height and length of a wall and then show you the area, but the better meters also let you add or subtract other areas — add up all the walls, subtract windows and doors — to give you a total wall area for paint coverage estimates.
Indirect height measurement: If you remember the Pythagorean theorem, you know that you can check the length of a line by measuring two other lines in a right triangle. Laser measurement tools typically include a mode that calculates the result for you automatically, which can be very handy if you want to know the height of a building feature you can't quite reach.
Level and tilt sensors: When you're measuring walls it helps to know when you're actually holding the meter level so you don't add extra length by measuring an angle. The Bosch takes this even further, giving you a precise tilt measurement. You've got an excellent tilt sensor on most smartphones these days, but having a laser level, angle finder and tape measure in one tool is very convenient.
Unit Reading Options: This is the number of different options you're given for seeing the displayed results of a measurement. All the meters offer a foot-inch-fraction mode to replicate what you'd get from an old-fashioned tape measure, but the better meters offer other modes like inch-and-fraction readings or decimal readings (see below).
Decimal readout: This feature is, of course, always available for metric units. But many professionals in North America (even tradespeople in Canada working on residential projects) use inches and feet for measuring rooms and building materials. Just because you measure ceiling height in feet doesn't mean you want to be stuck entering fractions in your design software or converting them to add measurements together. Decimal readouts for feet are available on all but two of the meters, and both of our runner-up picks let you see decimal inches.
How we selected products to test
Our writer for this review has been using laser distance measures at work for five years, mostly while rigging speaker and projector installations as an audio-video technician at convention centers and other event venues. He's also used laser distance meters to generate computer-based layouts for home renovation projects. He uses his laser distance measure on most of his projects for Your Best Digs, everything from measuring edge angles on kitchen knives to measuring how far a leaf blower can throw a weighted box.
Expert input:
We also interviewed other professionals who use measuring tools daily:
Victor Millares is a project manager with Viking Environmental Group and uses laser measurers every day to estimate asbestos and lead abatement jobs.
Christina Younger is an architect working at Gensler in Newport Beach, and she primarily transfers site measurements from Leica measuring tools into building information software like RevIt or into AutoCAD.
Marcellus Wesley is a director of operations for audio-video service provider PSAV at a conference center in Anaheim, California, with seven years of experience flying projector screens and speaker arrays. Marcellus typically designs his shows in VectorWorks.
Competitive price range
After looking at the full range of offerings from the market leaders — Bosch, Leica and Hilti — we narrowed our search down to the meters that will provide extra functionality for common indoor tasks, but stay inside a reasonable budget. Two of our experts have had expensive meters stolen from job sites and said they would make do without rarely used features or the most prestigious brands to avoid repeating that heartache.
We tested four models in the $80–$150 range and three in the under-$50 price range. All had excellent average review scores from buyers, though we did go with a newer DEWALT meter over an older, better-reviewed model that's discontinued.
How we tested
We ran each of these tools through day-to-day tasks for contractors, insurance estimators and home improvement hobbyists. Our tester created a room layout for his home office with each device, then put up a picture or shelf, measured distances of cabinets, estimated the length of a network cable run and calculated wall area of a bathroom renovation.
We checked the outdoor usability of each tool side-by-side, checked accuracy in a calibration test and tested the Bluetooth connection of three models on an Android smartphone.
Basic use tests
| Laser Distance Meter | Outdoor Visibility | Screen Readability | Min. Distance (inch) | Maximum Distance (ft.) | Extendable Reference Leg |
| --- | --- | --- | --- | --- | --- |
| Bosch - GLM 50C | ☆☆☆☆ | ☆☆☆☆☆ | 1.74 | 165 | No |
| Leica - DISTO D2 | ☆☆☆☆ | ☆☆☆☆ | 1.635 | 330 | Yes |
| Tacklife - HD60 | ☆☆☆☆☆ | ☆☆☆ | 1.8 | 196 | No |
| Klein Tools - 93LDM65 | ☆ | ☆☆☆ | 1.78 | 98 | Yes |
| DEWALT - DW099S | ☆☆ | ☆☆☆☆☆ | 1.9 | 100 | No |
| Bosch - GLM 20 | ☆☆☆ | ☆☆☆☆ | 2.1 | 65 | No |
| Fluke - 414D | ☆☆☆ | ☆ | 1.8 | 165 | No |
Outdoor visibility: None of these meters is ideal for outdoor use at long ranges, since they don't have viewfinders to show you exactly what they're pointing at when you lose track of the dot. Brighter lasers still make a difference at short ranges or even indoors on sunny days, though. We also highly recommend picking up contrast-enhancing red glasses like this pair from DEWALT to help you track a red laser dot in sunlight.
Screen readability: If you're in a tight corner or working outside, you need to be able to see what measurements you're getting without moving the meter. We checked readability from every angle and ranked the tools against each other. Screens with a high-contrast display won this competition easily.
Minimum distance: We also checked the minimum distance each tool can measure, listed on the chart above in inches. Other than the Bosch – GLM 20, they were all able to see a wall at less than 2 inches, but the Leica was able to read about 3/16″ closer than the others.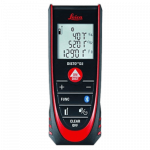 Maximum distance: After trying to set up a few outdoor concerts with a standard laser, it became clear that a viewfinder like you'll find on the $300 Bosch – GLM 400 is essential if you want an accurate distance for anything other than the side of a building.
Useful hand-held range was about fifty feet before hand movement made measurement impossible, and as you go farther, visibility of the dot in daylight is the biggest limitation.
Bluetooth compatibility
| App Support | Bundled App | AutoCAD Mobile | A La Mode TOTAL | Magic Plan | Floor Plan Creator |
| --- | --- | --- | --- | --- | --- |
| Bosch - GLM 50C | Yes | No | No | Yes | Yes |
| Leica - DISTO D2 | Yes | Yes | Yes | Yes | Yes |
| DEWALT - DW099S | Yes | No | No | No | No |
To assess how useful Bluetooth features are, we looked first at the manufacturer-provided apps to see if they would meet the needs of a contractor, realtor or estimator taking notes about the size of a room or a specific feature in a room. Next we tried connecting to four popular insurance computer-aided drafting ("CAD") and room planning apps.
The DEWALT – DW099S is a great example of a Bluetooth tool that meets basic needs but completely fails to live up to its potential. DEWALT's own app (actually a sub-page of a tool management app) only allows you to fire the laser remotely or make measurement markings on a photo. We searched for third-party app support and found nothing else that worked with this meter, even among apps that supported older DEWALT models.
Bosch and Leica both give you a layout drawing app to work with. Leica's DISTO Plan is good for quickly sketching a basic room and reviewing it, while Bosch's MeasureOn is comparable in sketch mode but also offers a detailed plan mode with options for wall thickness, electrical outlet locations and drop ceilings. Bosch even gives you a complete estimate of materials and wall surface for your projects within the MeasureOn app.
A PDF summary export from these apps is going to be good enough for most of us as a reference or for manual transferring dimensions to other software, but Bosch offers file export for the ProCore system and Leica offers a paid unlock for saving .DXF and .DWG files.
Leica was the clear winner on compatibility: Software developers go out of their way to make their apps work specifically with Leica's DISTO brand. Leica also offers Windows software that will let you capture Bluetooth measurements in nearly any design or drafting application.
Bosch is arguably better-known among contractors than Leica, but support for the GLM 50C was spotty. Leica is the only brand supported by AutoCAD or TOTAL, the apps we heard the most about from professionals. Both of our top picks worked perfectly in Magic Plan and Floor Plan Creator, two top apps.
When is a laser better than a tape?
Laser advantages
Convenience and range: A laser distance measure is more compact than a tape, and it's infinitely faster. But the biggest advantage is when you're measuring distances longer than your arm span or across a gap. With a laser, you don't even need to be able to touch the point you're measuring to, so long as you've got a clear view of it.
Easy calculations: The laser is dominant in measuring indoor spaces, making it simple to calculate how much paint you need for a giant wall or how much air volume a heating system needs to move. Estimators nearly all carry one, even if the contractors they work with stick to the old metal tape.
Precision: Tape measures aren't inaccurate, but the way we use them often involves rounding to a convenient fraction and even adding up multiple rounded measurements. Lasers will always give you a measurement down to the smallest fraction or decimal available, and the accuracy is just as good as a tape.
Tape advantages
Easier for simple measurements: If you're just spacing out picture frames or centering a large bedroom mirror before you drill holes for drywall anchors, a tape might be less hassle to work with than a laser. Still, if you have a corner of the room to measure from, a laser with a built-in level and a "stake-out" mode for marking evenly spaced distances can do the job very quickly.
Surface measurements: A laser lets you down if you want to measure along a surface rather than between objects. Marking a board for miter-saw cuts, for example, is far easier with a tape. Lasers are also pretty bad at measuring uneven terrain like grass. You can use stakes, post-it notes or masking tape to create targets for the laser to shoot, but a tape measure can just lie on the ground.
Bright sunlight: If you're working on an outdoor job, a tape will nearly always work flawlessly, so long as it's long enough for the job. With a laser, you need to keep track of the dot by setting up your measurements carefully and resting the meter on something that won't shake or move.
Other measurement tools
Augmented reality programs on your smartphone are now able to create impressive room maps with just motion sensors and cameras, but none of them are precise enough to give you a layout you can rely on for important jobs. With the right combination of software and a Bluetooth-connected laser distance measure to verify critical dimensions, however, you can get the best of both worlds.
The bottom line
Laser distance measuring tools have come a long way, and we were impressed with the accuracy of even the most inexpensive tools we tested. For taking room or DIY project measurements, these all worked well. If you're working outside on a bigger job, you'd need to spend big bucks to get something with a sight glass or camera for reliable measurements at more than 100 feet.
With the best features in a stand-alone tool, the Bosch – GLM 50C is a replacement for a tape measure, a plumb bob and even a laser level. The graphical interface makes changing modes and settings much easier, and the free Bluetooth-connected app is a good way to draw basic floor plans.
If you want compatibility with AutoDesk or A La Mode software products, the Leica – DISTO D2 is the easy choice. Even though this Disto doesn't have as many features as the Bosch, the compatibility will be more important for many professional users.
If you're on the other end of the spectrum, just looking for an affordable laser you can still rely on, the Tacklife – HD60 is accurate, bright and fairly easy to use without skimping on handy features.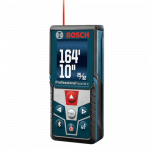 Top Pick: Bosch - GLM 50C
If you want a laser measuring tool for less than $150, the Bosch does the most and hassles you the least. The full-color screen gives you functions like an angle finder, stake-out mode, and easy unit switching that make it a valuable tool for professionals and homeowners alike. Bosch's Bluetooth compatibility is good, and the range is more than most of us will be able to use.