The Best Patio Umbrellas and Stands
We spent weeks opening and closing, cranking and tilting and lounging in the shade of our seven patio umbrella finalists. Ultimately, we determined that the best market-style patio umbrella is Treasure Garden. We recommend pairing this well-designed, attractive, and durable market umbrella with the best umbrella stand, Shademobile's Rolling Umbrella Base. Alternatively, if you prefer a larger, offset-style umbrella, the best cantilever-style umbrella is Hampton Bay's 11-foot option.
We spent weeks opening and closing, cranking and tilting and lounging in the shade of our seven patio umbrella finalists. Ultimately, we determined that the best market-style patio umbrella is Treasure Garden. We recommend pairing this well-designed, attractive, and durable market umbrella with the best umbrella stand, Shademobile's Rolling Umbrella Base. Alternatively, if you prefer a larger, offset-style umbrella, the best cantilever-style umbrella is Hampton Bay's 11-foot option.
Table of contents
The 10 patio umbrellas and stands we tested
| Patio Umbrella | Price | Materials | Special Features |
| --- | --- | --- | --- |
| 1. Treasure Garden | $$$$ | Sunbrella fabric, aluminum frame | Deluxe auto-tilt |
| 2. Abba | $$ | Recycled polyester fabric, aluminum pole, steel ribs | Push-button tilt |
| 3. Hampton Bay | $$ | Polyester fabric, all-steel frame | Push-button tilt |
| 4. Sunnyglade | $ | Polyester fabric, aluminum pole and ribs | Push-button tilt |
| Cantilever Umbrella | Price | Materials | Special Features |
| --- | --- | --- | --- |
| 1. Hampton Bay | $$$$ | Olefin fabric, steel frame | Sliding-mechanism tilt |
| 2. Abba | $$$ | Polyester fabric, aluminum pole, steel ribs | Five-position push-button Tilt |
| 3. ABCCANOPY | $$ | Polyester fabric, aluminum frame | Sliding-Mechanism Tilt |
| Stand | Price | Materials | Special Features |
| --- | --- | --- | --- |
| 1. Shademobile | $$$ | High-density polyethylene | Four wheels, two locking, fill with bricks, sand and/or gravel up to 125 lbs. |
| 2. Abba | $$ | Recycled plastic, steel pole | Fill with sand, gravel and/or water up to 50 lbs. |
| 3. US Weight | $ | U.V. stabilized polymer | Fill with sand, gravel and/or water or prefilled with concrete up to 50 lbs. |
Best market style: Treasure Garden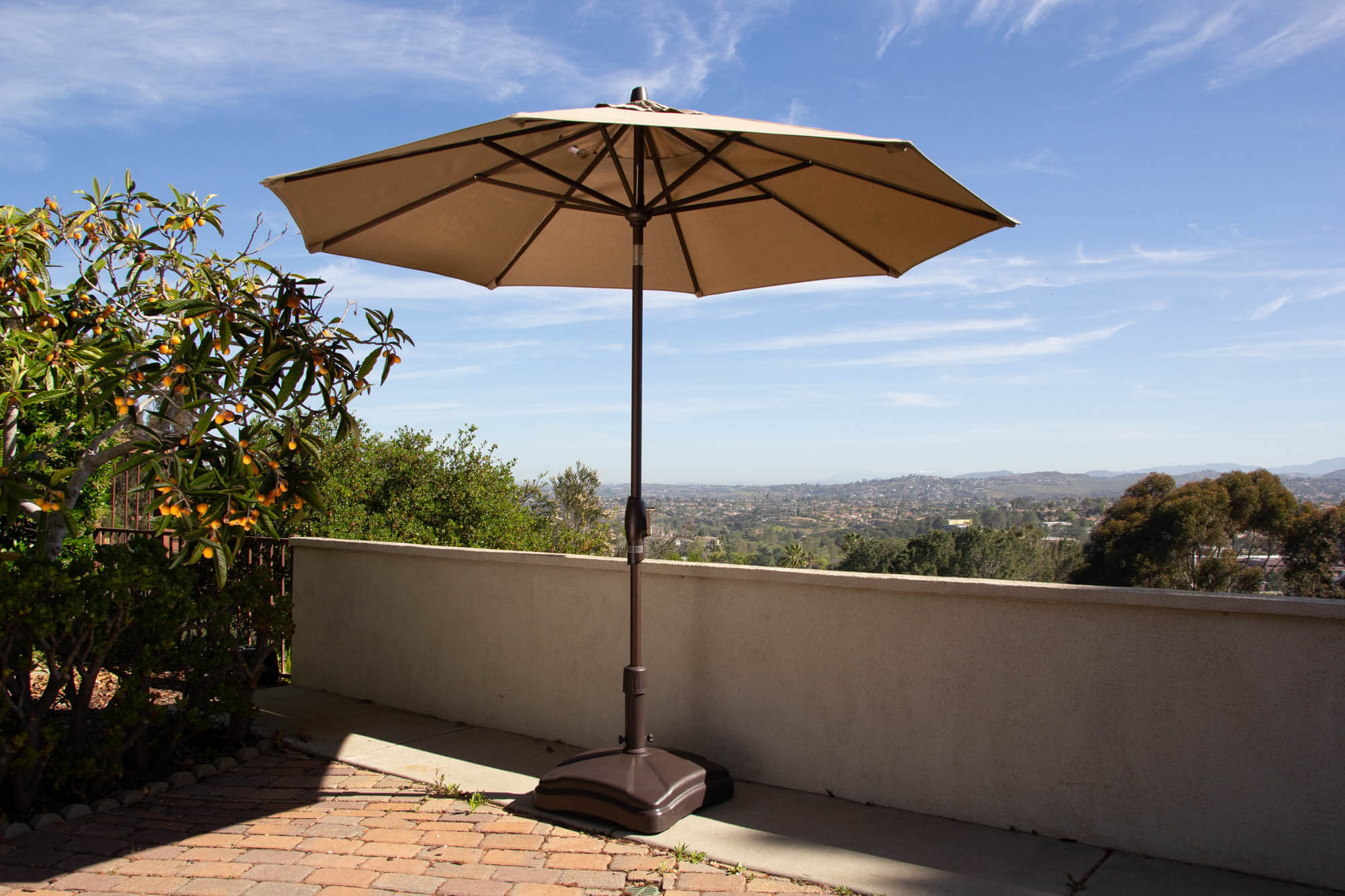 The Treasure Garden is a nine-foot, market-style umbrella that consists of a canopy attached to a pole in the center. It can be set up either free-standing in an umbrella stand or placed through the center hole of an outdoor dining table and into a base. This beautiful and well-constructed product has several stand-out features — including an easy crank deluxe auto-tilt and durable Sunbrella fabric —  that distinguish it as the best patio umbrella.
First of all, the deluxe auto-tilt feature is a game-changer. Rather than struggling with a hard-to-reach, finicky push-button tilt — as was the case on the other market umbrellas tested — Treasure Garden's auto-tilt function is built into the same mechanism as the opening crank handle.
Once the umbrella is fully opened, you simply continue turning the opening crank and the canopy will start to tilt. It can tilt anywhere from one to 30 degrees from its original upright position. This auto-tilt feature is especially useful for shorter individuals or anyone who doesn't want to struggle with difficult to maneuver, push-button tilt mechanisms.
Treasure Garden's entire easy crank system is not only easy to use, it is also extremely durable. The involved cable is made from heat-resistant, braided Kevlar —  the same material used to make military-grade body armor. In other words, you won't need to worry about the cable snapping on this product.
The other thing we loved about this umbrella is the Sunbrella fabric. As mentioned earlier, Sunbrella is generally considered the gold standard of outdoor fabrics. We can certainly understand why. The octagon-shaped canopy is gorgeous to look at, soft to touch, easy to clean, fade-resistant, and significantly longer-lasting than many other outdoor fabrics. Treasure Garden backs the Sunbrella fabric with a full five-year warranty.
While we really liked the Heather Beige color, the fabric is also available in 14 other color options.
Treasure Garden is simple to set up. It comes in a box with two pieces: a rust-free aluminum pole, which quickly locks into place on the canopy. The frame is well-made, extremely stable, and has a three-year warranty.
At 17.7 pounds, this umbrella can be easily moved around or put away as desired. It has an attached fabric tie-closure to secure your canopy when not in use. An umbrella stand is required to properly secure this product, but it is not included. We highly recommend the Shademobile stand for this purpose.
The only drawback of Treasure Garden is the cost, which is five times the cost of the other market umbrellas we tested. However, because of its high-quality materials, this patio umbrella is designed to last for years. So instead of buying an inexpensive new umbrella every time your old one fades or breaks, consider investing in Treasure Garden ,and enjoy its deluxe features for years to come.
Key takeaways:
The easy crank deluxe auto-tilt system makes opening and tilting your umbrella simple and frustration-free.
The Sunbrella canopy fabric is durable, fade-resistant, and easy to clean.
This product offers a five-year fabric and three-year frame warranty.
Best cantilever style: Hampton Bay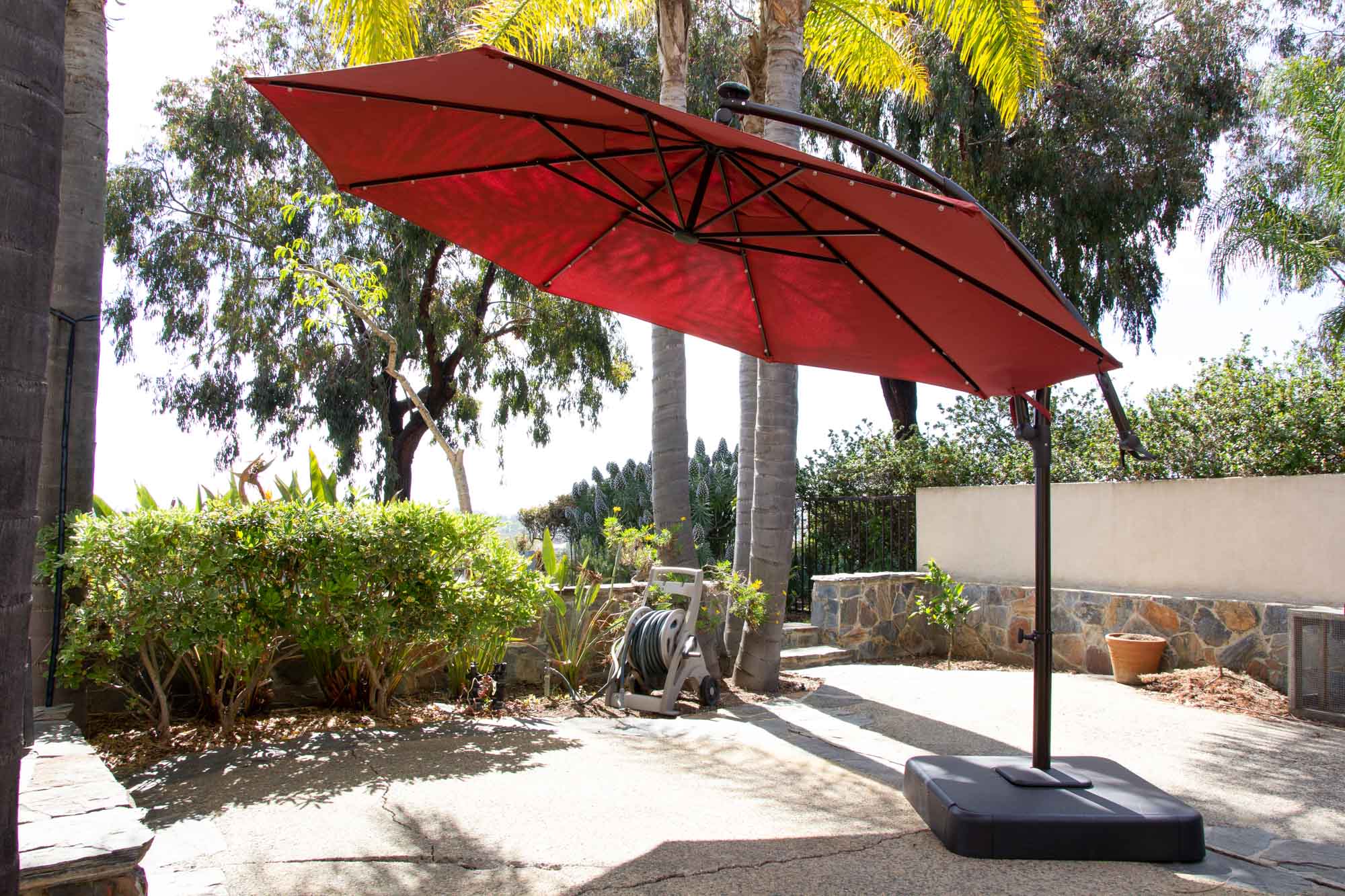 The Hampton Bay 11-foot round offset patio umbrella is the clear winner for best cantilever umbrella. This well-designed, oversized umbrella provides ample shade and offers a contemporary look to any modern-day patio. The cantilever style is appropriate for shading outdoor lounge-furniture areas, outdoor dining sets, hammocks, or even hot tubs and swimming pools.
As with all of our umbrella finalists, Hampton Bay uses a crank mechanism to open and close the canopy. Given the large size of this umbrella, this one works surprisingly smoothly and easily lifts the canopy.
Unlike some of the other umbrellas, this particular crank can be challenging to reach for shorter individuals when the umbrella is fully extended. To work around this potential problem, you can first pull the tilt handle back towards you to lower the height of the crank mechanism and then use the crank to close the umbrella.
This versatile product can be tilted into several positions. A curved upper pole involves the offset canopy hanging from one end with a handle to grip on the other. By pulling on this handle, the canopy can be slid into different tilt positions anywhere along the curved pole. After tilt is adjusted, the canopy can be locked into place by turning an adjacent knob. Although tilting the umbrella is relatively simple, it took us several initial tries to get comfortable with the sliding motion.
The umbrella comes in a large, heavy box (69.1 pounds) that is awkward to maneuver. We needed two people to carry it from the doorstep to an appropriate assembly area. All pieces, including tools and hardware, were clearly labeled and nicely packaged in the box along with detailed assembly instructions.
Although this product required more assembly than the other cantilever umbrellas, most of it was for the included umbrella base. The other cantilever finalists required bases to be purchased and assembled separately.
During assembly, a second pair of hands was helpful, though not required, to hold and snap together various pieces of the base. We also appreciated assistance loading sand (sold separately) into the four velcro-closure vinyl bags located within the base.
Once assembled, Hampton Bay — particularly the base — was bulkier than all of the other umbrellas we tested. Because of this, this umbrella is best placed either in a patio corner or other strategic location so it won't be in the middle of your outdoor living space. On the plus side, this large base allows for this umbrella to be appropriately weighted with up to 220 pounds of sand or gravel. This heavy base weight provides excellent stability for this large umbrella.
Don't be tempted to skimp on using the recommended amount of sand. Note that the base is not designed to be weighted with water. If you don't properly weight this umbrella, it will tip over.
It probably won't come as a surprise that adding 220 pounds of sand to a 69.1-pound umbrella makes the whole thing extremely difficult to move. To save yourself a lot of trouble, we recommend carefully selecting your assembly location to be the same as the permanent location of your umbrella. The good news is that the canopy can swivel 360 degrees for flexibility.
Overall, we found Hampton Bay to be one of the most well-constructed and sturdy umbrellas we tested. Although the rust-resistant base and 2-inch steel pole are extremely stable, the canopy is designed to suspend down from the arched pole and freely sway in the wind. While this works fine in somewhat breezy conditions, we recommend lowering and storing the canopy in higher winds.
Another feature we loved about Hampton Bay is that it includes lighting. Forty solar-powered LED lights illuminate the inside of the canopy frame and create a festive evening ambiance. The solar cell rests mostly out of view on the top of the canopy and a small on/off switch hangs along the edge. Replacement LED lights are included.
We also really liked the gorgeous fabric of the octagon-shaped canopy, made from weather-resistant, 100-percent Olefin. This fade-resistant material has a nice, soft, breathable feel, particularly when compared to the standard polyester of many other umbrellas. The cheerful, chili-red color option is a fun shade for all seasons. An additional four colors are also available.
Two attached velcro straps are helpful for storage purposes.
Key takeaways:
The Hampton Bay is our choice for best cantilever umbrella.
Its contemporary design makes an attractive addition to any outdoor lounge area, dining table set, swimming pool or other patio surroundings.
The high-quality canopy is made from 100-percent weather-proof and fade-resistant Olefin.
Best patio umbrella stand: Shademobile
Although it was somewhat of a hassle to assemble, Shademobile – Rolling Umbrella Base is our pick for best patio umbrella stand. It is for use with market umbrellas only.
Shademobile has several features that we really appreciate. The first stand-out feature is a set of wheels that allow you to move it around to maximize shade options. Because Shademobile can accommodate up to 125 pounds of sand and bricks to properly stabilize your umbrella, this rolling feature is especially helpful, because it would be very heavy to lift. Two of the four non-marking wheels lock into place for stability or, when unlocked, allow the base to roll or pivot as needed.
Another great feature of Shademobile is that it is supportive enough to hold a free-standing market umbrella. Many umbrella stands are designed for use only with a patio table, but because Shademobile offers a heavier base and supports umbrellas further up the pole, table support is not necessary. You do, however, still have the option to use Shademobile under an outdoor table.
It is very easy to insert an umbrella into or remove it from Shademobile. The adjustable style fits umbrella poles between 1-⅜ inch and 2-1/16 inches in diameter. Once inserted, two small knobs secure the pole into place.
Shademobile is made from high-density polyethylene — a durable, low-maintenance material that will not rust or chip. It comes in three colors: black, bronze or sandstone.
One noticeable drawback is that Shademobile is bulkier than other stands. So, if your sole goal is to use it underneath a patio table, this stand might not be the best option. However, if you would like the flexibility to use it to support a free-standing market umbrella elsewhere on your patio, it's a great choice.
For the most effective stability, it is recommended to fill Shademobile with both bricks and sand. A combination of the two offers the heaviest weight. It is not designed to be filled with water. Detailed assembly instructions are included.
Key takeaways:
Shademobile provides a supportive base for free-standing or table-supported market-style umbrellas.
It can be filled with up to 125 pounds of bricks and/or sand for maximum stability.
Attached wheels offer a convenient method to move your umbrella stand around your patio.
Other products we tested
Abba – Market Table Umbrella
The Abba — a nine-foot, market table umbrella — is relatively lightweight at 16 pounds, simple to set up, easy to use and a nice addition to shade your patio that won't break your budget. It is a good option for anyone looking for a less expensive umbrella than Treasure Garden.
As with all of our finalists, Abba has a crank opening that is easy to reach and operate. We noticed that it's noisier when cranking than others. Abba also offers a push-button tilt mechanism that moves the opened canopy into three different positions: upright or tilted to about a 30-degree angle on two opposite sides. We found that the button sometimes gets stuck, causing the use of the tilt function to be frustrating.
Abba's round, nine-foot canopy is made from recycled polyester, so it's a good option if you want to be eco-friendly.
The frame is constructed from a 1.5-inch rust-free powder-coated aluminum pole with six steel ribs. The six-ribbed frame is different than the other umbrellas tested, all of which had eight. The fewer number of ribs gives the canopy a nice appearance since more fabric and less metal is visible. We did not feel that the fewer number of ribs noticeably compromised the canopy's stability.
Although the overall frame is perhaps not as sturdy and well-made as Treasure Garden, it still appears to be stable enough for most situations.
Abba is easy to set up, with good instructions and virtually no assembly. The main step is to screw the umbrella pole into the canopy frame.
Although we did not experience any severe wind during our testing period, Abba is equipped with a single wind vent to allow for breezy conditions. An attached Velcro closure strap is useful when storing the umbrella. As with all the market umbrellas tested, an umbrella base is required and sold separately.
Hampton Bay – Steel Crank-and-Tilt Patio Umbrella
The Hampton Bay is very similar to Abba's market umbrella and another good budget option for patio shade. Again, there is very little assembly required and, as you might expect from Home Depot's house brand, the involved instructions are detailed and easy to follow. The main step is to attach the umbrella pole to the canopy section by pushing a small button and sliding them together until they lock in place.
Like Abba, the crank opening is easy to use and reach. The push-button tilt places the umbrella into similar positions. Overall, we found it easier to operate than the Abba tilt.
The round canopy is made from polyester fabric. The sewing quality, however, wasn't as clean as Treasure Garden or Abba, and there were a lot of loose threads hanging from the canopy. The all-steel frame (pole and ribs) appears sturdy and well-made. However, the dark-brown coating on the steel frame chips easily, so if you are moving your umbrella around frequently, this may be an issue.
The umbrella is lightweight at 13.6 pounds. As with the other market umbrellas, Hampton Bay requires an umbrella stand which is not included. This product offers a one-year limited warranty.
Sunnyglade – Patio Umbrella
As the least-expensive umbrella we tested, Sunnyglade is the most budget-friendly option. It is quick and easy to put together, involving a similar push-button assembly to Hampton Bay's market umbrella. There are no assembly instructions included.
The crank opening is easy to reach and operate. Sunnyglade also has a similar push-button tilt to the same three positions as Abba and Hampton Bay. Like Abba, the button gets stuck and is challenging to use.
Both the frame and fabric are thinner and lighter weight than the other market umbrellas we tested. Overall, Sunnyglade seems comparatively less well-made based on poorer sewing quality and overall construction than the other market umbrellas. Also, it does not come with an umbrella tie for storage purposes. Like the other umbrellas, Sunnyglade features a single wind vent for breezy conditions. The fabric is available in seven different colors.
Abba – Patio Cantilever Umbrella
We liked many things about Abba – Patio Cantilever Umbrella. The umbrella is large, attractive, and fairly low-profile, especially for an offset-style umbrella. It also has a well-designed, five-position tilt mechanism.
As with all cantilever umbrellas, this product was significantly more difficult to set up than our four market umbrellas. This had a lot to do with its being both awkward and heavy (61.7 pounds). Assembly instructions were included and helpful, though there were a couple of steps that we found confusing.
Assembly required two people to carry the box and also to lift the awkward canopy onto the crossbar base, so plan accordingly when setting up this umbrella. We had some trouble aligning a couple of the parts to screw together, but we ultimately succeeded.
The crank opening mechanism is easy to use, though hard to reach when the umbrella is in its highest, horizontal position. To work around this potential issue, you can first lower the tilt, then more easily reach the crank handle. The feature we really liked on this product is the five-position, push-handle vertical tilt. This convenient mechanism slides very smoothly along the pole and makes it a breeze to change tilt positions. It quickly and securely clicks into position.
We used Abba-brand base weights (purchased separately, not reviewed in this post) to weigh down the crossbars on our umbrella, but a variety of other weight options can be used. Alternatively, the crossbars can be bolted down to a wooden deck. When properly weighted, the umbrella base felt very stable.
Abba's round, hanging canopy is made from polyester and appeared sturdy and well-made. As with all cantilever umbrellas, it is designed to sway in the breeze, but not recommended for use during high winds. Abba's frame is constructed from a bronze powder-coated aluminum pole and steel ribs. The non-circular pole is significantly thicker than market umbrella poles, with dimensions of 3.2 inches by 2.1 inches, which makes it more stable.
We noticed that the pole was soldered onto the base slightly crooked, but we were hard-pressed to say whether this made the umbrella appear off-center when fully assembled.
We loved the cocoa color, but Abba also comes in five other attractive options. It includes an attached storage strap with Velcro closure.
ABCCANOPY – Cantilever Umbrella
Although we liked that ABCCANOPY – Cantilever Umbrella was less expensive than the other two cantilever-umbrella finalists, we found it to be a poorly designed product made from inferior materials.
The initial assembly was straightforward, although product parts did not include a wrench, which was required to tighten four bolts.
The 'easy' crank opening mechanism was disappointing. Despite the fact that this umbrella canopy was smaller than the other two cantilever products tested, it nonetheless required more strength to turn the crank open or closed.
We also didn't care for ABCCANOPY's tilt mechanism. This involves a sliding bar with a handle that secures the tilt position. However, the mechanism is made from flimsy plastic, poorly designed, and extremely difficult to slide along the pole. At one point, while attempting to adjust, an involved plastic piece snapped.
The canopy can rotate 360 degrees, so there was no need to move the base to reposition as the sun moved. Given that this product recommends 120 pounds of weight to secure the crossbar base, this was beneficial.
There was no Velcro or tie strap to secure the canopy when lowered.
The ABCCANOPY is flimsier and less stable than either Hampton Bay or Abba cantilever umbrellas, but its main advantage is its budget price. If you purchase this umbrella, you may need to put the company's lifetime warranty to the test.
Abba – Round Patio Umbrella Base
The Abba – Round Patio Umbrella Base is a sturdy umbrella stand to use with either free-standing or table-supported market umbrellas. Although this product is made primarily from recycled plastic, a 14.6-inch attached steel pole offers additional support. It can be filled with water, sand, or soil through a convenient opening at the top of the base.
The stand's diameter is 23.4 inches and has a nice conical shape for under-table use. It can support free-standing market umbrellas as large as 11 feet and comes in black or brown. We liked that this environmentally-friendly product is made from recycled plastic bottles.
Although we preferred the rolling feature of Shademobile, Abba is lower-profile and may be more appropriate for under-table use, particularly under a small table.
US Weight – 50-Pound Umbrella Base
We weren't huge fans of the US Weight – 50-Pound Umbrella Base for several reasons. First, it's limited for use with table-supported market umbrellas only, although we didn't find it particularly stable even for this purpose. It can be filled with sand or gravel to about 40 pounds, or there's a 50-pound pre-filled option available that includes a solid concrete core. Technically, water can be used but is not recommended by the manufacturer.
There is a single screw that is supposed to secured the pole after it is placed into the base; it doesn't do an effective job. When used with a table for support, a market umbrella is reasonably stable in this stand, but we did not have the opportunity to test this setup in windy conditions. When we attempted to use this stand with a nine-foot free-standing market umbrella, the umbrella was extremely wobbly.
We liked that US Weight is smaller and lower-profile than Shademobile or Abba, with a convenient built-in handle that makes it easy to carry around. It was also the least expensive of the umbrella stands we tested. It can accommodate 1 inch to 1.7-inch umbrella poles. The material appears durable and is advertised to not crack or fade in any weather. The stand comes in five color options: black, sand, white, platinum silver or bronze.
How we selected
We began our search for the best patio umbrella and umbrella stand by exploring retailer ratings and user reviews online. We also delved into product offerings from major distributors of outdoor patio products like Home Depot, Lowe's, Costco, Target, and Walmart. We then checked out Amazon: Best Rated Umbrellas and The Wirecutter.
Finally, we researched a range of related umbrella shopping guides that included Patio Living: Outdoor Umbrella Buying Guide and Overstock: Patio Umbrella Buying Guide. This narrowed our finalists down to seven patio umbrellas and three umbrella stands.
How we tested
Set-up
Our patio-umbrella and umbrella-stand finalists required varying levels of assembly from simple steps like placing the pole into the canopy to much more complicated instructions involving hardware and small tools. Our assembly tester, who is not particularly handy, was ultimately able to follow all instructions to complete assembly on all products.
The four market umbrellas were very easy to assemble. Two of the three umbrella bases were also fairly simple. The third, Shademobile, involved more steps and was helped along by a power screwdriver. Our assembler required a second pair of hands to assemble the three cantilever umbrellas due to heavy and awkward lifting. The cantilever umbrellas also required significantly more time. All hardware and most tools involved were included and clearly labeled in the boxes.
Opening mechanism
Once we had our products assembled, we spent some time repeatedly opening (and closing) our umbrellas. All of our finalists featured a crank-lift opening mechanism. Some of them, including Treasure Garden, Hampton Bay, and Abba were easier to operate than others because the handle turned more smoothly so the umbrella required less physical effort to adjust. We found ABCCANOPY to be particularly difficult to open and close.
Tilt and rotation mechanisms
Next, we set about adjusting the positions of our umbrellas by experimenting with tilt and rotation features. Three of our four market-umbrella finalists have a push-button tilt with three positions: upright or tilted to an approximately 30-degree angle on opposite sides of the pole. Beyond that, the poles could rotate in their bases to provide shade to additional areas. We generally found the push-button tilts challenging to maneuver due to both their height and less than smooth operation.
Our fourth market umbrella, Treasure Garden, offered a deluxe auto-tilt feature that operated on the same crank as the opening mechanism and made it very easy to tilt the umbrella. While it only tilted in one direction, the umbrella pole could be rotated to swivel the tilted canopy into any desired position.
The three cantilever umbrella finalists all used different tilt mechanisms. We preferred the long, sliding handle of Hampton Bay, which allows the user to choose any tilt position along the pole. We also found the five-position tilt handle of Abba very smooth to operate. The ABCCANOPY tilt was the trickiest to operate because it didn't slide along the pole smoothly due to poor design and construction. On the positive side, it allowed the canopy to rotate a full 360 degrees.
Stability
Our stability tests had much more to do with the umbrella stands than the actual umbrellas. We found that all of our market patio umbrellas felt similarly stable when placed in the same umbrella stand. Shademobile was the most stable option. We also liked the Abba umbrella stand, which can be filled with water and is lower-profile for under-table use. The US Weight base is designed for use with a table-supported umbrella only. We didn't find it particularly stable even in that situation.
Durability observations
All of our finalists endured several weeks of outdoor testing, some light rain, and a lot of tree leaves and sap. All products came through in good condition, and they were all easy to clean.
During this time, we took note of any noticeable design or construction flaws that might impact longer-lasting durability. For example, several canopies showed poor sewing technique with abundant unraveling threads throughout the canopy.
Types of patio umbrellas
There are two major types of patio umbrellas available: market umbrellas and cantilever umbrellas. Other less common types include sail, wall-mounted, and tiki umbrellas. These are all great paired with a zero gravity chair too.
Market umbrellas
A market umbrella, also known as a table umbrella, consists of an umbrella canopy attached to a pole in the center. The canopy is usually round or octagonal and comes in a wide variety of colors, designs, styles, and materials.
This type of umbrella is intended to be used with an umbrella stand, which is almost always sold separately. Depending on the style of umbrella stand, market umbrellas can be set up either free-standing or, more commonly, placed through the center hole of an outdoor dining table into a base. If you'd like to use your market umbrella in a free-standing manner, be sure to purchase an appropriately supportive umbrella base.
The vast majority of market umbrellas are ten feet in diameter or smaller, with a standard size of nine feet. For context, a nine-foot umbrella is large enough to shade an outdoor dining set that accommodates six to eight people. One major advantage of this type of umbrella is that, because it is relatively lightweight, it is easy to move around to different locations on your property. It is also easy to put away during bad weather and/or winter months.
Cantilever umbrellas
A cantilever umbrella has a swaying canopy that hangs down from a curved or angled pole attached to an offset, heavily weighted base. This style umbrella tends to be larger than nine feet and is used to shade collections of outdoor furniture, pools and hot tubs, hammocks, or other areas where you don't want a pole to obstruct your living space.
This type of umbrella is heavier and more cumbersome to move than a market umbrella. Depending on the size, recommendations for cantilever-umbrella base weights can be over 200 pounds. When you factor in the weight of the actual umbrella, which can add another 50 to 100 pounds, moving around such an umbrella is challenging, even with multiple people helping out.
Sail umbrellas
A sail umbrella is a frameless canopy or piece of cloth. It is usually triangular or rectangular and can be attached to adjacent structures using hooks and/or ropes.
Wall-mounted umbrellas
Instead of attaching to a base with a vertical pole, like a market or cantilever umbrella, a wall-mounted umbrella comes with a jointed arm that is horizontally mounted to an exterior wall.
Tiki umbrellas
A tiki umbrella is similar to a market umbrella but has a thatched canopy. It almost always has a wooden frame and pulley-system opening mechanism.
Important features to consider
Size and shape:  A nine-foot umbrella, for example, is the standard size to shade a table for six to eight people.
While many umbrella canopies are round or octagonal, there are also rectangular and other shapes. A rectangular shape may be appropriate for shading the shallow end of a rectangular swimming pool, whereas a round canopy may better suit a hot tub.
Style: There are two major types: market or cantilever. If you are willing to have the pole of a market umbrella in the middle of your shaded space, this is a cheaper option, or cantilever types position the pole completely out of the way.
The canopy size may also factor into which style you should purchase since cantilever umbrellas tend to be larger.
Canopy fabric: Look for ones that are durable, fade-resistant, mold and mildew resistant, easy to clean, and that provide strong UV sun protection. Although high-quality, weather-resistant materials may cost substantially more initially, but can ultimately save you money.
Sunbrella: Sunbrella is considered the gold standard of outdoor fabrics. It is made from soft-to-the-touch, 100-percent eight-ounce solution-dyed acrylic. While many dyeing methods only treat the exterior of the fabric, which fades over time, the Sunbrella technology locks in colors by mixing them into the fabric before it is spun. This creates a more robust, color-safe result.

Sunbrella offers a three-year warranty against fading on their fabrics and the Skin Cancer Foundation has awarded a "Seal of Recommendation" for Sunbrella fabrics' effectiveness in providing sun (UPF) protection and helping to prevent skin cancer.

Oatdura and Spuncrylic: Oatdura and Spuncrylic are very similar to Sunbrella and are also solution-dyed, fade-resistant, high-quality fabrics. They tend to be less expensive than the Sunbrella brand.

Olefin: This is another good option made from synthetic polypropylene or polyethylene. Although Olefin is nearly as color-fast as Sunbrella fabrics, it isn't as soft. It provides good UV protection, is durable and easy to clean and offers a one-year warranty against fading.

Polyester: The most common material for canopies. It comes in many colors and patterns and is much kinder on the budget than high-end fabrics. It is also reasonably durable, quick to dry, lightweight and easy to maintain. However, not all polyesters are created equal. Look for thicker material with a higher rating number (i.e. 250-plus grams per square meter) for longer-lasting durability. Polyester will fade more quickly than Sunbrella or Olefin.
Frame materials: The umbrella frame includes the pole and ribs. Look for materials that are weather-resistant and rust-proof. Many umbrellas use aluminum which is lightweight, durable, budget-friendly, and can be finished in different coatings and colors.
Treated wood can prevent damage from moisture or insects. However, wood is more likely than other pole materials to snap in extremely windy conditions.
A fiberglass frame is the best option in windy weather since it is very lightweight and bendable, but it is also more expensive. Some umbrellas mix materials on the frame, such as using aluminum for the pole and fiberglass for the ribs.
Opening and tilt mechanisms: There are a variety of mechanisms used to open patio umbrellas.
Basic: Simply pushing the umbrella open until it clicks into place, similar to a simple rain umbrella.

Easy crank opening: This requires turning the crank one way to open the umbrella and the other direction to close it. This style is great on larger umbrellas since the canopies are heavy.

Pulley opening: Although not as common, some patio umbrellas use a pulley opening system. This is more common on wood-framed varieties.

Tilt function: Most patio umbrellas offer this, allowing the umbrella to tilt away from a horizontal angle in order to maximize shade.

Push-button tilt: Many market-style umbrellas use a push-button tilt which is located towards the top of the pole, just under the canopy, and can be reached when the umbrella is fully opened. For shorter people, reaching the tilt button can be a challenge. Some models tilt more smoothly than others.

Auto-tilt: One deluxe feature that we really like, particularly on large market umbrellas, is an auto-tilt. This works on the same crank mechanism used to open the umbrella. Once the umbrella reaches its maximum open position, you simply continue to crank the handle in the same direction and the umbrella will begin to tilt.
Wind resistance: Many patio umbrellas are equipped with a single wind vent to allow wind to pass through the fabric rather than pick it up like a sail. Some larger, high-end, or commercial-grade models offer double wind vents. During extreme wind conditions, we always recommend lowering your umbrella or storing it indoors.
Price: Cantilever umbrellas are usually more expensive than market umbrellas, but there are also budget options. Keep in mind that higher prices are often the result of more durable materials, and the umbrella will last longer as a result. Additional features add to the cost of a basic umbrella.
Stands: For market umbrellas, umbrella stands are almost always sold separately. Some are designed to support a free-standing umbrella, whereas others require the use of a table to provide additional stability.
Most cantilever umbrellas are sold with a crossbar base that requires weights. In most cases, base weights are purchased separately — although some cantilever umbrellas include both the crossbar and a more substantial base that can be filled with sand or gravel to secure and stabilize the umbrella.
For market umbrellas, one helpful guideline is to multiply the diameter of your umbrella by ten. So, for a nine-foot umbrella, you'd need a 90-pound base. If using a table to support your market umbrella, a 50-pound stand may be sufficient under most conditions.
Cantilever umbrellas require significantly more weight than market umbrellas in order to counterbalance the offset style. Recommended base weights can total over 200 pounds, though these are often divided into four parts for manageability.
The bottom line
Overall, we found that the best patio umbrella is Treasure Garden. This nine-foot market-style umbrella is well-designed, attractive and extremely durable. The soft-to-the-touch, fade-resistant, and easy-to-clean Sunbrella material, along with this product's outstanding deluxe auto-tilt feature, combine to create a long-lasting and frustration-free umbrella that will provide ample shade on your patio for years into the future.
We recommend pairing Treasure Garden with the best umbrella stand —  Shademobile. This product offers excellent stability for either free-standing or table-supported market umbrellas. Because it has the unique feature of being on wheels, Shademobile makes it easy to roll your umbrella around to different areas of your patio in order to maximize your shade options.
Finally, because it accommodates up to 125 pounds of base weight in the form of bricks and/or sand, it can support large umbrellas.
If you're looking to shade outdoor lounge furniture, a swimming pool, or something other than a basic outdoor dining set, you may want to consider a cantilever umbrella. The best cantilever umbrella we found is Hampton Bay's 11-foot round-offset option. We appreciated the contemporary design, high-quality Olefin fabric, and easy-to-use crank and tilt mechanisms.