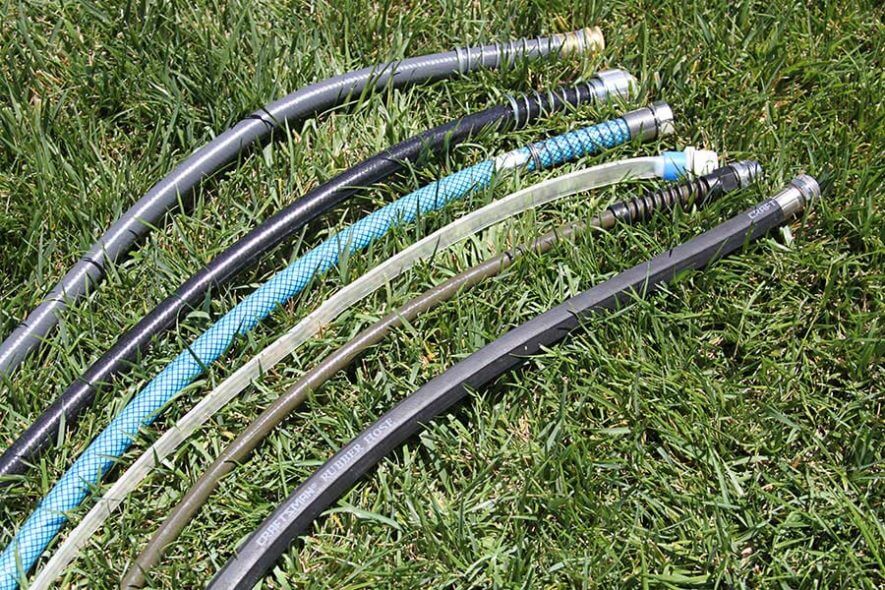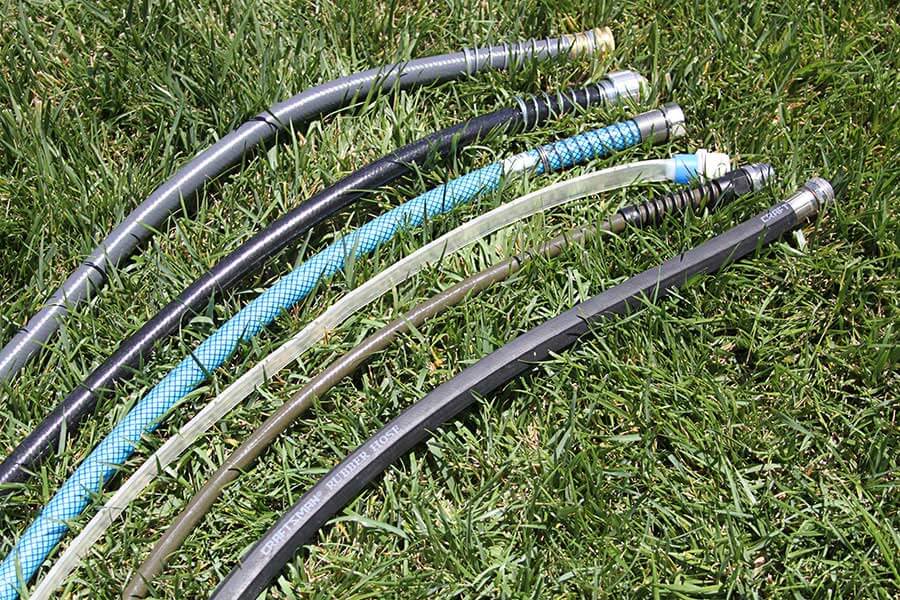 After six weeks and more than 40+ hours of testing, we determined that the Bionic Steel PRO – stainless steel hose is the best lightweight and flexible hose for smaller areas and gardens, and the Briggs and Stratton – 8BS50 garden hose is the best heavy duty hose. Not only is this hose sturdy and manageable, but it's also durable and comes with a lifetime manufacturer's warranty. For people who need a garden hose for extremely cold weather, the Clear Flow garden hose is a viable alternative.
Table of contents
The 7 garden hoses we tested
1. Best for flexibility: Bionic Steel PRO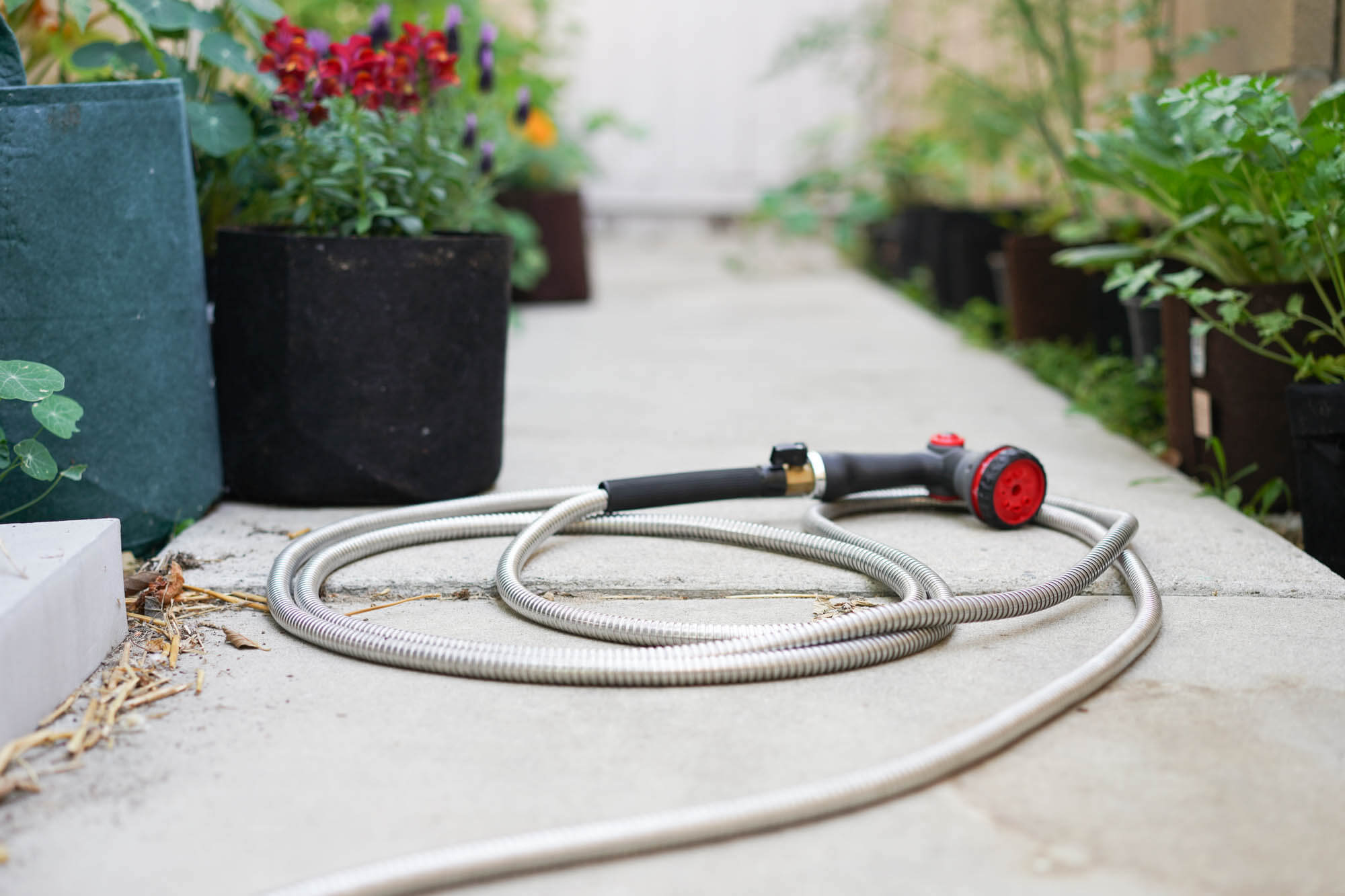 The Bionic Steel PRO was the first stainless steel hose we've tested and the experience was much better than expected, we loved it. We've been used to using rubber and other plasticky type hoses for this review, and for our entire lives so weren't sure what to expect.
This stainless steel hose is extremely lightweight compared to rubber hoses. It was a breeze to drag this around our patio and our garden. We only tested the 25′ version which is perfect for our patio or area under the pergola, but if we just wanted a single hose that reached our entire yard from a central faucet, a 50′ might do the trick, and a 100′ hose would definitely do the trick.
The flexibility of this hose was unexpected and amazing to work with. We have a lot of grow bags and pots laying around on the patio area and this steel hose is extremely flexibile–like having hundreds of free flowing joints. It easily bends and curves where we need it, laying flat on the ground without knocking any pots over or damaging our plants, which we have to be super careful to do with any rubber hose in a tight space.
Unless you absolutely need a tougher rubber hose to run over with your car or lawn tools for whatever reason, we absolutely loved the lightweight stainless steel design, and the flexibility to drape the hose and bend it around any shapes we need. Make sure to check out our review of expandable garden hoses for another flexible compact hose option.
This was the 2021 model (the company has a few versions out there), with brass fittings, which feels really high quality. The valve at the end is a great extra touch so we can shut off the water near the nozzle, and switch nozzles if needed (like we had to do often while testing for our review of hose nozzles.)
Many reviews for these steel hoses reveal that they aren't only stainless steel, but they have a plastic tubing inside. It wouldn't be easy to make it leakproof without this inner hose. This wasn't an issue for us, but there were some reviewers having issues with the hose bulging out, exposing the plastic and destroying the steel casing. We're not sure how this would happen, but throughout our testing have dodged all the issues.
2. Best heavy duty: Briggs and Stratton – 8BS50
Editors note for 2021: We originally tested the Craftsman – Premium Rubber Garden Hose and loved it but it seems to be discontinued. We searched for an alternative heavy duty product, and after purchasing the Briggs and Stratton – 8BS50 we're pretty certain this is the exact same product that is simply rebranded. The design, size, shape of fittings at the end, the hexagonal shape of the hose, the netting texture on the hose, and everything else about the way it looked and behaved was extremely similar to the Craftsman. Below is our original review with updated test notes for both products.
As soon as we started testing the Briggs and Stratton / Craftsman hose, we had a feeling it was going to be the top pick. After spending a month and a half testing the Briggs and Stratton hose along with our other five finalists, this feeling was confirmed.
The Briggs and Stratton gardening hose is easily the best option overall. Unless you have specific garden hose requirements — for example you'll be drinking from the garden hose or using it in particularly cold weather — there really isn't a reason to choose any hose other than this one.
Build quality and durability
Right away, the Briggs and Stratton garden hose felt like a premium product. The rubber was heavy and study in our hands, yet the hose was still flexible enough to walk around the yard with ease.
This premium feel makes sense, given the materials that are used in the construction of the Briggs and Stratton hose. In addition to using a heavy rubber, the hose utilizes nickel-plated brass connectors, which helps prevent any harmful materials from leaking into the main part of the hose, and by extension, into the water itself.
The durable health-conscious design of the Briggs and Stratton rubber hose is a large part of the reason the hose is regarded as one of the safest garden hoses on the market. In fact, the consumer reporting organization Healthy Stuff rated the Briggs and Stratton rubber hose as one of the safest on the market today.
Ergonomics and functionality
Most of us that have used a garden hose have at some point experienced a kinked hose. You know the feeling, you're going about your watering, when suddenly the water sputters to a stop. You look back, try to shake the kink out, but ultimately have to walk over and manually unkink the hose — just for it to happen again 30 seconds later.
Fortunately, this is something that we didn't experience a single time while testing the Briggs and Stratton garden hose. No matter how much we walked around the yard with the hose — twisting around bushes and weeds in the process — we never lost water flow.
In fact, we had to squeeze the hose pretty tight just to get water flow to stop. Our experience indicated to us that it is nearly impossible to kink the Briggs and Stratton hose under normal working conditions.
The Briggs and Stratton hose was also very easy to attach and detach from the spigot and from our various garden hose nozzles. When we tested five of the best hose reels and carts we were always happy with how easy it was to turn the hose fittings and get a leak-free seal.
Overall, we feel that the Briggs and Stratton garden hose is one of the best values currently on the market. For less than $40, you'll have a heavy-duty hose that won't kink and should last for years and years.
On top of that, this hose comes with a lifetime warranty from the manufacturer, so you can rest assured that Briggs and Stratton stands behind their product.
You simply need to try it out for yourself. We had never used a garden hose quite like this one before. For the price, and with the lifetime warranty that comes included, this is an easy choice for most garden hose users.
Inventory update
The listing we used when we bought product for testing is still active, but it appears that Sears has swapped that product (keeping the same part number, 69602) for a round hose that appears to have a thinner outer layer and doesn't have the nickel plating on the fittings. Recent reviews on the Amazon and Sears sales pages are mixed, but everyone who says they have both prefers the old style.
We found an Amazon listing that appears to have the 25-foot hose in the old style and updated links in this post; there's also a listing for the old-style 50′ hose at kmart.com but it appears to be out of stock. As near as we can tell, the hose we reviewed was manufactured by Continental at their ContiTech factory, but we haven't located an exact replacement to test. Continental's retail-packaged hoses use a different fitting that some reviewers say is not as crush-proof, but it should be the same EDPM rubber hose.
3. Best for safe drinking: Water Right – 400 Series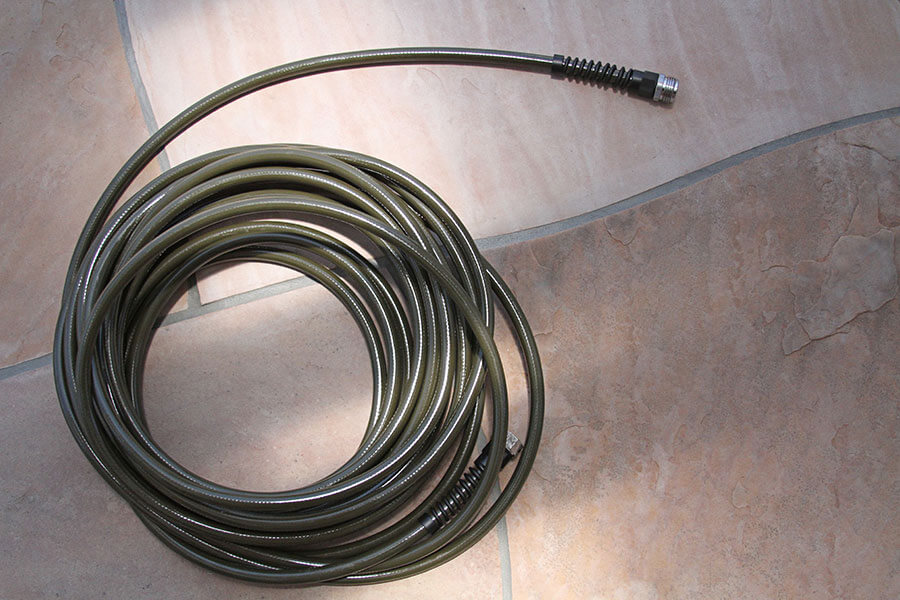 If you plan on regularly drinking from your outdoor garden hose, the Water Right – 400 Series might be worth the extra cost. We found that it functions essentially like a regular hose, except that it is certified by both the NSF and the FDA to be made from materials that are safe to drink from.
The Water Right garden hose is made from a polyurethane resin that is free from toxic materials, such as lead and BPA. The hose itself utilizes lead-free fittings that appeared to be high-quality and built to last for many years, even under heavy use.
The Water Right hose is fairly flexible and difficult to kink. While Water Right claims that it works perfectly in extremely hot and cold conditions, we weren't able to verify that ourselves in San Diego. However, we did find a number of reviews online that corroborate their claims.
Since it's advertised as a drinking water-safe hose, we wanted to see how the water tasted. Unlike the water from other garden hoses, which often has a distinct flavor, the water from the Water Right hose tasted clean — as if it was straight from the tap.
There isn't anything wrong with the Water Right hose, per se. If you want a hose that is safe for drinking out of, and if that particular feature is important to you, then it is likely worth the (significant) premium you'll pay over a hose like our top pick, the Craftsman.
However, you'll pay for this functionality, both in terms of the cost, and from the fact that water pressure is reduced compared to other hoses.
4. Camco Drinking Water Hose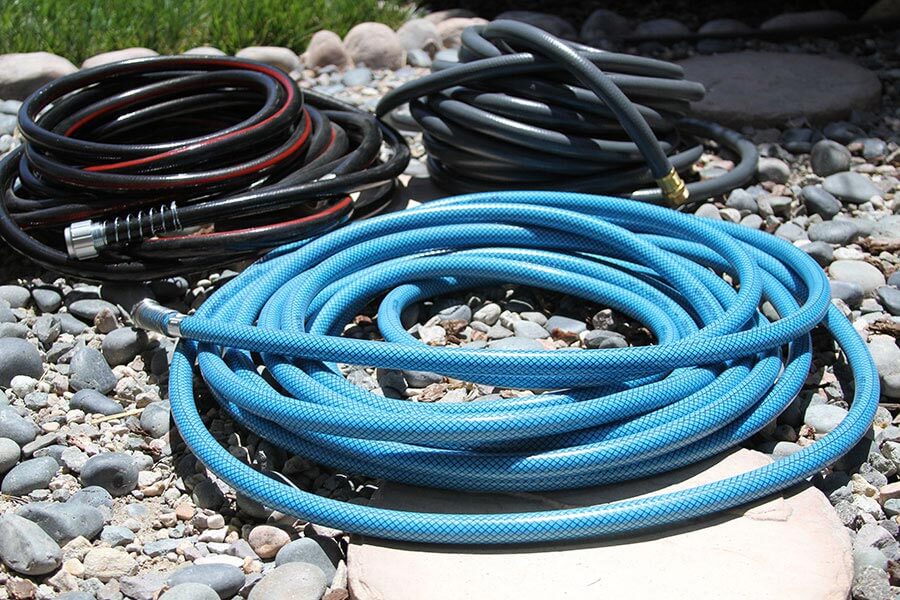 The Camco is a decent hose, and significantly less expensive than the Water Right hose. If you are looking for a hose that is safe to drink from and is also inexpensive, the Camco hose is worthy of consideration.
However, during our testing we found it to be fairly unwieldy, and we didn't particularly enjoy using it. The Water Right 400 is better, but you'll be paying significantly more for the upgrade.
5. Gilmour Flexogen
The Gilmour Flexogen is a solid garden hose overall. It is very difficult to kink, feels solid and durable in our hands, and attached to our spigot and the various garden hose nozzles easily.
We found it to be most similar to our top pick, the Craftsman Premium Rubber hose. However, for a few dollars more, you can get the Craftsman, which we found to be a stronger choice overall.
6. Best for cold weather: Clear Flow – Flexible (discontinued)
We had never seen a garden hose quite like the Clear Flow – Flexible before. Unlike every other garden hose we tested, the Clear Flow hose is completely flat when not in use.
While we think that the Craftsman rubber garden hose is better for typical use, the Clear Flow hose is an effective and innovative design, which is ideal for cold weather. The Clear Flow hose is also great for situations where space is at a premium — for example, in an RV.
Build quality and durability
This design is a big part of what makes the Clear Flow hose such a great option for cold weather situations, since water naturally drains out of the hose — something that is critical in freezing or near-freezing conditions.
The hose itself is made out of durable polyurethane. Unlike many other hoses, which use brass or other metals in their construction, there is essentially zero risk of lead or other contaminants leaking out of the hose into the water.
The Clear Flow hose is also completely made out of recyclable materials. This means that the hose won't take up landfill space, or ultimately harm the environment, even when it's time to get a new one.
The hose itself lays very flat while not in use. However, once you turn on the water pressure, it will inflate and become much easier to handle. While the Clear Flow hose doesn't feel quite as sturdy and durable as the heavy rubber of the Craftsman hose, it still feels well-constructed, and should be able to handle typical yard terrain without any issues.
Ergonomics and functionality
While the Clear Flow did feel strange in our hands at first, we eventually became comfortable with it. We found that using a garden hose nozzle is absolutely essential with this hose — without one there simply isn't enough pressure built up in the hose to be useful.
Thanks to the design of the Clear Flow hose, it's also nearly impossible to kink. In addition, the polyurethane glides over the yard without getting stuck on rocks or other debris in the way. Also, despite its unique design, all standard garden hose nozzles were able to fit without any problems.
The Clear Flow hose is rated as safe to use for drinking potable water, largely due to the fact that it isn't built out of any harmful materials. However, the hose is also aided by the fact that that it is transparent.
Since the UV rays from sunlight can hit the water inside the hose directly, bacteria and other harmful organisms aren't able to fester between uses of the hose.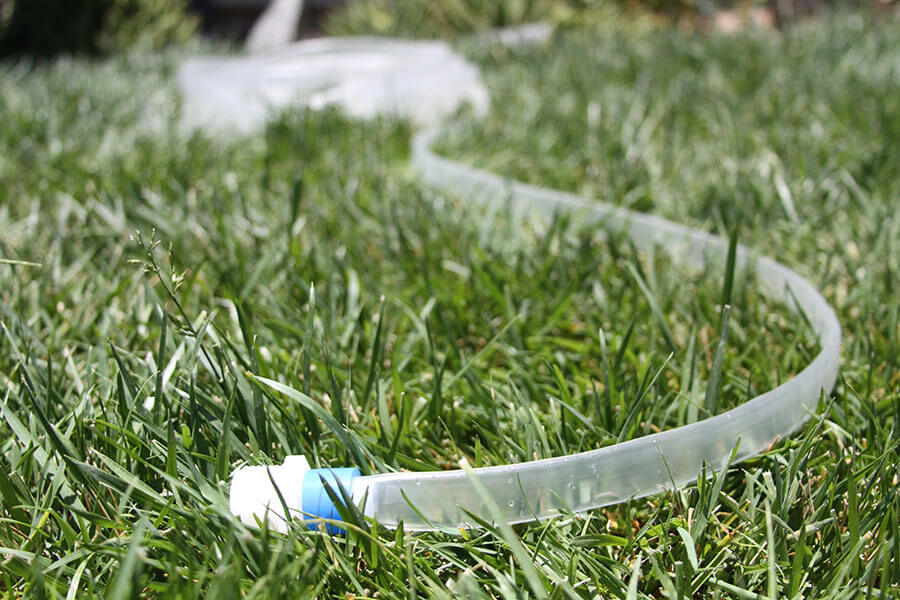 Finally, while the 10 year warranty that comes with the Clear Flow hose isn't quite as impressive as the lifetime warranty on the Craftsman hose, it is still a long time for one hose to survive. The fact that Clear Flow is able to offer this warranty is a strong indicator of the build quality and general confidence they have in their product.
While there was plenty we liked about the Clear Flow garden hose, we did have some issues with it as well.
First and foremost, you absolutely must use this hose with a nozzle. Without a garden hose nozzle, there simply wasn't enough pressure to make the hose usable. In fact, when we first turned the hose on without a nozzle, we were almost ready to write it off as a poorly designed product. With a nozzle on, however, is another story altogether.
This hose is also pretty awkward to use at first. It really doesn't feel like any other hose we've used before. However, the learning curve doesn't last too long — after using the Clear Flow hose once or twice you shouldn't have any trouble.
Lastly, this hose is fairly expensive, averaging nearly twice as much as our top pick, the Craftsman rubber hose. If you don't have a specific use-case for this hose, such as RVing or cold weather, you're probably better off saving your money and going with the Craftsman hose.
At the end of the day, if you have a specific need for the Clear Flow hose, it is a solid option and well-worth the money. However, for those who just need a standard hose for regular yard work, it's hard to justify the cost, and trade-offs, you'll have with the Clear Flow.
7. Teknor Apex NeverKink Pro (not recommended)
We were disappointed by the Teknor Apex hose. Their major selling point is that it is highly flexible and doesn't kink. While this is true, it also gets twisted up very easily, even after several days of use. The NeverKink was also the most unwieldy of the hoses we tested.
How we selected
In order to determine which of our garden hose finalists was best overall, we ran each of them through a series of tests designed to analyze how each garden hose would perform in real-life situations. Except for our smaller potted plants when we used an outdoor watering can, we watered our front and backyard plants and trees over the course of a month and a half.
A lot of what we measured had to do with the overall ergonomics of each garden hose. We made note of which garden hoses would tend to get stuck while being pulled around the yard, as well as how easy — or unwieldy — they were while being dragged around. We also looked at how easy it was to attach and detach each hose to the spigot, as well as to each of the garden hose nozzles we were testing.
We recorded how often each hose kinked, which we also tested by measuring how tightly we could squeeze each hose before water flow would stop.
We measured water flow from each garden hose as well. We tested this by measuring how long it took each garden hose to fill a five-gallon bucket of water, and the distance each garden hose could spray when held horizontally at a height of five feet.
Finally, we considered the overall build quality, including the materials used, and the durability of each hose — particularly in very hot and very cold conditions.
When is it time to buy a new hose?
Replacing a garden hose comes down to more than just aesthetics. If you've had the same garden hose for 10 years, and it's been sitting outside in the sun for most of that time, it's probably time to consider a new one.
Over time, garden hoses can start to break, leak, or corrode. When this happens, the hose will waste water, and the corroded elements can even be harmful to plants, animals, or even children drinking from the hose. Even worse, hoses that have been left undrained for extended periods of time can develop harmful levels of bacteria.
There are a number of benefits that come with a new garden hose. For many, the most notable benefit is the fact that there won't be any corrosion inside the hose, particularly on the fittings on each end of the hose.
You'll also have water that is cleaner and safer for anything living (plants and people alike) that receive water from the hose.
If you've decided that it's time to buy a new hose, be sure to follow these simple steps to ensure the longevity of the hose:
Keep the water out of sunlight when not in use.
Drain the hose when not in use. This is particularly important in very hot and very cold conditions.
Use a garden hose nozzle, so that dirt and bacteria can't get into the hose as easily.
Important features to consider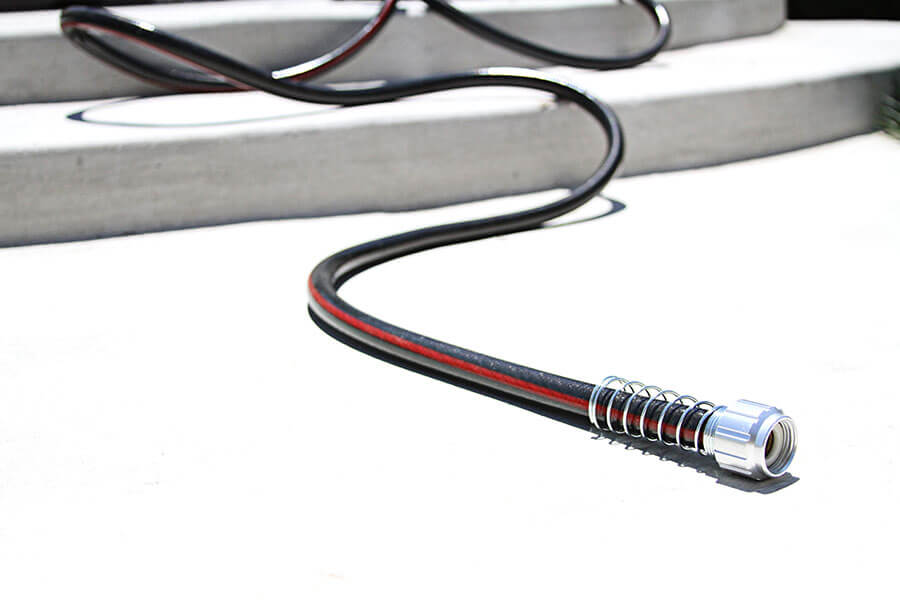 When buying a new garden hose, there are a few things to consider.
The most important thing to think about is what you plan to use the hose for. While a standard hose will be sufficient for most situations, for some it might be worth investing in a specialized garden hose.
For example, if you plan to have pets, your children, or even yourself drinking from the hose at any point, it is strongly recommended that you use a garden hose that doesn't have any potentially harmful components, and is certified as a "drinking water-safe" hose.
Even if you don't plan on having anyone or anything drink from the hose, it's still worthwhile to look at what materials the hose is made from. When possible, avoid hoses that expose water to brass, since there is evidence that the lead in brass can cause health problems.
Similarly, if you plan on using your hose in extreme heat or cold conditions, a hose that is designed to handle those conditions — even if it's more expensive — could actually save money (and time) in the long-run, since it should last much longer than a regular hose.
It's also worthwhile to consider how heavy, and therefore unwieldy, the hose is. This is particularly important if the hose will be used by children or the elderly.
Finally, if you want peace of mind that your hose will last for many years, our garden hose reel review has some great picks for storage options that will keep your hose out of the sun.
It's always great to know you're covered in case you get a hose with a hidden flaw, so choosing a hose with a long-term or lifetime warranty is a good idea as well.
Why trust us?
We read through gardening forums, garden hose reviews, and the r/gardening subreddit to determine what consumers care about most when choosing a garden hose. We then spent 30 hours over the course of six weeks testing each of our garden hose finalists.
Since we also reviewed the best garden hose nozzles at the same time, we were able to test the compatibility of each garden hose with a wide range of popular garden hose nozzles.
Long term testing notes
After continued use of the Craftsman, our opinion hasn't changed: it's a great, multi-purpose garden hose. The hose has rarely kinked, the 50-foot reach easily covers most large-sized lawns, and it continues to show no signs of wearing down.
Craftsman inventory update
In 2019, the writing is on the wall for Sears. The Amazon listing for hose we loved is still active, but it appears that Sears has swapped that product (keeping the same part number, 69602) for a round hose that has a thinner outer layer, doesn't have the nickel plating on the fittings, and isn't made in the U.S. anymore.
We found an Amazon listing that appears to have the 25-foot hose in the old style and so we've updated links in this post to that item. If you're not as worried about crush-proof fittings, there's a good bet Continental's 50-foot garden hose is the same synthetic rubber hose they used to make for Craftsman, but with less impressive connectors.
The bottom line
If you're looking for the best standard garden hose, the Craftsman Premium Rubber Garden Hose is hands-down your best bet. It is a durable and easy-to-use hose that should last for many, many years.
For those who need a more compact hose, and for those who live in parts of the world where it gets very cold, the Clear Flow Garden Hose offers an innovative design that should last for many cold winters.
If having a hose that is safe to drink from, the Water Right 400 hose is worth your consideration — however, you'll pay a notable premium over hoses like our best pick, the Craftsman.