The Best Clothes Steamers
For this 2021 update, we tested three newer models to see how they compared with our previous top picks. We found the BEAUTURAL to be the best handheld steamer available. It's a lightweight steamer that produces plenty of steam to get your clothes wrinkle-free in minutes. If you need something with a larger tank to steam lots of clothes, its older sibling, the Jiffy – J-2000, wins our pick for the best standing steamer. This standing model performs very well, heats up in about two minutes, and gets 90 minutes of steam on one full tank.
For this 2021 update, we tested three newer models to see how they compared with our previous top picks. We found the BEAUTURAL to be the best handheld steamer available. It's a lightweight steamer that produces plenty of steam to get your clothes wrinkle-free in minutes. If you need something with a larger tank to steam lots of clothes, its older sibling, the Jiffy – J-2000, wins our pick for the best standing steamer. This standing model performs very well, heats up in about two minutes, and gets 90 minutes of steam on one full tank.
Table of contents
The 13 clothing steamers we tested
Standing steamers
Handheld steamers
1. Best handheld: BEAUTURAL
Of the three clothes steamers that we tested for this 2021 update, we preferred the BEAUTURAL over the Hilife and Rowenta. The BEAUTURAL has a removable fill tank that can hold 8.79 ounces (259.95 milliliters) — the largest of the other two — and during testing, the steam lasted a good 12 minutes before sputtering out.
Like other steamers we previously tested, this handheld steamer resembles a sci-fi laser gun and weighs two pounds, which we felt was just comfortable enough to hold for long stretches of time. At 1200 watts, the BEAUTURAL was the fastest in heating up — 30 seconds — and has a trigger lock for controlling continuous steam or steam bursts. The produced steam was forceful and steamed out a wrinkled shirt in five minutes and a sheer silk scarf in five seconds.
The BEAUTURAL has a feature that you would think the Hilife and Rowenta should have (but don't) is an automatic shut-off after eight minutes of inactivity, which prevents the unit from burning if you leave it unattended. The BEAUTURAL comes with three attachments: a brush tool, a crease clip, and a lint brush.
The brush tool works well in steaming shirts, and the lint brush is great for lifting lint or pet hair from suits and pants while steaming at the same time. The crease clip is a bit awkward to attach, and it really doesn't work since you can only run a couple of inches of pant leg at a time. In our mind, it's a lot easier using an iron for creasing pants.
The crease clip is a minor quibble because otherwise, the reasonably priced BEAUTURAL is a terrific handheld clothes steamer you should consider purchasing.
Key takeaways:
The BEAUTURAL is one of the fastest steamers to heat up in only 30 seconds.
It has a large fill tank that can produce a powerful steam flow for at least 11 minutes.
The steamer's crease clip can't compete with an iron for creasing pants.
The BEAUTURAL has a unique lint-brush attachment that works well on suits.
2. Upgrade handheld pick: Jiffy – ESTEAM
The Jiffy – ESTEAM handheld steamer provides almost as much power as the larger J-2000 Jiffy Steamer, but it did so in a compact unit. Unlike the other handheld models, the steam head is square, which provides more precision for going over corners of pockets and pressing into the fabric more effectively. And unlike the majority of the others, for a smaller unit, it packed a lot of power.
First impressions on appearance aren't leaning in the ESTEAM's favor, but it grew on us. It sort of looks like a stylized coffee pot. Unlike the others, it doesn't have a max fill line for the water. You just fill the chamber all the way up, which is nice and simple.
Also unlike the others, it doesn't have a power switch but turns on immediately when plugged in. This adds to the simplicity of the device, but if you ever want to turn it on and off during the steaming time, it's slightly more cumbersome to have to unplug the cord rather than flipping a switch. This can be a good way to make sure you just unplug it and don't accidentally leave a unit on while plugged in.
User reviews mention their Jiffy steamers lasted for years, mainly due to their sturdy design. With other steamers set to break down after a year or two, this slightly more expensive model would eventually pay for itself.
The steamer maneuvered very well, with no danger of leaking when moved around the garments. With a total steam time of nearly 20 minutes, it blows the other steamers out of the water. Especially if you're just doing touch-ups while traveling, the steam time being one step above the rest means you'll have more time to perfect the look of the clothes.
The ESTEAM heats up in two minutes and 20 seconds, and when it does it's fairly calm and doesn't shake from the bubbling inside the chamber. For a total of 19 minutes, it steamed much longer than the rest of the other handheld steamers.
In particular, it straightened out wrinkly shirt pockets quickly, a task that was difficult for most of the steamers we tested. Drapes were steamed with ease and the silk items were wrinkle-free after just one pass. While it is a little on the pricier end in the handheld category, it's a solid machine all around that warrants the price.
At three pounds, it's light for travel. It's slightly bigger than some of the other options, but its quality makes up for where it lacks in compactness. Overall, this should prove to be a long-lasting, effective choice for any time you need to steam either on the go or at home.
Key takeaways:
Options like the URPOWER and Epica (discontinued), for the price, will not let you down. But if you're willing to spend a little more, Jiffy's ESTEAM delivers better quality.
Some models, like the Conair and the Shark, were either too much hassle or didn't provide enough steaming power. Not every steamer steams equally — you can actually go wrong with this purchase.
Every steamer had trouble making creases, even the ones with specific tools to attempt to create them. For that, ironing just can't be beat.
3. Best standing unit: Jiffy – J-2000
The Jiffy – J-2000 gets a standing ovation. Not only did the J-2000 have the longest steam time at 100 minutes, but it steamed with more power than the rest. It performed well with all the fabrics, and it did it fast. Set up was incredibly easy, and it made the actual steaming an enjoyable process too. The price tag may be a bit higher than the others, but in terms of build quality, the Jiffy clearly stands out.
The barebones design might make it seem like it's missing something, but even without any attachments, the Jiffy didn't suffer in performance. In fact, its simplicity was welcomed after piecing together the extras that came with the others brands. The design itself is extremely sturdy.
The pole connected firmly into the base and stood over five feet tall — the tallest pole of all the machines — making steaming even more convenient. And if you need some attachments, its detailed handbook lists the many that are available, from crease tools to power converters.
The J-2000 steamed for a whopping 100 minutes. That basically means you can flip the Jiffy on along with your favorite movie, and the run time will be the same. We're hoping that you won't have that much work to do in one sitting, but if you do, the Jiffy's got your back. The extra steam time also allows for assurance that you won't have to rush while steaming and prolongs the time between refills.
Dress shirts were steamed in about four minutes, while the silk dress required only one pass of the steamer to remove wrinkles. The steam head is fairly wide with six holes, which provided just the right amount of steaming power. It tackled a wool sweater with no issue and took on any garment with simplicity, getting the wrinkles out easily.
The handle stayed cool while heating, a bonus for comfort level on an already well-designed machine. And when you need to move the machine around a bit, all four wheels roll easily. We didn't have to move it much when in use, but when it was time to wheel it away, the job was simple.
The water chamber is clear, which lets you see how much water is left in the steam cycle. It's also designed with an effective carrying handle, which made transporting to and from the sink much less awkward than its competitors.
If you don't like ironing and have lots of stuff to steam, the Jiffy might the answer you're looking for.
Key takeaways:
The Jiffy – J-2000 garment steamer was a standout for its sturdiness and quick steam time;  it had all we wanted from a steamer.
The Rowenta at about $100 less is a cost-effective option for people looking to save, as it does a solid job of going over clothes and straightening them out in about one pass, but the quality is clearly lower than the Jiffy.
All of the standing steamers tested were more or less effective in de-wrinkling clothes, but the Jiffy was considerably more powerful, more efficient, and less of a hassle.
4. Best compact: URPOWER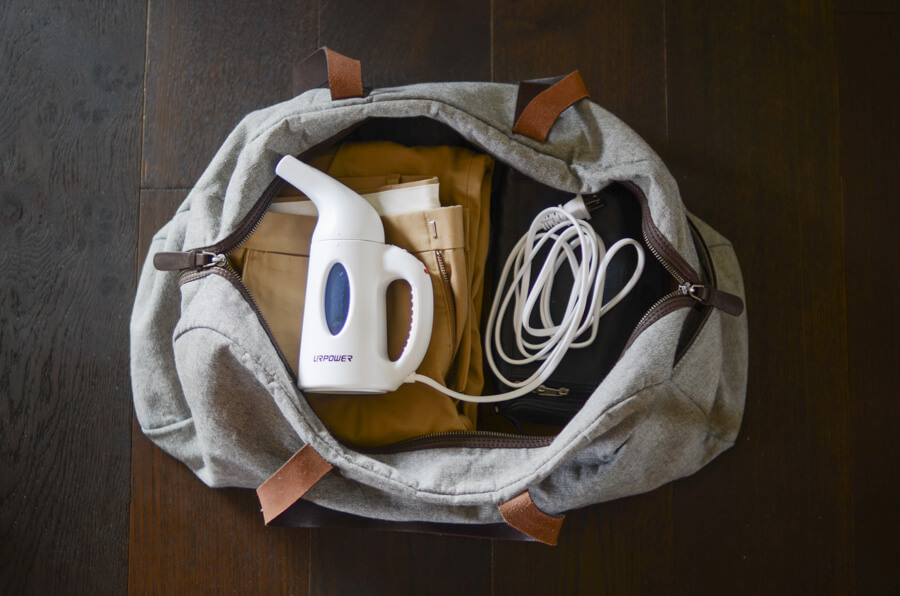 For travel needs, you're going to want compact and quick, and that's what the URPOWER delivers. At 1.2 pounds, it's easy to tuck away inside a travel bag.
The URPOWER heats up quickly, another bonus for when you're on the go and need something steamed fast. The auto turn-off is a nice bonus too; if you're rushed and forget to turn it off, this feature prevents overheating and causing a house fire (unfortunately, we know someone this happened to).
The design is comfortable, and the twist-off reservoir is easy to use. The water can be seen heating up right away in the small chamber. This unit takes one minute 20 seconds to start producing steam, which is relatively quick compared to the competition.
It gives off some initial pops and creaks when first heating but then simmers down. It required running over some garments twice to completely steam out all the wrinkles, but it did the job well.
Because the steamer is pretty small, the water chamber is also small, but it will still give you around nine minutes of steam, which isn't too shabby. The URPOWER didn't have as much power as other contenders, but it was enough to get our shirts done.
Key takeaways:
The hassle-free URPOWER works well and requires no pesky set-up tricks to get you on your way.
It's a great size for travel, with an acceptable tradeoff in steam power.
While it may lack some power, it will eventually get all of your fabrics looking wrinkle-free.
Other products we tested
5. Rowenta – IS6200
The Rowenta IS6200 steamed out wrinkles well from all fabrics. The attachments were an added bonus if you like getting fancy; we could take them or leave them. You won't be going wrong if you choose this option, but you won't be getting top tier in terms of quality.
Aside from being fairly difficult to take out of the box, the Rowenta made for an easy set-up. The hanger head has a handy slot where the steamer head is stored.
It boasts a 60-second heat-up time, which in reality took closer to 90 seconds. A cotton men's dress shirt took around four minutes to straighten out. It glided smoothly over the silk dress and immediately ironed out wrinkles with no more than one or two passes of the steamer. The hose of the Rowenta became noticeably hot but never too hot to use.
The product comes with three attachments: a fabric brush, a crease attachment, and a lint pad. The fabric brush didn't make a noticeable difference from using the regular steam head. An included crease tool sets out to solve a steamer's biggest flaw: It can't create creases. The creases were visible but not as defined as those created with a typical iron.
Oddly, there was a small pool of water left in the bottom of the machine after use and removing the water tank, but it wasn't difficult to empty out of the chamber.
The "tilt-and go" feature was slightly awkward compared to its rolling competitors. Another bonus feature is the power switch, essentially a large foot pedal that's stepped on to activate the steamer. The Rowenta is a decent pick, but it doesn't particularly shine.
6. Pure Enrichment – PureSteam XL
The PureSteam XL and the Steamfast were actually very similar in design, also both clocking in at 1500 watts. The first impression of the PureSteam is that it's definitely cute; it almost looks like a little Star Wars droid.
There was some initial concern that the tube for the steam was inflexible and was going to make it difficult to maneuver around the garments, but once the machine heated up, the tube warmed and became more bendable. The mesh covering on the outside of the hose kept it from getting hot to the touch.
The PureSteam heated up in 60 seconds, even though it advertised 45. It gave 40 minutes of steam time, and it took about five minutes to iron one shirt, making it seem slightly less powerful than its competitors. One full tank could get about eight shirts done. It performed well on silk and ironed the wrinkles out efficiently.
It also worked well on wool, even with the steaming power being a little weaker. This is a great steamer for lighter fabrics as it's simple and easy to use, but heavier garments like thick cotton and khakis would require much more work.
7. Steamfast – SF-407
Again, the Steamfast and the PureSteam XL were highly comparable to one another. Both are decent picks, giving about 40 minutes of steam time and effectively steaming your clothes. The tubing is the same, the steam headrests are the same and the power is about the same.
The Steamfast didn't come with a hanger attachment, which was a non-issue since the head for the pole was the exact same make as the PureSteam and functioned well for placing hangers.
The water tank is clear with small indents for carrying purposes that are not as handy as its competitors but still fairly easy to carry. There was a 60-second heat-up time, and one tank lasted for 40 minutes. Each shirt only required a slow pass with the steam head about one time with some touch-ups on problem areas like pockets or collars.
Silk wrinkles were removed with ease, and the head is fairly large and able to cover more surfaces without being bulky or ineffective. When the tank was about three-quarters of the way empty, it started making loud gurgling noises. It didn't hinder the performance of the steamer, but it did terrify the cat.
The Steamfast only sort of lived up to its name, getting the job done at a moderate pace.
8. Shark Press and Refresh GS500
In a steamer, you want dependable and effective, not quirky, and difficult to get to know, which is exactly what the Shark Press and Refresh was. The iron bar is neat but dangerous, and the concept of the press pad is innovative but imperfect.
The Shark Press comes with a vertical press pad, which promises easy set-up on any door. The concept seems awesome in theory. In actual practice, it's more or less a hassle. It also comes with a steam bonnet to place over the head of the iron to prevent burns.
The press pads attach using adjustable handle straps that loop around the edges of the door. It doesn't particularly work on every single door, as some of the doors we tried still graze the top part of the doorframe when open and don't create enough space for the loop straps to fit around. The strap got stuck once, and we thought we'd have a press pad stuck to our door forever, but it eventually came free.
The steam bonnet takes some fiddling when removed to fit other parts onto it. It takes about three minutes to heat up, and you don't know it's ready unless you press the handle, which is the only way to emit steam, unlike the others that steam continually.
The Shark Press takes a lot of getting used to. But once it's given a few tries, it actually proves itself to be revolutionary: Because of the vertical press pad and leaning against the door, it's a steamer that can create sharp creases. It has a lot of steaming power and was able to de-wrinkle shirts with ease, and the wrinkle remover acted basically as a quasi-iron. That being said, acting as what's basically a tiny iron bar, it gets hot. Very hot — if you accidentally touched it, you'd get burned.
It gives 25 minutes of steam time, likely attributed to the press trigger that allows you to choose when you want to steam.
If you're into bells and whistles, this is a viable option, but overall gave an average performance. It's not a walk in the park to set up, and takes some skill to start using to its full effect. It was reminiscent of a good ol' regular iron.
9. PurSteam
The PurSteam was decent, but nothing makes it really stand out. It steams your clothes and gets the wrinkles out. It's a little shaky and can crackle occasionally but works well enough.
If you like big, silver heat-resistant mittens, the PurSteam comes with one to protect your hands while ironing. This was a thoughtful inclusion, but we didn't find it necessary.
The heating chamber is clear, and the bubbles can be seen while the device is heating up. It took two minutes for the steam to get hot, and once it became useable, the boiling of the water shook the device a noticeable amount. It calmed down after one minute of use with the occasional crackling noise.
The steam head dribbled a small amount of water from the holes at first, which created some water spots on the shirts if the fabric was touched. It took a few passes on a cotton dress shirt, which was fully steamed in about eight minutes. In all, it gave 10 minutes of steaming time on one fill.
The PurSteam did decently well with drapes, gliding up and down and removing wrinkles with two passes. Still, it's probably not the purchase for a perfectionist because of the average amount of steam power.
10. Rowenta – DR8120X
At 1600 watts, the Rowenta DR8120X is a hefty powerhouse that produces a continuous gush of boiling hot steam. For such a big machine, it has a surprisingly small tank with a 6.76-ounce capacity, which delivers about 10 minutes of steam. It has a delicate setting and a turbo setting, which shoots out steam in full force, and enables you to steam wrinkles out of the sheerest and sturdiest fabrics.
The Rowenta comes with a crease clip, brush, steam cover to protect fabrics from water impurities, and a nifty door hook for hanging the clothing you want to steam. All of this seems great, but the Rowenta has a few issues. First off, the steam is very hot, and when you're pulling down on a shirt, for example, to steam an especially wrinkled area, it's impossible to avoid getting your hand shot by a burst of the hot steam. It has a switch for the steamer to do continuous steam or steam bursts, but it slips too easily because it's located just beneath the trigger.
The Rowenta has no automatic shut-off — it just simply stops when water runs out — and surprisingly, it has no power button, so to shut the unit off, you need to pull out the plug. Lastly, the Rowenta weighs a little over 3 pounds, so it's tiring to hold it for more than a few minutes.
11. Hilife
The Hilife steamer is a little portable model that's good for steaming out wrinkles from clothes that have been packed in a suitcase. Weighing in at only 1.7 pounds, it's easy to use for several steamings at a time without tiring your hand. The Hilife's tank has a 240-milliliter capacity, which gives about 14 minutes of steam; however, during our testing, the amount of steam lessened at the 11-minute mark.
The steamer has 700 watts, so it took two and a half minutes to heat up and start producing steam. The Hilife's steam isn't very forceful, so it took us 7 minutes to steam a shirt. The finished shirt wasn't completely wrinkle-free, and it had water spots from the Hilife's frequent spitting.
It comes with two brush attachments, which worked better on clothing, but we still had to do over-wrinkled areas several times. The Hilife is less expensive than other handheld steamers, but in the end, it just didn't produce enough steam to do the job.
12. Conair ExtremeSteam
Because of its lower power and ineffectiveness, we do not recommend the Conair ExtremeSteam, no matter how cool it looks. You'll spend a lot of time getting frustrated and not a lot of time actually ironing your clothes, so we'd opt out on this choice.
The ExtremeSteam is definitely a looker, slightly resembling the Star Trek Enterprise. And like a ship, it's big; it's probably not the steamer you want to take along with you on your travels. It comes with a fabric brush, creaser, and soft cushion brush.
Filling the tiny water tank on this unit is difficult. When it's plugged in, it starts buzzing loudly and steam initially dribbled out the front. The steamer has a lock on the trigger to allow you to decide if you want constant steam, or to be able to press the trigger down and only have it steam when pressed. It also has a high and a low heat setting.
Here's the bad news, the low-heat setting was like feeling the steam coming off a cooling cup of coffee. The high-heat setting wasn't better. It eventually ironed out wrinkles but took a very long time. The head attachments weren't effective either, as they would have required more power and hot steam to work.
When it was done steaming — as though it was breathing a huge sigh of relief — it whooshed out one last puff of air and then was done. It lasted about 15 minutes. The Conair ExtremeSteam would be elected most creative for senior superlatives, but it's not the steamer you want to buy for the sake of functionality.
13. Epica – Handheld Steamer (discontinued)
March 2019 update: the model we tested seems to have been discontinued, but Epica offers a few other units at a similar price point.
For around 20 dollars, the Epica is a steal for its unexpectedly powerful steaming capability. It also promises a three-year warranty, so you can be confident in your purchase.
The Epica tends to sputter upon the initial plugin, but it quickly recovers and starts steaming in two minutes. The steam is hot and works well, but you do get more than what you paid for. The 10-foot cord was also a nice feature, giving some extra play in the ability to move around with the steamer.
The Epica is compact, so you can pop it into your suitcase for travel. It's not for heavy-duty or high-volume garment steaming, but it will get you through your touch-ups and typical needs.
It heated up in two minutes flat and had a total steam time of 13 minutes. The design has a very wide steam head, which is a bonus for being able to go over larger sections quickly, but also slightly sacrifices the ability for precision depending on what was being ironed; for shirt pockets, it required a little extra work. For drapes, it worked well and steamed out the wrinkles without difficulty.
This little guy was a pleasant surprise. It's not the most powerful machine amongst the ones we tested so didn't get top pick, but it's simple and effective for the price. Sadly these days you can't get much for 20 dollars, but you can get the Epica and make your clothes look like a million bucks.
How we selected
We wanted to test the gamut of steamers in the way most people use them and decided to test both handheld and standing steamers. These tests were done in a home with the average consumer in mind and weren't meant to cater to any factory or commercial settings where you can just be steaming for hours on end.
Much of our selection was narrowed down by searching retailers such as Amazon to find the best-rated products. Luckily there were a lot of brands available to compare, and we were able to avoid testing any products with enough complaints from previous owners.
Two of the brands we included were just to test brand variety, although they didn't rank above four stars: the Conair – ExtremeSteam and the Steamfast – SF-407.
Testing Jiffy's standing unit, the J-2000 was a no-brainer since it was rated very well by customer reviews, and fared well in Wirecutter's review for heavy use.
Many brands here had multiple steamer models available and aside from the Jiffy, we avoided doubling up to get a better feel for what other brands had to offer.
How we tested
We wanted to put these steamers through the paces by testing capacities, effectiveness as well as practical use testing to discover any potential issues.
Typically, the most difficult wrinkles to remove are on thick cottons, linens, and silk. So we put all three to the test on each one of these steamers. We filled each tank with water from the sink to the fill lines and got to steaming.
Steam Time
The steam time was determined by filling up the reservoir of each machine and letting it warm up. Once the machine began producing steam, we started the timer.
When the steamers ran completely out of water in the reservoirs and no longer steamed the clothes, the timer was turned off and the time was recorded. This was done in one round specifically to measure steam time.
The tests to measure effectiveness on t-shirts, dress shirts, silk and drapes were done separately.
Cotton Dress Shirts and T-Shirts
We used the same size large men's cotton dress shirt for every steamer to measure the results. After steaming, we washed the shirt until it was entirely soaked in water and threw it in the dryer to get it nice and wrinkled again. Imagine the level of wrinkled your mother would scold you for — that was our sweet spot. Quantitatively, there were about three major wrinkles on both the front and the back of the shirts.
After testing the results on the cotton dress shirt, large cotton men's t-shirts were steamed to see how many shirts the steamers could steam on one full tank. The shirts were deemed "finished" when all the wrinkles on the front, back and sleeves had been steamed out.
Again, that "pressed" look couldn't be achieved with any steamer except for the Shark Press and Refresh, but the shirts were considered finished when they looked good enough to wear to your company dinner party.
Linen Drapes
Next, we wrinkled linen drapes to wrinkle them by taking them off the rods and bunching them in a pile until the wrinkles held. Then we set the steamers on them. The drapes were about 33 x 53 inches and were steamed while hanging on the curtain rod. They were finished when all wrinkles were removed.
Standing steamers were not ideal for ironing drapes taller than 53 inches, since it can be a stretch to reach the very top. In our test, we could reach the top of these shorter drapes to steam out any wrinkles. For anything taller than this, we recommend using the handheld steamers or taking your drapes off the hanging rods for better accessibility.
Silk Shirts and Dresses
We wrinkled and steamed silk dresses and shirts to test effectiveness of each machine. Like in the other testing, it was deemed finished when all wrinkles were gone. Interestingly, none of the steamers, even the lower powered ones, had a difficult time with silk.
The bottom line
We've got to hand it to Jiffy – their steamers are impressive. For a standing steamer the Jiffy J-2000 powered through garments like no others, and the Jiffy ESTEAM performed just as well in the handheld class. Get anything Jiffy and your clothes will look like new. You want steam power, a simple, no hassle experience and quality, that's what Jiffy will give you.
In general, with a few exceptions, most of the steamers we tested worked. You'll want to hold off on buying from Conair and Shark, but the others will do the job if you're not picky. Still, we recommend Jiffy for the best of the best.
Standing steamers are your go-to for big projects and lots of work. They're not stored as easily as handheld steamers, so keep that in mind when deciding. If you are looking to save some space, then look to handhelds.
While ironing is definitely a chore, steaming actually was strangely entertaining in a way. So if you're looking for an alternative to ironing, give one of these a try; you won't be disappointed.