The Best Booster Car Seats
Every parent wants his or her child to be safe, comfortable, and happy, especially when it comes to long car trips. We spent months driving our car around town testing seven of the most popular and highly rated booster seats available to find out which booster seat tops the list, and we've determined the Britax – Grow With You is the best booster car seat overall. While this product is on the higher end of the cost spectrum, the old adage "you get what you pay for" certainly rings true. It has superior safety features including tether and anchor, an impact-absorbing base, and a steel frame. These features are matched by its qualities of convenience like the ease of cleaning, a quick-adjust harness, the ability to recline, and dual cup or snack holders.
Every parent wants his or her child to be safe, comfortable, and happy, especially when it comes to long car trips. We spent months driving our car around town testing seven of the most popular and highly rated booster seats available to find out which booster seat tops the list, and we've determined the Britax – Grow With You is the best booster car seat overall. While this product is on the higher end of the cost spectrum, the old adage "you get what you pay for" certainly rings true. It has superior safety features including tether and anchor, an impact-absorbing base, and a steel frame. These features are matched by its qualities of convenience like the ease of cleaning, a quick-adjust harness, the ability to recline, and dual cup or snack holders.
Table of contents
The 7 booster car seats we tested
1. Best overall: Britax – Grow With You
Because of the five-point harness featured by our top booster car seat, the Britax – Grow With You, the weight and height range are increased so that children can use this seat at an earlier age. All of the backless models we tested start at 40 pounds, while the Britax starts at 25 pounds.
(Editor's note: Since we first tested this category, Britax has changed the name of their convertible booster from Pioneer to Grow With You.)
State regulations vary, but all the safety advocates are quick to note that until your toddler is two years old, you should use a rear-facing seat. Convertible Boosters like the Britax are only made for front-facing use, so in almost every case you'll need to use an interim rear-facing seat after your one-year-old is too big for an infant carrier.
With nearly three centimeters of padding, good armrest height, and simple to adjust harness, the Britax – Grow With You provides a comfortable car ride for your child. The fabric is durable and stain-resistant and the safety features are second to none. These features include steel framing, a tether-and-anchor system, and an impact-absorbing base. These features prevent this seat from being used in the rear-facing position though.
One other factor that helps to push this booster car seat into the first position has to do with its toxicity. Although we could not find any web research testing the toxicity of our particular seven-seat models, we were able to find research for car seats from some of the same manufacturers.
While we cannot absolutely verify that similar materials are used between these seats for each manufacturer, it is not an unreasonable hypothesis that this is the case. In the research, it was noted that this brand has made immense strides in removing toxic chemicals from their products earning them a reputation as a more eco-friendly and naturally-based manufacturer.
On the downside, the Britax is heavy and bulky, making the transfer from one car to another a chore. If your situation calls for daily movement of the seat between cars, you may want to consider the lighter-backed booster, the Evenflo – Big Kid. One of our editors has also purchased the Click Tight version of this booster; the Click Tight mechanism uses a large lever system to make tightening the lower anchor straps a bit easier. Most people won't need it, but if you have trouble getting regular car seat straps tight it could be a worthwhile upgrade.
If your child is older and is no longer in need of a back or harness, you may want to forego the expense of this seat and choose our top pick for a backless booster, the Affix.
Key takeaways:
Our top pick, the Britax – Grow With You, has fantastic features that include steel reinforcement, an impact-absorbing base and sides, and a tether/harness system to keep it securely in place.
Although heavier and bulkier than a backless option, safety and longevity features outweigh the inconvenience of transferring or installing a car seat and are worth the cost. If you need to transfer though, the latch system is simple to figure out.
The weight capacity spans from 25 pounds to 110 pounds, making it an investment in your kid's safety that will last for many years.
2. Best backless option: Graco – Affix
If the price of the Britax – Grow With You is beyond your means, or if your child is already more than 39 pounds, you may want to consider skipping to a backless booster. Our first choice in this category is the Graco – Affix Backless.
The easily-adjusted latch system in this product helps the booster seat stay in place firmly and securely. These anchors increase the safety of the seat in a car crash. They also make it more convenient for you or your kids to buckle the seat belt because the seat does not shift from side to side or create a gap by shifting forward. This product also comes with a belt-positioning clip to properly adjust the shoulder strap for your child.
Weighing in at 5.6 pounds, with an installation time of just under 14 seconds, this booster transfers easily and quickly from car to car. Its armrests sit at a good height but our six-year-old research assistant remarked that he preferred the coverings of the seat's close relative, the TurboBooster. While this seat could do with a bit more padding, overall it is a comfortable ride at a great price.
Some reviewers on Amazon did indicate that this booster can tend to be more secure on one anchor than another, causing the seat to be slightly misaligned, but we did not experience this during our testing. If we had, it would quick to correct by pulling on the anchor strap to tighten the booster against the seat of the vehicle.
As a parent of four, our primary researcher in this review appreciates both the safety and the convenience of a booster that is anchored into the car.
Key takeaways:
The Graco – Affix has simple to adjust anchor straps that keep the booster seat secure and centered.
Lightweight and backless, it transfers quickly from car to car and a one-handed latch system makes adjustment quick.
Backless boosters are for kids who are 40 pounds or heavier; if your child is lighter, you'll probably want to invest in a booster seat with a back.
3. Best travel option: BubbleBum
For a quick flight or for the babysitter to have on hand for local car trips, we recommend the BubbleBum as a great booster car for infrequent use. You can think of it as the "spare tire" of the booster world.
This booster weighs 0.6 pounds and installs in just under seven seconds by slipping the lap belt into the two holders. In addition, you can deflate it to pack it in a suitcase, and reinflate it in no time when you reach your destination. It has a belt-positioning strap and clip to help ensure a safe and comfortable shoulder position.
Although we wouldn't recommend with BubbleBum for long-term use in a car, we were surprisingly impressed with its ability to "get the job done" at such a lightweight and small size. The beauty of an inflatable booster seat is that it packs well and is quickly inflated/deflated with minimal effort (just a few puffs of breath into the valve).
A few of the Amazon reviewers reported that their BubbleBum slowly deflated over long car trips, but we did not experience this. Our BubbleBum held its shape throughout hours of testing. It's reasonable to assume that age might deteriorate the softer plastic of the BubbleBum over time, rendering it useless. Again, long-term is not our recommendation for this model.
With a smaller surface area than the other seats, the BubbleBum could potentially be uncomfortable with children who are especially wide on the backside. Its cover is not removable, but given how light it is, this doesn't necessarily hinder the ability to wash and dry it as needed.
We were pleasantly surprised by how little effort was required to inflate the BubbleBum. It only required a few breaths of air, less than your average balloon, in fact.
At an extremely low price, it's a great idea to have this backup option for emergencies or for a relative or caregiver to have handy.
Key takeaways:
Weighing in at less than a pound, and able to be deflated and reinflated as necessary, the BubbleBum packs conveniently for travel.
The BubbleBum installs in no time by slipping the lap belt into the two holders on the seat's sides.
Not recommended for long-term use, the BubbleBum lacks armrests, storage, or many of the safety features found among our other candidates.
Other products we tested
4. Graco – Nautilus 65 3-in-1 Harness Booster Car Seat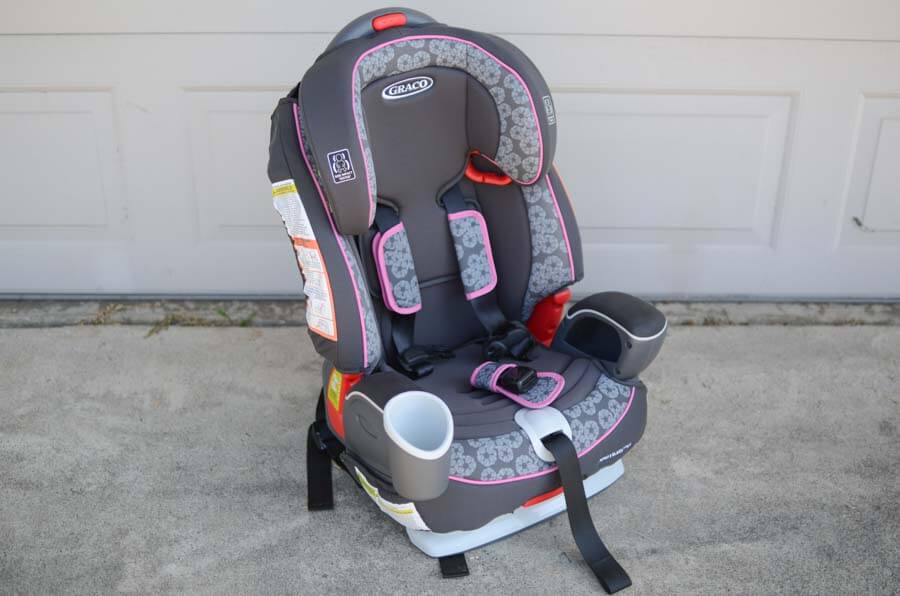 Coming in at 26 pounds, the Graco – Nautilus 65 was a close contender to our top pick because it has so many of the same features. Among these excellent features are steel framing, impact-absorbing construction, adequate storage, tether and anchors, and the ability to accommodate smaller children (the Nautilus starts at 23 pounds).
Because the back can be removed, the Graco can help with the stigma of a "baby seat." While some kids prefer having a back on their seat, others might see moving to a backless booster as a sign of "getting big." Our six-year-old tester, for instance, preferred riding in the backless models, not because they were more comfortable, but because he felt he had outgrown the high-backed models we tested.
As with the Britax, however, the safety features of the Nautilus 65 make it both bulky and heavy, weighing in at about 20 pounds. With an installation time of around 41 seconds, the transfer from car to car can be a hassle, especially if it must be installed in a harder-to-reach back seat. This one also has a removable and washable cover. The latch system on this model uses hooks so is a little more difficult only if you plan on moving it between cars often, and also prevents this seat from being used in the rear-facing position.
Only slightly less comfortable to sit in than our top pick, the Nautilus 65 ranks just barely under the Britax and still makes an excellent choice for a safe, long-lasting booster car seat.
5. Evenflo – Big Kid Booster
The Evenflo – Big Kid is a lightweight (only 6.8 pounds) and easy-to-install booster that provides convenience and a comfortable ride for your child, though some additional padding wouldn't be a terrible idea, in our opinion.
Its construction is entirely plastic, however, so the Evenflo is not as durable or safe as some of its competitors. The back helps with accurate seat belt positioning on your child's collarbone and is easily removed if your child prefers a backless ride.
Because it's extremely lightweight, the Evenflo has a much more flimsy feel than its counterparts, but our six-year-old child liked the feel of the smooth cover and happened to be impressed because the particular model we tested was blue, his favorite color! (Parenting tip: check for color options on whichever booster you decide to purchase, and involve your child in the decision to gain a higher degree of buy-in.)
An inexpensive option, the Evenflo is a middle-of-the-line seat that fits the needs of those who have to transfer seats frequently, but still prefer a booster seat with a back. The cover is machine washable too.
6. Graco – Backless TurboBooster
The Graco – Backless TurboBooster weighs in at 5.1 pounds and is similar in almost every way to its brother, the Affix, except that the armrests are padded with a removable and washable fabric, which our six-year-old child preferred. The material used for the seat is more prone to getting snagged, however, and it lacks the anchors of the Affix.
Without the anchors for the latch system, this seat is more apt to slide out of place, and (annoyingly) to cover the seat belt buckle, which can frustrate the child or parent trying to buckle the belt. For an extra ten dollars, we recommend the Affix and its anchoring system over this product.
7. Cosco – Topside Booster
With armrests that are too low to be useful and very little padding, the Cosco – Topside is our least favorite contender among the seven finalists.
The Topside is lightweight (only 2.2 pounds), easy to install, and inexpensive, but like several Amazon reviewers, we found that the hardness of the seat made long car rides uncomfortable for our child. This product is only washable by hand.
Though the Topside is a high-ranking choice on Amazon and other retail websites, we would recommend any of the other finalists before this booster seat.
How we selected
As a father of four, our primary researcher for this review has been using booster car seats for over 13 years. This experience gave him a good basis from which to begin his research.
Starting with customer reviews on retail websites like Amazon.com, we only selected booster car seats with exceptional ratings from a large pool of reviewers. We then turned our attention to reviewer feedback to learn from countless owners what they loved, hated, and required from a booster seat.
We eliminated any contenders that had repeated complaints about important features, such as feeling too flimsy, too upright or uneven.
Supplementing this research with blogs and video reviews, we narrowed our list of contenders to seven strong finalists.
To top it off, we spent time looking into the physics of booster seat safety and how a child is impacted during a collision.
How we tested
To start, we asked our six-year-old researcher how he would rank his preference for a booster seat. Doing his best to set aside factors like color and "coolness," he named his top three favorites to sit in as the Evenflo, the Britax, and the Graco – Backless TurboBooster. Really though, his good opinion was granted among all of our candidates except the two that did not have adequate support for his arms (the Cosco – Topside and the BubbleBum).
His feedback raises an excellent point to consider when selecting booster car seats: it may be a good idea to get your child's buy-in if you have narrowed down your selection to a few excellent options. Sometimes color, "cool" factor, or simple intuition will do more to convince your child that a particular seat is best than anything you can say to persuade them.
The comfort test
One of the recurring complaints among booster car seat reviews is a hard seat and inadequate padding. To test the comfort, we not only sought insight from our six-year-old helper but measured the amount of padding on each seat.
This was done by placing a needle through the car seat cushion until it couldn't go down any farther. We then measured the remaining space between the tip of the needle and our fingers to see how much padding is in each seat.
We also measured the height of the armrests from the base of the seats. The general rule confirmed by our vocal six-year-old kid is that the higher the armrests, the more comfortable the ride. We must note that the ones for the Cosco – Topside are so low in relation to the height of the seat that they are barely usable.
The cushion of the BubbleBum, which is an inflatable booster seat and therefore could not be subjected to the "needle test," was measured by pressing down on the seat and measuring the distance between the top and bottom. That's why you see such a marked difference between the BubbleBum and the other booster car seats in the above chart. Feedback from our six-year-old researcher indicated that this cushion of air also resulted in more comfort, but that the additional comfort was neutralized by the fact that there was nowhere to rest his arms.
The convenience test
To measure the convenience of installing each of the car seats, we used a stopwatch to time multiple installations and averaged the results. These were performed on an easily accessible middle seat of a minivan. Obviously, installing boosters in seats that are harder to access, such as the back seat of a sedan, would cause the average setup time to increase.
All of the booster car seats we tested have coverings that are made of durable fabric that can be washable with mild soap and warm water. With the exception of the BubbleBum, these coverings can be removed from the seat to facilitate washing and drying.
We also weighed each seat, as a heavy seat is harder to transfer from car to car. The results for both of these tests are charted below.
It's worth noting that our top pick scored lowest in each of these convenience factors. While this weighed in our decision, we felt that safety and longevity are likely to be more important factors than the convenience of periodically installing or transferring booster car seats. If you are a parent who has to transfer a car seat more frequently than average, we suggest you read our best pick among the backless options in the section below.
Features and accessories
We've itemized the accessories and features for each car seat to compare at a glance. Since these are all positive features, the more checkmarks, the better!
Does your child need a booster car seat?
Child passenger safety laws are regulated at the state level and are subject to frequent change. Specific rules vary per state and usually include a combination of age, height, and weight restrictions.
A helpful digest of child passenger safety laws is provided by AAA for all 50 U.S. states, Puerto Rico and Canada. We suggest you start there to determine the booster seat requirements for your child before purchasing a seat.
Keep in mind that although your child may meet your state's requirements for not using a booster seat, it may still be a good idea depending on their size. Ensuring that your car's seat belt rests on the center of the collarbone (not pressing into the neck or falling off the shoulder) is of primary importance in ensuring your child's safety. Your child's height plays a major factor in when you should graduate them out of a booster.
If your child happens to be too small or light for a booster car seat, they may benefit from safety inside the house: check out our review about baby gates for use throughout the house especially if you have stairs or off-limits areas for babies.
How a booster car seat helps in a car crash
A booster seat elevates your child so that he or she better fits the adult-size restraining belt that cars are equipped with. Both lap and shoulder placement of the seat belt is important when a crash occurs and pressure from the impact pushes the passenger.
The shoulder portion of the safety belt should be placed in the center of the chest and collarbone, and the lap portion should be low and tight on the lap (not up against the stomach or hipbone).
Improper placement of the belt can increase the risk of internal and external bruising, stomach, liver or spleen damage, or lumbar spine fractures. The use of a booster seat can reduce a child's risk of crash-related injury by as much as 45 percent.
The seat belt's job is to diffuse and divert the force from a crash into the stronger areas of the body (the sternum, rib bones and pelvis), thus lessening the risk of damage to soft tissue and internal organs. Placing your child in a booster seat helps to ensure the safety belt does its job. This is important because improper placement can actually increase injury instead of protecting your child.
Important features to consider
Worthwhile cost: Every parent knows that the expense of raising a child is immense, so looking for the best bargain on purchases is almost always preferred. But when it comes to child safety, most of us are willing to spend a little extra as long as our investment is worthwhile. A booster seat should provide a wide range of features without breaking the bank.
Convenience for the child: A booster car seat should be as comfortable as possible for the rider. Features that factor into comfort include high armrests, adequate padding, storage for a sippy cup or snack, and positioning that is not too upright (especially when dozing).
Convenience for the parent: Moving car seats from one vehicle to another is part of parent life, and can be quite inconvenient if the transfer takes a lot of time and effort. Weight, size, and tether/harness installation are all factors that play into these transfers. In addition, the process of buckling (and unbuckling) a child is another point to consider. Other convenience factors include the ability to easily remove the cover, machine washable fabrics, and the adjustability of the harness or shoulder-belt holes.
Materials used: Is the car seat made entirely of plastic, or is there a metal framework to fortify the construction? Is the fabric durable and washable? In addition, does the flame-retardant material use toxic chemicals?
Longevity: A car seat should last as long as possible and span the widest range of age, height, and weight requirements to maximize your investment.
The bottom line
If you are looking to invest in a durable, safe, comfortable, and long-lasting booster seat, we recommend the Britax – Grow With You. This seat is convertible from a five-point harness car seat to a backless booster as your child grows, which means you won't have to purchase another seat as your child gets bigger. If your child is already more than 39 pounds, you may want to go for our top pick in the backless category, the Graco – Affix, which anchors into the seat and doesn't slip or slide.