The Best Beach Umbrellas, Chairs and Tents
We spent more than 35 hours researching and testing 14 top-rated products at our local beach to find the best beach umbrella, best beach tent and best beach chair. The Sport-brella earned the title as best umbrella; its steel ribs and stakes made it feel durable and secure, while its two side vents allowed for great air flow. If you're looking for a tent instead of an umbrella, the Lightspeed Outdoors – Quick Cabana is our top choice beach tent due to its ease of setup, ventilation and ability to comfortably fit either couples or families (four to five people). For lounging, the Tommy Bahama – Backpack Cooler Chair's adjustability, versatility, comfort and moderate price made it our go-to beach chair.
We spent more than 35 hours researching and testing 14 top-rated products at our local beach to find the best beach umbrella, best beach tent and best beach chair. The Sport-brella earned the title as best umbrella; its steel ribs and stakes made it feel durable and secure, while its two side vents allowed for great air flow. If you're looking for a tent instead of an umbrella, the Lightspeed Outdoors – Quick Cabana is our top choice beach tent due to its ease of setup, ventilation and ability to comfortably fit either couples or families (four to five people). For lounging, the Tommy Bahama – Backpack Cooler Chair's adjustability, versatility, comfort and moderate price made it our go-to beach chair.
Table of contents
Product comparisons
The 4 beach umbrellas we tested
The 4 beach tents we tested
The 6 beach chairs we tested
The best beach umbrella: Sport-brella
If you don't mind an untraditional beach umbrella, the Sport-brella is a great choice! Rather than standing up like a typical umbrella, it sits propped on the sand by two side flaps that descend from the umbrella body. The Sport-brella has two large wind flaps on either side for ventilation and includes stakes and tie-down cords for extra security.
The Sport-brella is easy to put up and is extremely sturdy. It's also made of quality materials including steel ribs and polyester fabric. The only negative is its weight (eight pounds), but if you're not planning on lugging it long distances or have a folding wagon, that shouldn't deter you from choosing this umbrella.
If you're trying to decide between a beach umbrella and a beach tent, this is a good hybrid option that provides a bit more ventilation than the latter.
Best umbrella to splurge on: Coolibar
Though the Coolibar was on the high end of the umbrella price range, if you're willing to spend close to $90 on an umbrella instead of around $50, this is a quality investment. It's light and compact, making it easy to transport.
Plus, its heavy canopy material, which is silver on the outside to reflect the sun and blue on the inside to absorb it, coupled with its dual-layer structure for ventilation, will keep you cool. Just remember, this umbrella is only six feet in diameter so it's better for smaller groups.
Best beach tent: Lightspeed Outdoors – Quick Cabana
If you're looking for a tent that can fit the average family (two adults and two to three children), the Lightspeed Outdoors – Quick Cabana is the one for you! Its extended floormat provides four extra feet of (unsheltered) sand coverage for kids and adults to spread out, making this a great choice for larger families as it can fit around three to four people, and its three windows provide decent ventilation. If you have small children, this likely could squeeze two adults and two to three small children.
Its setup and takedown time were on par with the other contestants, ranging from one and a half to three minutes. However, its snap-up technology had more tension than the others, causing this tent's setup to require a bit more muscle. The average person can set up this tent alone, but the recoil is more intense than the other brands, so make sure it locks before you let it go and be careful it's pointed away from you when unlocking to avoid getting hit by the mechanism. Our only other complaint is that it was slightly more difficult to get back in the bag compared to the other tents.
In the end the Lightspeed is worth it if you have a group to shade and want that extra floormat space.
Best two-person tent: Genji Sports
The lightest tent of the bunch, the Genji Sports tent is beautiful in its simplicity. It was the easiest to put up as it uncoiled evenly and the frame didn't get caught on the fabric like some of the other options. The Genji Sports tent also had two mesh insets on either side, plus a window in the back for solid ventilation.
Unlike the other tents, it was equally wide in the front and the back, rather than tapering off towards the back. This allowed two people to be able to lay horizontally and be fully protected from the sun or vertically if they wanted to be in partial sunlight. Though it was shallower than some if its competitors, it didn't make it feel small or cramped because though it was more shallow it wasn't tapered off towards the back.
Best chair: Tommy Bahama – Backpack Chair
Sometimes, the most predictable product wins. The Tommy Bahama – Backpack Cooler Beach Chair came in first for its comfort and versatility. The backpack design is practical for the beach, plus it adjusts to five positions so you can sit up and read a book or lay back and sunbathe while you rest your head on the built-in pillow.
It also has a towel bar on the back of the chair so you can hang your wet towel to dry or store it there, off the sand, when you're not using it. The cooler pocket (along with an additional pocket) and cup holders made this chair an all-in-one beach staple that'll help you travel light and relax comfortably. Plus, it comes in a variety of fun prints and colors! If you need a much larger cooling capacity, check out our cooler review to find a small bag or a wheeled cooler for your beach trip.
Also great beach chair: Quik Shade
If you're looking for a canopy chair, the Quik Shade is a great option. Though you're raised considerably higher off the ground and have to bend your knees like a typical upright chair rather than lounge with your legs out like in the Tommy Bahama, its canopy can be easily adjusted and angled to shield you from the sun.
Though it weighs nine pounds, the Quik Shade is very comfortable and supportive, unlike its competitor the Kelysus – Canopy Chair. It also has two cup holders and a side pocket for handy storage.
How we selected
As Southern California natives who live blocks from the beach, we know a thing or two about what product features to look for in beach accessories. To confirm the features we deemed important, we scoured Amazon to find beach umbrellas, tents, and chairs with an average rating of four or above. Then, we dug into the reviews to see what features people enjoyed or disliked in their beach products.
We also read through articles from sites like OutdoorGearLab and The Wirecutter to help narrow down our list of brands and products to test, and the features they should have. Though OutdoorGearLab was helpful in determining some of the top beach brands, they chose larger beach tents with a $100+ price point. We opted to test more moderately priced, lighter beach tents since those are more convenient to the average beach-goer.
We tested some of the same models as The Wirecutter and came to similar conclusions about the best umbrellas. However, we tested a wider variety of beach tents. Most of the beach tents we tested were on the larger side (typically seven to eight feet wide and just over four feet deep), while still a manageable weight, for those interested in sharing the tent with babies, children or furry friends.
Across the board, it is important to look for ease of transport and setup, weight, size, breathability, and durability in your beach accessories.
In an umbrella, you should also consider stability and size, as well as if it has a built-in sand anchor, telescoping feature, tilt mechanism, and UV protection. In a beach tent, it's important to think about if you need an extended floormat. Finally, for a beach chair, you should consider the weight capacity and if bonus features, like cupholders and pillows, are important to you.
When vetting beach chairs we also considered alternative seating methods like adjustable beach mats and inflatable lounge chairs but opted against them as they didn't provide the same level of support as traditional beach chairs.
After taking all of the above into consideration, here are the umbrellas, tents, and chairs that made the cut.
How we tested
Beach umbrellas
Test 1: Convenience
Stability is one of the most important factors when choosing an umbrella. After all, you don't want to be that person chasing their umbrella down the beach. We found the Sport-brella to be the most stable as it laid down and was anchored to the ground similar to a beach tent.
In addition to stability, you'll also want to consider weight. The Tommy Bahama, Coolibar, EasyGo, and Sport-brella weighed 4 pounds, 4.6 pounds, 6.8 pounds, and 8 pounds respectively. Though the Coolibar was the second lightest, it was the most compact measuring only 47 inches. The next shortest was the Tommy Bahama at 50 inches. The longest was the Sport-brella at 58 inches.
The Tommy Bahama – Sand Anchor Umbrella has many convenient features, including an 8.5-inch built-in sand anchor. However, as many Amazon reviews noted, it isn't the best quality. The first umbrella we ordered came with a warped top pole, which was unable to fit into the bottom section. The next umbrella came intact and was easy to install because of the sand anchor, but felt flimsier than other models, which could explain why it was the lightest of the bunch at only 4 pounds.
If you're going to put a lot of wear and tear on your umbrella, we suggest purchasing a slightly more expensive, but higher quality model.
The EasyGo Umbrella also had a sand anchor, though it was only three inches long, making it harder to insert into the sand than the Tommy Bahama umbrella. However, the umbrella itself was much sturdier.
For umbrellas like the Coolibar Umbrella that don't come with a sand anchor built-in, you'll want to buy a sand anchor separately. It will make the umbrella easiest to install and stay put but is an added cost.
Test 2: Size
The coverage of your umbrella also matters, especially if you have a large group. The largest umbrella is the EasyGo, topping out at eight feet in diameter. The smallest is the Coolibar measuring six feet in diameter. The other two umbrellas were seven feet. Every umbrella, with the exception of the Sport-brella, stood between seven and seven and a half feet tall.
Test 3: Materials
The majority of umbrellas are made with fiberglass ribs, an aluminum pole, polyester canopy, and a handful of plastic pieces. The EasyGo and Tommy Bahama umbrellas are no exception. Though the Tommy Bahama does have the superior built-in sand anchor, the EasyGo felt sturdier overall when testing. The Sport-brella had steel ribs instead of fiberglass ribs, contributing to how sturdy it felt.
The Coolibar is unique in that the canopy is made from nylon — not just any nylon, but silver nylon that reflects the sun on the outside and blue nylon that absorbs remaining rays on the inside. This was effective for keeping the area underneath the umbrella cool and comfortable. The umbrella did smell strong when it arrived, which we attribute to this material, but the smell will likely wear off over time.
Each of the umbrellas has UPF 50+ protection.
Beach tents
Test 1: Convenience
Beach tents are a great shelter if you plan on being in the sun for hours on end. However, we know they're not the only thing you'll be bringing to the beach. If you have a child or furry friend in tow, you'll likely be lugging toys, food, water, and towels with you as well. That's why a beach tent must be light and easy to transport. We measured the weight of each item with a luggage scale and found that all the tents we tested were relatively light, between 4.2 and 6.2 pounds.
To test the ease of use, we set up and took down each tent multiple times and found the average setup time. We discluded the first setup, as this was a practice round to get familiar with each tent.
Each of the beach tents below, with the exception of the Coleman Daytripper, had a snap-up frame which made them quick to assemble — just be careful of smashing your fingers or getting hit in the face from the recoil (both of which may or may have not happened to us). The Coleman Daytripper had collapsible poles and was pitched more like a traditional tent, making set up and take down much more difficult.
The tents had stakes to attach them to the ground and either sandbags or pockets for extra weight. If you store your bags and other items in the tents in addition to using the stakes and sandbags, the tents should be tethered to the ground pretty securely.
Test 2: Size
Other than convenience, size is an important factor in determining which beach tent is right for you. The two biggest tents we tested were the Lightspeed and the Coleman. Both had floormats extend past the tent opening, though, as mentioned above, the Coleman required more assembly.
Though the Coleman and Lightspeed were measurably bigger tents, each of the tents we tested could only fit two beach chairs comfortably because of their shapes. The Coleman and Lightspeed both tapered off near the back. The Lightspeed could fit three (cramped) beach towels and the Genji could also fit three vertically, with the users' legs sticking out.
Since chair and towel capacity didn't vary much between tents, what it came down to was the number of people each could hold. The Genji Sports tent fit two to three people, the Pacific Breeze and Lightspeed fit three to four people and the Coleman fit four to five.
Test 3: Comfort and features
A tent with limited ventilation can restrict the ocean breeze and make your tent feel like it's full of canned heat. That's why we made sure to take into account how many windows or vents each tent had and where they were placed. As each of the windows was relatively large, we did not make the size of the windows a deciding factor. We also took into consideration the number of pocket flaps for easy storage of small items. All the tents we tested had fabric rated UPF 50+, so they were all even in that sense.
The Lightspeed had three windows, one on each side, to keep air circulating. That said, it did get a little warm inside on a hot day with little breeze ‒ this was true for all beach tents, and was the only thing slightly inconvenient about the Lightspeed. The Lightspeed tent also had two pockets inside to hold small valuables like keys or phones.
The Coleman was unique in that it has one very large window in the back, with a zipper that spanned three of the four sides. This allowed it to double as a door. The floormat could also be folded and zipped up like a secondary door, enclosing the tent completely. The Coleman also had four pockets. The Pacific Breeze had two windows on either side and one pocket.
The Genji Sports tent was the only option to have not only a large window, but mesh insets on the bottom of either side, allowing for ventilation from multiple levels. This is a nice addition for anyone who likes to lay down at the beach, as it helped provide all-around airflow from the bottom up.
Beach chairs
Types of beach chairs
Beach chairs add comfort to your trip and can be tailored to fit any beach activity. Although both are suited for outdoors, leave your heavy, but comfortable zero gravity chair at home. If you're aiming for a relaxing day at the beach, a backpack chair may be fitting. If you want extra sun protection without an umbrella, try a canopy chair. And finally, if you're looking for something light and practical, try a compact chair; it's also great for sitting around a bonfire!
Unlike a towel or blanket, beach chairs are typically water repellent and dry quickly. They're also easy to brush sand off of, so you won't end up with a soggy, sandy towel (and a very sandy car) at the end of the day.
Additionally, beach chairs with secure pockets will put you at ease since you'll know that your valuables are safely tucked away and not at risk of falling out of a pocket or purse.
Learn more about the three beach chair categories we tested below:
Backpack chairs: These chairs have a stiff rectangular frame with two straps, so you can throw them on like a backpack. They have higher backs so you can rest your head on the backrest or built-in pillow, and are also low enough to the sand to comfortably straighten out your legs. You can also adjust your seat to recline or sit up straight and enjoy a view of the ocean.
Canopy chairs: If shade is important to you, canopy chairs come with a built-in canopy so you don't need an additional umbrella or tent. However, they are larger and heavier than the other types of chairs.
Compact chairs: No frills, these chairs are light, easy to transport, and get the job done. If you're just looking to get off the sand these are a great choice but lack extra features like cup holders. These chairs are more commonly used for camping or backpacking.
Test 1: Convenience
Two major tests of convenience for beach chairs are how easy they are to set up and how easy they are to transport. Setup was relatively fast and simple across the board, with the exception of the Big Agnes, which required minor assembly.
Since the assembly time was relatively equal, we focused on weight and carrying method. Four out of six chairs averaged seven to nine pounds — a manageable weight — and had a convenient carrying method.
The two outliers were the Big Agnes and the Kelsyus – Canopy Chair. The Big Agnes was only 1.9 pounds and also had the highest weight capacity of an impressive 320 pounds, making it easy to transport and ideal for backpacking trips. However, its small size and bowl shape made it less of a candidate for lounging on the beach. The Kelsyus was the heaviest at nearly 12 pounds, making it less desirable to lug from the parking lot to the shore.
Test 2: Size
Beyond the size of the folded chairs, the seat size is important. We measured the depth and back height of each chair, and the width from side-to-side or armrest-to-armrest at their widest point.
The Tommy Bahama – Cooler Beach Chair and Rio – Backpack Chair had the highest backs, 24.5 and 27.5 inches respectively. This, coupled with their sturdy frame and pillow, provided relaxing neck support. These two chairs were also a medium level from the ground, nine inches and 13 inches, which created a barrier from the sand while still allowing us to be close enough to have the full beach experience.
Though the measurements of the two compact chairs, the Big Agnes – Helinox and ALPS Mountaineering were similar, the shape of the ALPS chair was much more conducive to a beach environment. Its padded armrests and moderate price make it a solid option if you're looking for a minimalistic chair that could also be used for camping.
The larger sizes of the Rio – Big Guy Backpack Chair and Kelsyus – Canopy Chair, make these two good options for people taller than the average person. But, as mentioned, they're also heavier than other options.
Test 3: Comfort
At the beach, you want to be able to lean back and enjoy the sound of the crashing waves. Only two chairs allowed you to do that — the Tommy Bahama – Cooler Beach Chair and the Rio – Backpack Chair. Both provided neck support, a pillow, and an adjustable back for ultimate comfort.
The rest of the chairs, though not as supportive, were relatively comfortable, with the exception of the Kelsyus – Canopy Chair. The bottom of that chair sagged and caused us to sink into it, making for a less pleasant seating experience than the rest.
The Big Agnes – Helinox, though comfortable in its own way, was not the relaxing comfort you look for at the beach. As it is made for backpacking and camping, it is small and light but lacks armrests. If you're looking to invest in a backpacking chair, we highly recommend it, but for the beach, it's best to stick with something a bit larger and with more features.
Beach umbrellas vs. beach tents
Both beach umbrellas and beach tents provide shade, so what's the difference? Well, beach umbrellas are upright or semi-upright (in the case of the Sport-brella) canopies supported by (most commonly) an aluminum and plexiglass frame.
Beach tents are more enclosed structures with an open front. In beach tents, you sit on fabric rather than directly in the sand. They are a bit more sheltered from the elements and, without good ventilation, can get a bit stuffy. However, beach tents are more stable, easier to put up, and lighter than beach umbrellas. Beach umbrellas offer shade but are less of a shelter than beach tents. One isn't necessarily better than the other ‒ it's just a matter of personal preference.
The bottom line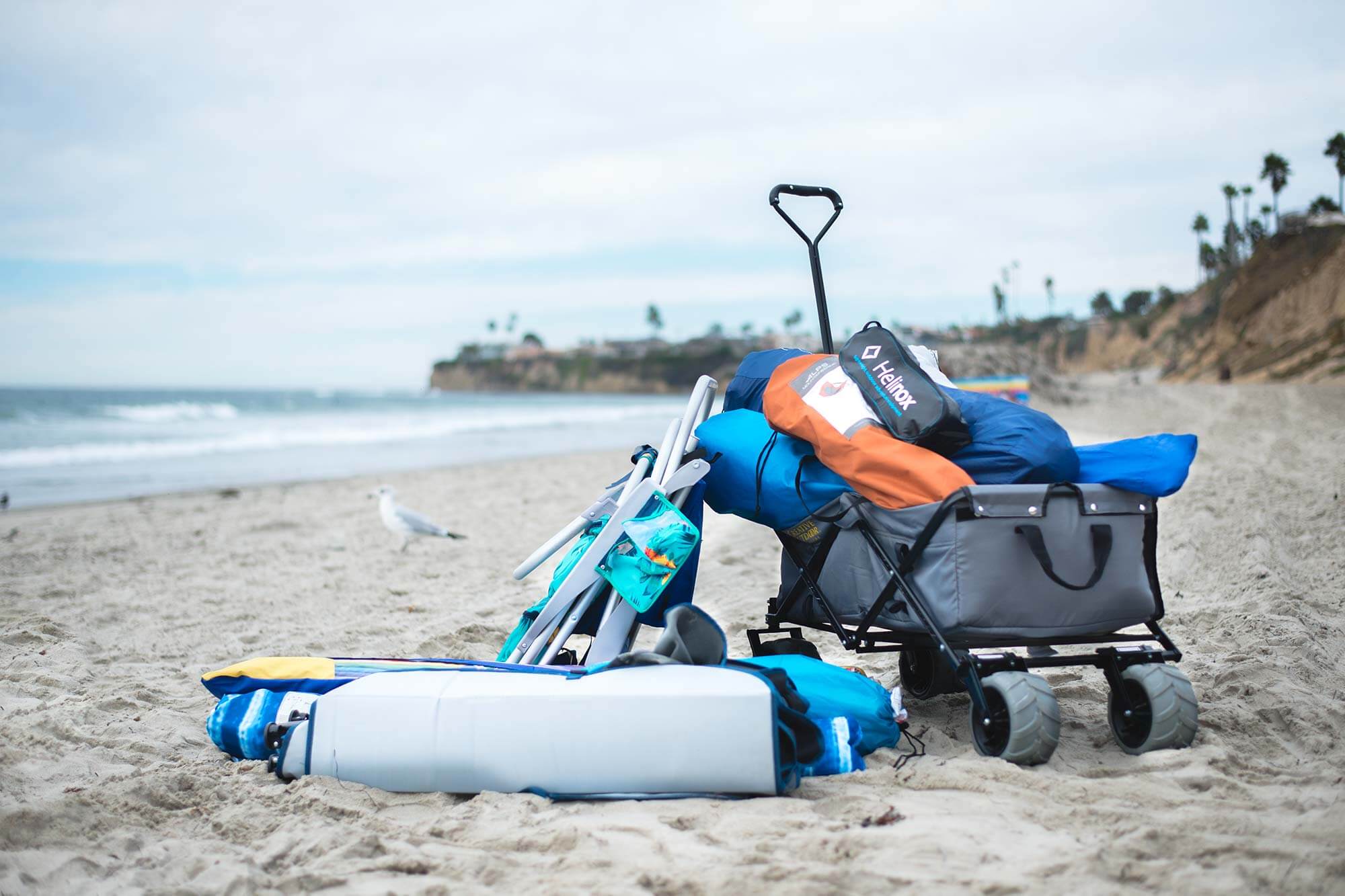 If you're looking for the ultimate beach accessories combo, grab a Sport-brella or Lightspeed Outdoors – Quick Cabana, and a Tommy Bahama – Backpack Chair. These were far superior than the rest in comfort and convenience. If you're worried about transporting a beach umbrella, beach chair and other fun beach necessities from your car to the shore, consider a beach wagon to make transport easy!