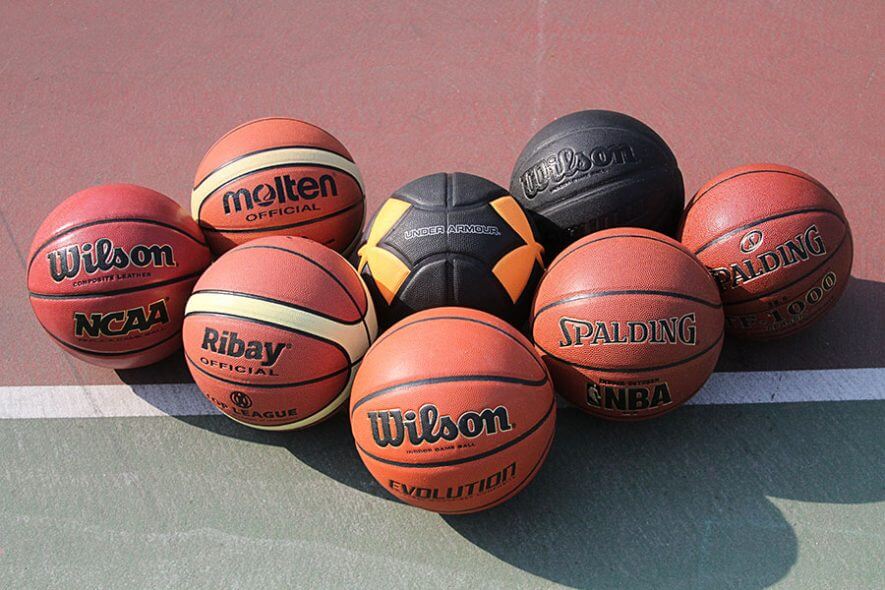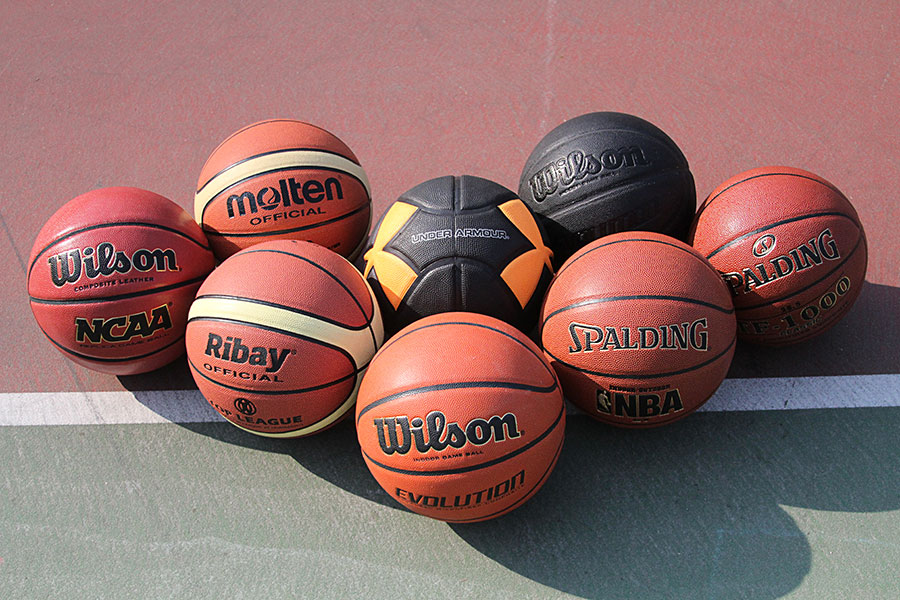 To determine what balls perform to the highest standard, we talked to several basketball coaches — including a coach who at one point made 847 free throws in a row — in order to determine criteria for the best basketball. We used that advice to narrow down a field of 40+ options to a final eight, which we evaluated over 100 hours of playing and usability tests, as well as 12 months of long-term use in order to determine the winner: Wilson – Evolution Indoor. The Wilson offers great grip, endurance, moisture wicking, and is the recommended ball of most professionals we talked to. Of course, some players specific preferences based on where they most like to shoot hoops. If you play both inside and outside, go with the Molten – Indoor/Outdoor basketball for versatile performance.
To determine what balls perform to the highest standard, we talked to several basketball coaches — including a coach who at one point made 847 free throws in a row — in order to determine criteria for the best basketball. We used that advice to narrow down a field of 40+ options to a final eight, which we evaluated over 100 hours of playing and usability tests, as well as 12 months of long-term use in order to determine the winner: Wilson – Evolution Indoor. The Wilson offers great grip, endurance, moisture wicking, and is the recommended ball of most professionals we talked to. Of course, some players specific preferences based on where they most like to shoot hoops. If you play both inside and outside, go with the Molten – Indoor/Outdoor basketball for versatile performance.
Table of contents
The 8 basketballs we tested
1. The best indoor basketball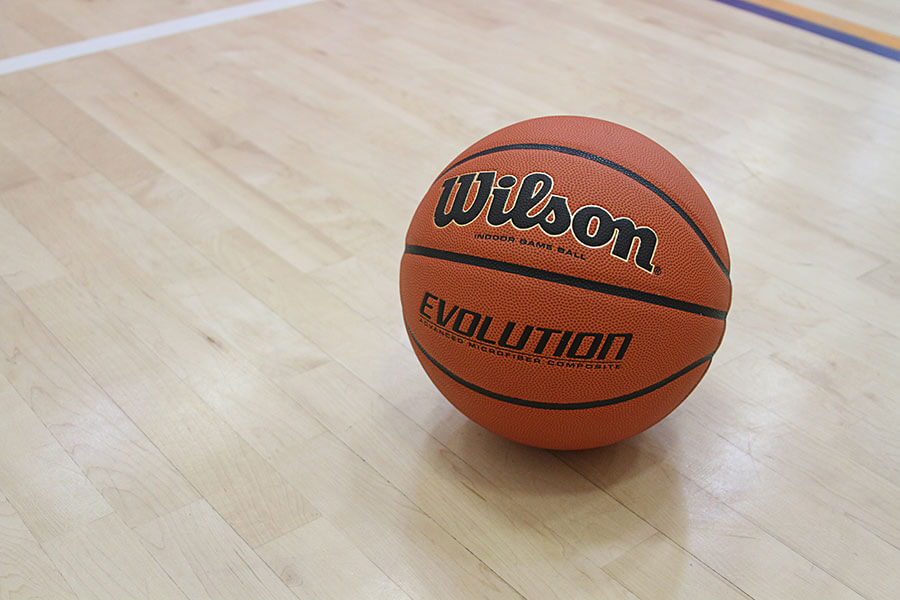 After talking to basketball professionals, putting the balls through the testing ringer and reading hundreds of reviews, we've determined that the the Wilson – Evolution Indoor is the best indoor basketball for your money.
It has great grip and ability to wick away sweat, is recommended by professional coaches and trainers alike, and also won't wear easily. The ball looks great and is going to evolve with your game: because it'll be by your side and reliable through years of play.
For a premium ball, it's not too expensive, either, ranking somewhere in the middle of the quality balls we tested. It should be a constant in any serious player's toolkit.
2. The best indoor outdoor basketball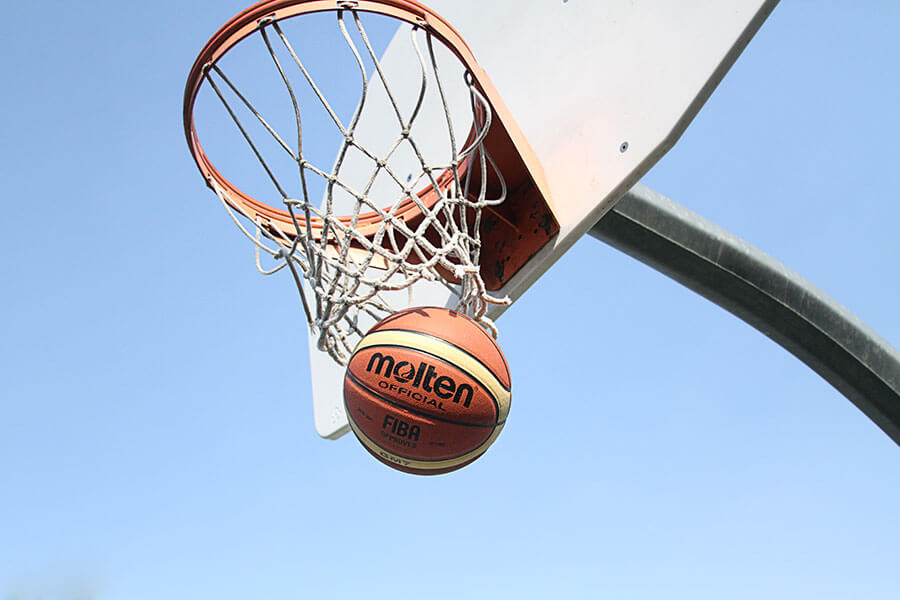 The best hybrid ball we tested is the Molten – indoor/outdoor. In our tests, no ball performed better. It lost no air, wicked away water like no other ball, and had amazing grip and feel, a must-have for outdoor play.
There's no reason to believe it won't endure long-term use, either. The only negative about the Molten, if there is one, is that it's the international and Olympic standard, not the NBA/NCAA one. If you're training to ball in college or the NBA, it's recommended you train with the official balls in those arenas.
But if you care most about a quality, reliable ball, the Molten – Indoor/Outdoor is a great go-to. On the negative side, the Molten was the most expensive ball we tested, but for an official ball, it's still low-priced: the comparative NCAA and NBA balls cost somewhere around 2x the price.
3. The best outdoor basketball
Our pick for the best outdoor basketball is the same as our pick for the best indoor/outdoor basketball: it's the Molten – Indoor/Outdoor. Its characteristics are a perfect fit: it wicks away sweat like none other, and it has shown that it can take the heat and keep on ticking.
As mentioned, the Molten isn't cheap. If it's out of your price range, a next best outdoor option is the Ribay (discontinued) — although not a major brand name, it had great grip and wicked away sweat admirably.
It lost a solid amount of air in our PSI test, but not enough to warrant looking away from its low price tag. After all, that price also includes a pump (unlike any other ball), so even if it does lose some air, you're in a perfect position to reinflate it with no extra cost.
Other great basketballs we tested
The FIBA-styled Ribay (discontinued), as described above, was one of our favorite balls early in the process. They aren't a huge name and perhaps that informs their price — but the quality of the ball is spot on, and it's the only ball that includes a pump. All things considered, that gives a ball price around $30 a real cost of around $20. That's around half the cost of the other quality balls we looked at.
It unfortunately didn't hold up as well to our tests, and the grip is slightly worse than the similarly-styled Molten, but all things considered, it's a great ball for the price.
The Wilson – Evolution black is a great indoor ball — it's just not the original, traditionally styled Wilson – Evolution. The grip is slightly worse, and it lost more air than its relative in our test. In essence, it seems cool for the sake of being cool, while also sacrificing quality. For most, that's not worth the tradeoff.
The Spalding – TF-1000 was actually one of the most highly recommended balls we encountered, as two of the three professionals we talked to mentioned it as one of their favorite balls. However, Amazon reviews suggested the design might have changed recently, and our tests fleshed that out.
Overall, though, the TF-1000 is still a great ball, but it seems like the design (or our expectations) have changed over the last few years.
The other three options
In talking with our coaches, we almost immediately discarded the Under Armour – Street for anyone who takes basketball seriously. And our tests showed the same, as the ball showed it wasn't great at wicking away sweat or retaining air. It's an inexpensive ball, though, so it's possible it's a bit unfair we're holding it to such a standard.
The Spalding – Indoor/Outdoor was right on the cusp of being included in the "other great balls" group, but it didn't quite fit. It performed worst in our water wicking test and also lost the most air — two marks not worthy of a round of applause. It had solid grip and seemed like a good ball, but every other consideration made us think the opposite.
Finally, the Wilson – NCAA Replica felt like its name. A poor grip and medicore sweat wicking made it a ball to leave at home. On the positive side, it did retain air better than any other ball in its price range, which might be a plus if considering it for outdoor play.
How we selected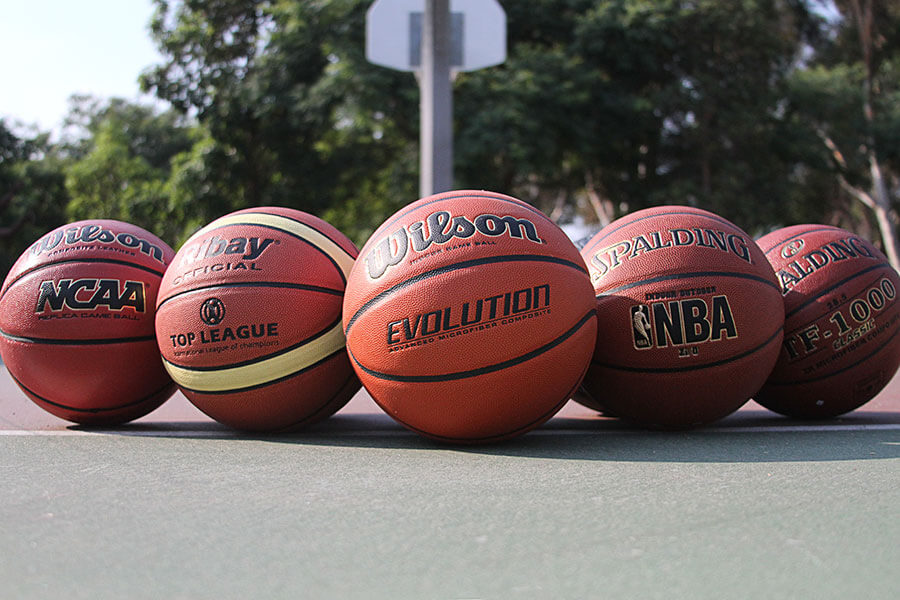 In order to assist with our testing and selection criteria, we talked to professional coaches to get their recommendations for what exactly makes a ball perform best and also, what balls will allow the handler to maximize their ability.
Specifically, we talked to:
James Pauley, Professional Shooting Coach: James has been playing and coaching basketball for over 30 years and specializes in three point and free throw shooting, where he holds a 97%+ career rate, including 847 made free throws in a row.
Coach Nick, BBallBreakdown: A coach who worked under Stan Van Gundy (former Orlando Magic head coach) and Sean Miller (University of Arizona head coach), Nick runs a very successful basketball blog, as well as Twitter and YouTube channel, where he has more than 400,000 combined followers based on his great expertise in the area.
Jordan Lawley, Professional Basketball Trainer: Jordan starred as a four year starter at UC San Diego, where he was also their all-time scoring leader. After college, Jordan also played professionally in Mexico and New Zealand, and now counts current and former NBA and WNBA players Al Harrington, Wilson Chandler, Aron Baynes, Brittney Griner, and Diana Turasi amongst his clients.
To start, we questioned the group about how much the grooves on balls matter. The Under Armour ball we tested came fresh with a cool looking, bright orange Under Armour logo inscribed on its exterior.
However, it turns out inconsistencies like this come at a detriment to the shooter, as trying to get your fingers aligned with the seams on the ball with a design like that would be problematic as a method of generating a consistent shooting touch.
Generally found on outdoor balls, these types of grooves may seem cool at first, but the bricks that follow won't be nearly as enjoyable. For this reason, the Under Armour ball was eliminated from our selection process almost immediately.
For shooting consistency, we also looked for slightly wider panels, grooves in the ball, and strong moisture wicking. If you watch a great shooter closely, you'll notice their follow through and technique is pretty consistent — including how they line up on the grooves when shooting.
Wider grooves allow shooters to settle in more easily. Also, if the ball retains sweat from an intense game, it becomes more difficult to handle as well as shoot. For this reason, we wanted to find basketballs that could handle the most intense games.
Past that, common characteristics and criticisms of bad basketballs were qualified: How was the grip on the balls? Did they lose air easily? How much did they cost?
We also tried to get a representative sample from several different manufacturers, picking the best option from each in order to pare down differences and increase the probability we'd nail down the best possible ball. In addition, we sampled balls best for each common basketball scenario: indoor and outdoor.
Finally, when making our initial selections, we chose the Wilson – Evolution Black just to mix things up, but after further evaluation/deduction from reading Amazon reviews, noticed that the ball is actually different in build quality from the popular Wilson – Evolution — so we went ahead and tested that ball as well.
These qualifications, in addition to additional recommendations from our basketball professionals, allowed us to settle in on a final eight balls.
How we tested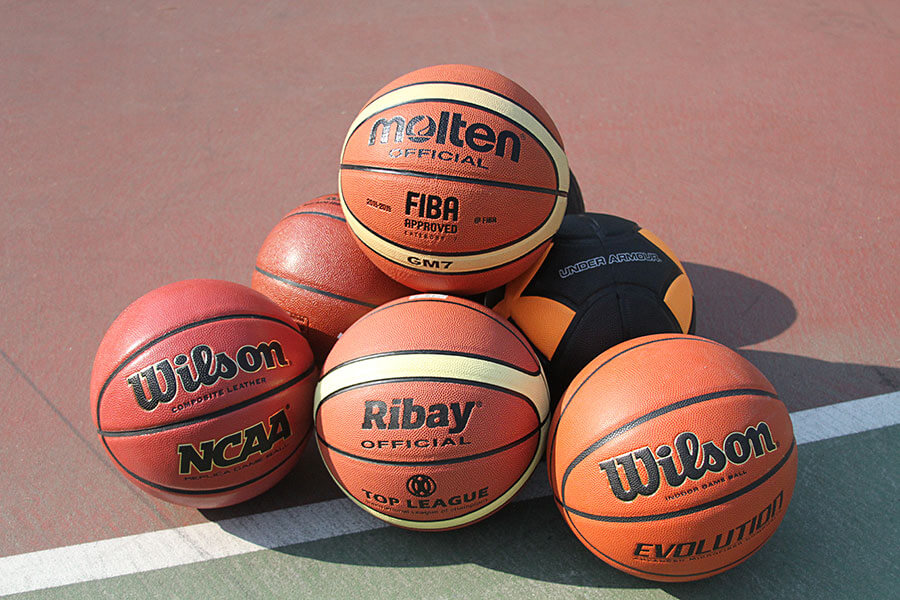 After talking to our panel of professionals, reading hundreds of online reviews and spending additional time making our own investigations, we realized moisture wicking was an important detail of these balls.
We've all had a friend (or been that friend), that for whatever reason often resembles a water fountain when playing sports. This sweating can find its way onto the ball, and if poorly constructed, can impair the playing experience for other participants.
To test each ball's ability to handle such moisture, we measured out a full glass of water — exactly 18 ounces, that we would pour on each ball. We then placed each ball into a turkey roasting pan. The roasting pan's purpose was to give the water a place to go when poured on the ball, but also, not submerge the bottom of the ball in water.
We poured the water on top of each ball, then removed the ball and the pan and poured the water in the measuring cup. The balls bad at absorbing moisture would be left with a lot of leftover residue. The balls good at it would wick away the water and leave almost all of it in the pan.
We repeated this process three times for each ball, to account for some variance that pouring water on a ball might create. We deducted the water left in the pan against the total original count of 18 ounces, which gave us the average amount of water that stuck to each ball.
The well-regarded FIBA-qualified Molten – Indoor/Outdoor ball, also the most expensive ball we tested, performed best, with only .58 ounces retained on the ball on average. The next best option, the Wilson – Evolution, also performed solidly, with only .67 ounces retained.
Both, considering the variance implicit in the activity, were in striking range of each other, and overall, showed superior performance over the group. On the bottom end, the cheaper Under Armour Street, Spalding Indoor/Outdoor and normally well-regarded TF-1000 performed worst.
We were slightly surprised by the TF-1000's numbers, as the model came in recommended a few times from several experts in the field. However, it's worth noting that recent reviews of the TF-1000 suggest that it's possible the build quality has eroded over the years.
Next, we wanted to see how these balls would retain air pressure. If playing outside consistently or storing in the same environment, would the PSI levels maintain? There's nothing worse than the feeling of wanting to shoot hoops, only to find a flat ball with no pump in sight.
Even if you have a pump, needing to reinflate the ball is a general sign of poor design, and possibly also an implication on the overall long-term sustainability of these models.
To test their ability to endure the elements, we left the eight balls in the middle of our unshaded yard in the heat of San Diego summer. Before doing so we tested and recorded the PSI levels on each, set to the recommended levels each company recommended. And then we waited.
72 hours later, we returned to the balls and measured the PSI levels on each, noting how much pressure was lost during the duration. Most balls started around 6-7 PSI.
The well-regarded Wilson balls performed best, losing no inflation over the timespan, in addition to the Molten – Indoor/Outdoor ball. Wilson's basketballs, besides the NCAA replica, aren't even recommended for outdoor use, but we thought it was worth running the test as a general method of assessing durability.
Comparatively, something about Spalding's balls didn't hold up, with both losing a solid amount of PSI over the timespan. Under Armour's Street ball and the Ribay – basketball, both marketed as potential outdoor balls, lost some air as well.
Finally, we considered one of the more important factors for ballers everywhere — grip and feel. The Under Armour, Wilson Replica and Spalding Indoor/Outdoor all felt substandard compared to the other balls in this area.
The Wilson felt plasticky and the Under Armour, while an outdoor ball, still felt a little rough. As mentioned by our experts, the design isn't recommended for peak performance. The Spalding Indoor/Outdoor was somewhere in the middle for grip and feel, but it made ball handling a little more difficult compared to the upper echelon.
That group — Ribay, Molten, the Spalding TF-1000 and the Wilson – Evolution regular all had great feel and bounce. Really, the feel difference between them mostly comes down to a preference of either U.S. or international standard — or if you have a preference at all, as the Ribay is considerably cheaper than the rest.
As we previously mentioned, the Wilson – Evolution black, although marketed as the same ball, felt slightly off in grip compared to the best-in-class normal ball. It wasn't bad, just slightly off the standard of the other model.
To make comparing the balls easier, we've created the following chart which shows not just the ball characteristics, but also the results from our tests, side by side.
What kind of basketball do you need?
Although there can be an overall best basketball, that doesn't necessarily mean it's the best basketball for you. There are several different playing environments, age/sex considerations, and competitive assessments you should consider before buying a ball.
Playing environments: First, if you primarily play indoors, you'll want to go with an indoor-only ball, as they tend to perform best on indoor courts overall. If your game occasionally finds itself on an outdoor court, you may want to go indoor-outdoor — they're better built for those conditions. And if outdoor is your game, outdoor only balls may make sense. It's definitely possible and acceptable to mix balls between environments, but know if you bring an indoor ball out, it may degrade quicker, and if you bring an outdoor ball in, the bounce may be a little more unreliable overall.
Age considerations: You've probably seen videos of little kids pushing all of their weight into an oversized basketball at a way-too-tall rim. As professional shooting coach James Pauley told us, this is one of the worst things you can do for a kid's shooting form, as nothing about launching all of your might into a ball makes sense for the long term.
You should age up a balls size with the kid, and if you can afford it, an adjustable hoop as well. This best mimics a real basketball environment and will actually allow them to develop skills that will follow them as they grow. Although we didn't test youth-sized balls specifically, most of the balls we tested come in smaller sizes.
Sex considerations: The WNBA ball is sized down slightly from the regulation NBA size, at 30.7 inches, and is considered a size 6 by traditional ball measurement standards. The regulation NCAA/NBA basketball, on the other hand, is considered a size 7. So for the same reasons as above, you should be shooting with the ball that makes sense for you.
Competitive considerations: One factor that's probably obvious, but should be mentioned is that if you're playing competitively, whether in high school, college, or somewhere else, you should use the ball you're going to be using in games. The official NCAA ball is the Wilson, international/FIBA is the Molten, and NBA's is Spalding. Your high school or private game may vary, but if you want to carry over that consistency to the games, you should seek out the ball standard and buy it for your practice environment.
Basketballs come in three main forms: leather, composite leather, and rubber. Rubber balls for the most part are of lower quality in order to be constructed cheaply and therefore none actually made it into our tests.
Leather balls, on the other hand, are the most expensive options available and generally run around $100 total. Most official basketballs used leather, such as FIBA's and the NBA's. While amazing balls, these really aren't feasible or needed for most people, so we excluded them from our tests.
Most high-quality, readily available basketballs come in synthetic leather, a material that replicates the look and feel of leather, but does so in a way that allows the balls to be mass produced. This is the firm middle ground that makes sense for most. All eight of the balls in our test use this material.
The bottom line and long-term notes
If you want an amazing indoor ball recommended by the experts that will feel great, play great, last a long time and not cost you an arm and a leg, the Wilson – Evolution is your pick. After 12 months of frequent use, it only shows small signs of wear and tear.
If your game finds itself outside with frequency, the Molten is also a great option, providing durability and flexibility on all court conditions. It's also the Olympic standard — literally.
However, these balls are still just general fits. If you're buying a ball for a child, look for smaller options. And if your league uses a different ball, we suggest you go with that.
But if you're an all-around baller who isn't restricted by a league's standard, the above two balls are great choices for consistent performance over the next few years of your playing career.
And if all this sports talk is leaving you dehydrated, check out our review of the best water bottle.