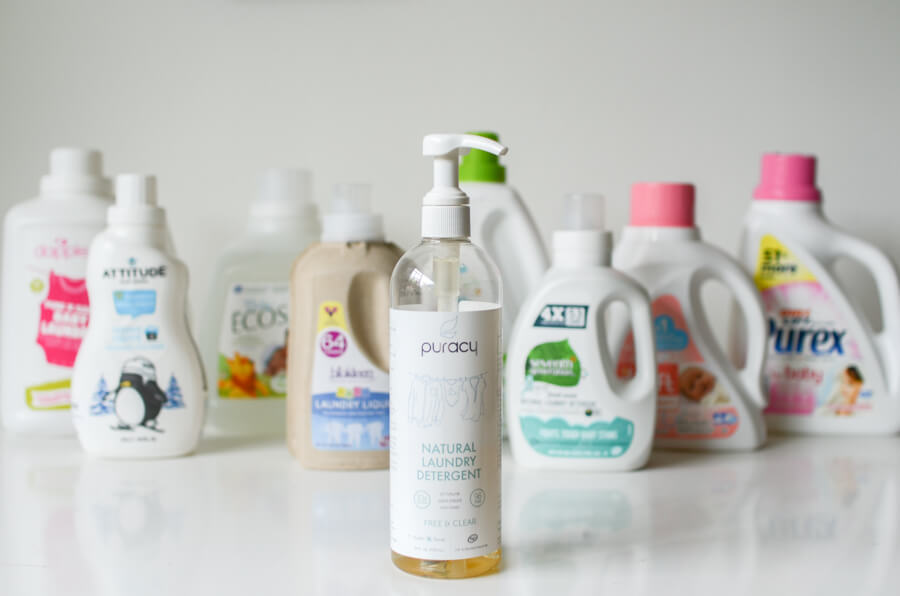 We spent 30 hours on research and a month of in-home testing to determine that Puracy – Natural Laundry Detergent is the best baby detergent. We loved that Puracy is mild enough for baby's clothes but effective enough to use on the whole family's laundry (no more separating). In terms of value, Purex – Baby has an effective, clean-rinsing formula, but also comes with a synthetic fragrance. Attitude – Little Ones earned our top spot as an eco-friendly choice for its cold water formulation and list of only five ingredients.
We spent 30 hours on research and a month of in-home testing to determine that Puracy – Natural Laundry Detergent is the best baby detergent. We loved that Puracy is mild enough for baby's clothes but effective enough to use on the whole family's laundry (no more separating). In terms of value, Purex – Baby has an effective, clean-rinsing formula, but also comes with a synthetic fragrance. Attitude – Little Ones earned our top spot as an eco-friendly choice for its cold water formulation and list of only five ingredients.
Table of contents
Compare the best baby laundry detergents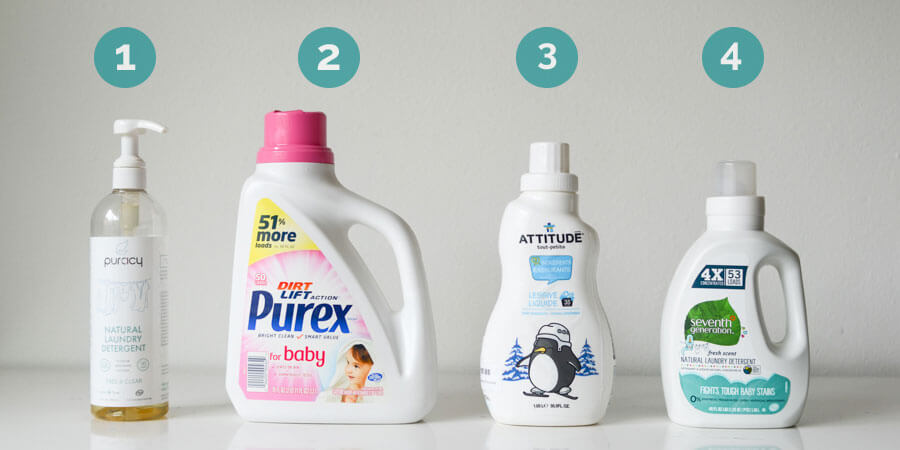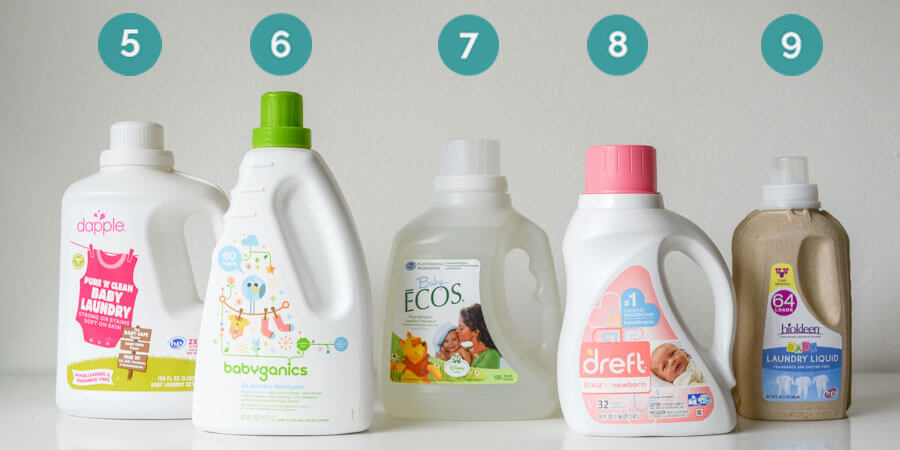 1. Best overall: Puracy – Natural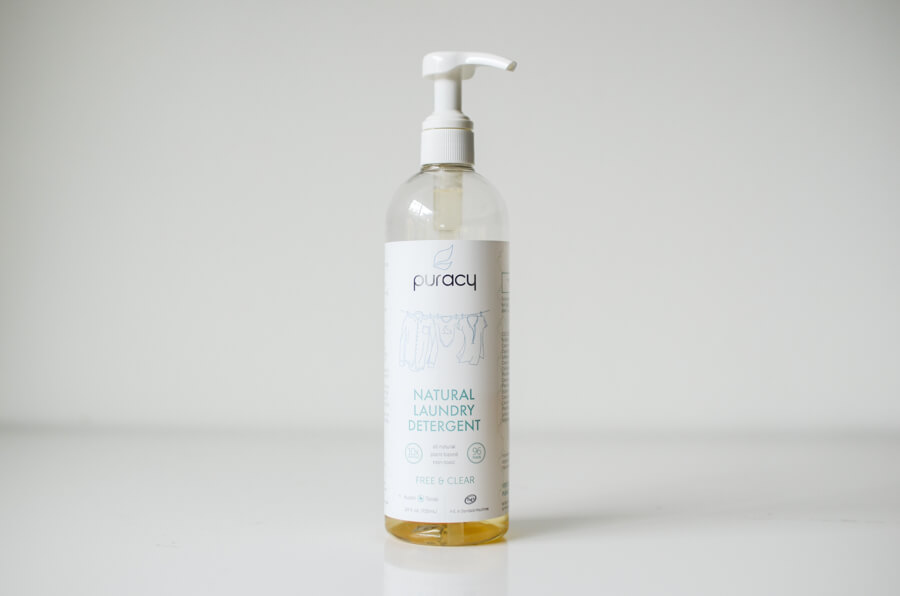 We loved how soft, clean and fresh-smelling our baby clothes came out after washing in Puracy – Natural. Based on our own research and testing, we found that Puracy led the pack in baby detergents, so it's no surprise that Amazon users agree.
With nearly 700 customer reviews, Puracy has a four and a half star rating. It is listed as the number one seller in cloth diaper laundry detergent, meaning that it effectively removes stink and stains without harsh chemicals. This powerful stain-fighting ability is due to a quadruple plant-based enzyme formula, with proteases to remove protein stains like baby formula and amylases to remove baby food. It also contains the mineral zinc ricinoleate to combat odors and bad smells.
Since newborns need to be changed several times a day, the laundry adds up quickly. They also don't like to be put down very often, so you can end up doing all of that extra laundry the way you do most things when there's a newborn in the house — with one hand. For these reasons, we greatly appreciated Puracy's pump top. The pump top eliminates mess, hassle and confusion over how much detergent to distribute — and saves money by preventing overuse.
The 10x concentrated formula means you get 95 loads out of a 25-ounce bottle, which is great because the last thing you need as a new parent is one more thing to carry. It also reduces plastic, water and energy by more than 80%. Because it is so highly concentrated, the detergent works well as a pre-treatment for stains. While we didn't include pre-treatment as part of our stain test, we found it worked well when applied to stains on clothes during regular laundry use. Finally, Puracy is non-toxic and safe for kids and pets. While a newborn isn't likely to get into things, babies quickly grow into curious toddlers.
One drawback to the product is its low score on EWG's Guide to Healthy Cleaning. This is due to the use of sodium borate (Borax). However, the co-founder of the company states that the use of Borax represents less than 1% of the formula. It is used as a stabilizer for the enzymes and serves to extend the shelf life of the detergent. The other ingredients in the product receive A, B and C ratings.
We chose the free and clear version for a baby detergent, which is created by doctors for users with sensitive skin, but they also offer a scented version in Fresh Linen.
Key takeaways:
Reasonably priced at only $.17 per load, Puracy helps you save money and reduce waste with its pump top which eliminates measuring and spilling.
Puracy pulls triple duty in the laundry room, can be be used on cloth diapers, baby clothes and the rest of the household's laundry.
Coconut-based cleansers, plant-based enzymes and minerals add up to a gentle-yet-effective formula that is safe for use around babies and pets.
2. Budget pick: Purex – Baby
At less than four dollars per 75-ounce bottle, you would be hard-pressed to come up with a more cost-efficient way to wash your baby laundry than Purex – Baby. When you break it down, each load only costs $.08, so it's quite a savings compared to the average cost of $.25 cents per load.
The best part is, Purex tested equal to the other finalists in terms of removing protein stains like baby formula, carrots, applesauce and bananas. In the wash cycle, it tested at a 6.0 pH level, making it one of the higher ranking detergents in terms of alkalinity. We also found that there was no remaining detergent residue left in the rinse cycle, meaning that it rinsed completely clean.
Purex features the Dirt Lift action of other Purex detergents, but is dye-free, dermatologist-tested and formulated to be extra gentle. It does have a synthetic fragrance, so if your baby has a fragrance allergy, this detergent may not work for you. However, many consumers report that they love the lingering baby powder smell on their little one's clothes. In fact, 78% of reviewers on Amazon and 86% of reviewers on Walmart give it a 5-star rating.
Key takeaways:
At only $.08 per load versus the average cost of $.25 per load, Purex offers significant savings.
Purex was able to remove protein stains as well as the other finalists and rinsed completely clean, leaving no residue which could cause irritation to baby's skin.
3. Most eco-friendly: Attitude – Little Ones
When it comes to the detergent with the absolute safest ingredients, Attitude – Little Ones is the clear winner. It receives an A rating on the EWG's Guide to Healthy Cleaning, meaning that it has good ingredient disclosure and that these ingredients have few or no known health/environmental hazards. As a company, Attitude prides itself on making products without contaminants or carcinogenic ingredients. Their products are made using 100% renewable energy, reducing their carbon footprint.
Attitude is also certified eco-friendly by Eco Logo, one of the oldest and most recognized green labeling programs. In order to receive this voluntary certification, a product has to undergo rigorous scientific testing and comply with stringent environmental performance standards.
One bottle offers 35 loads for just over $17, so at $.56 per load, it is the most expensive detergent of the finalists we tested. On the other hand, it is formulated to be washed in cold water (you can also use warm water). Washing your clothes in cold water not only helps the planet by reducing energy use by 90%, but it also offers cost savings on your energy bill. The Christian Science Monitor estimates that washing and rinsing in cold water uses an average of 0.3 kWh per load versus 4.5 kWh per load in a hot water wash/warm water rinse, thus saving you $.64 per load.
Key takeaways:
Attitude – Little Ones is formulated with only five ingredients, and receives an A rating for safe ingredients and ingredient disclosure from the Environmental Working Group.
Formulated to be washed in cold water, Attitude can save up to 90% in energy use and $60 annually on your utility bill.
Other finalists we tested
Seventh Generation – Baby
Similar to our leading contender, Seventh Generation – Baby features a quadruple enzyme formula to target tough baby stains. We also found that it was one of the more alkaline of the baby detergents we tested, with a pH level of 6.0. It is a USDA-certified biobased product, meaning the ingredients come from renewable biological sources. Seventh Generation is free of dyes, synthetic fragrances and optical brighteners. It is also 2x concentrated, so you get the same amount of loads with a smaller bottle.
What we liked best about Seventh Generation is that it has a fresh scent that is 100% derived from essential oils and botanical extracts. Consumers describe it as a light lemon scent. If you love burying your face in fresh laundry and inhaling the scent of newly washed clothes but are worried about allergies to synthetic fragrances, this detergent offers the best of both worlds. We weren't the only ones who were fans: the product receives a 4.3 star rating from over 500 reviewers on Amazon.
However, since Seventh Generation had a majority of ingredients that earned a C rating from EWG, it didn't earn top marks as our best overall or most eco-friendly detergent.
Dapple – Baby
GoodGuide's methodology gives Dapple Baby a 7.0 (good) rating out of 10, based on its health risk assessment and data adequacy. The line of Dapple products is created by two moms who wanted plant-based and baby-friendly cleaning products for their own little ones. Dapple is biodegradable, and formulated without parabens, phthalates, sodium lauryl sulfate, sodium laureth sulfate, fragrance or dyes. It is also pediatrician recommended, so you can feel confident using it on your baby's clothes.
The coconut-based cleansers are paired with protease and amylase enzymes to more effectively remove stains, and the detergent is enhanced for use on cloth diapers.
Unlike our top finalists, it is not recommended by Fluff Love University due to its "weak" formula and possible build up on fabric.
Babyganics – Fragrance-Free
With a 3x concentrated power, plant-based cleansers and two enzymes (protease and amylase), Babyganics Fragrance Free is great for fighting stains and safe for babies. It is tested by both pediatricians and dermatologists and is non-allergenic.
In our tests, the detergent left a slight amount of residue in the rinse cycle with a pH level of 5.5, so it didn't earn one of our top spots.
However, it is formulated without optical brighteners, chlorine, phthalates, phosphates, artificial fragrances or dyes. You can feel confident that the ingredients don't contain some of the primary triggers for allergies or skin sensitivities. Similar to Puracy, it does get a low EWG for its use of sodium borate as an enzyme stabilizer.
ECOS – Baby
ECOS – Baby is another great eco-friendly option. It is formulated to be washed in all water temperatures, so you can save both money and energy by washing it in cold water. Earth Friendly Products, the makers of ECOS, were designated as the EPA's Safer Choice 2015 Partner of the Year. ECOS Baby is a certified Safer Choice product.
We were impressed that ECOS Baby removed stains as well as its counterparts without the use of enzymes. This 100% natural, plant-based formula uses coconut-based cleansers and is free of phosphates, chlorine, dyes and petroleum. We tested the free and clear version, but if you prefer a scent, the lavender and chamomile versions are a great option. The fragrance is achieved with essential (you guessed it, lavender and chamomile flower) oils, so you don't have to worry about allergies associated with synthetic fragrances.
ECOS was a strong runner-up for best overall and best eco-friendly detergent. Unlike our top choices though, ECOS isn't a concentrated formula and so the container was a little unwieldy.
Dreft – Stage 1: Newborn
Perhaps the most well-known of baby detergents, Dreft has been around for more than 80 years and there's a reason for its longevity. It has a hypoallergenic (dye-free), gentle formula that is designed to rinse clean while still targeting tough stains. In our tests, we found this to be true. Dreft – Stage 1: Newborn was one of the three detergents on the alkaline side, and did not leave any residue in the rinse cycle.
It is the detergent most recommended by pediatricians, and also by Pampers. We tested Stage 1 for newborns, and it removed stains equally as well as our other finalists, but there is also a Stage 2 designed for active babies that have started solid foods and are crawling all over the floor.
Dreft boasts a 4.5 star rating on Amazon, with 74% of users giving it 5 stars. Consumers are big fans of the classic baby scent, which leaves a strong lingering fragrance on baby's clothes after washing.
However, since some babies have allergies to synthetic fragrances, we didn't choose this detergent as our best overall. It is comparable to Purex, but Dreft is four times the cost and one of the more expensive finalists.
Biokleen – Baby
If you find that enzymes are problematic for your little one, Biokleen – Baby is an excellent option. In was slightly less effective at removing stains than our other finalists, so it didn't make it as one of our top picks. However, it's nice to know that this gentle formula only uses plant-based surfactants and grapefruit seed extracts to clean. It rinses completely clean and doesn't leave any fumes, residues or harsh chemicals on baby's clothes.
Biokleen doesn't use any materials listed as hazardous by the American Conference of Governmental Industrial Hygienists, or phosphate, chlorine, ammonia or petroleum solvents.
We loved the environmentally-friendly and compostable packaging, which uses 70% less plastic than traditional bottles and is made from recycled cardboard and newspaper. It's also 3x concentrated, so the bottle is small and light.
How we selected finalists to test
There are quite a few options for baby detergents. First, we looked at articles written by pediatricians, to see if we should stick to baby detergents or if we could safely consider other free and clear options. After our initial research, we decided to follow in the footsteps of Consumer Reports and weed out any pod-style detergents due to the danger they pose to children and pets.
Once we determined what features to look for in a baby detergent (and which ingredients are best to avoid), we scoured subreddits like /r/BabyBumps, blog articles and YouTube reviews to get an idea of which detergents caregivers liked best for their baby's laundry.
We then gathered up our loads of baby clothes and headed to the laundry room for hands-on testing. We had brand new clothes that needed to be washed before wearing and pre-loved clothes with those ubiquitous yellow stains that mysteriously appear during storage.
Important features to consider
Hypoallergenic: When listed on the label, hypoallergenic tends to mean "dye-free," but you also want to be wary of other ingredients that can be irritating to baby's delicate skin and lungs. These can include fragrances, softeners and optical brighteners.
Effective on baby stains: It doesn't take long to figure out that babies are messy creatures; a baby detergent needs to be able to remove spit-up, human waste and food. Although cloth diapers should be washed separately and with special care, it's nice to have a baby detergent that can do double duty on clothes and cloth diapers.
Cost-efficient: Caring for a newborn costs a significant amount of money, so saving money on laundry detergent means you have more to spend on a car seat, stroller and all the other baby must-haves.
Dermatologist/pediatrician recommended: While the American Academy of Pediatrics acknowledges that parents often wash baby clothes with regular detergent and that it is generally safe to do so, it's still nice to know that your baby's detergent has the seal of approval from dermatologists, pediatricians and allergists.
Residue free: BabyCenter expert and pediatric dermatologist Mary Spraker recommends using a liquid detergent on baby clothes since it rinses cleaner (especially in hard water) and is, therefore, less likely to irritate baby's sensitive skin.
Scent: Some parents love the classic baby scent, while others are concerned about fragrance allergies. As long as your baby doesn't have an allergic reaction, this is a personal choice. Since scent can sometimes be an irritant for babies, we considered fragrance-free to be an important quality in determining key metrics for baby detergent.
HE formula: High Efficiency (HE) washing machines use less water in the wash and rinse cycles, so HE detergents are formulated to disperse quickly, use fewer suds and hold soils in lower water volumes.
Ingredients in baby laundry detergent
Although a quick scan of the list of ingredients in baby detergent may worry you, their intended functions are easy to understand. Here is a quick review of common ingredients you'll find in a baby laundry detergent, along with their uses.
Surfactants: Generally these are the staple ingredient of laundry detergents. These molecules separate grease and soil from the water and prevent it from redepositing back on clothes. While warm water alone can remove some soils, surfactants help loosen particles and soil by reducing the surface tension of water. The end result is cleaner clothing, which is especially important when you have diaper disasters. These cleaning compounds can be synthetic, mineral-based or plant-based.
Fragrance: ScienceDaily reports that hundreds of unlisted chemicals can be labeled under the single term "fragrance," and that these synthetic scents can contain chemicals that are defined as hazardous by the U.S. Environmental Protection Agency. On the other hand, Dr. Mary Spraker of BabyCenter states that "allergies to fragrances in laundry cleaners are rare." If you love the smell of freshly washed baby laundry but you suspect your little one has a fragrance allergy, you can try detergents scented with plant-based essential oils.
Optical Brighteners: These agents make clothes appear whiter by absorbing ultraviolet light and cast it out as a visible blue light which disguises yellowing and stains. While the Environmental Protection Agency includes several brighteners on their safer ingredients list (meaning they are not dangerous in and of themselves), they are designed to deposit particles on fabrics. The residue can cause allergies to those with sensitive skin, so it may not be something you want in your baby detergent.
Enzymes: Industry expert Mary Marlowe Leverette explains that the use of naturally-occurring enzymes allows for cleaning in cooler temperatures and less detergent. There are different enzymes, each of which targets a specific type of soil. For baby clothes, proteases are the most effective because they break down protein-based stains (breastmilk, formula, and bodily fluids). On the other hand, proteases keep on working after they break up stains, so remaining residue left on the fabric can irritate baby's skin.
If you use cloth diapers, you'll want to make sure the ingredients don't void your warranty. For example, the warranty on bumGenius cloth diaper products is void if you use a detergent with enzymes or brighteners. On the other hand, other cloth diaper companies recommend the use of enzymes.
The same goes for washing baby carriers, which require special care so as not to damage the fibers and structure of the carrier. Babywearing International recommends using a detergent without softeners or optical brighteners for this reason. Additionally, silk wraps should be washed with an enzyme-free detergent so it does not damage the delicate fibers.
How we tested
The stain test
As you could imagine, some of the stains babies are known for don't lend themselves to testing (After all, babies tend not to spit up on command). However, spit-up and leaky diapers are protein stains, as are breast milk, formula and most food stains. So we chose three popular "first foods" for babies, as well as Nutramigen infant and toddler powder formula, and stained each Gerber onesie with a tablespoon each of these four substances:
Pureed cooked carrots
Applesauce
Mashed bananas
Formula
Then we let the stains sit for 48 hours — because let's face it, hardly anyone with a newborn has a chance to get clothes in the laundry the minute they get dirty. Just to get an idea of the workload each detergent would need to handle, we washed a onesie in plain warm water. We found that the warm water alone was able to remove the formula stain and that bananas left the darkest stain. Armed with this knowledge, we tested each of the detergents by washing a stained onesie in warm water.
The New York Times reports that when you reduce thermal energy to clean clothes, a detergent needs to compensate with surfactants and enzymes that work better in cold water. Two of our finalists, Attitude – Little Ones and ECOS – Baby, are specifically formulated to be washed in cold water. We tested these two finalists by first washing them in cold water. After we recorded the results, we washed again in warm water to see if stains were further removed. The results were the same, which is great news in terms of saving energy by using cold water versus warm water.
The good news is that all of our finalists were nearly equal in terms of stain-removing power, meaning that you should feel confident choosing any of the finalists based on other factors, such as scent, cost or eco-friendliness. The Biokleen Baby had a little more trouble removing the applesauce stain than the others, leaving a medium color versus a light color.
The pH test
Since most soils are acidic, a detergent on the alkaline side of the pH scale would produce more effective results. This is because pH measures the potential of hydrogen ions and alkaline detergents neutralize the impact of the acidic ions. A pH level of 7.0 is considered neutral, but tap water is rarely neutral. The first thing we tested was our water source as it filled the washing machine. Our water tested at a pH level of 5.75, so this was our basis of comparison.
The baby detergents we tested were less alkaline than the regular detergents we tested in our laundry detergent review. For example, Biokleen Free & Clear Laundry Powder has a pH level of 8.0, while Biokleen – Baby liquid detergent has a pH level of 5.0. Since the cleaning properties of the baby version aren't as strong, you're trading a more mild product for a few stains. In terms of alkalinity, the detergents that had the most cleaning power (with a pH level of 6.0) were:
When it comes to babies, you don't want any detergent residue left on the clothes that could irritate their sensitive skin. If you decide to use regular detergent, you may need to add in a second rinse cycle. A baby detergent eliminates that step, and we were impressed with the fact that nearly all of our finalists rinsed completely clean (returned to the base level pH of 5.75). The only detergents that left a minimal amount of residue were the Babyganics Fragrance Free and ECOS Baby, which both had a pH level of 5.5 when we tested the water during the rinse cycle.
One interesting fact we found is that Puracy tested at a pH level of 5.75 during the wash and rinse cycle, meaning it didn't change the pH level of the water at all. At the same time, it was equally as effective on stains as some of the "stronger" detergents.
The price test
The most recent report from the United States Department of Agriculture estimates the annual cost of raising a child to be between $12,350 and $13,900 annually. With those kinds of numbers, it's no surprise that new parents want to save money where they can. We pulled prices from Amazon and then divided the price by the number of loads in each bottle to find the cost per load.
At the time of publication, Purex – Baby was less than four dollars per 75 fluid ounce bottle at Amazon and Walmart. With 50 loads to each bottle, this puts the cost at only $.08. At $.10 per load, Biokleen – Baby was another good low-priced option. On the high end of the range, Attitude – Little Ones was the most expensive choice at $.56 per load.
Why use baby laundry detergent
When choosing a detergent to wash your baby's clothes with, the goal is to find a balance between effectively removing stains and being sensitive enough for a baby's delicate skin.
Many dermatologists, pediatricians and parents would agree that using a laundry detergent specifically designed for babies is not necessary, but does offer benefits.
According to healthychildren.org, baby laundry detergent is designed to leave behind less residue in order to prevent baby's sensitive skin from becoming irritated. Additionally, the American Academy of Pediatrics recommends washing baby items separately with a milder detergent since fabric softeners and soap flakes can strip away the flame-retardant properties of sleepwear.
Babies (and even adults) can have skin sensitivities and allergies to fragrances, dyes or other irritants found in regular laundry detergents. These can cause contact dermatitis and chemical sensitivities. Contact dermatitis can result in itchy, dry skin. Chemical sensitivities can cause skin allergies or respiratory issues.
None of the baby detergents we tested contain dyes, but if you find that these milder detergents do not have the cleaning power you desire, there are other great free & clear detergent options you can try. However, if you notice that your baby is developing a skin rash or redness in an area where clothing touches their skin, it's a good idea to go back to a detergent specifically formulated for baby laundry.
The bottom line
Each of our finalists were good choices for baby detergent, with the same amount of stain removal capability and little to no residue left in the rinse cycle. In the end, the choice comes down to your preference in fragrance, cost and whether or not a natural formula is important to you. We found Puracy – Natural to be an excellent choice for its enzyme-powered stain fighting ability, coconut-based cleansers and easy-to-use pump top. For budget-minded consumers, Purex – Baby did the same job at a lower price. Finally, we loved Attitude – Little Ones as an eco-friendly choice for its simple, ultra-safe and energy-saving formula.
All three of our top pick detergents are on Fluff Love University's recommended detergent list for use on cloth diapers, making them a great choice in terms of flexibility and multi-purpose use.